Dewalt air compressors are versatile tools you can use for much more than inflating tires and spray painting. For example, many people use an air compressor to clean yard and garden equipment, move grass and leaves, and even create a ventilation system in greenhouses. 
Air compressors come in all shapes and sizes (believe it or not), and there are hundreds of brands to choose from. If you've already started shopping for an air compressor, you're probably overwhelmed with endless options that all look and sound the same.
I'll walk you through my findings today and let you know about my experiences with Dewalt and air compressors.
Let's get started! Jump ahead below
Why we review lawn tools
The reason we started this website in the first place was because we had so much trouble trying to find reasonable, understandable, honest reviews for lawn equipment. And it's not cheap! After hours and hours of research, trying products and returning them, and messing up our yards – we started this site.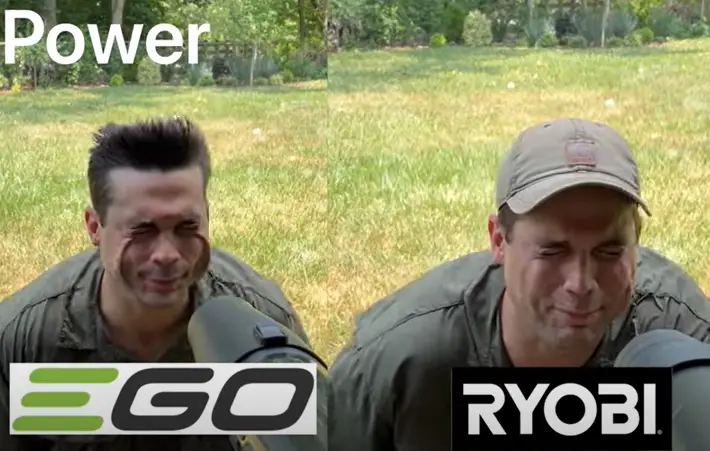 As guys who had to learn the hard way, we want you to know exactly what you are signing up for before you purchase a piece of equipment. That's why we are committed to providing honest, easy-to-understand reviews that mean something.
About Dewalt tools
Dewalt makes a crazy amount of products. We all know and recognize their power tool collection as one of the best. But what has been really growing for them is their lawn tool collection. We've been super impressed by Dewalt's weed eaters, their line of Dewalt blowers, and even the Dewalt 20V lawn mower.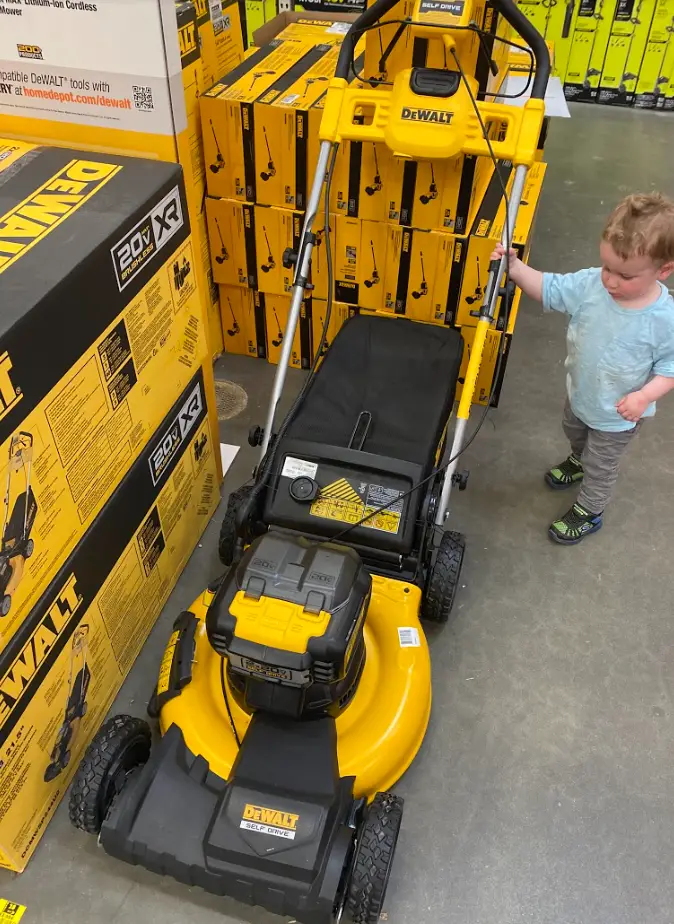 And now one of my personal favorite air compressor brands is Dewalt. Based out of Maryland, Dewalt is a global manufacturer of professional workhouse solutions. When it comes to air compressors, Dewalt produces some of the most reliable products on the market but also a TON of varieties. I scoured the web to identify the best Dewalt air compressors in three categories: portable, combo, and vertical. 
The Best Portable Dewalt Air Compressor
If you work at different job sites or don't have easy access to an electrical outlet, a portable air compressor might be a suitable option for you. Take a look at the best Dewalt portable air compressor and the runner-up.
My neighbor is a general contractor and I got the idea for this article from him. He bounces from house to house in the same subdivision and helps the team out with whatever they need. He often grabs his Dewalt portable air compressor to contribute wherever he can. 
Dewalt 15 Gallon Portable Electric Air Compressor
The Dewalt 15 Gallon Portable Air Compressor is a solid choice if you want an easy-to-use compressor for nailing, drilling, and landscaping work. It's also a great choice if you need to use the compressor on the go that can actually provide some serious power.  
This portable compressor is also completely oil-free and exceptionally quiet when compared to other air compressors. The device has a maximum power of 0.2 horsepower and an airflow capacity of 5.4 cubic feet per minute. Translating that into what normal people talk about, this is way less powerful than a stationary air compressor but will still be able to power all of your tools.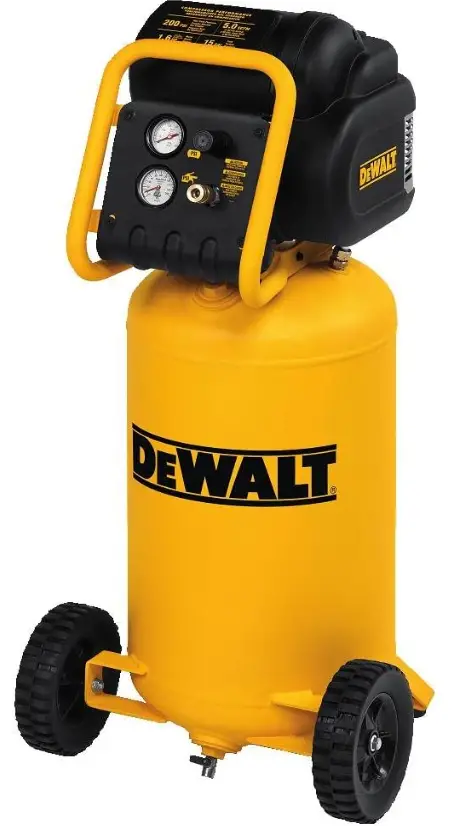 What I like about this Dewalt air compressor:
Oil and maintenance-free pump
78 dB sound level which is loud but not ear-crushing
The wheels are big enough to run over anything lying around your garage or job site
Great air-tool runtimes
This one is big for a portable air compressor and weighs about 120 lbs. But it can provide solid power and a surprising amount of air. You can grab this one at Home Depot or get it delivered straight from Amazon for a great price.
Runner-up: Dewalt 4.5 Gallon Portable Electric Air Compressor
The Dewalt 4.5 Gallon Portable Air Compressor is a good option if you want something smaller. I like to describe this compressor as the miniature version of the 15-gallon alternative. It has many of the same features at a lower capacity. For instance, the air compressor reaches a maximum horsepower of 1.6 HP and has an airflow capacity of five cubic feet per minute. It only weighs 80 pounds and features 10-inch non-flat foam tires that make it ultra-portable.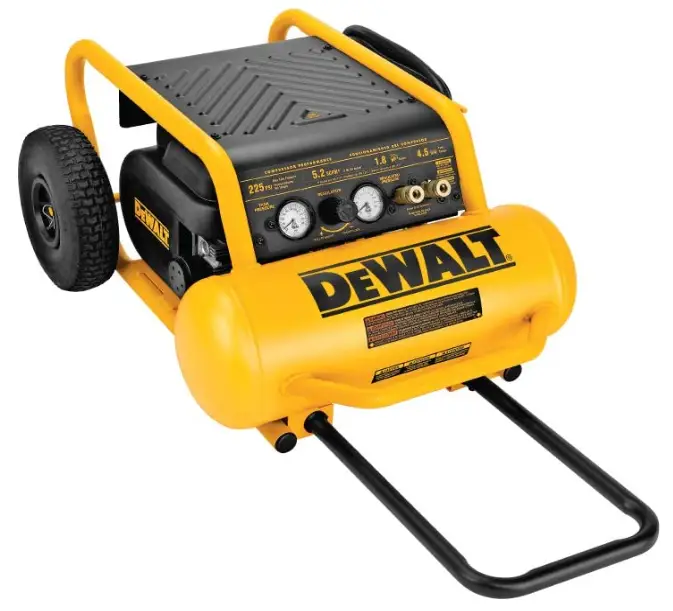 This one is really nice for dragging around with your nailer. This has more horsepower than our favorite, but honestly horsepower doesn't mean that much with air compressors as one can be more powerful and efficient while having less horsepower. 
This one is also available on Amazon for a decent price.
The Best Dewalt Combo Air Compressor
You can save money by buying an air compressor with a nail gun. Dewalt sells two air compressor combos for a reasonable price.
Dewalt 6 Gallon 18-Gauge Brad Nailer and Pancake Electric Air Compressor Combo Kit 
Have your (pan)cake and eat it, too, with the 6 Gallon 18-Gauge Brad Nailer and Pancake Electric Air Compressor Kit by Dewalt. This duo gives you the ammo to take on the toughest projects with 5.0 SCFM at 90 PSI and 80% more usable air than competing brands. 
The pneumatic nailer boasts a maintenance-free motor and a jam-release tool that makes it easy to release nails. I love this combination because most DIY folks are looking for a set of both of these. It's a big deal that Dewalt makes great nailers AND great air compressors. Why not knock out both in one purchase?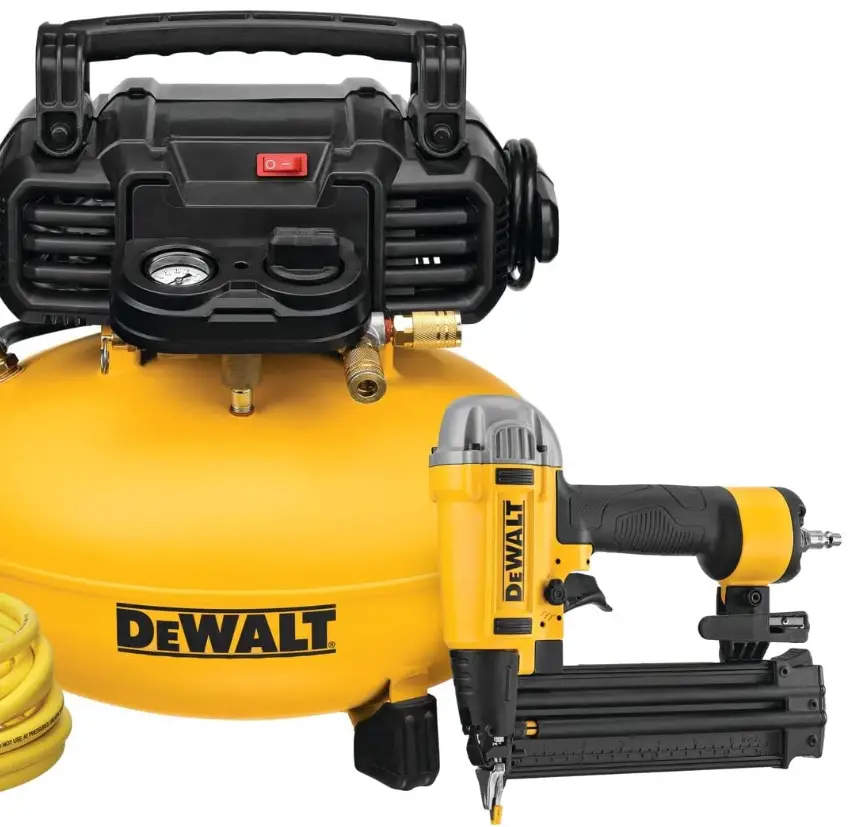 The perks:
1/4 in. x 50 ft. PVC hose
Compatible with traditional 18 ga. Brad nails that range from 5/8 to 2 1/8 in. in length
Features Precision Point Technology which means your nail placement is much more exact and doesn't require actuation
165 max psi 6.0-gallon tank
This one can be found on Amazon for under $250.
Runner-up: Dewalt Nailer and 120 PSI Compressor Combo Kit
Dewalt sells another compressor and Brad nailer combo kit with 120 PSI instead of 165. Since this is an older model of the combo kit, you can find it used or new on eBay and similar websites for slightly less than the 165 PSI option. 
The kit features a pancake air compressor with a nine-gallon tank capacity and 9 HP. It weighs just over 40 pounds and is easy to take with you when you're on the go. The air compressor comes with a 25-foot air hose that's 1/4 in thick. Like the 165 PSI model, the 120 PSI alternative is quiet with 75.5 dBA.
The highlights:
75.5 dBA noise level
It comes with two universal couplers
Compatible with standard 18 Ga. Brad nails
Features Precision Point Technology as well which allows you to be more exact when placing the nails and not losing your spot due to actuating the tip
Oh – and the whole kit will cost you less than $250 on Amazon.
The Best Dewalt Vertical Air Compressor
Vertical air compressors have a portable design that doesn't hinder their performance. If you're looking for the best vertical air compressor, consider these two options by Dewalt.
We like vertical air compressors because they take up less floor space
Dewalt 27 Gallon 200 PSI Portable Vertical Electric Air Compressor
The Dewalt 27 Gallon Portable Vertical Electric Air Compressor means business. This device features 5.1 SCFM at 90 PSI, making it extremely powerful, but also can taper down the PSI to accommodate things like spray painting. 
It also has a high-flow regulator that allows the tool to intake air extremely efficiently. The air compressor is oil-free and has a low-volt, quick-start motor compatible with extension cords between 12 and 50 ft. There's also a dual-purpose handle that makes it easy to move around while acting as a hose wrap as well.
What stands out:
78 dBA for a quiet work environment
Easily handles large projects without issues
There's a two-inch display surface that is easy to read
This one is a great vertical air compressor that can take your garage to new heights. Grab it on Amazon for a good price.
The Bottom Line on Dewalt Air Compressors
Whether you need an air compressor for inflating tires, operating your nailer, or spray painting your car, you can't go wrong with a Dewalt product. Dewalt's air compressors have a great reputation for their durability, ease of use, and competitive prices.
All Dewalt products come with a warranty, so if there's ever an issue with your air compressor, Dewalt will take care of it.