The differences between a string trimmer and an edger are often confusing. In fact, it isn't that common to see even professional landscapers using an edger.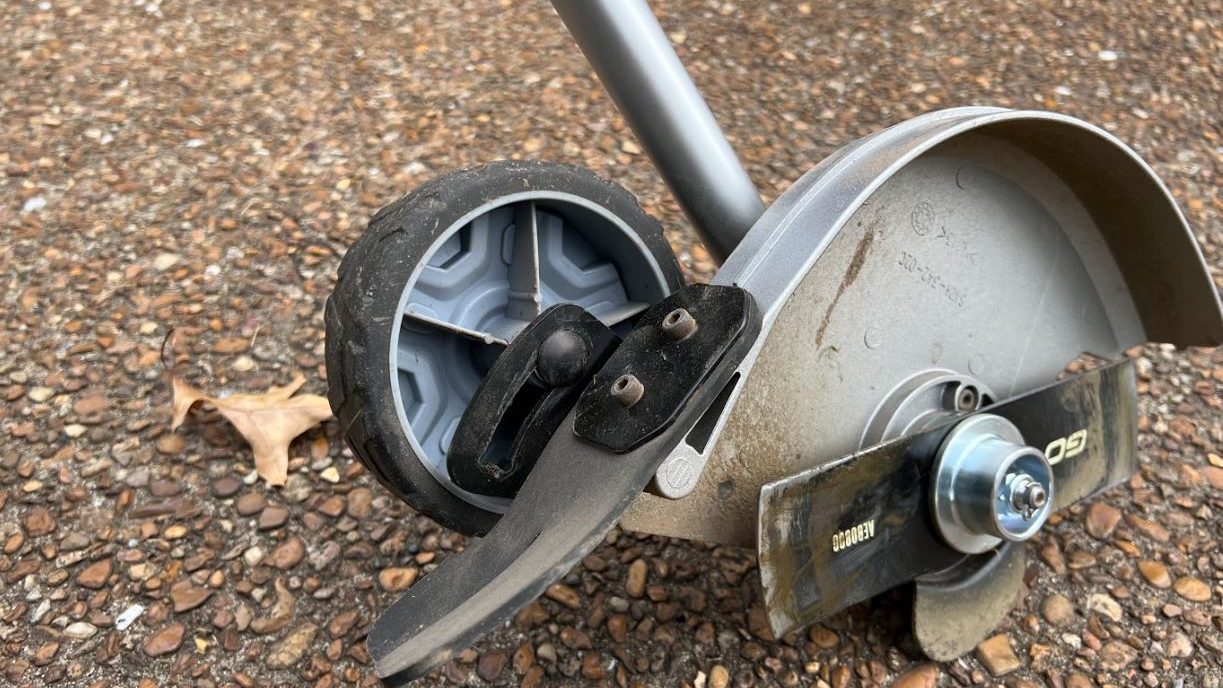 So why do I need one?
I have an edger attachment on my Ryobi weed eater and I LOVE it. But I don't use it every time I mow. Could I live without it? No.
But some people can. Let me explain further.
How to instantly improve your weed eater
Upgrade your weed eating game with the ultimate GrassKicker Weed Eater String! While weed eaters and lawn edgers are great tools, it's not complete without the right string. Our specially crafted line is designed to enhance your weed eater's performance and give you flawless edges around your yard and garden.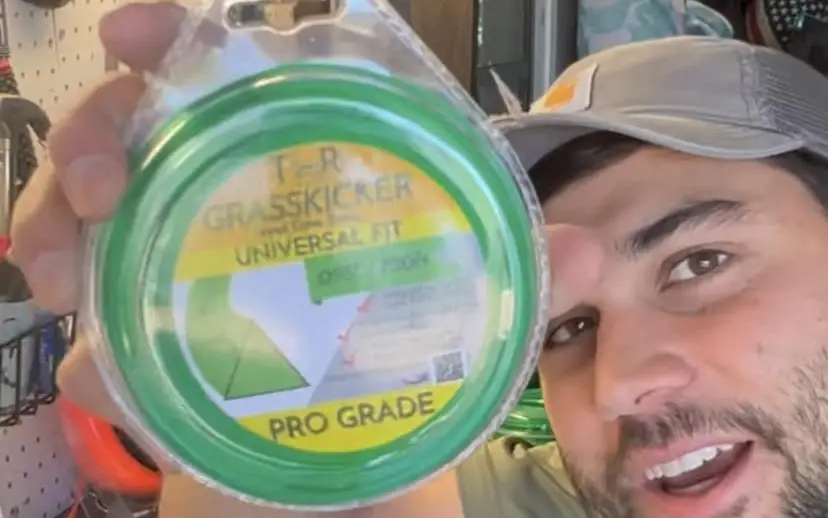 Don't settle for subpar string that breaks easily and leaves ragged edges. Our team has scoured the market and combined the best colors, shapes, thicknesses, and materials to create a superior line that cuts more cleanly and lasts longer.
With GrassKicker, you can take pride in your perfectly manicured lawn and make a lasting impression on your friends and family. And who knows, your envious neighbors might just start dropping by more often! Don't wait, elevate your weed eating game with GrassKicker Weed Eater String today! Click the link now to buy.
The Difference Between A String Trimmer And Edger
A string trimmer is used to cut pieces of grass missed by your mower whereas an edger is designed to cut a border around your yard.
The differences seem stark, but many people try to use a string trimmer to edge around their yard. String trimmers are much more versatile than edgers in that they can be used around the edges of a yard like an edger, but can also cut through thick brush and tall grass.
String Trimmers and Edgers are often sold in combo kits or multi-tool attachment heads. These allow you to buy one power head (like my EGO multi-tool) and change out the attachments, saving you money. 
While many folks buy string trimmers as a standalone item, it is more rare to buy an edger-only tool that is not part of an attachment system.
Can A String Trimmer Be Used As An Edger?
Yes – to a point. String trimmers don't cut as deep as edgers do, so can only do light edging.
My edging and trimming routine looks something like this: 
After the first mow of the year, I'll go really deep with my edger and create a sweet border around my yard.
Over the next few weeks, I'll still edge my lawn – but only use my string trimmer and not my edger. This is purely for touch-ups on the border.
Every month, I grab my edger and give it another whirl.
The process repeats until I stop mowing for the year.
It is important to make sure to use the edger at least monthly because the deeper border it creates will slowly fill with grass clippings and dirt that won't be removed by the weaker weed eater.
Do You Really Need An Edger?
In my opinion, yes. If you want a pristine looking yard with clean borders, you just won't get that "professional" look without an edger. 
If you don't care as much about how your yard looks and think you can get away with a weed eater – then sure it is possible. For me and my yard, an edger is a super important part of my lawn care routine.
In fact, the biggest difference I noticed in my yard was after I started edging. This actually made people stop their car when I was outside and tell me my lawn looked nice. Isn't that what every man wants?
Should You Trim and Edge Before Mowing?
I think you can, but the best time to trim and edge your lawn is after mowing. When you are pushing or riding around in a big bulky mower, there are going to be some nooks and crannies that you just can't reach.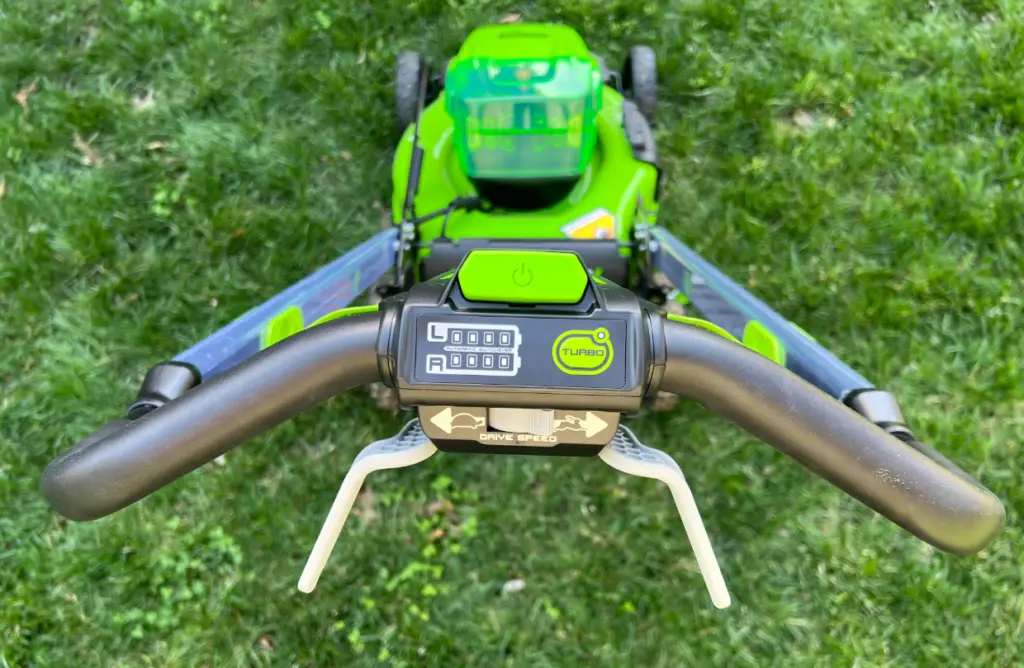 After mowing is the best time to grab your trimmer and clean up those missed spots from mowing. Then after you've trimmed and the grass is all cut, you have the right time to begin edging. 
Best Time To Edge Your Lawn
The best time to edge your lawn, according to my personal edging, trimming, and mowing routine, is at the beginning of the season. Over the course of the winter, grass is still growing but at a much slower rate. Snow, rain, and the other elements combine to cause the edges around your yard to become frumpy.
At the beginning of the mowing season after your first mower and trimmer session, go over the edges at length with an edger and dig up all the dirt. It is helpful to first trim as though you're edging to get some of the leg work out of the way.
Your edger will (and should) clog up a few times from all the dirt. Just give it a tap on the ground and get back to work. For the remainder of the year I will simply touch up my yard with a string trimmer around the edges and pull my edger back out once a month or so to really refine the edges again.
Best Lawn Edgers
If you are going to buy a standalone edger, I recommend using a battery-powered edger. These are much easier to start, quieter, don't make you smell, and require no maintenance. Here are a couple of my favorites:
Greenworks 40V 8" Edger
I love Greenworks for a few reasons. They make really great products at competitive prices. I've talked to a few guys on their engineering team and they are legit nerds – they love the technical stuff involved in battery-powered tools.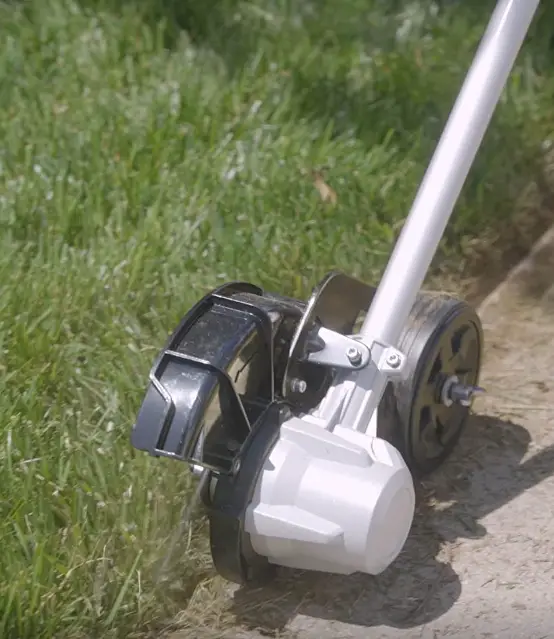 And that's what you want from an edger manufacturer. This one is powerful, uses their 40V battery line which can be used with dozens of other Greenworks tools, and has a brushless motor. It also has a nice little wheel at the back that guides you along a straight path.
You can grab this one on Amazon like we did for a great price.
Dewalt 60V Max Edger
This one is a step up in price and power. If you are super serious about edging with a battery edger – this one is a good chunk of change…but it is sweet.
This edger has a sweet sloped shaft that makes edging way smoother than with most straight shafts. Dewalt's 60V series is also really great to use with stuff like their chainsaws and their Dewalt blowers.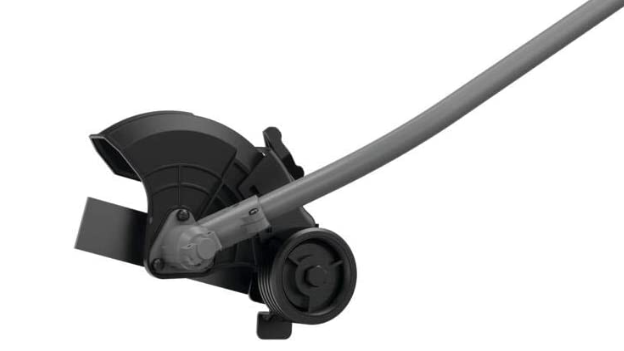 Dewalt's edger can be bought on Amazon for a great price. While it is made for edging, it also has the ability to take on Universal Attachments, so can actually become a very powerful multi-tool.
Best Trimmer Edger Combo Kits
A great way to save money on lawn tools is to buy combo kits. Whether it is a mower trimmer combo kit or even a trimmer edger combo kit – you can save big on bundling.
Here are a few of our favorite weed eater combo kits:
EGO Multi-Head Power Tool
This is my go-to edger and string trimmer combo kit. EGO knocked it out of the park with this multi-head tool. You can read more about our review of this tool here or watch our video review on Youtube.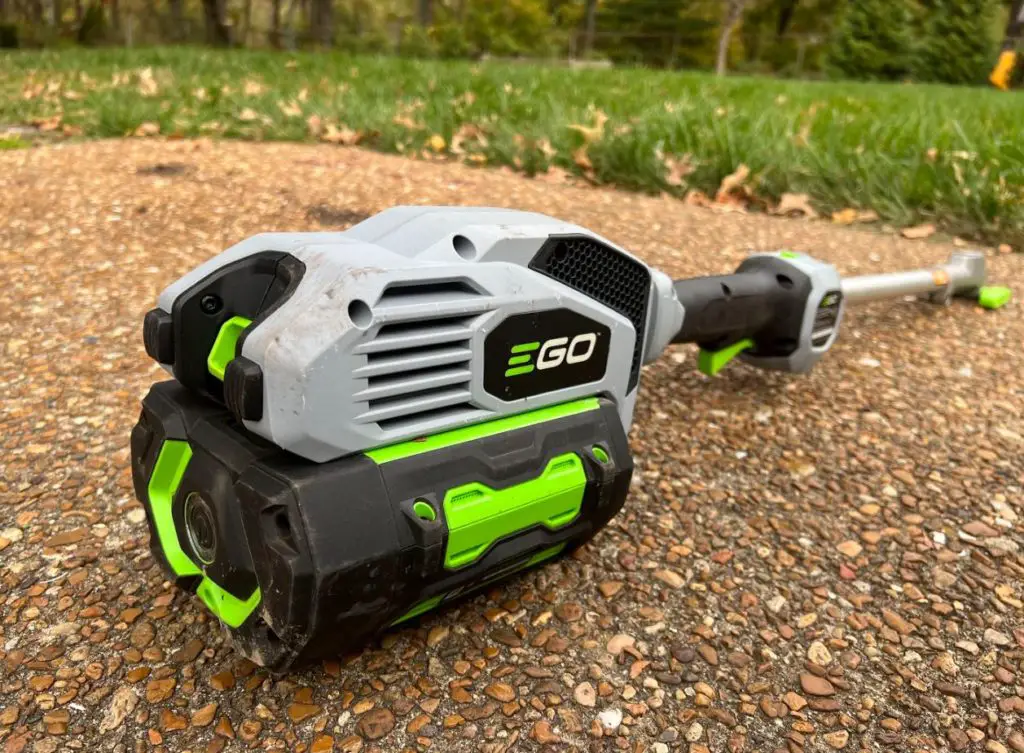 Basically, this thing has the same power as many of the gas string trimmers I've used and the edger attachment is an absolute unit. One major upside here is that the EGO 56V battery can be used with all their other tools – like the famous EGO mowers or their super powerful leaf blowers.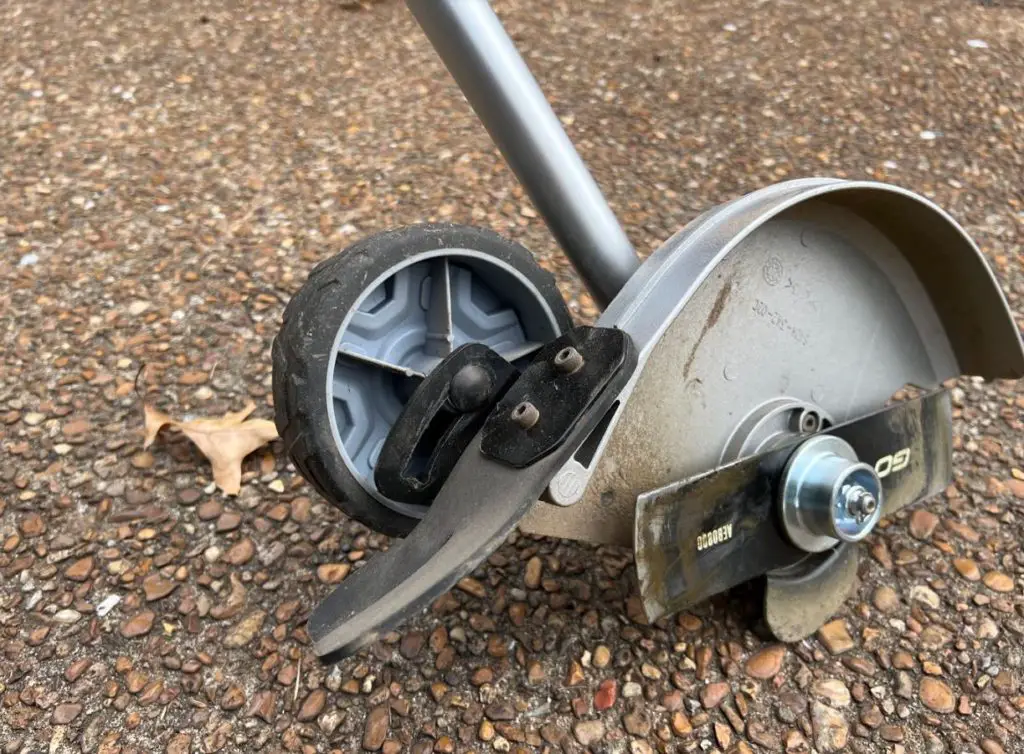 This one is available at Lowe's or online from Amazon. It is WELL worth the price and happens to be on a great sale on Amazon.
Ryobi 40V Expand-it Weed Eater and Edger Kit
This was my first weed eater attachment kit, and it had some great ups and downs. But all-in-all, I still think it was a great purchase. I use the weed eater often and the edger still keeps going despite being over 6 years old at this point.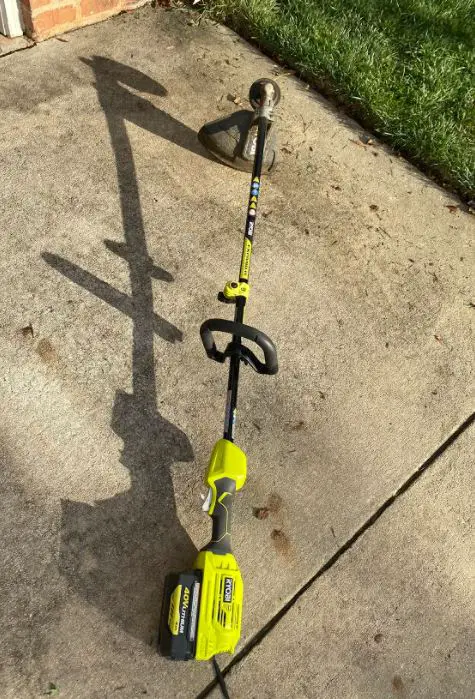 Some of the other attachments stink, like the blower attachment, but I wouldn't worry about that if you are looking for a good trimmer and edger kit. 
One thing I like about this one is how easy it is to use. I took the shield off of the trimmer and it works like one on steroids. I also swapped out the weed eater string on it and turned it into a freaking machine.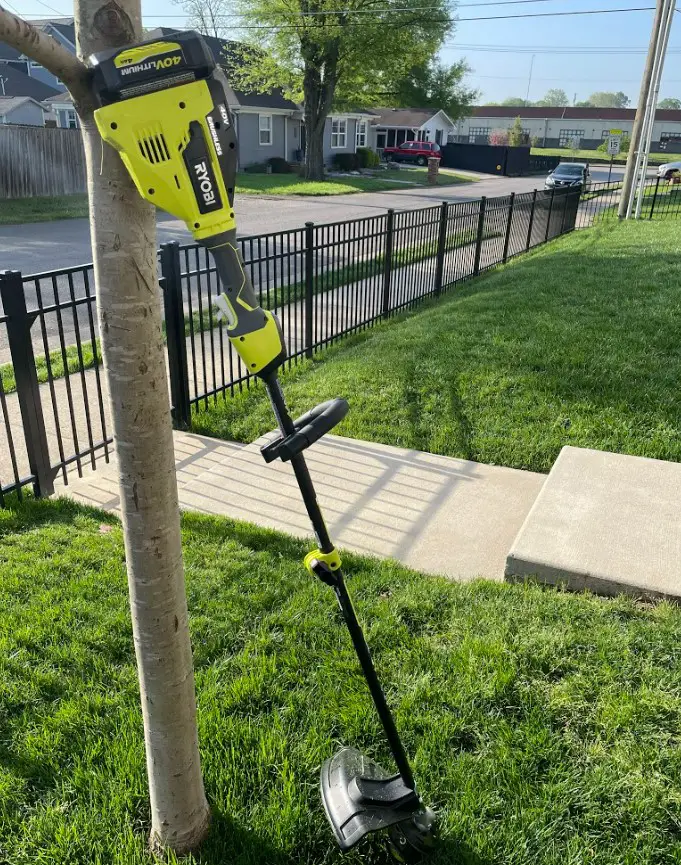 The edger has stood the test of time and is what started to drop my neighbors jaws all those years ago. I got mine at Home Depot – which has recently upgraded it into a much nicer version.
How I Test Out String Trimmers and Edgers
I test out string trimmers and edgers by…using them for decades. I used to own landscaping company and have used gas, corded, and battery versions of all of these tools. My lawn being good looking is important to me – and so I try to relay everything I learn to the next generation of first-time homeowners.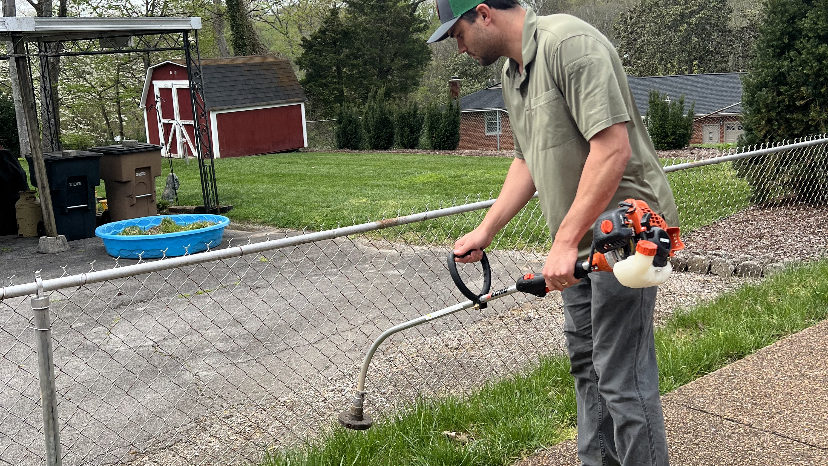 When I am testing these tools I am always assessing comfort and ease of use, power, price, and durability. I've learned a lot the hard way and hope to help you avoid going down the wrong path.
Why we started The Lawn Review
The reason we started this website in the first place was because we had so much trouble trying to find reasonable, understandable, honest reviews for lawn equipment. And it's not cheap! After hours and hours of research, trying products and returning them, and messing up our yards – we started this site.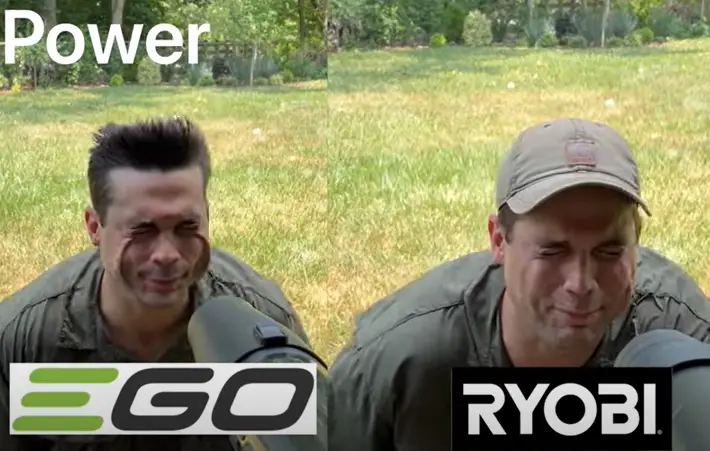 As guys who had to learn the hard way, we want you to know exactly what you are signing up for before you purchase a piece of equipment. That's why we are committed to providing honest, easy-to-understand reviews that mean something.