The DeWalt 60V Chainsaw comes from of the most trusted tool brands in American history. The company has been around since WW1 so you know they put out a good product.
Fun Fact: DeWalt is actually owned by Stanley Black & Decker. All these companies are intertwined somehow.
This 60V chainsaw incorporates DeWalt's new FLEXVOLT battery technology. Basically the interchangeable battery back "flexes" it's voltage to the appropriate setting for the particular type of tool it's attached to. So the same battery that runs this chainsaw can also run your drill or grinder but at a reduced voltage. Saving you tons on runtime and energy on the jobsite. How about that!? 
Here is what we will review today:
Dewalt has a few other products we have reviewed including their 20V hedge trimmer and their 20V lawn mower as well as their Dewalt Air Compressors.
Why we review lawn tools
The reason we started this website in the first place was because we had so much trouble trying to find reasonable, understandable, honest reviews for lawn equipment. And it's not cheap! After hours and hours of research, trying products and returning them, and messing up our yards – we started this site.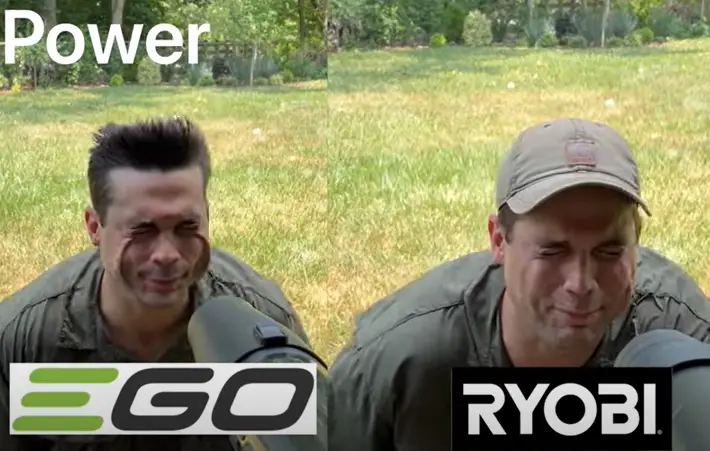 As people who had to learn the hard way, we want you to know exactly what you are signing up for before you purchase a piece of equipment. That's why we are committed to providing honest, easy-to-understand reviews that mean something.
How chainsaws came about
Chainsaws as we know them today have been around for about a hundred years or so. They started out in California when Samuel Bens was cutting down giant redwoods. Can you imagine cutting  down one of those big huge trees with a hand saw? Gotta be impossible, right? There had to be a better way. The original products were actually used by two people and not on a bar like they are today. Talk about danger.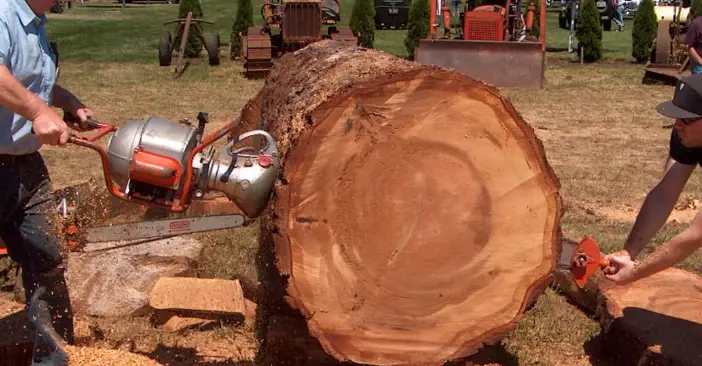 Nowadays they're more compact and used by a single operator. They can be electric or gas powered chainsaws. Most people assume gas is more powerful and rightly so. But the tides are beginning to run as battery technology continues to evolve. People use chainsaws to cut down trees, knock off limbs, harvest wood and scare people during Halloween! 
What To Look For In a Chainsaw
A solid chainsaw is one of the most important tools a homeowner can have. Buying the right one is absolutely essential to your kids thinking you're a cool man or woman. Chainsaws come in a variety of different shapes, sizes, type and models. Most are either gas or electric powered. Depending on your application of course, most people can get away with a 14" bar and chain. Unless you're cutting up massive trees you probably don't need anything bigger than that.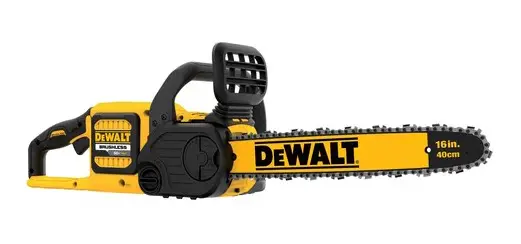 In addition to that, most people nowadays can probably get away with an electric model vs a more powerful, smoother cutting gas powered model. But it's all personal preference. However, honestly I tend to always go with the bigger more powerful engines because I think they'll last longer. So far that's proven to be true, but I could just be wasting money. 
Just make sure your chainsaw at least has a kickback reduction feature. This prevents you from losing one of your precious fingers! You only have 10 of them ya know! Kickback reductions can be in the form of the chain or bar itself. Basically these just prevent you from cutting too aggressively which prevents your saw from bouncing back on you. Or a chain brake which causes the chain to stop when it hits something hard or moves too abruptly 
Other features that are nice to have are more comfort-centric. These include tool-less tensioners, mufflers, anti-vibration, automatic chain oilers, etc. 
To summarize, look for:
Bar length
Kicback reduction
Anti-vibration technology
Automatic chain oilers
Dewalt 60V Chainsaw: Product Review
On to the product review itself… Man I thought there was no way an electric chainsaw would stand up to the likes of Stihl or Husqvarna but this buddy ain't no joke! This saw cuts about 70 6×6 inch logs per charge.
Is that enough? Seems like a lot to me.
Power
For the average homeowner or small-scale professional this should be ample power! If not, you could buy another battery pack. This uses a lithium ion battery so there should be no power drain, basically you keep cutting at the exact same rate until the battery runs out. That's pretty cool man.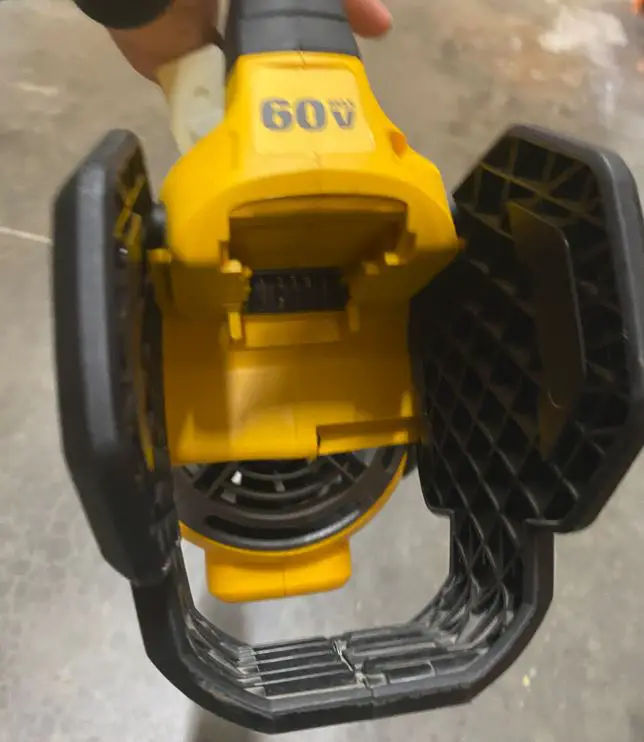 Chain system
This chainsaw comes stocked with a tool-free chain tensioning system. This is big. If you've ever tried to adjust the tension of a chainsaw with a tool you'll know what I'm talking about. Last year I took down a Bradford pear (these stupid trees should be illegal in my opinion) in my front yard and spent half the dang time adjusting the tension. It was very obnoxious. 
At this point, we were already sold – so we got it on Amazon. You can check the price by following this link.
Maintenance
A pretty much standard function on all chainsaws now is the auto-oiling system for chain lubrication. Honestly, I didn't even know you had to put chain oil in chainsaws when I first started. I thought it was like oil for your car that you just changed out periodically. Burned up a good Stihl chain that way. Whoops. You live and you learn.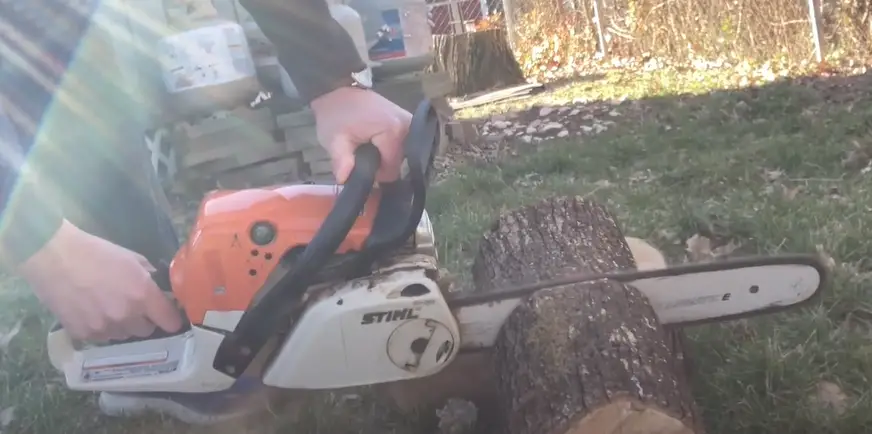 This product is not extremely light like you'd think it would be for an electric saw. It weighs just over 12 lbs which isn't light. I guess I could use the workout but after a while my arms would be worn out. 
DeWalt 60V Chainsaw: Cons
Some of the cons I've seen in other reviews are the chain cover is made of plastic and easily slips around. This causes you to need to tighten the bar and chain constantly.
For a small job I don't think this is a huge deal. I've also seen quite a few complaints about the oil reservoir being too small. Every chainsaw I've ever used has a small oil reservoir. That's pretty par for the course honestly. 
Another issue I've seen has been the battery being difficult to remove. I could see that as a pretty sizable annoyance but nothing to cause me not to buy the product.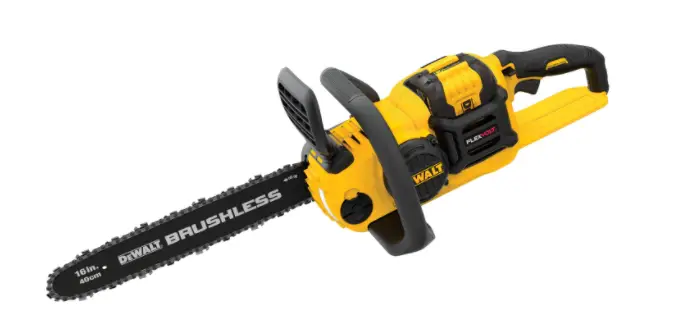 Dewalt 60v Chainsaw: Recommendation
Ultimately, would I recommend you buy this? If you live on an acre with some moderately sized trees or own a small landscaping company where you'd need to do occasional trimming, yes. I think the power and battery life would more than suffice for your project needs. If you're doing a lot of big cutting then you'd need something a little more substantial.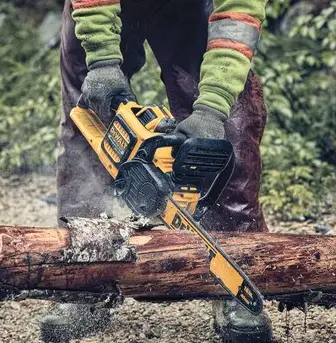 Where to buy Dewalt battery-powered chainsaw
Dewalt tools, including this chainsaw can be found online at Home Depot and picked up in store. Check out the price at Home Depot here.
We always recommend grabbing products like this on Amazon because you can check for sales frequently. You can go straight to this product on Amazon by clicking here.