Trimmer and edger combos are must-haves for anyone who likes a manicured front yard (back doesn't matter).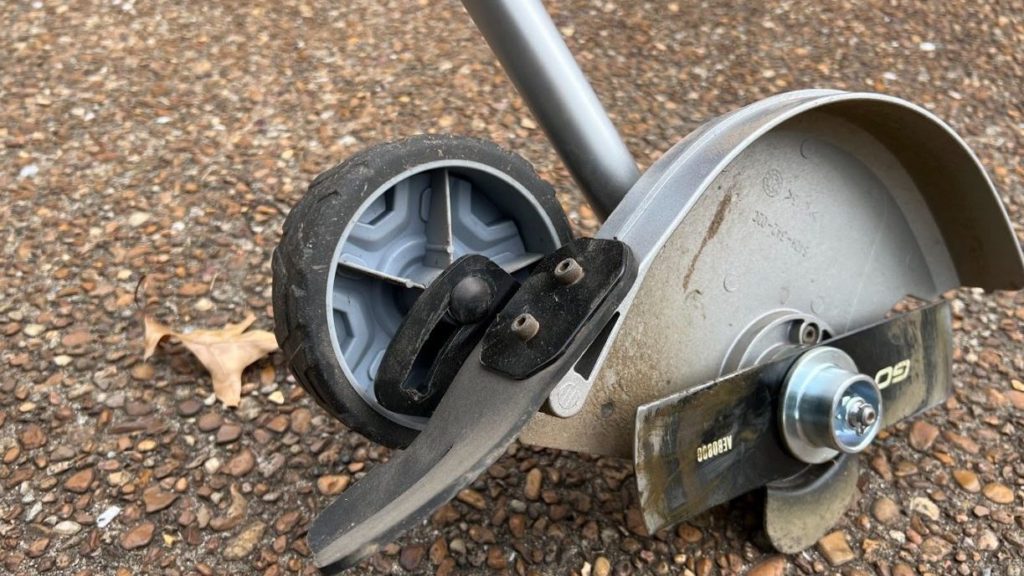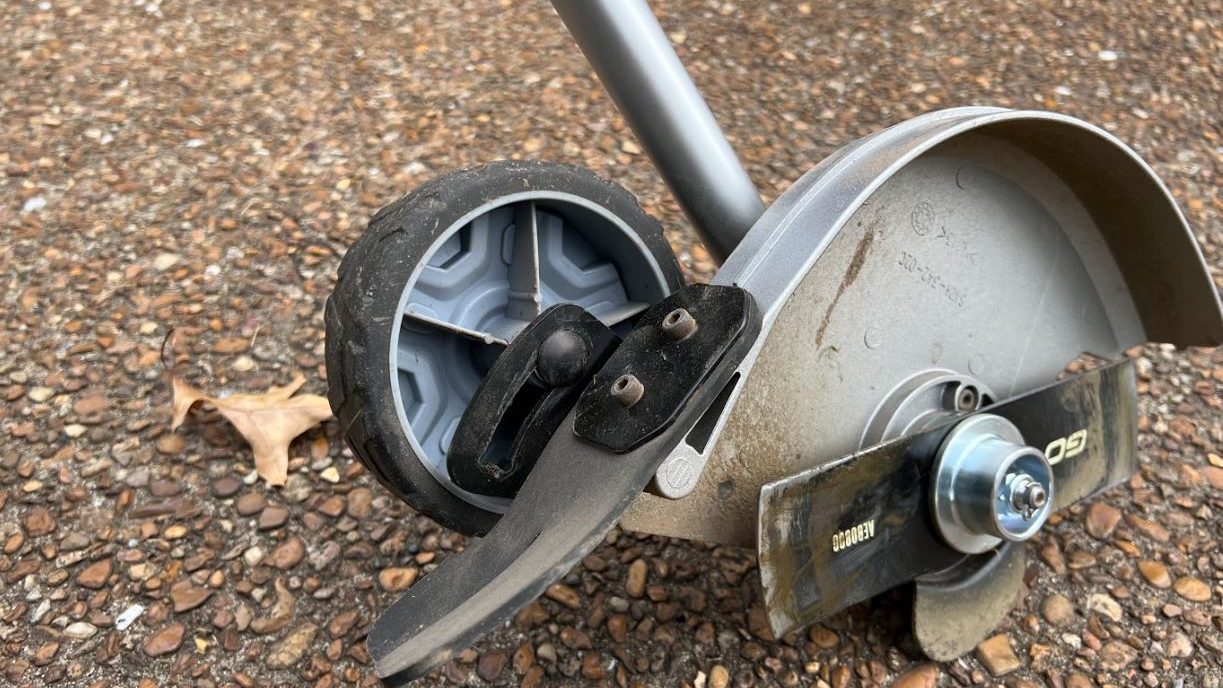 But to get those crisp, clean lines, these two have to do a little shake and bake team action. 
Trimmers handle a significant portion of the work, but edgers separate the nice lawns from the "stop and take a picture" lawns. 
Want that for your yard? Well then, keep reading.
Let's get started!
The best trimmer/edger combos:
EGO Power+ MHC1502 Multi Combo Kit
Greenworks 40V 13″ Cordless String Trimmer and Edger
PowerSmart String Trimmer and Edger
Worx WG170 GT Revolution 20V 12 Inch Grass Trimmer and Edger
BLACK+DECKER 20V MAX* POWERCONNECT
Why we review lawn tools
The reason we started this website in the first place was because we had so much trouble trying to find reasonable, understandable, honest reviews for lawn equipment. And it's not cheap! After hours and hours of research, trying products and returning them, and messing up our yards – we started this site.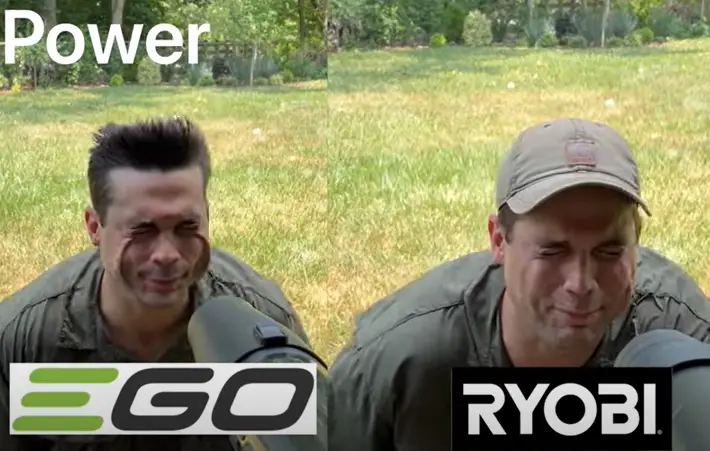 As people who had to learn the hard way, we want you to know exactly what you are signing up for before you purchase a piece of equipment. That's why we are committed to providing honest, easy-to-understand reviews that mean something. 
What's the difference between trimming and edging?
Let's set the record straight here. Edging and trimming are two very different things that are often mixed up. 
Edging utilizes a motorized blade that digs into the dirt between a hard surface (street, driveway, sidewalk) and your yard. Edgers push up dirt and dig a small little trench that cleanly separates the yard and surface. Edgers can do a little bit of trimming if grass is growing over the surface, but are not designed for full-scale grass shredding.
You can do some edging with a weed eater if you have the right weed eater string. We developed GrassKicker weed eater string to make battery powered weed eaters more powerful.
Trimmers are used to cut stray grass not reached or not accessible by mowing. Trimmers can also be used to cut the grass between hard surfaces and the yard, but don't quite have the capability to edge as well as an edger does.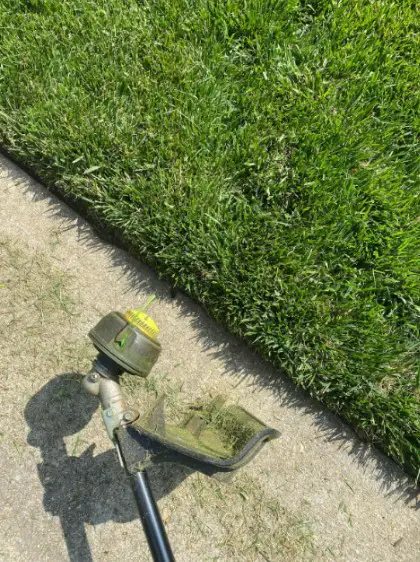 Do you need a trimmer if you have an edger? 
If you have an edger, I would definitely still recommend getting a trimmer. Not just for perfectly clean grass lines before edging, but also for any stray grass growing in other places around the yard – particularly around beds of mulch or other borders in the yard.
I use a trimmer after every time I mow. This helps clean up the stray grass I may have missed, or tough spots like around our mailbox.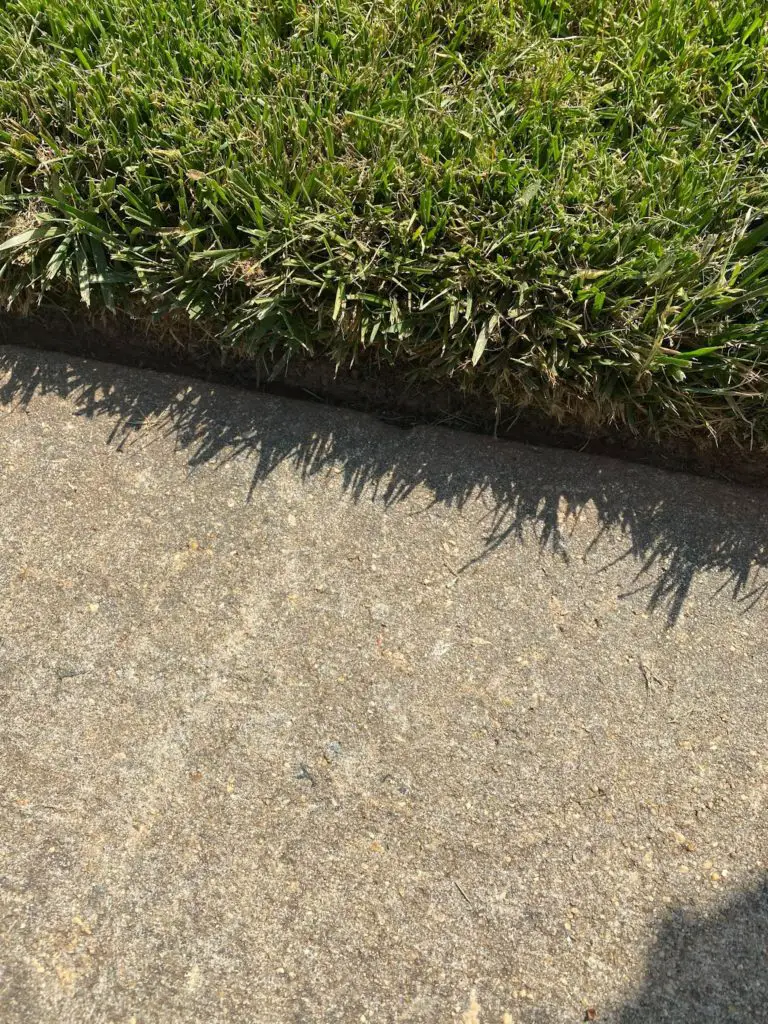 Is it worth buying an edger?
In my opinion, absolutely. Most trimmers now come with detachable heads that allow for an edger to pop right on. Edgers are what take your yard from good to great. 
Can you edge with a trimmer? Can you trim with an edger?
If you are an absolute pro and have a high-powered trimmer, you can do some mild edging with a trimmer.
You still will not be able to dig way down deep to cause the best separation from surfaces, but it will give a similar appearance for a shorter amount of time.
You cannot trim with an edger unfortunately. The blade is just too big to finely cut small fragments of grass. 
5 Best Trimmer and Edger Combos
Let's get into it. Most of these are pretty dang affordable and have a range of power, so I will be descriptive in my recommendations of which trimmer and edger combos are the best.
5. BLACK+DECKER 20V MAX* POWERCONNECT 10 in. 2in1 Cordless String Trimmer/Edger + Sweeper Combo Kit (LCC222)
The Black + Decker 20V MAX string trimmer and edger AND sweeper combo is just an insane value. This trimmer and edger combo not only comes in at a comically low price, but also includes a little handheld blower.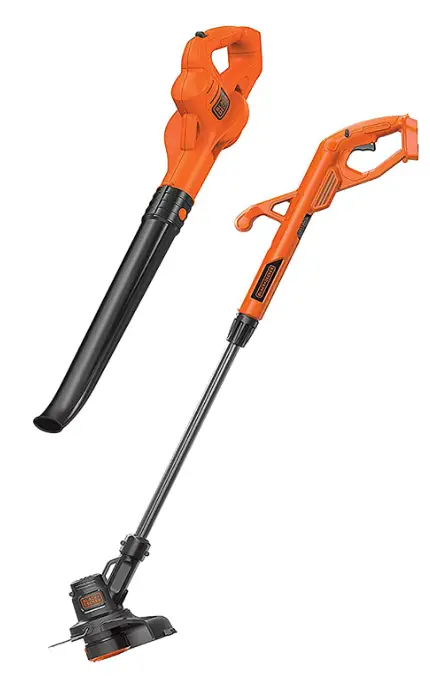 While this is probably the least powerful combo on this list, it will certainly get the bare minimum job done for the bare minimum price. I recommend this Black and Decker string trimmer and edger combo to new homeowners or those with a really small yard.
The trimmer and edger are basically the same thing on this one, with the only difference being a swiveling head. Sadly, this means your edges will not be very deep. Your pockets will, however.
Again – this has awesome reviews on Amazon and is dirt cheap. This is the one I have convinced my parents (who live in a townhome) to grab. This is a lightweight electric option that is great if you are new to electric lawn tools.
You can get it shipped directly to your house from Amazon and that's about it.
4. Worx WG170 GT Revolution 20V 12 Inch Grass Trimmer and Edger
A slight step up from the Black + Decker trimmer and edger combo, the Worx WG170 Revolution is another good one.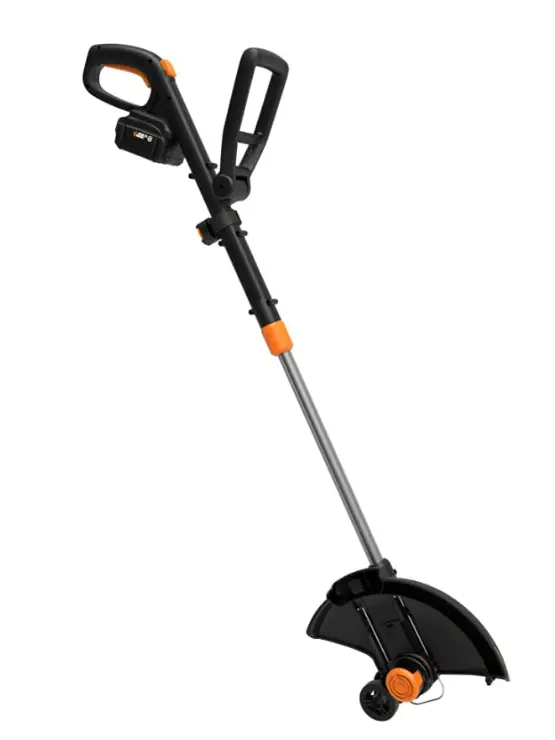 The Worx WG170 has a slightly more sophisticated edging system that has been really well built out. Specifically, they have some wheels that allow you to turn it on its side, and roll it in a straight line with the trimmer function instead of a traditional bladed edger.
This is pretty dang cool and innovative. Worx has a great reputation for spinning stuff up like this. We did a full breakdown of the WORX WG170 here. 
I also like battery positioning being more balanced on the WG170 trimmer and edger combo, plus the adjustable handle.
All around – this one is a more complete trimmer and edger combo, a great price, and a great company.
You can grab this trimmer and edger combo on Amazon as well, or from Worx' website.
3. PowerSmart String Trimmer and Edger, 4 Stroke Weed Wacker with Straight Shaft
Stepping up the power game now and going with a gas one! The PowerSmart string trimmer and edger combo is a freaking beast.
A full on 4-stroke, 31 cc weed eater with a 13-inch cutting width, you will get some serious power out of the PowerSmart. Not only does the trimmer head deliver serious power (enough for commercial use), it also comes with a metal blade attachment to be used for edging.
Since it is mounted on the normal trimmer head, the edging attachment can also be used on super thick brush to chop it away and level it out. 
The only gas-powered trimmer and edger combo on my list, I had to include it because of the great price. Most string trimmers alone come in at $250+ – not to mention a separate edger.
You can grab this one for a crazy good price from Home Depot.
2. Greenworks 40V 13″ Cordless String Trimmer and Edger
I love Greenworks. They have consistently well-built products, which is why I ranked this one number two. To me, this Greenworks 40V trimmer and edger combo is the best value out of all of these.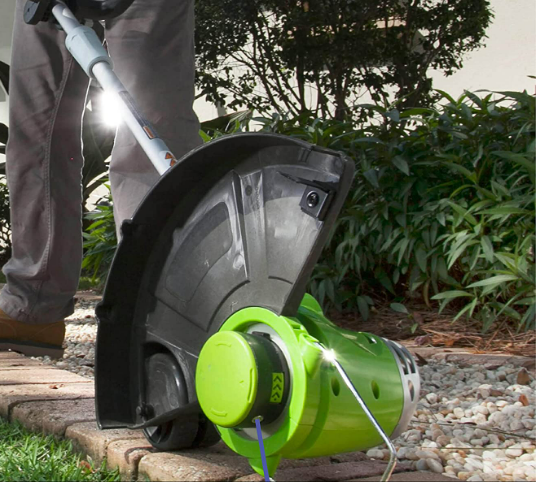 Greenworks reliability and craft perfection generally put them at the top of most of my lists. 
Coming in at 5.6 lbs and *way* less than $100 – the Greenworks 40V trimmer and edger combo flat out rocks. I like the 40V battery on this that can be used on their blower and a few of their other tools as well.
Similar to the WORX trimmer and edger combo, this one has a wheel on the side that allows you to roll it over and precisely and cleanly edge with the string from the trimmer. While this won't be the highest-power trimmer on the market, it will get the job done.
You can grab this one on Amazon today or level up by adding the blower with it as well.
1.EGO Power+ MHC1502 Multi Combo Kit: 15 String Trimmer, 8-Inch Edger & Power Head
EGO is a brand known for making rock solid battery powered products that compete with their gas counterparts. And yep, this one does. The EGO Power+ MHC1502 trimmer and edger combo kit is going to provide best-in-class power.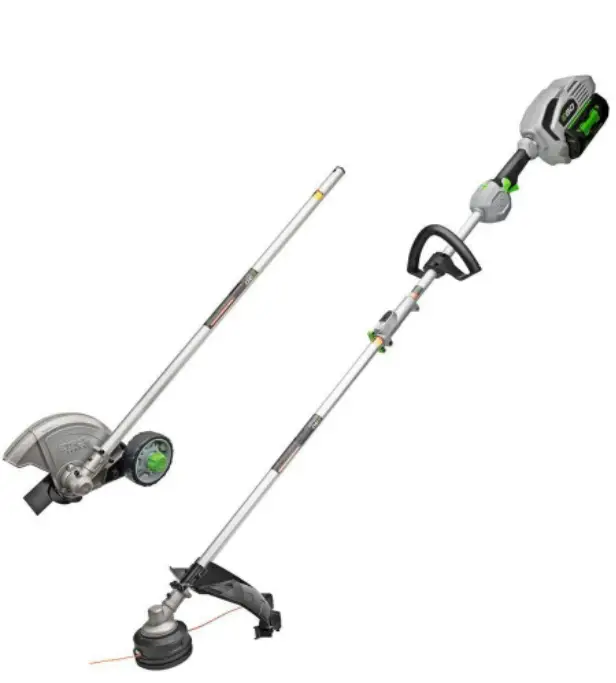 The neat thing about this trimmer and edger combo kit is that the multi-tool head can also attach brushes, hedge trimmers, pole saws, blowers, and more. All of the tools you need from a single battery-powered head.
The EGO trimmer and edger head also uses the standard EGO 56V battery, which can be used with basically all EGO products – saving you a ton of money and space in your garage.
With a super powerful trimmer head and full-scale metal blade edger, this one is the most direct competition to its gas counterparts. I have to say, I think it is just as good as the gas ones.
You can grab this one today off of Amazon, at Lowe's, or on the EGO website.