Lawn mower and weed eater combos are life savers.
You just moved into a new house and have no lawn equipment.
You need….everything. 
Boom – you find out you can buy a kit that includes a lawn mower AND a weed eater. Perfect.
But then there are more choices. And the price differential is huge.
How are you supposed to pick?
Let's sort it out for you…
***SPOILER***
Best Mower Trimmer Combo (all-around): Greenworks 40V 21 inch mower and trimmer
Why we review lawn tools
The reason we started this website in the first place was because we had so much trouble trying to find reasonable, understandable, honest reviews for lawn equipment. And it's not cheap! After hours and hours of research, trying products and returning them, and messing up our yards – we started this site.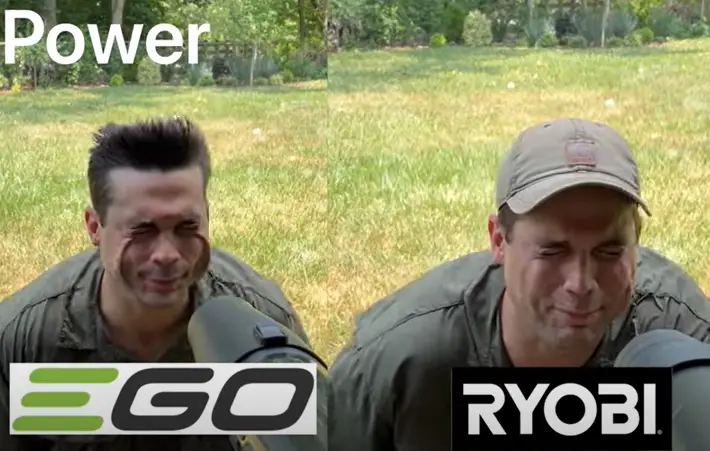 As people who had to learn the hard way, we want you to know exactly what you are signing up for before you purchase a piece of equipment. That's why we are committed to providing honest, easy-to-understand reviews that mean something. 
What to look for in an electric lawn mower 
When looking to purchase an electric lawn mower, you need to make sure you understand what things matter. You will get hit with a lot of technical specifications and marketing tactics. Totally forget them and focus on the things that impact you. Below are my recommendations:
Brand quality

Quality is going to be super important here. Everyone is in the electric mower game these days and there are a ton of junky mowers out there. Avoid anything from a weird brand on Amazon that takes 9 years to ship. It is probably being 3D printed in a Laotian bathroom. Go for brands that have consistent quality and focus on the details, not just flashy colors.

Metal where it matters. 

Most electric mowers are plastic-y. Probably to reduce the weight of the mower so that the battery can get you further, but it feels cheap. Make sure to get metal where it matters – namely the deck. The deck is the part that covers the blades. Don't get plastic here – a rock can rip through it.

Battery interoperability.

 A ten dollar word used here, but really just make sure to buy a mower with a battery that is compatible with other electric tools. Ryobi has this, so does Dewalt, and so do some of the Greenworks products. This will save you garage clutter and plug space.

Self-propelled or not. 

I actually don't like the self-propelled feature. It doesn't help you that much and it drains battery – I would pass here. This is a marketing gimmick in my opinion.
If you have more questions, check out our guide to electric lawn mowers.
What to look for in a cordless string trimmer
Cordless weed eaters come in all shapes and sizes. They aren't highly complicated pieces of equipment, but they do have a few nuances. Here is how I see it:
Feel – Obviously this is subjective, but feel is everything to me. I have had weed eaters in the past where the handle is off to the side, making me torque my shoulders and back. If you can, get as many adjustable pieces as possible to make this customizable. It doesn't seem like you use a weed eater for a long time, but the work is precision work that requires a steady hand and focus.
Motor – brushless motors are king here. They are longer lasting and more durable. Regular brushed motors are fine, too. The key difference here is that brushless motors use magnets, instead of friction, to power the motor. This means less heat, more durability, and a longer life. Brushed motors will still do the job, however they tend to have a shorter life. Brushless motors are relatively new, so if you have had an electric tool back in the day, it was probably brushed.
Interchangeable batteries – Get a dang tool that has batteries that you can use with other batteries. C'mon people – save money by doing this! You don't have to keep buying new battery sets. There are a lot of tool companies that have batteries that work with a ton of different tools. But some of these companies have a bunch of different battery types. Be careful!
Curved vs Straight shaft – I always, always, always prefer straight shafts. They are so much easier to use and control and are much longer than curved shafts. Curved shafts are good for clearing out a small piece of land unable to be mowed. But if you want to actually do some good trimming and edging, a straight shaft is much better. Curved shafts are difficult to maneuver and create a straight line for edging. 
You can also improve any weed eater to become a freaking beast with the right weed eater string. We developed our own after testing out dozens of strings and combining all the best elements.
5 Best Electric Lawn Mower and Trimmer combo kits
Alright y'all – let's get to it. After about 19 hours of research and testing, we decided to bring you the best of the best.
We cut out combinations that could be purchased individually because that isn't super helpful or convenient if you are trying to bundle these. We also disqualified combos that were insanely expensive. No thanks!
5. Toro Flex Force 60V Cordless 2-Tool Combo Kit
The Toro Flex Force 60V Cordless 2-Tool Combo kit is the second most expensive set on this list. And there's a reason why. It has a 22 inch walk-behind mower (meaning it is self-propelled) and a 16 inch trimmer. That's pretty sweet. 16 inch trimmers are definitely in the commercial range and can be used by professional landscapers. The mower has a brushless motor which means it is built to last and deliver more power than its brushed counterparts.
The mower can cut about ⅓ of an acre in 40 minutes. This is a little bit more than the average homeowner needs, but no complaints from me. 
Toro has high quality stuff, but doesn't have quite the experience in the electric space yet. For commercial gas-powered equipment, I'll take Toro all day. In the electric world, they are still newbies.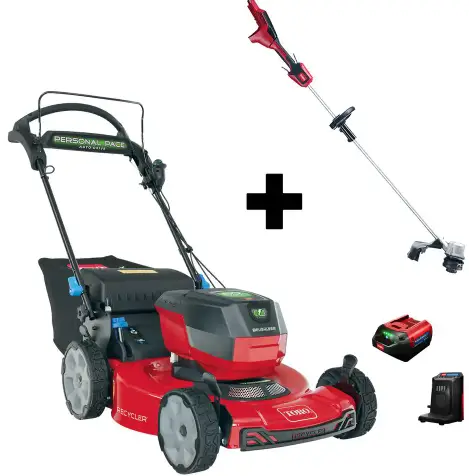 You can grab this kit from Home Depot for about $100 less than it was this time last year.
4. Ryobi 40V HP Brushless 21 in Mower and String Trimmer Kit
I love Ryobi products. They *mostly* have pretty high quality stuff, including their 40V HP Brushless mower and string trimmer kit.
Ryobi's 40V series is really strong, especially since the 40V batteries can be used with an absurd amount of Ryobi products. The mower here has a cross-cut functionality, proving superior and thorough cuts to any lawn. It also has a self-propelled function and comes with two 40V batteries. At 21 inches, it's the perfect width for medium yards, but can also fit smaller yards with ease.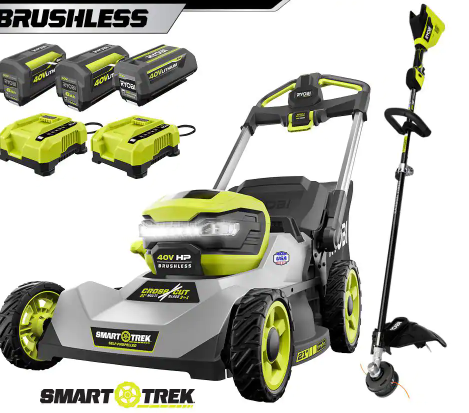 The string trimmer here is nice as well. I have owned this Ryobi string trimmer for a long time and have had absolutely zero issues with it. It cuts 13-15 inches which is above average for residential weed eaters and will absolutely crush the borders of your lawn (which I love).
At a little over $800, this is the most expensive set I recommend. But it truly does serve as an investment in all of their lawn tools because you can buy the tool-only versions of any of their other 40V products, saving a boat load of money in the process.
You can grab this one from Home Depot as well.
3. LawnMaster 20VMWGT 24V Max 12-inch mower and Trimmer combo
LawnMaster is a no-name brand on Amazon but man, they have some DIRT CHEAP products. Now I can't say that these will be found in droves, but geez, it is almost worth buying a new set each year because they are so dang cheap.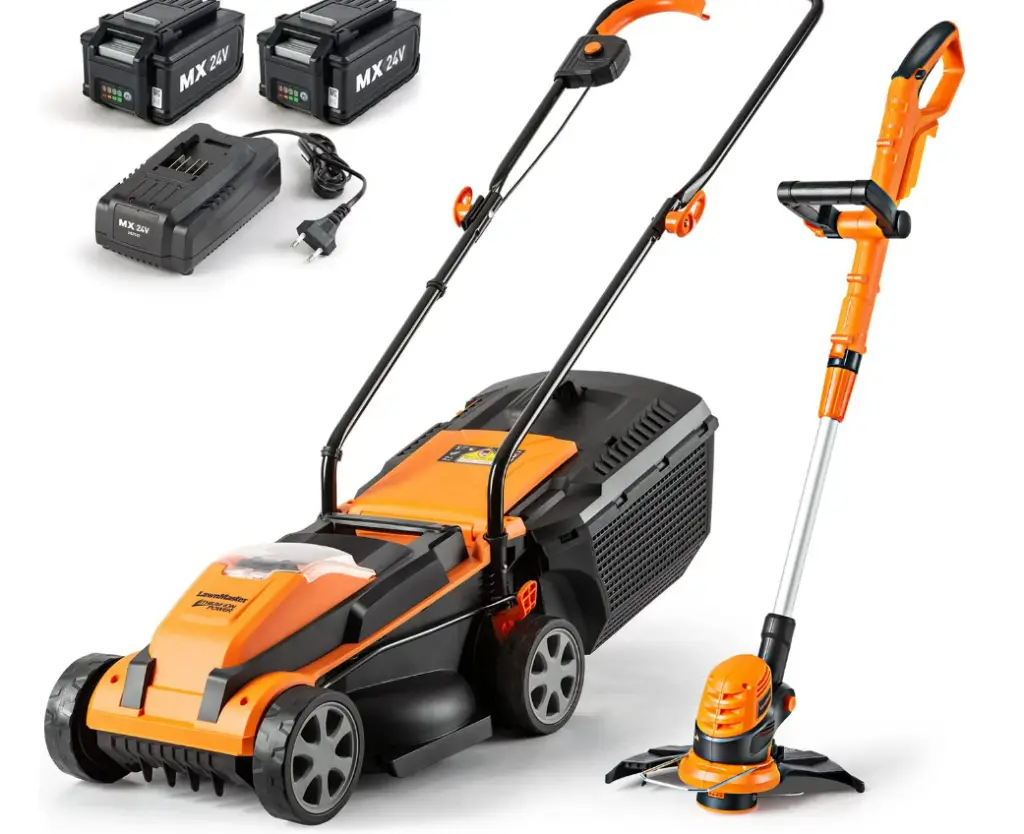 Let me get started by saying that this mower is not very big. It is a foot wide. This is going to be able to take care of most people's smaller lawns, but is actually great for tiny yards. Having a foot-long mower can navigate really tight corners and has more sensitivity to garden borders. 
Unfortunately, I would not recommend this to anyone with a large lawn unless it is serving as a punishment. Or you can make it a part of your Subway diet – a footlong sub and a footlong mower exercise. 
Anyways, you can grab this one on Amazon for $225 with a 10-inch trimmer. The trimmer looks very foreign-factory made. It will get the job done, but again is only good for smaller yards.
2. Worx 40V Lawn Mower & Trimmer Power Share Combo WG934
The Worx 40V lawn  mower & trimmer power share combo (WG934) has over 21 THOUSAND  reviews on Amazon, rated at 4.5 stars. 
So people think it's dang good. For a reason.
The Worx 40V mower here is cordless and covers 14 inches. Definitely better suited for smaller yards, or if you like a workout – some medium yards as well. It has something called "intellicut" which basically adjusts the output of the torque with the difficulty of mowing. It is similar to driving with cruise control where it will push on the gas if you're going up a hill to keep the same speed. Cool.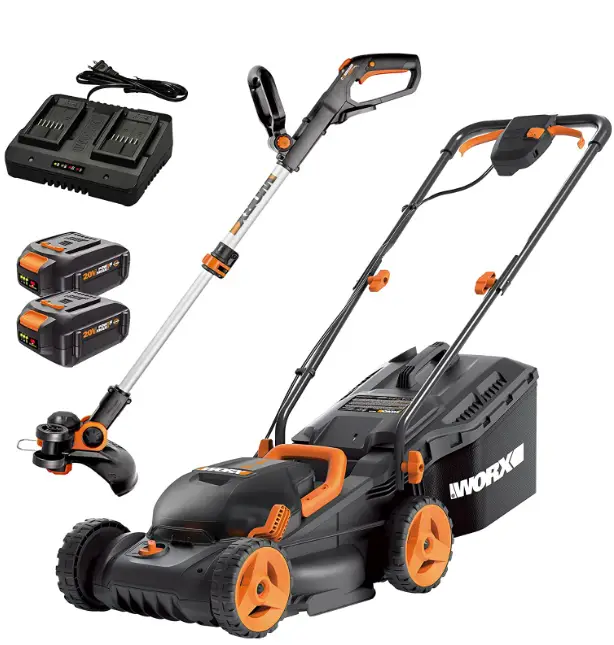 The trimmer and edger combo here is also really nice. I've reviewed a ton of Worx trimmers and have always found them extremely intuitive to use. The power is nice, but another benefit of the WG934 combo kit is the ability for the trimmer to double as an edger. The GT Revolution is the name of the trimmer when its sold separately, and I think its the most popular trimmer on Amazon. Is this…3 tools in one? Is that cheating? 
You can grab this one for a really, really good price on Amazon.
1. Greenworks 40V 21 inch Mower and String Trimmer Kit
The Greenworks 40V 21 inch Brushless and Cordless mower is an absolute beast. The fact that it comes with a full-body, grown-man string trimmer is a huge plus. And it is a great price.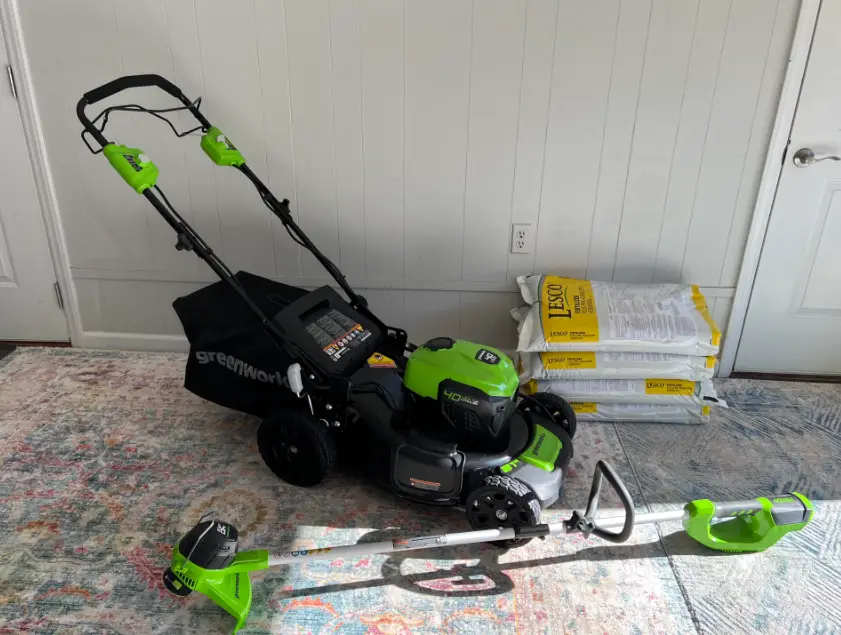 We love the 40V Mower, blower, and trimmer because you can build your entire garage around it. The 40V line from Greenworks covers over 60 products. Once you get this set, you're set. Snow blowers, hedge trimmers, chainsaws, pole saws – you name it, they've got it covered in this line. 
The mower has a steel deck, which makes it one of the most durable cordless mowers in the game. The brushless motor on this also gives it longevity and more torque. Between these two features, this mower is indestructible.
The TLR-favorite Greenworks has really great products. The 12 inch string trimmer that comes with this is perfect for small to medium yards and even includes a brush guard to keep it from tearing into garden beds.
I can't say enough good things about this set. It is on sale for a great price on Amazon.
How to instantly improve your weed eater
Upgrade your weed eating game with the ultimate GrassKicker Weed Eater String! While weed eaters and lawn edgers are great tools, it's not complete without the right string. Our specially crafted line is designed to enhance your weed eater's performance and give you flawless edges around your yard and garden.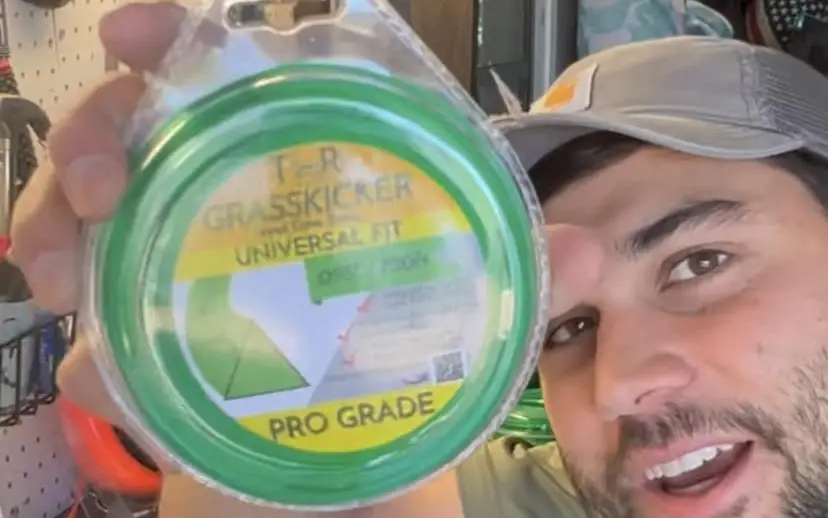 Don't settle for subpar string that breaks easily and leaves ragged edges. Our team has scoured the market and combined the best colors, shapes, thicknesses, and materials to create a superior line that cuts more cleanly and lasts longer.
With GrassKicker, you can take pride in your perfectly manicured lawn and make a lasting impression on your friends and family. And who knows, your envious neighbors might just start dropping by more often! Don't wait, elevate your weed eating game with GrassKicker Weed Eater String today! Click the link now to buy.