Milwaukee leaf blowers are just like Milwaukee everything. Pretty dang sweet. Well made. High performing. Look good.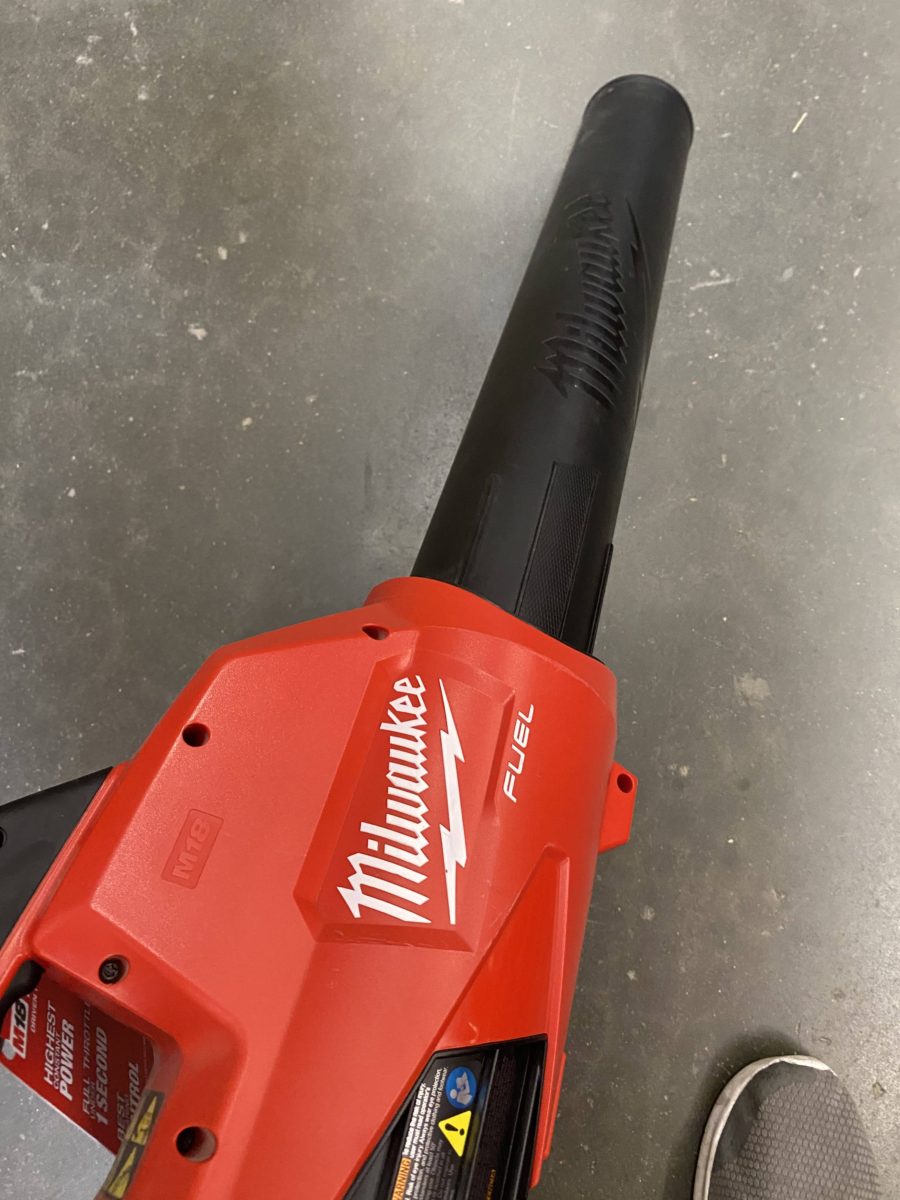 But they've got three real options here and you can't really go wrong with either. And we were lucky enough to get our hands on them for a nice side-by-side trial.
We were blown away (ha,ha).
So let's check them out together.
SPOILER: Our favorite was the M18 Milwaukee 2724-20 Leaf Blower
You can grab it online from Home Depot or on Amazon by following those links.
Why we review lawn tools
The reason we started this website in the first place was because we had so much trouble trying to find reasonable, understandable, honest reviews for lawn equipment. And it's not cheap! After hours and hours of research, trying products and returning them, and messing up our yards – we started this site.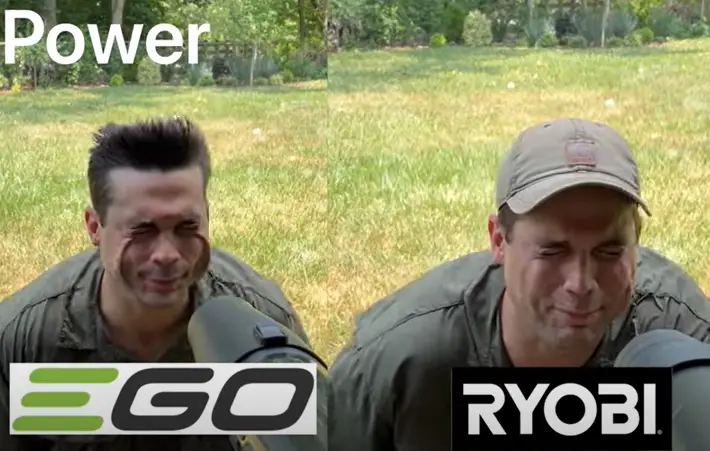 As people who had to learn the hard way, we want you to know exactly what you are signing up for before you purchase a piece of equipment. That's why we are committed to providing honest, easy-to-understand reviews that mean something. 
About Milwaukee tools
Milwaukee tools have a long history of being tough and durable. Milwaukee is a brand that has been around for over 100 years, and it has a well-deserved reputation for making high-quality tools. Milwaukee tools are used by professionals all over the world, and they are known for being able to withstand heavy use. 
Milwaukee makes a wide variety of tools, from hand tools to power tools, and they are used in a variety of industries, from construction to automotive. Milwaukee tools are known for being very versatile, and they can be used for a variety of applications. Milwaukee is a brand that is trusted by professionals, and Milwaukee tools are built to last.
We noticed that Milwaukee was starting to make a splash in the lawn tool industry, so we have been trying to get our hands on any Milwaukee products that we can, including Milwaukee's M18 weed eater.
What to look for in an electric blower
Cordless blowers come in a bunch of shapes and sizes but there are three basic things you need to understand:
CFM – Cubic feet per minute. This is a measure of air output on the blower. Higher CFM = more power, but not necessarily more miles per hour. High CFM with a wide nozzle = lower MPH. High CFM with a narrow nozzle = high miles per hour. Ideally, you want both a high CFM with a narrow to medium nozzle for most residential jobs.
Usability – what is the point of having a blower if it is hard to use? Have to get one that is lightweight, easy to start, and has some functions that make your life easier.
Motor type – brushless motors reign supreme. Cooler running motors with more torque, a longer run-time, and last many more years. Brushless is a no brainer when picking a blower.
These are three things you need to pay attention to when looking through the specifications. 
The 3 Best Milwaukee Leaf Blowers
Milwaukee is known for their amazing quality but they are also known for having a limited selection. One shot, one kill, right? A good example of this is their M18 lawn mower. It is the only lawn mower they make but it is super high quality. Same with their M18 hedge trimmer. That's why I was surprised to see 3 whole leaf blowers by them.
So we investigated and ranked them.
3. Milwaukee M12 12V Compact Spot Blower
At first glance, this tool seems like a nice-to-have accessory. Lo-and-behold I was super surprised to feel how strong it could blow.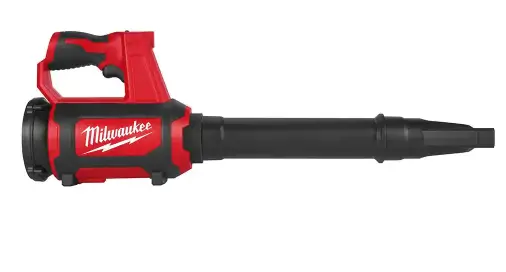 Normally, compact blowers are good to use without a nozzle to dry your car after a detailed wash. While this Milwaukee blower is good for that, it also comes with three nozzles. The wide sweeping nozzle is great for truck beds and job sites. But it also comes with a rubber nozzle and extension nozzle. These take it to the next level and can downright replace your leaf blower at home altogether.
To put this into perspective, it measures at about 110 mph in a nice, direct stream. This is similar to most electric blowers on the market.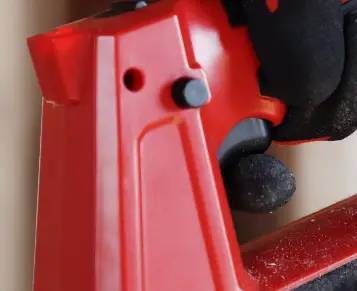 Lastly, this bad boy has a ton of settings near the handle that gave me complete control over the job. Speed settings, a speed lock, and even a variable speed trigger were things that stuck out to us as putting this over the "compact blower" category and potentially into full blown  "regular blower" territory.
This thing is dirt cheap, especially if you already own the M12 battery. It looks like Home Depot has it on sale for under $100 right now.
2. Milwaukee M18 Compact Multipurpose Utility Blower (0884-20)
You might need a concealed carry license for this Milwaukee blower. While it is pocket size, at just over two feet long, it actually is surprisingly powerful. I'd liken it to the Kimo handheld blower we reviewed, which we wrote about and did a nice lil' video for.
In fact, they look like they're made by the same parent company or something. 
Either way, we loved that blower and we loved this one, too. In fact, we keep it in our coat closet right by our front door and use it to clean out the front walkway and patio before guests come over. It moves air at 160 MPH in an absolute laser.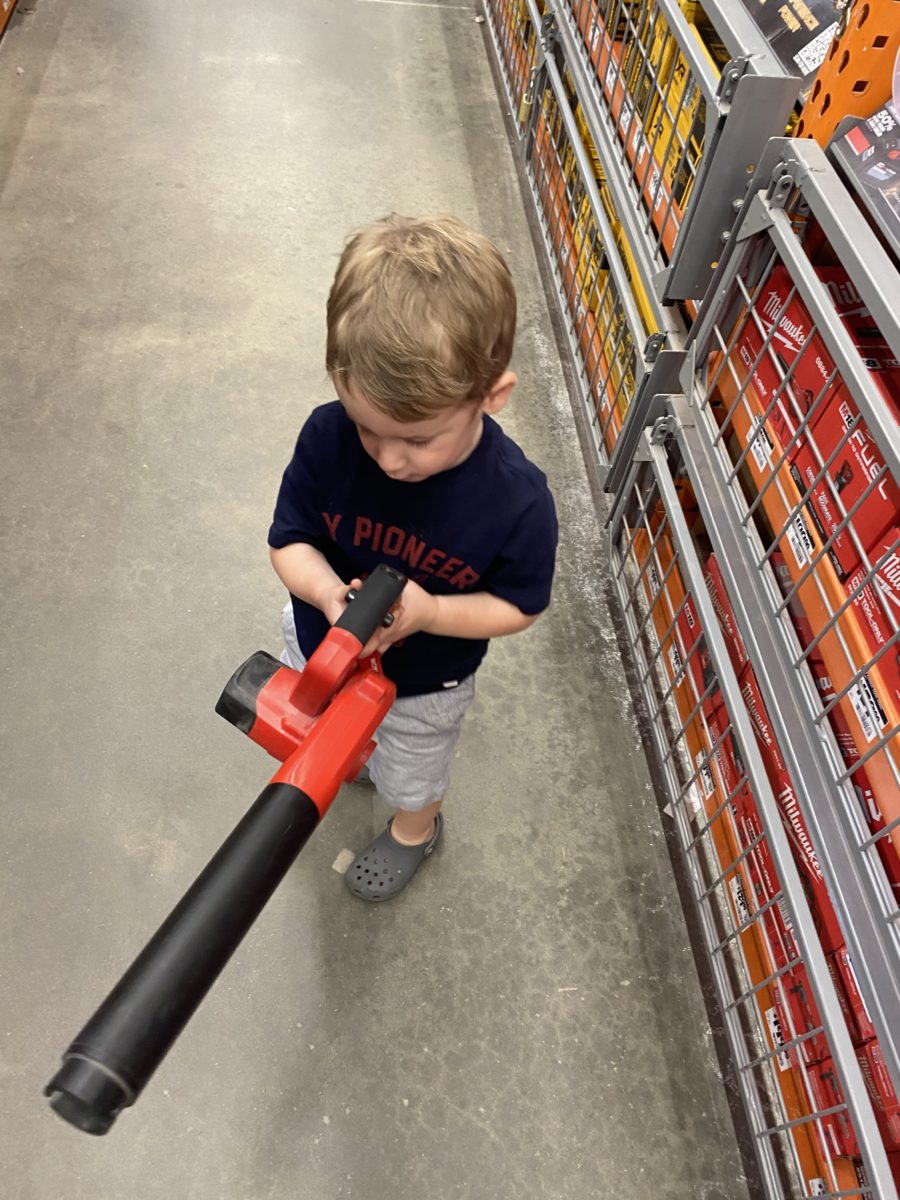 While it definitely isn't the blower for your backyard leaf clearing jobs, it is great for wet leaves, sawdust, tight spaces, and other quick uses.
It also comes with a little extension nozzle that takes it a bit further.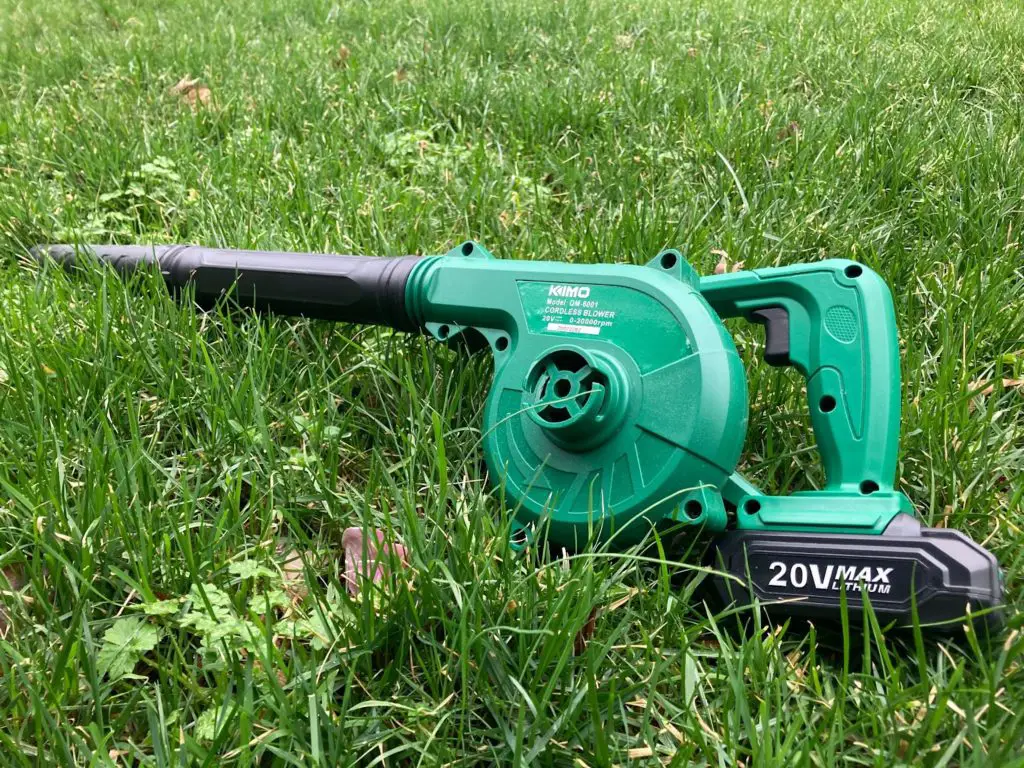 I ranked this number two because it doesn't have a brushless motor and therefore won't have quite the efficiency or durability when compared to brushless motors.
Either way, this thing is really slick and an awesome gift for dad. 
You can get it on Amazon for a great price, with the battery included or at Home Depot – you should price compare.
1. Milwaukee M18 FUEL 120 MPH (2724-20) Leaf Blower
There is a reason this leaf blower is number one. The Milwaukee M18 FUEL series is sweet and features the top-of-the-line Milwaukee products.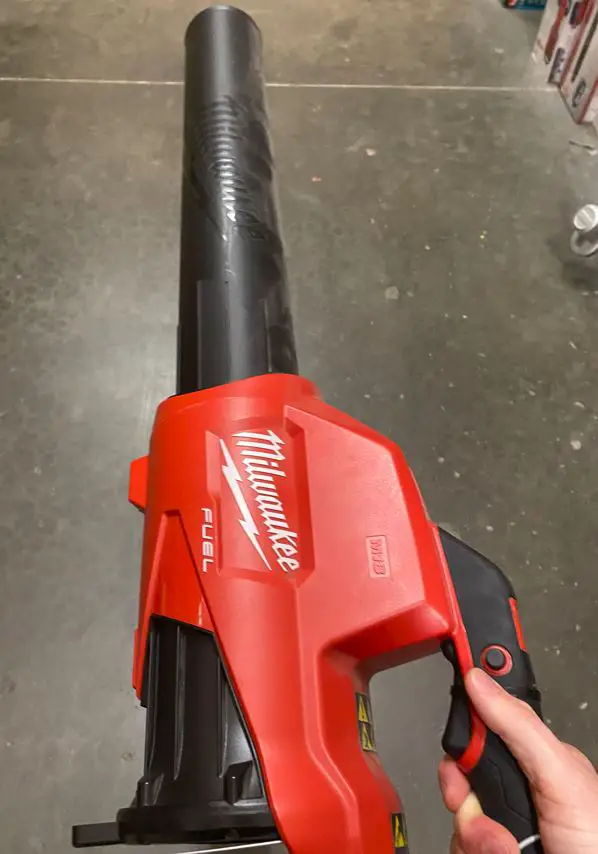 Firstly, it has a nice brushless motor from their POWERSTATE brushless motor line. This gives this Milwaukee blower some extreme torque, allowing it to get to full blast in one second. Cool but doesn't change that much. The real benefits to the brushless motor come in its long life and durability. Brushless motors provide a much cooler running motor than typical brushed motor.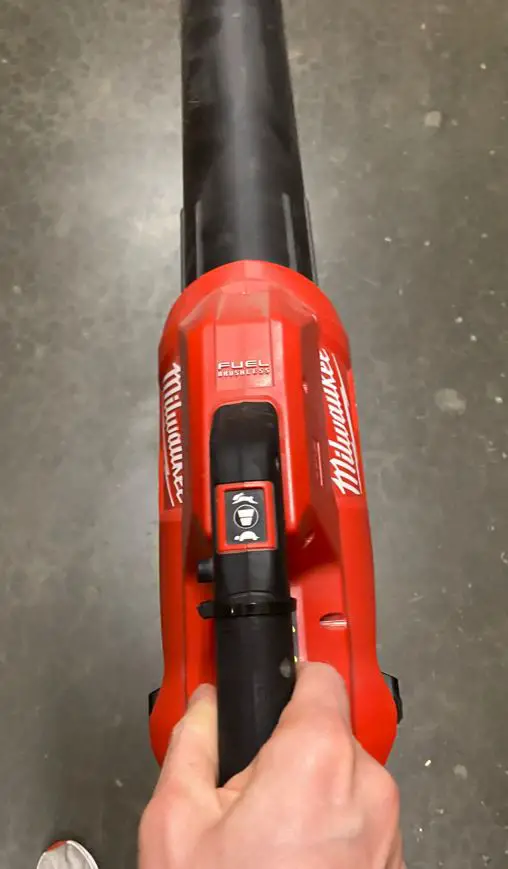 Another thing I love about this blower is the higher CFMs. Whereas the other two blowers are high speed, but narrow streams – this blower will have high speed AND a wide stream. This is the ideal portfolio of a blower you can use to move all the leaves off your driveway or backyard. 
This blower has all the bells and whistles as well – variable speed trigger, speed lock, and all comes in under 4 lbs. 
This is a top of the line blower and if you go reference my "what to look for in a blower" paragraph at the beginning – the M18 blower checks all the boxes.
You can get this one from trusty old Home Depot for a great price.