Greenworks vs Ryobi is like asking to compare Patrick Mahomes and Josh Allen. Two young studs taking the field and destined for greatness.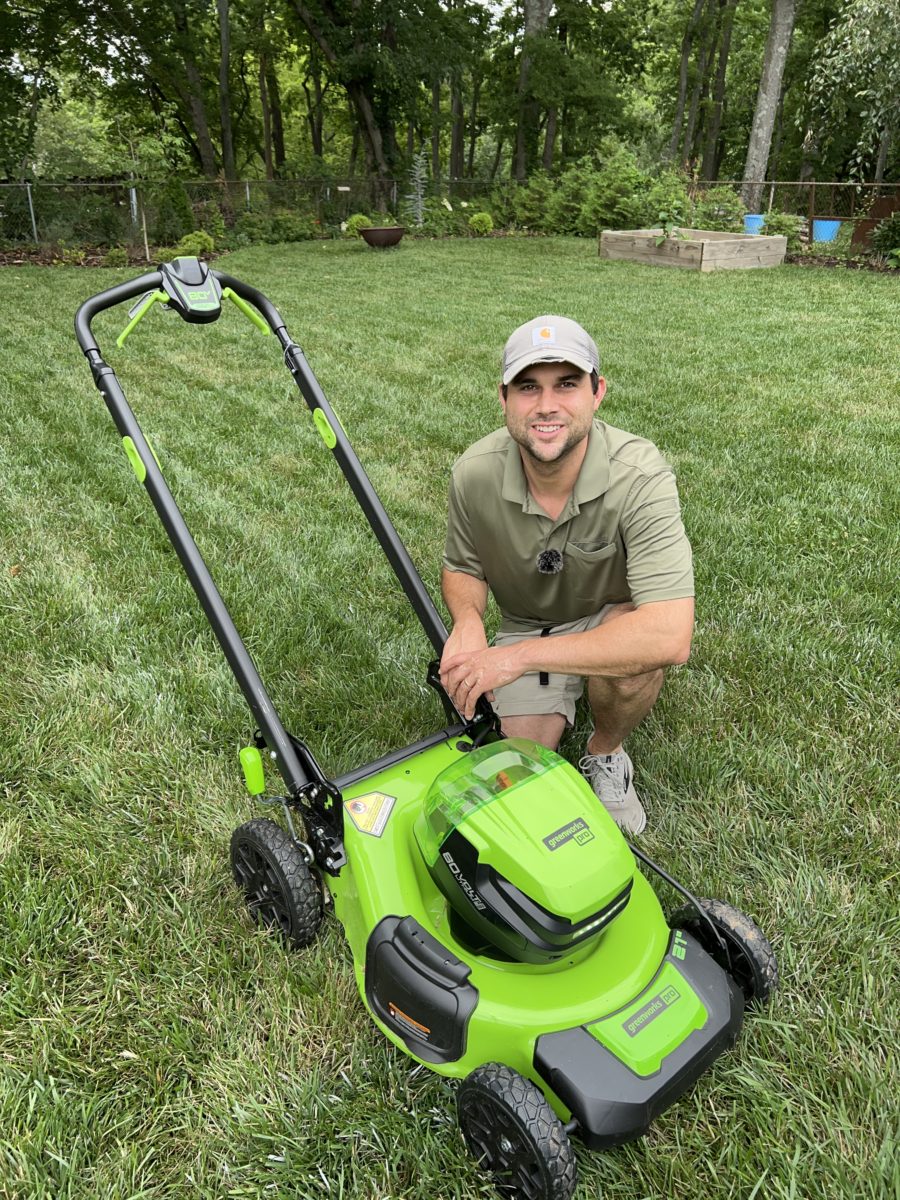 Both Greenworks and Ryobi have become masters in the battery-powered lawn mower game – and for good reason. They make high quality lawn mowers and have a TON of different types.
We have even reviewed the 7 best Ryobi mowers and 11 best Greenworks mowers – that's a LOT of lawn mowers.
Today, we are going to put two of their best mowers head-to-head. We've done a ton of research and found that two of their mowers are extremely similar. Let's figure out which one is best.
Let's put the Greenworks 48V push mower up against the Ryobi 40V HP mower in a battle for the ages.
Jump ahead:
Why we review lawn tools
The reason we started this website in the first place was because we had so much trouble trying to find reasonable, understandable, honest reviews for lawn equipment. And it's not cheap! After hours and hours of research, trying products and returning them, and messing up our yards – we started this site.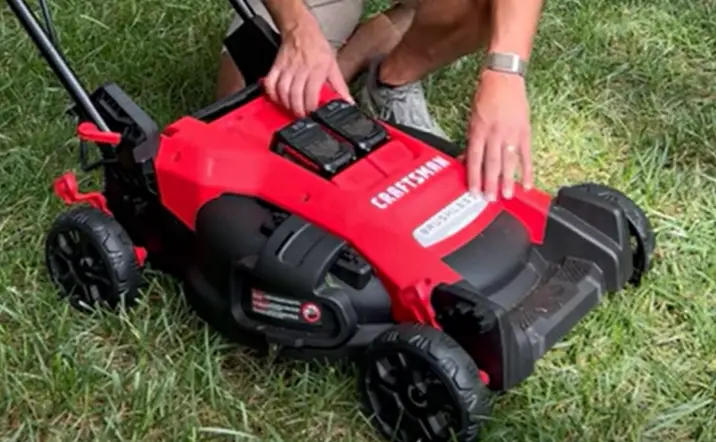 As people who had to learn the hard way, we want you to know exactly what you are signing up for before you purchase a piece of equipment. That's why we are committed to providing honest, easy-to-understand reviews that mean something. 
What we look for in battery-powered lawn mowers
When looking to purchase an electric lawn mower, you need to make sure you understand what things matter. You will get hit with a lot of technical specifications and marketing tactics. Totally forget them and focus on the things that impact you. Below are my recommendations:
Looking for more power? Check out the Greenworks 80V mower review.
Ryobi vs Greenworks brand quality
Quality is going to be super important here. Just about everyone is in the electric mower game these days and there are a ton of junky mowers out there. Avoid anything from a weird brand on Amazon that takes 9 years to ship. It is probably being 3D printed in a Laotian bathroom. Go for brands that have consistent quality and focus on the details, not just flashy colors.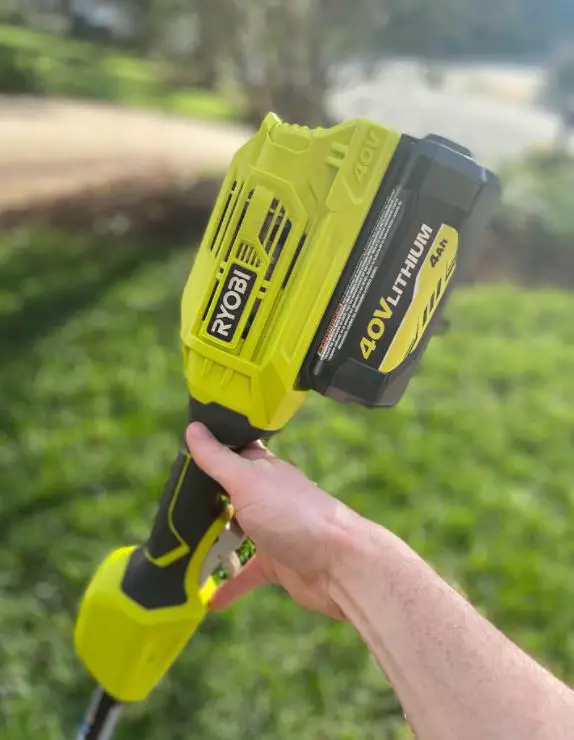 Ryobi and Greenworks both have TONS of different tools. In my experience, when Greenworks puts out a higher-end product, it's a beast. Extremely well designed to be durable, easy to use, and powerful. Ryobi also has a ton of products across several different industries and seems to be more focused on quantity than quality. 
But that doesn't mean Ryobi doesn't have some bangers. There are some great Ryobi weed eaters and Ryobi pressure washers, but there are equally as good Greenworks pressure washers.
Metal where it matters: the decks
Most electric mowers are plastic-y. Probably to reduce the weight of the mower so that the battery can get you further, but it feels cheap. Make sure to get metal where it matters – namely the deck. The deck is the part that covers the blades. Don't get plastic here – a rock can rip through it.
Battery interoperability.
 A ten dollar word used here, but really just make sure to buy a mower with a battery that is compatible with other electric tools. Luckily with Ryobi and Greenworks, they have batteries that can be used across a TON of ther products – both indoor and outdoor.
The same battery used in this Greenworks mower is the same one that can be used to power their cordless shop-vac.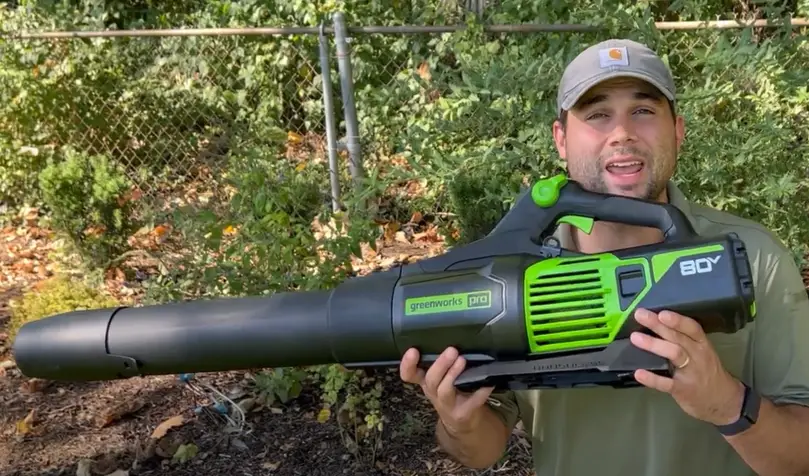 If you have more questions, check out our guide to electric lawn mowers.
Ryobi 40V vs Greenworks 48V Mower: Comparison Guide
Greenworks vs Ryobi – the ultimate head-to-head challenge to see what the top dogs can bring to the table. Let's assess each of these for power, durability, ease of use, and price. Here we go!
Power: Ryobi's 40V HP vs Greenworks' 48V (2×24)
To properly evaluate power, there's a bit of science that goes into it but also other considerations beyond formulas. For starters, typically higher voltages mean more power if you are operating in a vacuum. But we aren't operating  in a vacuum, we are operating in the real world. Scientifically, the combined 48Vs in the Greenworks mower would impute a higher power output than the 40V of the Ryobi mower.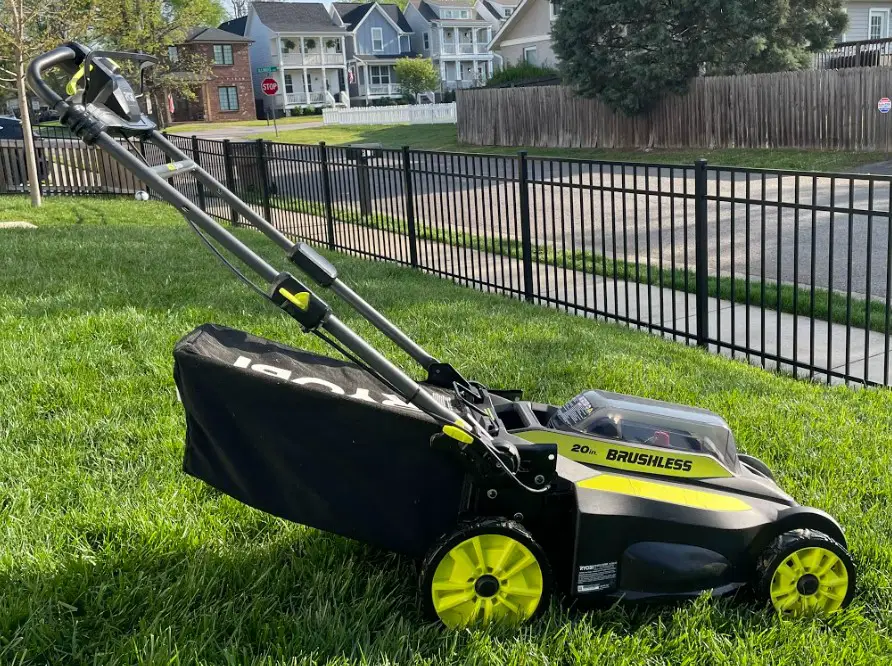 But let's take a deeper dive. The Greenworks 48V mower and the Ryobi 40V HP mower both have about 45 minutes of run-time and up to ½ acre of coverage on a single charge. 
Ryobi has a function called HP, which basically means that the motor and battery are designed to work together to produce optimal power output. Greenworks is really combining two 24V batteries, which doesn't seem to have the same level of connection to the motor that Ryobi is describing. 
I have to give a slight edge to Ryobi in the power game, solely because they have thoughtfully approached the connection between their brushless motor and their batteries – to deliver maximum output. 
Greenworks is still a great choice, but didn't "feel" as powerful when we ran them side by side.
Winner: Ryobi 40V HP
Durability: Metal vs Plastic deck on Greenworks and Ryobi
Next up after reviewing power is the necessary focus on durability. I'll be the first to admit that battery-powered mowers aren't perceived as anywhere near as durable as gas-powered mowers. 
But that doesn't mean there are more durable battery powered mowers than others. Ryobi and Greenworks are a really great example here because they have one major difference: the composition of their decks.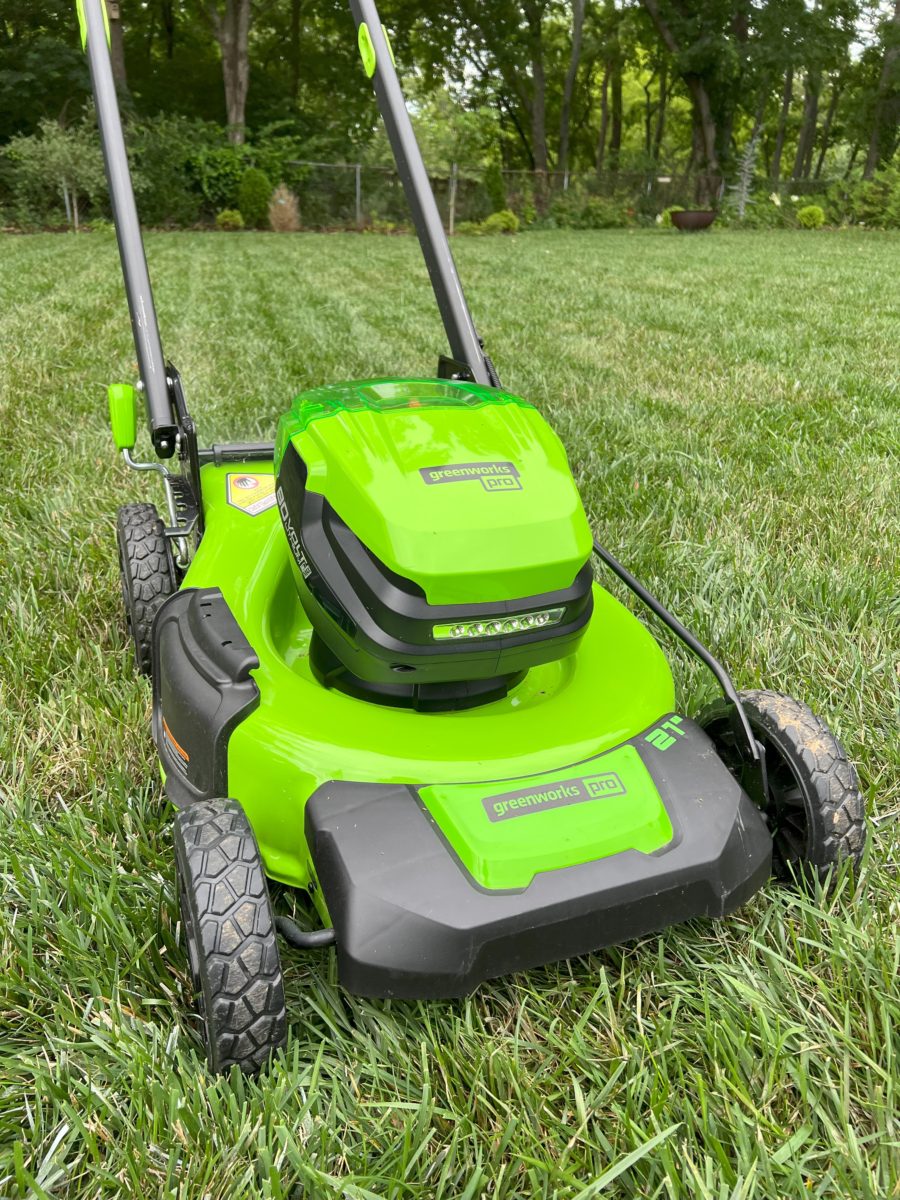 The cutting deck is what houses the blades and what the motor sits on top of. In the Ryobi mower, there is a plastic cutting deck which allows it to be lightweight, but more susceptible to cracking, scraping, and chipping. The Greenworks 48V mower has a metal deck, which is exactly what every gas mower carries. It makes the mower heavier, but actually gives it some momentum, keeps the mower on a straight path, and protects it from breakage. 
Another key thing to notice here is that both mowers have brushless motors. Brushless motors can be contrasted with traditional brushed motors in that they have less friction, provide more torque, and a longer life. They are the superior key to motor durability and a non-negotiable when buying any electric lawn tool. 
Because of the metal deck, I have to give this category to Greenworks.
Winner: Greenworks 48V Mower
Ease of use: Greenworks compared to Ryobi
There are a lot of things to consider when evaluating a mower for ease of use, but none that are as important as how the mower feels. Feel is so important because despite all the bells and whistles and performance highlights that a mower might have, if it feels off you are going to have a bad time. 
One thing that is often overlooked is the weight of the mower. Believe it or not, lighter isn't always better. When I was mowing with the Ryobi 40V HP mower for the first time, it felt like every little bump in the grass would throw off my trajectory. It felt like I didn't have great control because it was too light.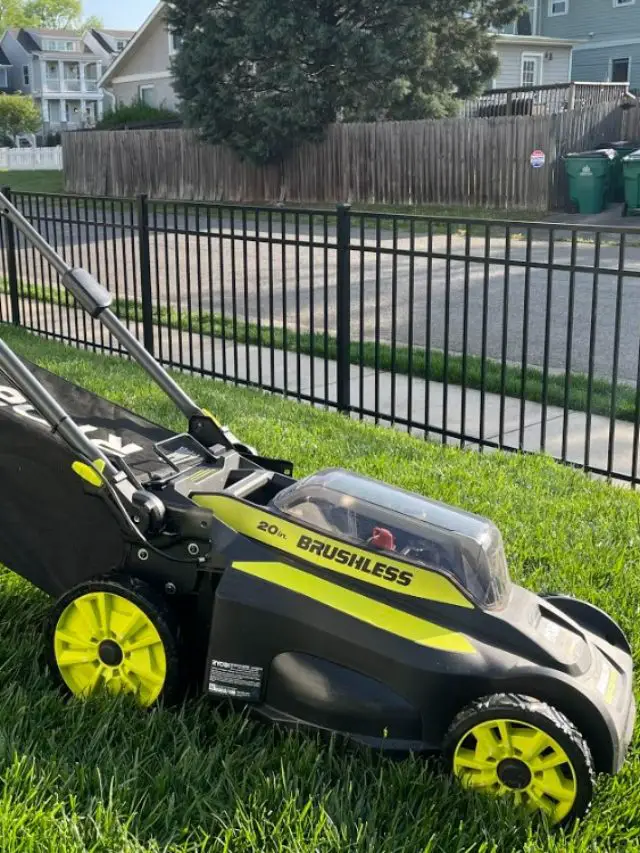 On the other hand, the Greenworks 48V mower weighs about 20 lbs more. Not super noticeable when you are using the mower, but it feels like you handle rough patches better. It can push through things, not around things, which makes a huge difference.
I also like how both of these mowers have easy push-to-start functions, grass collections bags, and are foldable for easy storage. 
Battery-powered mowers are super easy to use, but the feel of the Greenworks mower was much more comfortable and straightforward (literally).
Winner: Greenworks 48V mower.
Price and warranty comparison on Greenworks and Ryobi
The Greenworks 48V mower has a 3 year tool and battery warranty. Not bad! But Ryobi has a  5 year tool warranty and a 3 year battery warranty. It's going to win the warranty challenge
As far as price is concerned, you can get the Ryobi mower from Home Depot for about $399.
The Greenworks mower is available on the Greenworks website and often goes on sale on Amazon for a really good price.
Ryobi wins the warranty competition, but it's a tie on price.
So which is better? Ryobi or Greenworks mowers?
It is a tough call, but someone has to make it. While I like Ryobi's HP series and their effort to optimize performance with their 40V battery and brushless motor, but favor Greenworks when it comes to reliability and ease of use.
If I had to boil it down to an absolute winner, it would be the Greenworks 48V mower by a hair. 
You really can't go wrong with either. In fact, if you already own Ryobi's 40V products, then you're better served buying the tool-only version of the mower and saving a ton of money.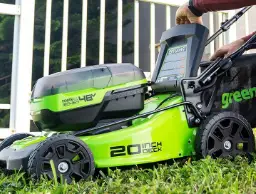 You can grab the Greenworks on Amazon today – check to see if it's still on sale.
Oh – and one of these made our best battery powered mower ranking for 2023. The Greenworks is actually also made our list of the best mowers at Walmart.