The Ryobi 40V 20 inch brushless, cordless, self-propelled lawn mower has done it again. Ladies and gentlemen, it has arrived.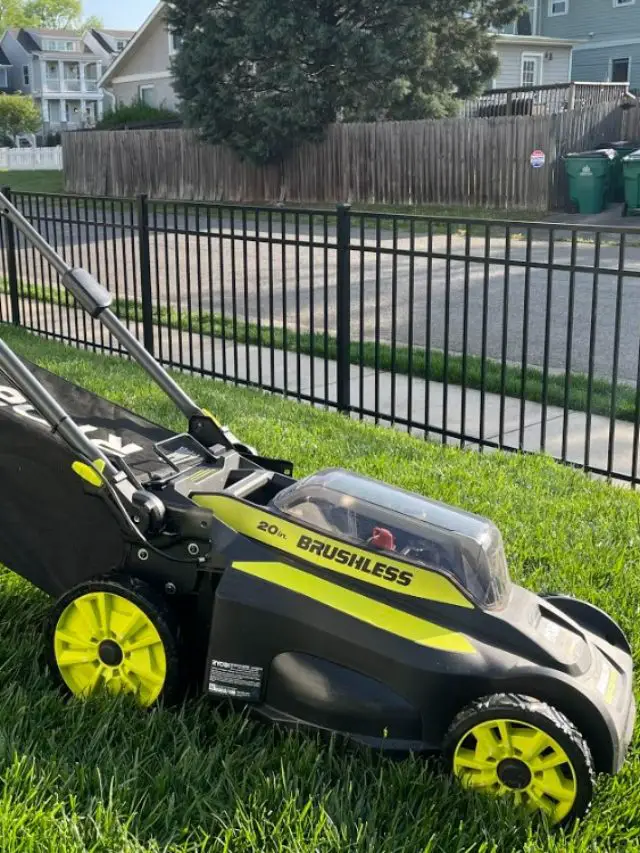 One of, if not THE most popular electric lawn mowers is back. And sleek. And sexy.
Electric lawn mower? Sexy? Yes – it's the Tesla of mowers. And we have loved using it. 
Despite what people say, these mowers actually have some decent power.
But I don't want to spoil it yet.
Why we review lawn tools
The reason we started this website in the first place was because we had so much trouble trying to find reasonable, understandable, honest reviews for lawn equipment. And it's not cheap! After hours and hours of research, trying products and returning them, and messing up our yards – we started this site. 
As people who had to learn the hard way, we want you to know exactly what you are signing up for before you purchase a piece of equipment. That's why we are committed to providing honest, easy-to-understand reviews that mean something. 
What to look for in an electric lawn mower 
When looking to purchase an electric lawn mower, you need to make sure you understand what things matter. You will get hit with a lot of technical specifications and marketing tactics. Totally forget them and focus on the things that impact you. Below are my recommendations:
Brand quality

Quality is going to be super important here. Everyone is in the electric mower game these days and there are a ton of junky mowers out there. Avoid anything from a weird brand on Amazon that takes 9 years to ship. It is probably being 3D printed in a Laotian bathroom. Go for brands that have consistent quality and focus on the details, not just flashy colors.

Metal where it matters. 

Most electric mowers are plastic-y. Probably to reduce the weight of the mower so that the battery can get you further, but it feels cheap. Make sure to get metal where it matters – namely the deck. The deck is the part that covers the blades. Don't get plastic here – a rock can rip through it.

Battery interoperability.

 A ten dollar word used here, but really just make sure to buy a mower with a battery that is compatible with other electric tools. Ryobi has this, so does Dewalt, and so do some of the Greenworks products. This will save you garage clutter and plug space.

Self-propelled or not. 

I actually don't like the self-propelled feature as much as others.. It doesn't help you that much and it can drain the battery some. Older people and those with hills seem to love them, though.
We do a thorough dive into each of these topics in our electric lawn mower buying guide.
Ryobi RY40190 cordless electric lawn mower: Benefits
Now that we have the basics out of the way, let's check out the things that make this Ryobi cordless mower special.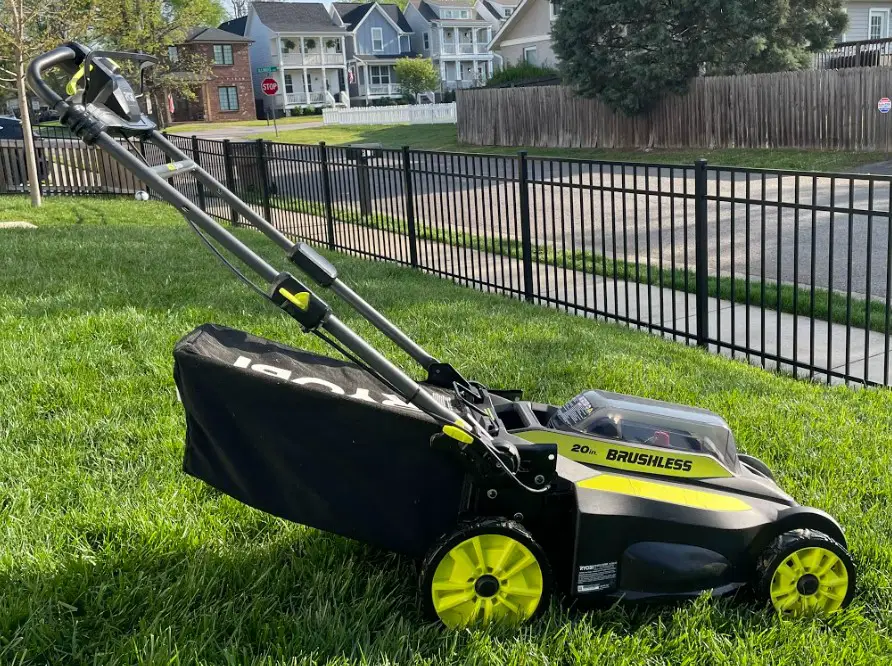 Brushless Ryobi Motor: Benefit #1
The Brushless Ryobi Motor is going to allow for a few things. First, the brushless motor is going to cause less friction and heat inside of the engine. Instead of relying on friction to transfer electrons from the battery to the motor, brushless motors use magnets.
Less friction and less heat in this Ryobi 40V mower mean that the motor will last you much longer than other electric mowers. Brushless motors are also quieter – often included in Ryobi's "Whisper" series. 
Ryobi 40V battery: Benefit #2
The 40V Battery on the Ryobi RY40190 cordless 20 inch mower can be used with a TON of other Ryobi products.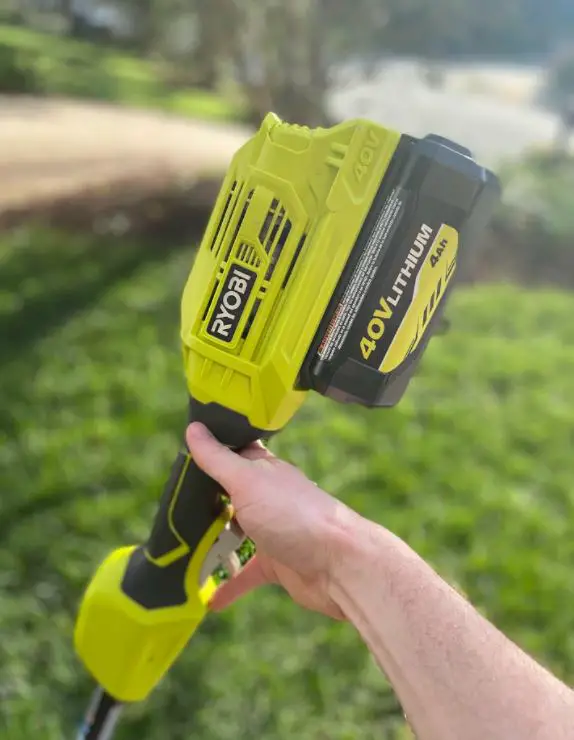 I also own a Ryobi 40V blower as well as a Ryobi 40V 3-in-1 trimmer and edger. I can pop the battery onto each of these tools. Heck yeah. This saves a ton of time and most importantly – precious wall outlet space in your garage. 
The battery is great and can generally last for about 45 minutes or so – but may decrease when the self-propelled function is active. I have a smaller yard so can quickly mow, blow and trim in under 45 minutes. If I add on something like the occasional edging, then it usually requires a recharge.
Self-propelled function: Benefit #3
I know I have been on the record as a big critic of the self-propelled function. I don't like it mainly because it can drain the battery more quickly than without and because I don't mind pushing.
But not everyone shares this feeling. Definitely more elderly folks, people with larger yards, and smaller-framed people can benefit from a self-propelled function. It can tremendously offload a portion of the pushing.
Self-propelled mowers are also great for those of us with hills, a slanted yard, or lots of small holes or divots.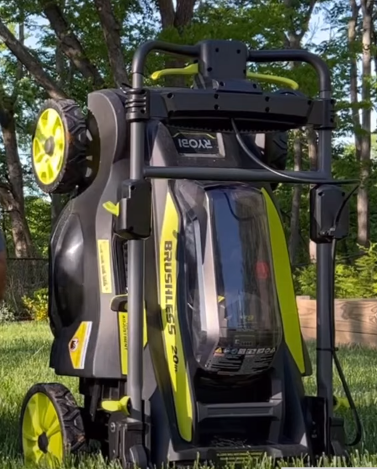 The self-propelled function on the Ryobi 20 inch 40 Volt brushless mower is front-wheel drive, pulling the mower over grass and uneven textures.
One complaint: The plastic deck
The only real complaint I have with this mower is that it has a plastic underbelly. Most heavy duty mowers have a metal deck that protects from extreme temperatures, rocks and sticks that could fly into the blades, and deterioration.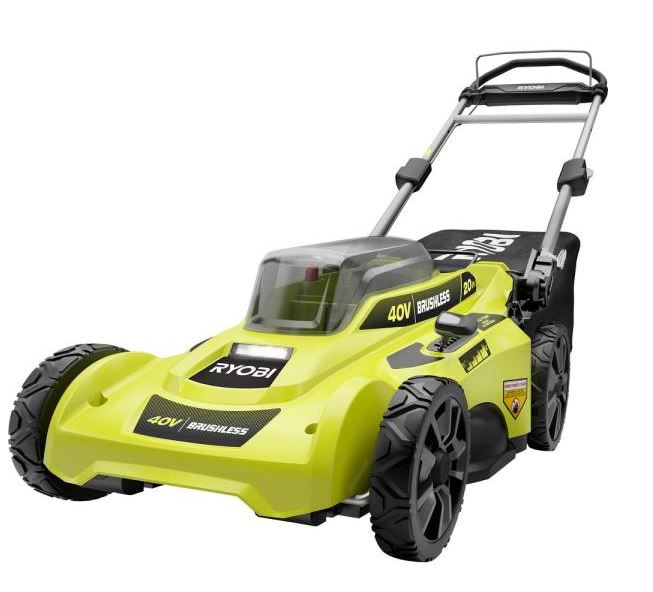 I generally recommend looking for a mower that has a metal deck. These plastic decks are not going to snap in half or anything, I just always like knowing that the steel decks are more durable. 
Ryobi 20 in. 40V mower cost and value
The price has a huge range from what I can tell on Amazon.
Anywhere from $450 to $600 seems like a decent deal – just verify that you are getting the tool only version if you already have the battery, and the battery + charger if you don't.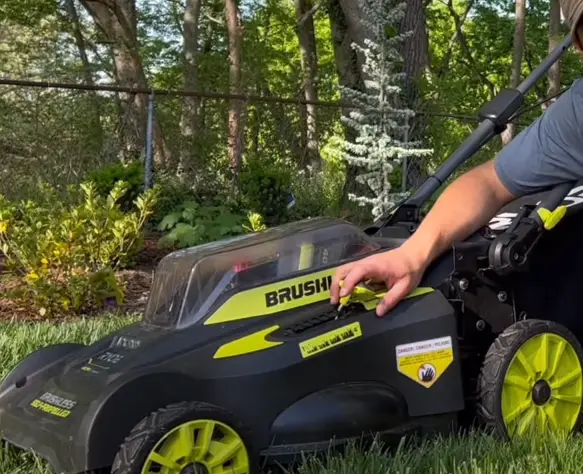 This price range is about average. I do think the Ryobi series makes some good products and I doubt you will have any regrets – we didn't!
We also reviewed another Ryobi 40V mower that is slightly larger here.
The official review: Ryobi 40V 20 in. 6 Ah lithium-ion brushless cordless battery
Pretty good! Has just about everything you would want in an electric mower, other than a steel deck.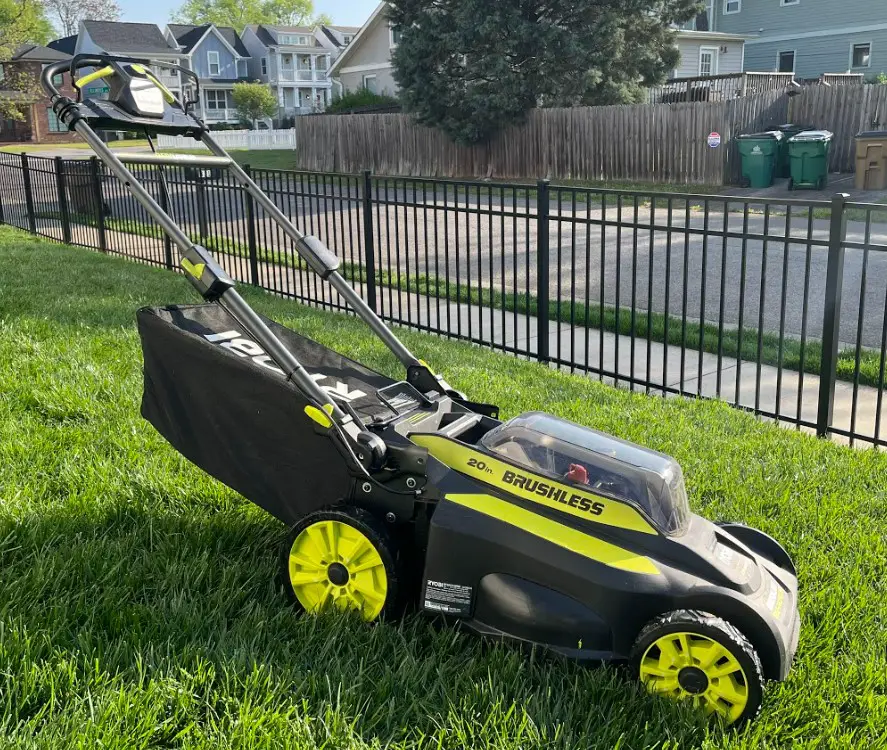 But this Ryobi mower has all the bells and whistles. Grab yours today for a great price on Amazon or at Home Depot or other big box retailer.
If you are interested in other Ryobi mowers, check out the best Ryobi mowers guide we made (Spoiler: This is #1).