Greenworks 24V Cordless Shop Vac is something out of the Jetsons home.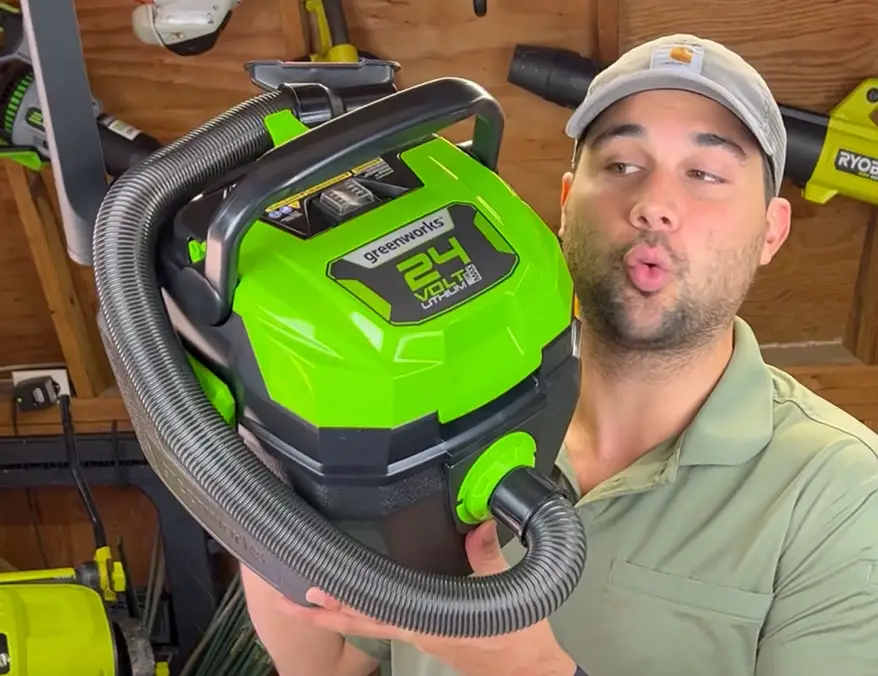 Let's face it – shop vacs are one of the most necessary items you can have in your garage. From cleaning out your car to cleaning up spills, shop vacs are truly one of the most underrated tools on the planet.
Greenworks went wild and made a cordless shop vac. Yep. A cordless shop vac.
Mind blown yet? 
Yep.
Just wait…
Why we review lawn tools
The reason we started this website in the first place was because we had so much trouble trying to find reasonable, understandable, honest reviews for lawn equipment. And it's not cheap! After hours and hours of research, trying products and returning them, and messing up our yards – we started this site. 
As people who had to learn the hard way, we want you to know exactly what you are signing up for before you purchase a piece of equipment. That's why we are committed to providing honest, easy-to-understand reviews that mean something. 
About Greenworks tools
Greenworks is one of the most innovative lawn tool brands. They create all-electric, predominantly battery-powered lawn tools that are of the highest quality.
We've owned and reviewed a TON of their products, including:
One consistent theme: they are all very well built.
Why Shop Vacs are the best tools
Shop vacs are the duct tape of the tool space. In fact, to not own one is a mortal sin. They have the ability to clean up dirt and fine dust from really tight spots and can be carried around outside. 
But the big differentiator from most vacuums is that the shop vac is able to suck up liquids without frying the electrical parts.
This means you can easily go from sucking up sawdust to cleaning up a spilled beer. 
You can even use these batteries in the 48V mower from Greenworks.
Greenworks 24V Cordless Shop Vac: Features and benefits
We were lucky enough to get our hands on Greenworks 24V battery-powered shop vac. We made a nice video about it that you can check on YouTube, but also wrote out our experience here.
What's included with the Greenworks Shop Vac
When we got the Greenworks cordless shop vac, we did a nice video unboxing. Here is  what came with the vacuum:
Hose
Two nozzles
Battery charger
Battery
Vacuum
Foam filter
Two manuals – one for battery/charger and one for the tool
Using the 24V Greenworks Shop Vac
The first thing we noticed about this cordless shop vac was how solid it felt. All the fittings felt rock solid and well put together. With some of the other vacuums we've tried, you could see how a hose could fall out and everything felt a little janky.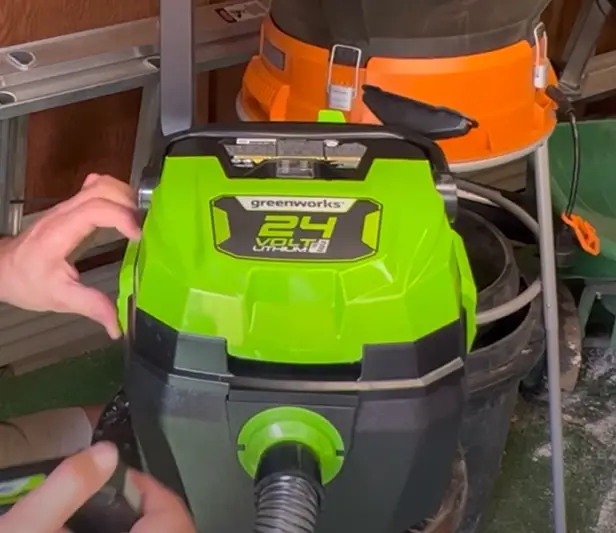 Hose size on Greenworks Shop Vac
The hose at first looked a little bit small. When we got it connected, we noticed just how much give the hose has. This means that it can extend quite a bit, much more than the harder plastic hoses that come with some of the other brands. It feels like with some of the corded models that the harder plastic tubes always put you a few inches away from where you need to be using the vacuum, but not with this one.
Weight and length
The Greenworks cordless shop vac comes in at about 9.6 lbs and honestly felt even lighter. It does a great job with weight distribution as well, making it easy to tote around without swaying  side to side.
Greenworks said the hose could extend to about 5 feet. Without pulling it at all, it sits at just over two feet. We put its claim to the test and to our surprise, it came out at just over 5 feet (a hair longer).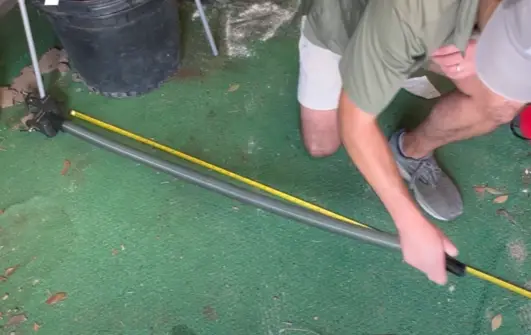 Length is less important for this one because you don't have to worry about the limits of an extension cord.
Battery set-up with Greenworks 24V battery system
The Greenworks cordless shop vac has a little cabin for the 24V battery. You simply lift the top and pop the battery in. It does have a spot for two batteries, although it only requires one. The second one can be used here to add on some run time if needed.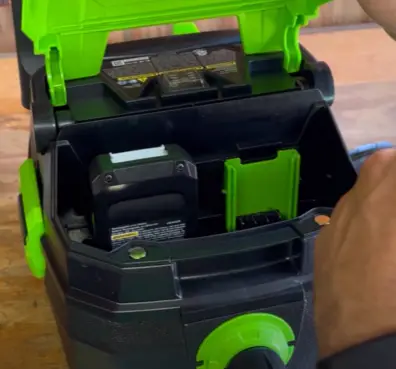 One little bell/whistle type of thing I like on this is that the little door that houses the batteries has magnetic clips. This reduces any chance of rattle when in use and is something that speaks to the amount of thought that went into making this shop vac.
Nozzle tip attachments on Greenworks Shop Vac
While most of the time I use a shop vac without any nozzle tips, this one does come with both a fan nozzle tip as well as a narrow nozzle tip for hard to reach spaces. 
One other cool thing about this shop  vac is that you can easily take out the hose and put it in the air-outtake opening, making for a light-duty blower to help clean up any remaining particles you couldn't get with the vacuum.
Nifty!
If you ever feel like you are losing suction, there is a nice filter that comes with it that can either be replaced, washed, or blown off. If it gets to be too much, then you can easily replace it for cheap. 
Storage
This cordless shop vac is a little smaller than some you may see in industrial settings – it has a 3-gallon storage area for all debris. This is still pretty tough to fill up!
Lastly, the two nozzles are super easy to lose, so I like that the tool has little clips that allow you to store them right on the vacuum.
Is the Greenworks Battery Shop Vac any good?
Greenworks makes a few claims about the run time and charge time for this shop vac. A cordless shop vac is an amazing tool to have until the battery dies. That's the remaining advantage that corded electric shop vacs still have over cordless. 
With a fully charged 2A 24V battery, Greenworks claims that this shop vac can run for about 20 minutes. Well, we actually used it on some clean up until the battery died. 
It ran for exactly 20 minutes. Feels like a long time when you're cleaning!
With a completely dead battery, we timed how long it takes to get to a full charge. It took about 75 minutes.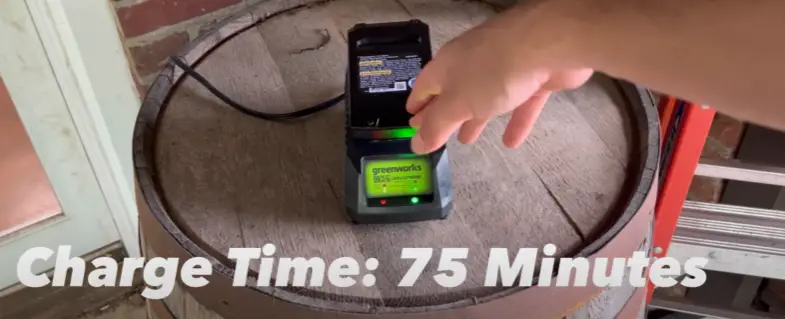 Price and Warranty
One thing we love about this shop vac and all of Greenworks tools, is the 3 year warranty on the tool AND battery. Most tools have a 2 year battery and tool warranty. 
This can be purchased right now on Greenworks website for just under $150.
Official Review: Greenworks 24V Cordless Shop Vac
We absolutely loved the versatility of the cordless Greenworks shop vac. But what set this shop vac apart from all others, both corded and cordless, was the thought that went into its creation. It was extremely well made with the end user in mind. 
We are going to buy this for just about everyone we know come Christmas time. You can grab yours on Amazon for a great price.