Cordless and battery powered leaf blowers are all the rage right now. They are quieter, just as powerful, and easier to maintain than gas-powered blowers.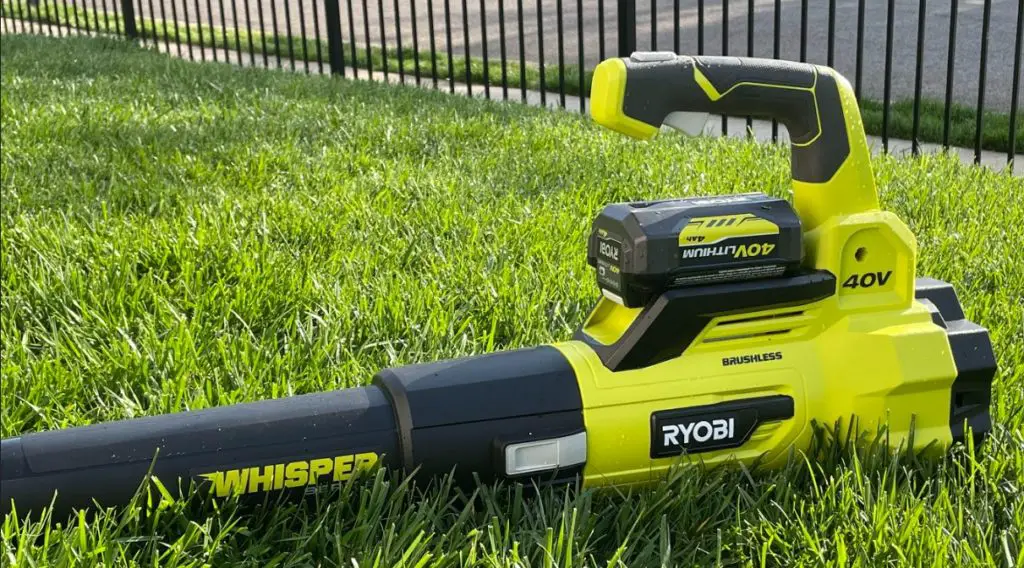 But there are a LOT out there. I see some awesome trusted brands but I also see some that look like they were 3-D printed in a Laotian bathroom. And that isn't good.
So I've put a ton of these blowers to the test (which I will explain more later). Either way, the ones on this list are absolute winners that I have personally used and tested. You can see a lot of the reviews of each of these on my Youtube channel.
Here is my list of the best battery powered leaf blowers:
EGO 765 CFM Battery Powered Blower
Ryobi 40V Whisper Series Blower
Greenworks 80V Blower
EGO 650 CFM Battery Powered Blower
Dewalt 20V Max Leaf Blower
Kobalt 80V Battery Powered Leaf Blower
How I tested these blowers
I've tested these blowers using personal experience with all of them. I've written extensive reviews of each of them and put them through the ringer.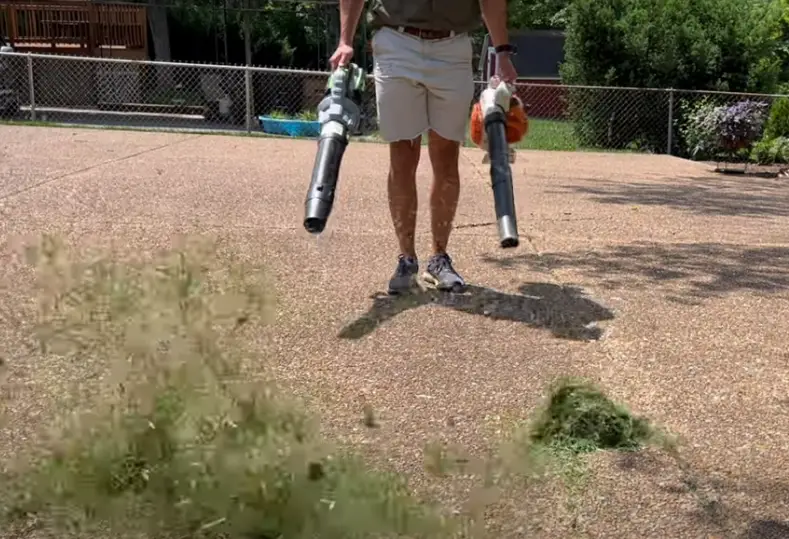 For starters, I tested out their run times compared to the advertised run time. I did this by zip-tying down the trigger and seeing how long it goes for before dying. I also did some side-by-side comparisons to a handheld gas blower and even a corded electric blower. I also compare the noise levels then the other bells and whistles, like turbo buttons.
Best Battery Powered Leaf Blowers (Ranked in 2023)
Ranking these battery powered leaf blowers was pretty easy, although it took about 18 months  of getting access to all of them. But after I did, it was a fun process. There's a clear runaway winner, but after that the playing field is pretty even. Let's get started.
EGO 765 CFM LB7654 Battery Powered Leaf Blower
The EGO 765 CFM battery powered blower is hands down the best. It is the most powerful handheld battery powered blower on the market and much more powerful than many gas-powered blowers. That statement is what gets me hate mail.
But it is true. I got a lot of comments about that on our Youtube review of this blower, but we compared it side by side to my Stihl BG86C gas blower. It is an absolute unit. At 765 CFMs, it has serious blowing power. It also has a decent sized nozzle that allows it to still push air at super high speeds – up to 200 MPH.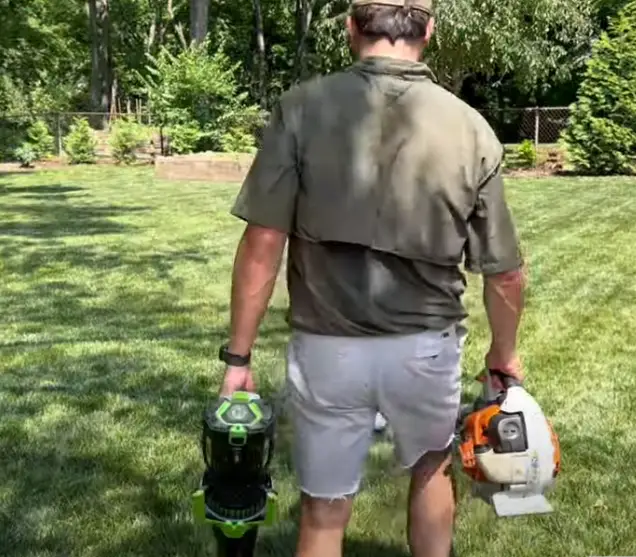 That's an extreme combination of speed and power. When I first used this, it was a powerful blower, then I pushed the turbo button and I had to literally (yes, literally) fight against it because of how powerful it is. It has a brushless motor, is a part of EGO's extensive 56V battery series, and is durable as heck.
You can grab it from Lowe's or get it online at Amazon for a great price.
Ryobi 40V Brushless Whisper Battery Powered Leaf Blowers
I put the Ryobi 40V Brushless Whisper series blower as number two on the list because it is almost as good as the EGO blower, but not quite as nice. One thing it has going for it is that it is quieter, which is why it is called the Whisper series. But it isn't super quiet, it just makes a different noise – you can see a video where we compare it to the EGO blower here.
But all things considered, this is still a great blower. The best part is that Ryobi has a TON of 40V products. If you already own the batteries, you can buy it tool-only and save a ton of money. If you have a Ryobi 40V battery already then I recommend this one over the EGO.

The power output on this one is still great for a battery powered blower. 730 CFM and 190 MPH put it just under EGO's blower and it has all the same bells and whistles: a turbo button, cruise control, and a brushless motor.
Ryobi did a great job with this one and they sell it almost exclusively at Home Depot. Using that link, you can use it with or without batteries to see the cost difference.
Greenworks 80V 730 CFM Battery Powered Leaf Blower
We love Greenworks products and enjoyed this blower as well. It is just as strong as the Ryobi blower, but comes with a much less popular 80V line. Don't get me wrong, Greenworks has some great 80V products, like their 80V mower, but isn't quite as built out or popular as Ryobi.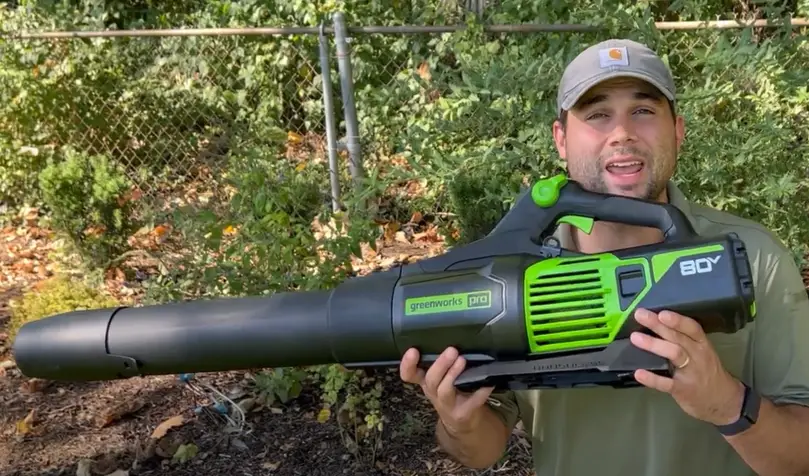 That being said, we got our hands on this one as well and were impressed. It is a great option, especially if you already have a Greenworks 80V battery. But at 730 CFMs, this one is still strong. It of course has a brushless motor as do almost all of Greenworks' products.
After a few uses we noticed that it started making a higher-pitched noise. It still works totally fine, but is kind of annoying. Otherwise, this blower has been darn near perfect and has some awesome bells and whistles. As a plus, I think it is one of the coolest looking battery powered blowers on the market – all black and really sleek looking.
This one is available on Amazon for a great price.
EGO 650 CFM LB7654 Battery Powered Leaf Blower
I'm sad that the EGO 650 CFM blower is so far down this list because it is still a wonderful option for most people. While it doesn't have the absurd power that the 765 CFM version has, most people don't need that much power. 
Honestly, this one is almost identical to our number one rated blower but just comes short in the power department. It has the same brushless motor, battery series, cruise control, turbo button, and looks almost identical. 
The main power difference in my experience is that this will be much closer to a standard electric blower. A very high quality blower, but nothing differentiating the power. When I used it, it was just fine, but didn't lift the stuck wet leaves and grass that the 765 version can lift.
But really – it is a carbon copy of the number one blower but without the insanity. If you are looking for a really high quality blower that doesn't knock you backwards, then this is a great option.
This one is also available on Amazon for a good bit cheaper than its more powerful counterpart.
Dewalt 20V Max Leaf Blower
Dewalt! What can I say? They are one of the OGs in the battery-powered tool game but somehow got boxed out of the battery-powered lawn tool game.
Don't underestimate them. They don't have the market share that Ryobi and EGO do, but they put out some products that absolutely slap – like their nice Dewalt mower and some great weed eaters.. All that to say, they've translated their ability to make insane power tools into insane blowers.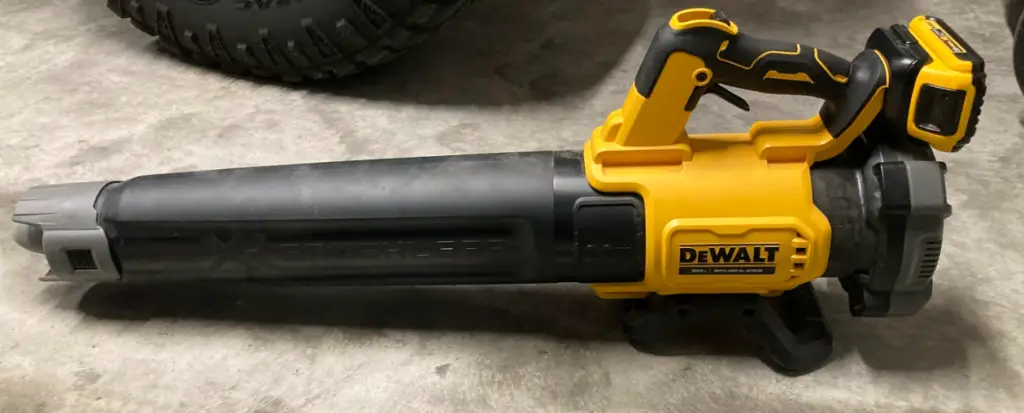 The Dewalt 20V Max leaf blower is a part of their MAX series of 20V lawn tools, which lets you use this battery across dozens of other tools and even into the garage with some power tools. While Dewalt's battery powered leaf blower only puts out 450 CFMs and 125 MPH, it comes with a really cool nozzle tip that allows you to supercharge your speed. 
One other thing I really loved about this blower is the handle. Dewalt is consistent with having handles for all of their lawn tools that are super ergonomic and similar to their hand tools. They have a molded rubber grip, are very light, and extremely comfortable to use. 
You can grab one at Home Depot for a really good price.
BONUS: Kobalt 80V Battery Powered Leaf Blower
Last, but not least, is the Kobalt 80V battery powered leaf blower. This one was an enigma to us. For starters, the battery would absolutely not die. We put this one to the test and it had the LONGEST battery run time – it was hilarious. We zip-tied the trigger down and the battery lasted for 3 hours. Yes – 3 hours.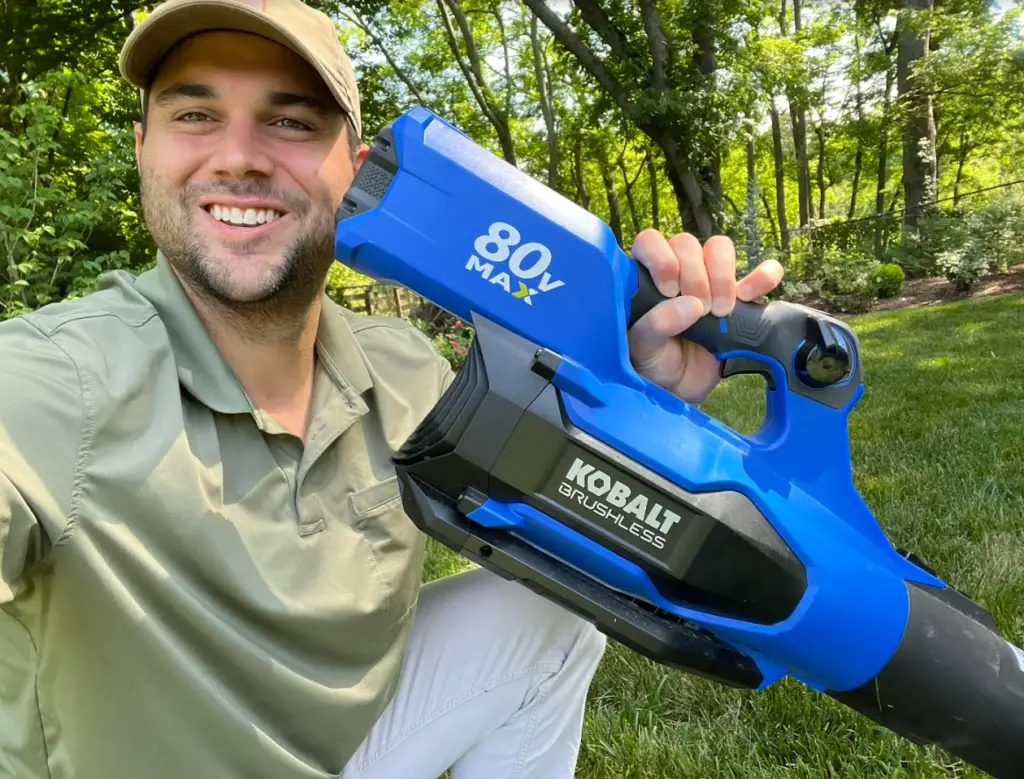 Anyways, this battery powered blower from Kobalt has 630 CFMs and 140 MPH of speed coming through the end of the nozzle. That is some serious power. One thing I don't love about Kobalt is that they are dang hard to find. They used to be exclusively at Lowe's and seem to be disappearing from their shelves.
All-in-all, we were impressed with this blower's run time but it had slightly above average power and average usability. It is a great option, particularly if you already own some other Kobalt 80V products. I don't think this is the one I would start with if I had other options.
This one can be picked up at Lowe's or on Amazon here.
What to look for in a battery powered blower
Cordless blowers come in a bunch of shapes and sizes but there are three basic things you need to understand:
CFM 
Cubic feet per minute. This is a measure of air output on the blower. Higher CFM = more power, but not necessarily more miles per hour. High CFM with a wide nozzle = lower MPH. High CFM with a narrow nozzle = high miles per hour. Ideally, you want both a high CFM with a narrow to medium nozzle for most residential jobs.
Usability 
What is the point of having a blower if it is hard to use? Have to get one that is lightweight, easy to start, and has some functions that make your life easier.
Motor type
Brushless motors reign supreme. Cooler running motors with more torque, a longer run-time, and last many more years. Brushless is a no brainer when picking a blower.
These are three things you need to pay attention to when looking through the specifications. 
Why we review lawn tools
The reason we started this website in the first place was because we had so much trouble trying to find reasonable, understandable, honest reviews for lawn equipment. And it's not cheap! After hours and hours of research, trying products and returning them, and messing up our yards – we started this site.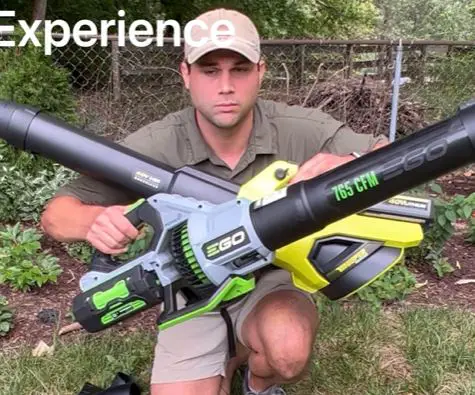 As people who had to learn the hard way, we want you to know exactly what you are signing up for before you purchase a piece of equipment. That's why we are committed to providing honest, easy-to-understand reviews that mean something.