If you are in the market for a new battery-powered mower, you are probably choosing between the Greenworks 80V vs EGO 56V mowers. These are two of the most popular battery powered mowers on the market. And there is a reason why. 
Before you make your decision, make sure to read my word of caution on both of these and understand what you are buying. Lawn mowers are investments, so be sure to understand where your money is going.
Jump ahead:
SPOILER***: We went with the Greenworks 80V mower because of the steel deck and cheaper price point.
Why we review lawn tools
The reason we started this website in the first place was because we had so much trouble trying to find reasonable, understandable, honest reviews for lawn equipment. And it's not cheap! After hours and hours of research, trying products and returning them, and messing up our yards – we started this site.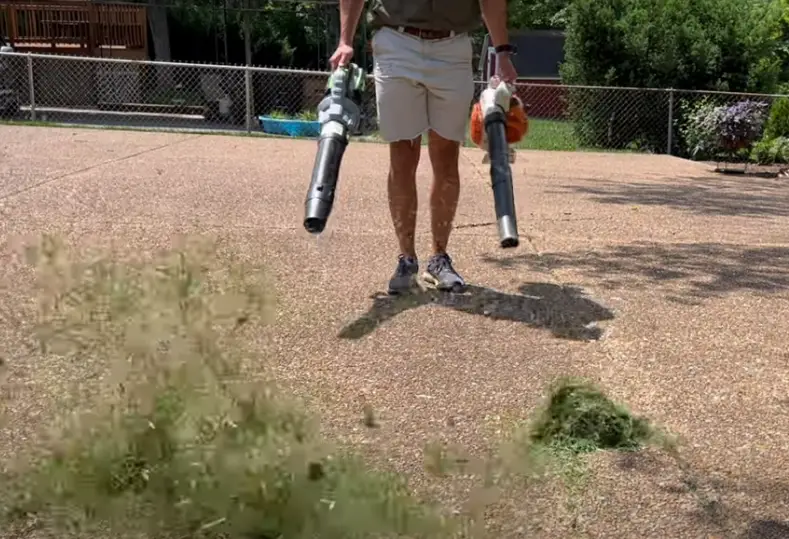 As people who had to learn the hard way, we want you to know exactly what you are signing up for before you purchase a piece of equipment. That's why we are committed to providing honest, easy-to-understand reviews that mean something.
We also compared the EGO and Kobalt mowers and the Greenworks vs Ryobi mower.
About battery-powered mowers
Before buying a battery-powered mower, make sure you understand the pros and cons. They are hot tamales right now and a bunch of folks are buying them. Below, I list out the pros and cons of battery-powered mowers:
Check out our guide to electric lawn mowers – including an FAQ here.
Pros of battery powered mowers
Easier to store and start:

After a long winter, starting up a traditional gas mower requires the pull cord to be pulled no less than 1.4 million times. It usually has some stale gas and blows out a cloud of thick black smoke. Electric mowers, however, you simply attach the battery, press the button, and continue on with your day. 

No emissions:

Tired of breathing in fumes? Are you the type of person that throws blood on people wearing furs? Well, battery-powered mowers might just be for you.

Less noise

Most folks wear ear protection when mowing the lawn because it is pretty dang loud. Electric mowers make way less noise, to the point where you can't really hear them going around. I'm about to buy one for my neighbor who mows his lawn every Monday morning when I'm on work calls. 
Cons of battery powered mowers
Less durable

Many of the battery powered mowers have plastic decking, or the piece that covers the blades. This leaves them vulnerable to rocks ripping through them or other accidents that can crack the deck, leaving the whole mower useless

Batteries

Batteries drain. You won't always be able to cover the whole yard (depending on the size) in one trip AND use the batteries for anything else after. Charging takes a while as well.

Expensive

Compared to simple gas mowers, electric mowers are generally more expensive. You can save a bit of money if you already have the batteries for another tool and buy the tool-only version.
Greenworks vs EGO brand review
Personally, I am more familiar with Greenworks' line of products. They have some of the top selling battery-powered equipment on Amazon, and advertise a ton over there as well. EGO is pretty big with Lowes and also has some listings on Amazon. 
Greenworks is what I would consider a higher-end product line. They have some pieces of equipment, like one of their blowers, that has tremendous power and quality. EGO is less established and has a little bit of a plastic-y toy feel to it. Both are great, however.
To read our full review of Greenworks' mowers – click here.
Greenworks 80V vs EGO 56V mower: Breakdown
Okay – enough about the brand, let's figure out the fundamental pieces of knowledge we need to make an informed decision about these two mowers. We need to understand power, battery-life, durability, and the bells and whistles. Let's get started.
Power
Greenworks has a handful of 80V mowers, so I am going to pick one of the most popular (and our #1 ranked), the 21" brushless self-propelled mower with two batteries. Each battery has about 4 Ah of power coming out, giving this a total of 8 Ah. This is about all the power you will need for small-to-medium sized jobs around the yard. 
The EGO 56V 21-in self-propelled mower is their best selling mower on Lowes website. The EGO 56V 21-in mower has about 7.5 Ah of power in its battery, just slightly below the Greenworks mower. While these are comparable, the Greenworks has a bit of an edge.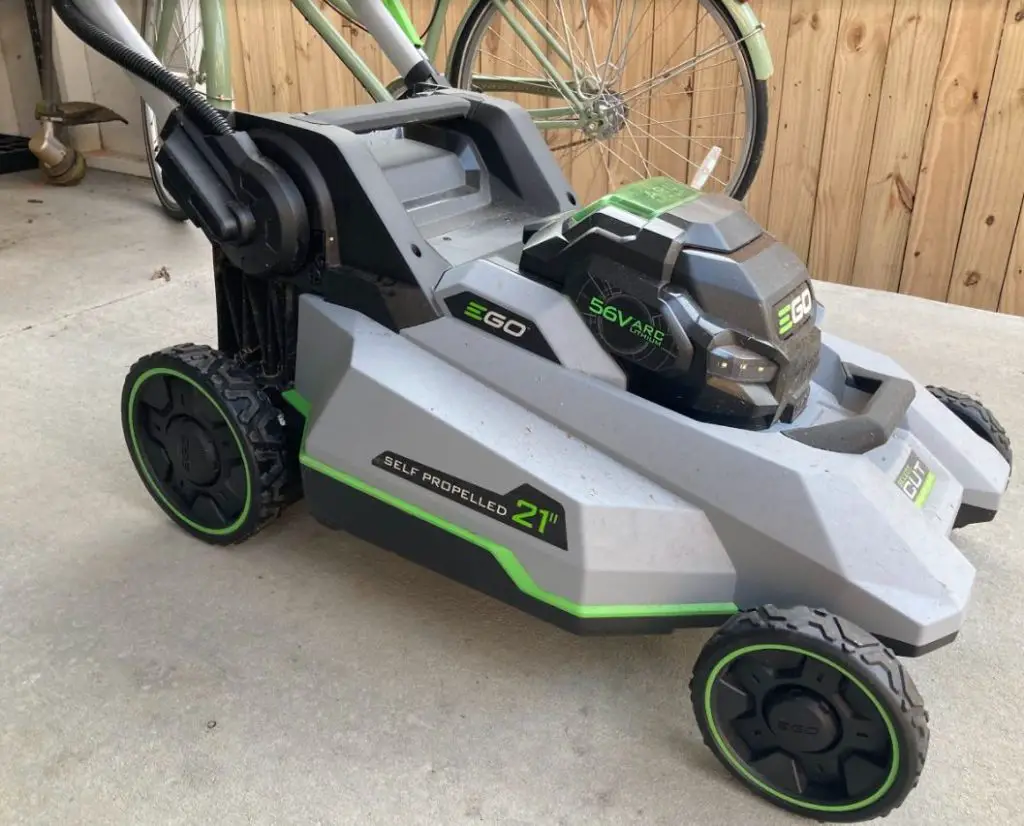 To be fair, it is hard to call a winner in this battle because both have almost identical power output. At the same time, they are both on the upper end of power when it comes to self-propelled battery-powered mowers. I can tell you from using the EGO, it feels powerful. It is relatively heavy and when you engage the self-propelled function, it really jerks you forward.
Both have a brushless motor, which means their motors provide more torque, a cooler running motor, and a longer life than their brushed counterparts (shoutout Dennis for the correction!).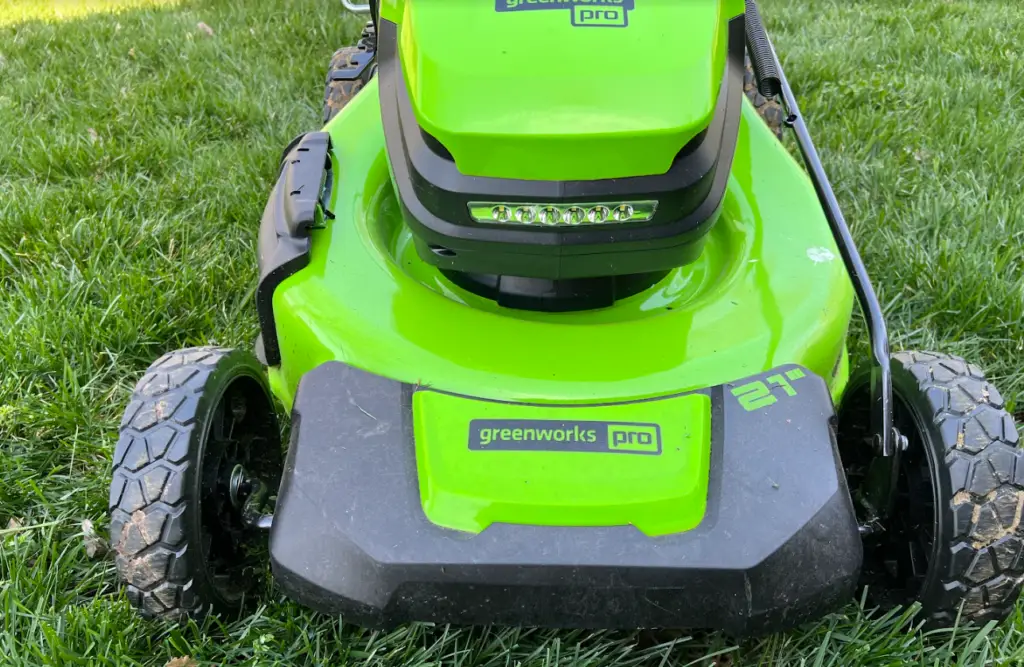 I think we have a tie on our hands, with EGO perhaps having a slight edge in the "feel" of power, especially if you get the Select Cut or Select Cut XP versions.
Battery life
The Greenworks 80V mower has a battery life of up to 60 minutes, as does the EGO 56V mower. One thing that gives the EGO a slight edge here is that its power system is just a single battery. The Greenworks requires two separate batteries and two separate chargers (which means two separate wall plugs).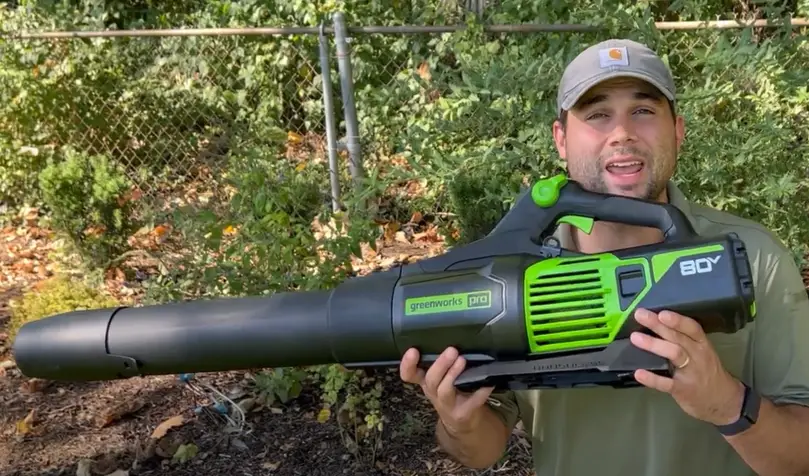 One thing that I would recommend for both of these is to not use the self-propelled function if you have a big job on your hands. While it can be kind of nice, the self-propelled function will massively drain the battery.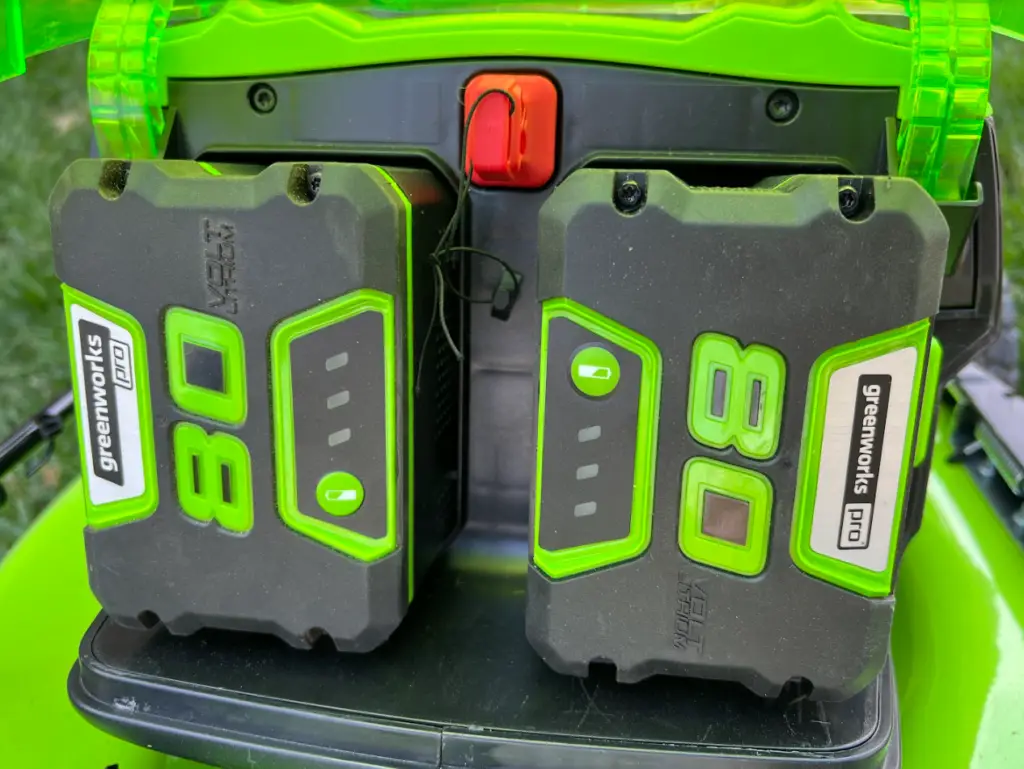 If you want to finish the job, turn the dang self-propelled function off. If you have spare batteries, then make sure you've got a stack of them fully charged before activating self-propelled functions.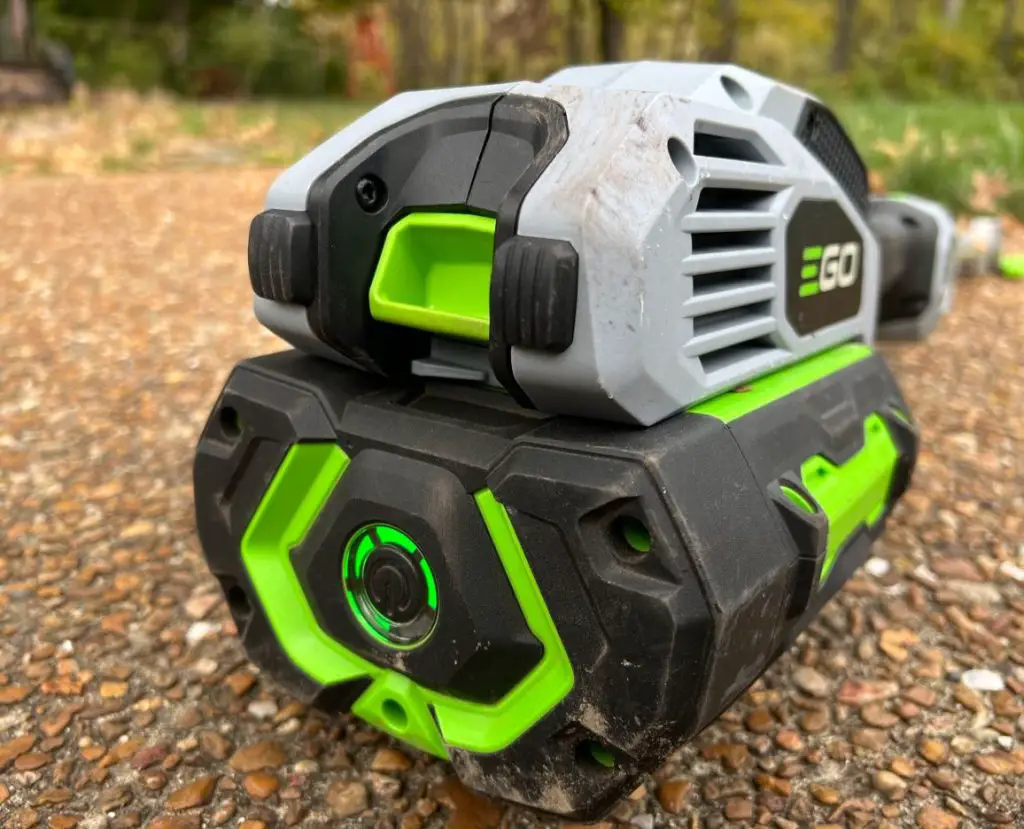 Because of the single battery, I am going to give the EGO 56V 21-in mower the edge here. 
Durability
When I am evaluating durability on a mower, I am looking at spots where the mower can easily break. The most frequent spot here is going to be the deck. The deck is the area of the mower that covers the blades as they spin. Traditional gas mowers have a metal decking to help prevent rocks or roots from ripping through the engine.
The Greenworks 80V 21" mower has a nice steel deck, making it highly durable and long-lasting. Unfortunately, the EGO+ 56V 21-in mower has a plastic deck. This leaves it vulnerable to stress and breakage.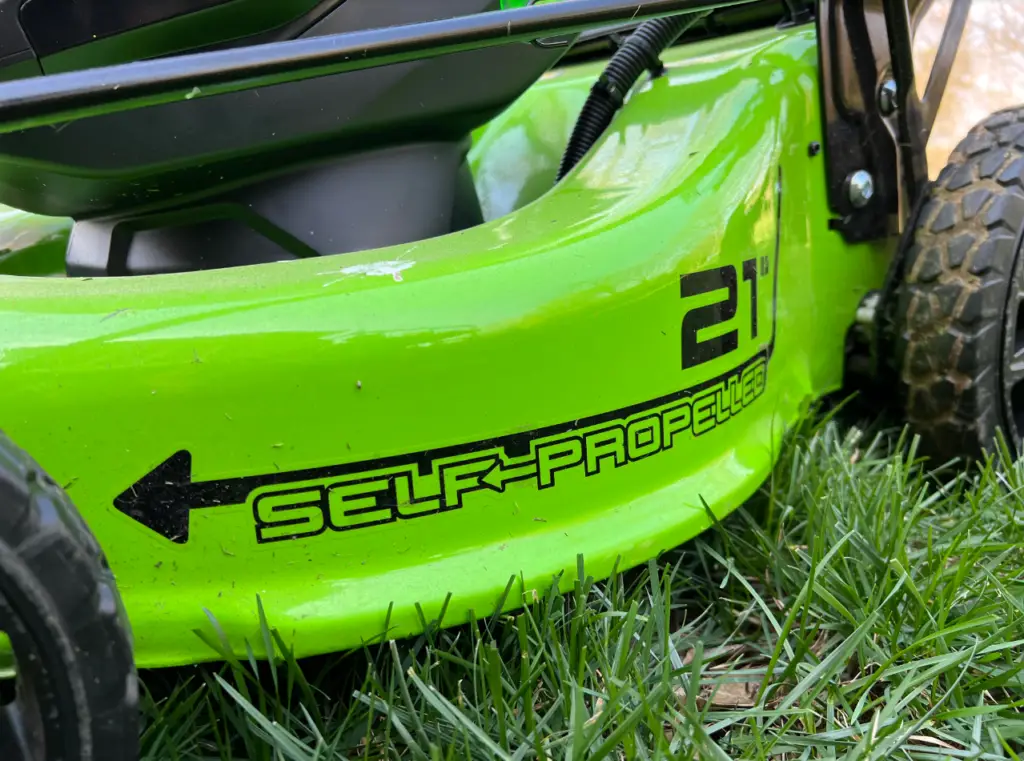 I am also a huge fan of simplicity. If you put the Greenworks and the EGO 56V right next to each other, the Greenworks mower would look much simpler. The EGO 56V has a ton of extra parts that make it look cool and robotic, but ultimately add weight, more things that can break, and probably extra cost. 
The Greenworks mower has a 4 year warranty whereas the EGO mower has a 5 year limited warranty. 
I am going to give Greenworks the medal because of the metal. Gotta go with Greenworks steel deck. 
Bells and whistles
It is definitely important to have bells and whistles – but they have to matter. This means they need to add value to the mower and to the task at hand. 
Some of the bells and whistles on the Greenworks 80V 21-in mower are the EZ fold handles that allow for easy storage, a turbo button that sets the mower at full speed, 7-position height adjustment, an on-board battery indicator, and some nice LED headlights. 
The EGO 56V mower has headlights, foldability for storage, 6-position cutting height adjustments, and push-button start. 
While Greenworks might just have better marketing, they seem to have more bells and whistles that actually help. I can't see much on the EGO 56V besides it looking like it might have more functions because of how bulky it is.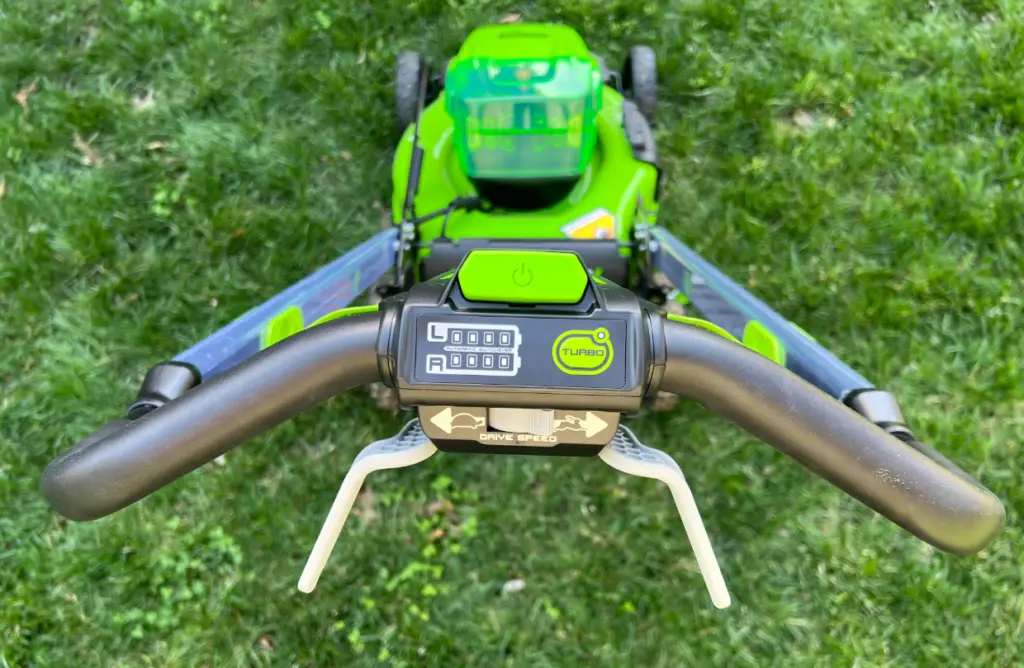 The advantage here is going to Greenworks once again. 
Price comparison: Greenworks 80V 21-in vs EGO 56V 21"
The Greenworks 80V 21in with two batteries is currently on sale for about $530 (now $499). The EGO 56V 21" is for sale for almost $550 on Amazon.
The advantage here is obvious: Greenworks is less expensive and can be found for a great deal on Amazon. 
The final comparison: Greenworks 80V 21-in vs EGO 56V 21"
The winner is clear: Greenworks 80V 21-in is the superior mower to the EGO 56V 21″. It isn't a huge margin of victory, but due to the steel deck and price, I have to hand this one over to Greenworks.
We made a fun web story comparing the EGO and Greenworks mowers.