The best cordless trimmer and blower combinations are the ones that work together like MJ and Pippen. That's right – the ultimate goal is to only use one plug on the wall to charge one battery that can be used on your trimmer and your blower. A perfect team.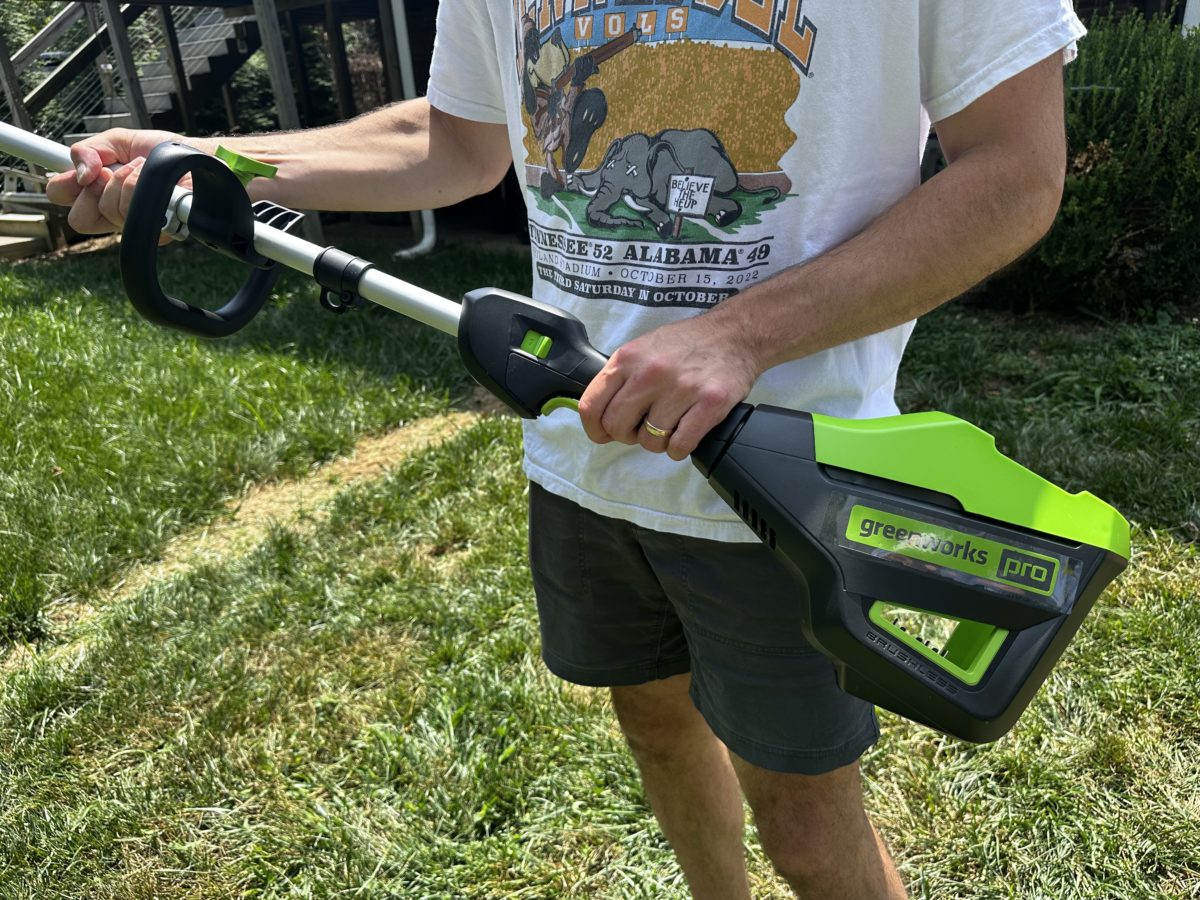 Here's a scenario. You just mow your lawn with one of our top-ranked electric mowers. You pop the battery off, and get to trimming around your driveway and garden beds with the trimmer, then quickly pop the battery onto your blower and finish the job.
This is the dream scenario – efficient, seamless, emission free, and easy. While many of these tools can be bought directly from the manufacturer, Home Depot, or Lowes – we have found Amazon has them bundled into easy to assemble and low-cost kits. The trimmer and blower combinations listed below are going to get you there. 
How to instantly improve your weed eater
Upgrade your weed eating game with the ultimate GrassKicker Weed Eater String! While weed eaters and lawn edgers are great tools, it's not complete without the right string. Our specially crafted line is designed to enhance your weed eater's performance and give you flawless edges around your yard and garden.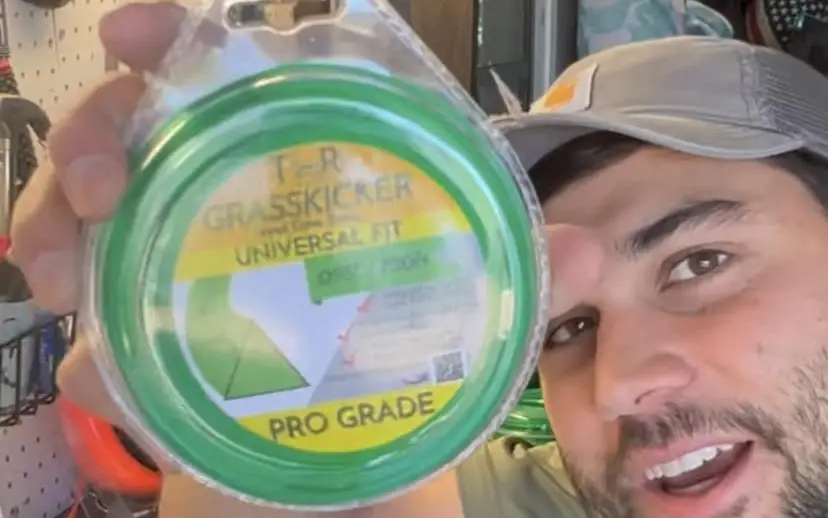 Don't settle for subpar string that breaks easily and leaves ragged edges. Our team has scoured the market and combined the best colors, shapes, thicknesses, and materials to create a superior line that cuts more cleanly and lasts longer.
With GrassKicker, you can take pride in your perfectly manicured lawn and make a lasting impression on your friends and family. And who knows, your envious neighbors might just start dropping by more often! Don't wait, elevate your weed eating game with GrassKicker Weed Eater String today! Click the link now to buy.
The top 7 trimmer and blower combinations in 2023
Check out our web story that breaks down each kit!
7. Craftsman V20 String Trimmer and Blower Combo Kit, Cordless (CMCK297M1)
Craftsman provides some great household tools, from air pressurizers to vacuums. Craftsman does a great job in their V20 series by providing a pair of tools that help roll-up your garage into a convenient and easy-to-use kit.
Let's start with the Craftsman V20 string trimmer. The string trimmer has an automatic line advancement, meaning you won't have to constantly stop to lengthen the string in the trimmer when it runs low. The trimmer can also function as an edging tool, providing even more versatility to the overall combo kit.
The blower is also perfect for homeowners doing smaller jobs. A 350 CFM, 100 MPH blower has variable speed controlled by a trigger to match the size of the job. While this isn't the most powerful blower on the market, it is definitely enough power to clear out your garage, patio, deck, or driveway. 
This product comes in at a great price and is actually listed as "Amazon's Choice" for string trimmer and blower combo kits. You can find it on Amazon for under $200. Grab it today to take on any job around your home.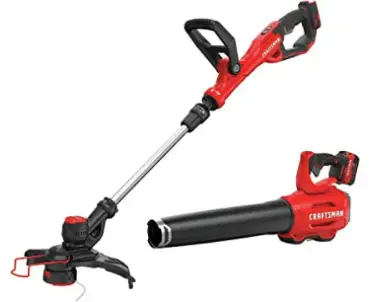 6. BLACK+DECKER 20V MAX* POWERCONNECT 10 in. 2in1 Cordless String Trimmer/Edger + Sweeper Combo Kit (LCC222)
This one is super popular – and for good reason. The price on this blower combo kit is nearly impossible to beat.
One thing I love about both of these tools is that it takes Black and Decker's super popular 20V max battery. For example, I have this battery and use it on my power drill. I could easily take it off of that and pop it onto the blower or trimmer.
While the trimmer here is pretty basic, it is going to be just fine for small yards. If you live in a townhome or otherwise have a tiny yard, this is all you will need.
The blower will leave a lot to be desired from a power perspective. It is super small and has an even smaller opening. BUT – this  may be all you need if you have a small yard. And as a positive, it is super quiet. Like eerily quiet.
You can buy this for right around $100 on Amazon, where it has almost 7,500 reviews (averaging 4.5 stars).
5. Dewalt String Trimmer, DCST925 and DCBL720 Combo Kit (DCKO975M1)
While Dewalt isn't recognized as much as some of the others for breadth of lawn equipment, they definitely have a solid core product line. We have reviewed their battery-powered mower in addition to the blower featured in this combo kit.
To summarize, the blower is pretty good but not great. It has a wide opening, which allows for a large jet stream of air, but the speed of the air isn't as high as I would like. We review the whole thing in this blower review.
The string trimmer looks really sweet. In particular, we really like the squeeze handles at the top. Many manufacturers have normal triggers, but the squeeze triggers are so much easier to use and don't cramp up your hands. 
This kit is great, but is a little on the pricier side. You can grab this kit on Amazon for $259 or so, depending on where you grab it. Check it out on Amazon to see where the best deal is today.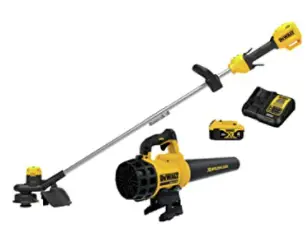 4. WORX WG928 GT 3.0 Grass Turbine 2 20V Batt/Charger Included String Trimmer Blower Combo Kit, Black and Orange
Well, that's a mouthful but I wanted to make sure you knew which one I was talking about if you are perusing the online stores.
Here's the thing I love about WORX. They have some great trimmers that double as edgers (see our GT Revolution review here). The trimmer listed here looks like it could double as an edger as well, has an intuitive, adjustable handle, and (my favorite) a battery that goes underneath the handle. The GT 3.0 trimmer is great trimmer aside from this combination kit.
The blower is okay. Probably on the lower end as far as speed goes. But that's alright – you don't need a ton of power unless you have a large yard or are working with wet leaves/grass. Remember to mow while it is dry and you will be fine.
Buy this trimmer and blower combination set on Amazon (currently on sale) for about $133. This is a good deal – and people love this combo set. It has almost 17,000 reviews – by far the most of any of the combo kits out there.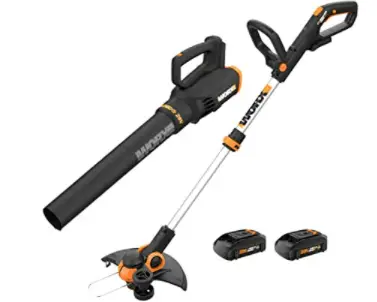 3. EGO Power+ ST1502LB 15-Inch String Trimmer & 530CFM Blower Combo Kit with 2.5Ah Battery and Charger Included, Blower & Trimmer, Black
Why can't they just name these products something simple? Like "EGO Combo kit" or something?
Anyways, this is one of the more impressive combo kits on the market. EGO has great stuff, but they tend to be pretty expensive. This combo kit is no exception. 
The blower is a beast at 530 CFMs, which means it is probably blowing air well north of 100mph (not listed in the specs). It also has a brushless motor, which means it is built to last. You can't get much higher quality than this EGO blower. 
The trimmer looks pretty standard – it is definitely bigger than most of the other trimmers on this list at 15 inches. Both of these products take a 56V battery – which can be used with a bunch of their other products.
As far as combos go, this one can handle much more than small yards. I think this would work for medium to large yards as well (if  that suits you).
You can find it on Amazon for about $266 today. I definitely recommend for larger yards.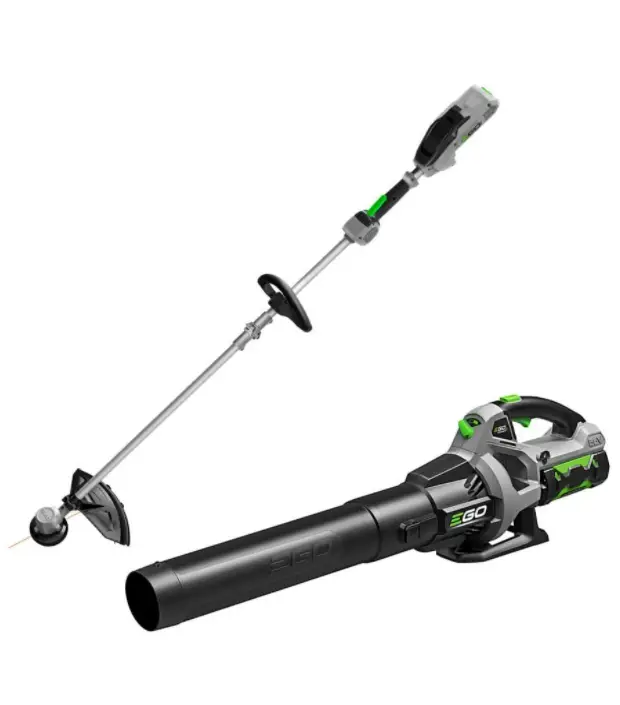 2. Ryobi One ONE+ 18-Volt Lithium-Ion String Trimmer/Edger and Blower Combo Kit 2.0 Ah Battery and Charger Included
While I am not a huge fan of Ryobi's ONE+ series, I have to give it to them – this battery can do just about anything. I generally prefer the tools in their 40V battery line because they are heavier duty than the 18V battery in the ONE+ series. 
The main thing you are getting with this purchase is convenience. This is a relatively small Ryobi trimmer that can double as an edger (sorta). It is 10 inches, making it one of the smaller trimmers on here.
The blower will be great for things like a garage or patio, but honestly won't get you very far in a bigger yard. The reason I ranked this set so highly is because Ryobi's 18V battery in the ONE+ series can be used in a ton of other tools. That takes this product from a 2-tool kit, to about a 100-tool kit if you have the battery. 
The price is pretty dang good as well, selling for about $130 on Amazon right now, including the battery. Go grab it on Amazon and start building out your tool collection today.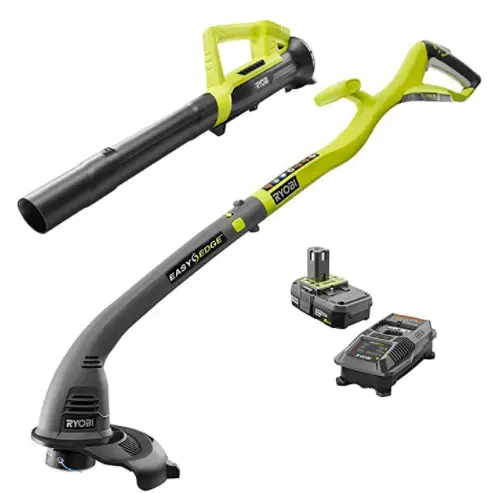 1. Greenworks 40V Cordless String Trimmer and Leaf Blower Combo Kit, 2.0Ah Battery and Charger Included
Greenworks is hands down one of my favorite lawn tool brands on the market – especially in the battery-powered world. They differentiate themselves on one thing: quality. The 40V combo kit here is no exception.
The trimmer is relatively basic, but also comes with a nice edging guard that helps you edge the yard as well. It is 12 inches, putting it right in the sweet spot for edgers here. It also has the automatic line advancement, meaning you won't have to take any breaks to readjust the trimming  line.
The  blower is great as well. It has over 390 CFM of power at 110 mph speeds. This is perfect for small jobs around the yard as well as patio, deck, garage, or any other hard surface.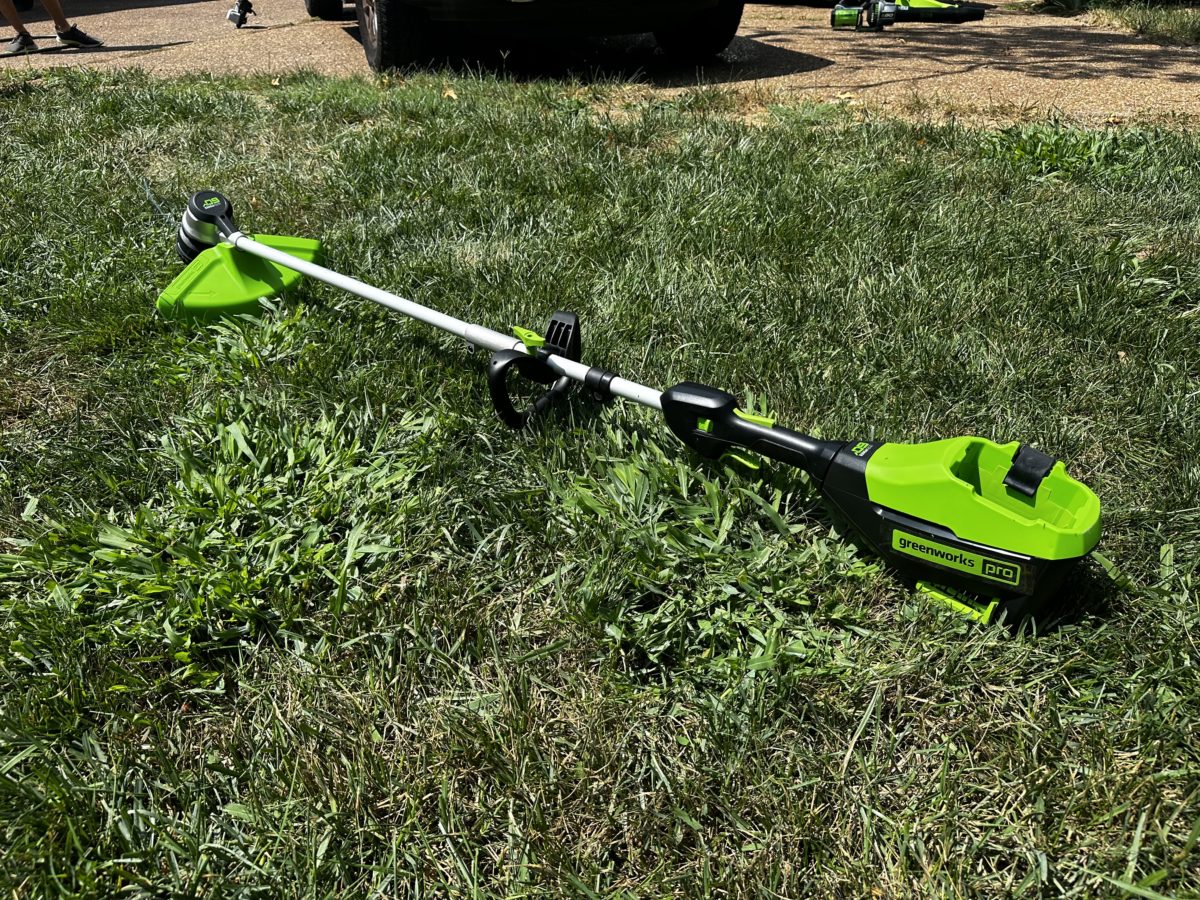 You will get 45 minutes of run time with these, which is more than enough for even medium sized yards. The 40V battery also works with 60+ other lawn tools from Greenworks including mowers, chainsaws, and anything else you could ever need if you move to a larger yard.
You can grab this bad boy on Amazon today for a ridiculously low price. There is a reason over 7,000 people have rated this combo kit 4.5 stars.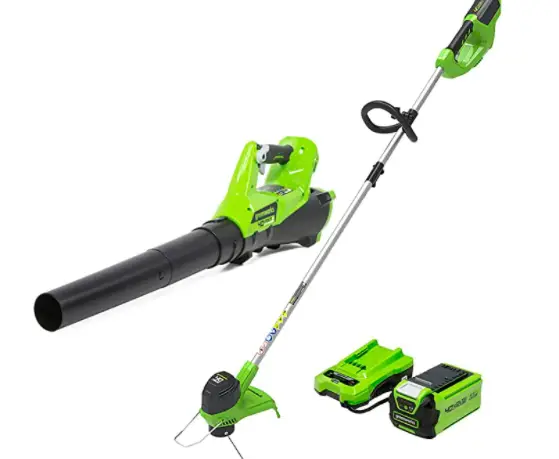 Why we review lawn tools
The reason we started this website in the first place was because we had so much trouble trying to find reasonable, understandable, honest reviews for lawn equipment. And it's not cheap! After hours and hours of research, trying products and returning them, and messing up our yards – we started this site.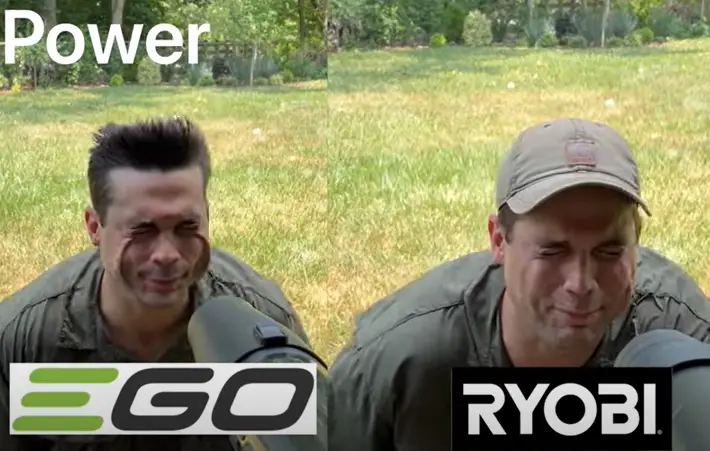 As people who had to learn the hard way, we want you to know exactly what you are signing up for before you purchase a piece of equipment. That's why we are committed to providing honest, easy-to-understand reviews that mean something.
The benefits of a battery-powered trimmer
There are a few reasons to check out an electric weed eater when picking out your next lawn and garden tool kit. As compared to gas-powered weed eaters, electric weed eaters tend to be easier to use and maintain. At the end of a long winter season, you may have to refuel your gas powered weed eater and crank it a few times before you can get it to start. With electric weed eaters, you simply place the battery and you are ready to go. 
Another benefit to electric trimmers is maintenance. You will not have to do anything to maintain an electric trimmer other than change out the line. No oil change, no filter change, and no messy gasoline spills. Just the normal string change and you are good to go.
Benefits of battery-powered blowers
Obviously you have two options when selecting a leaf blower: electric or gas.They are worlds apart in just about every aspect. Electric leaf blowers tend to be cheaper, less powerful, but easier to maintain. As I have mentioned in previous posts, I used to have a Ryobi leaf blower attachment that came on their 3-in-1 tool kit. I have now gone through two of the leaf blower heads in which they start making a high pitch scraping noise when I am using it. 
There are exceptions in the electric leaf blower world. One of those is the Ryobi 40V Brushless whisper series blower. It is quiet, extremely powerful, and built to last. It is, however, one of the most expensive electric blowers you can buy.
Gas blowers are superior from a power and durability standpoint. They are super strong, last many seasons, and quickly get the job done. They do require maintenance, gas, and crank-starts, which are a little more difficult for most people. I always recommend an electric blower for smaller yards, whereas larger yards are better served with gas blowers.