The EGO Power+ LB6504 blower is popular. Like the hottest girl at school. 
For a good reason. The thing not only looks cool, but performs at a super high level.
It is more powerful than probably 90% of handheld cordless blowers on the market. 
And it isn't even the strongest EGO blower.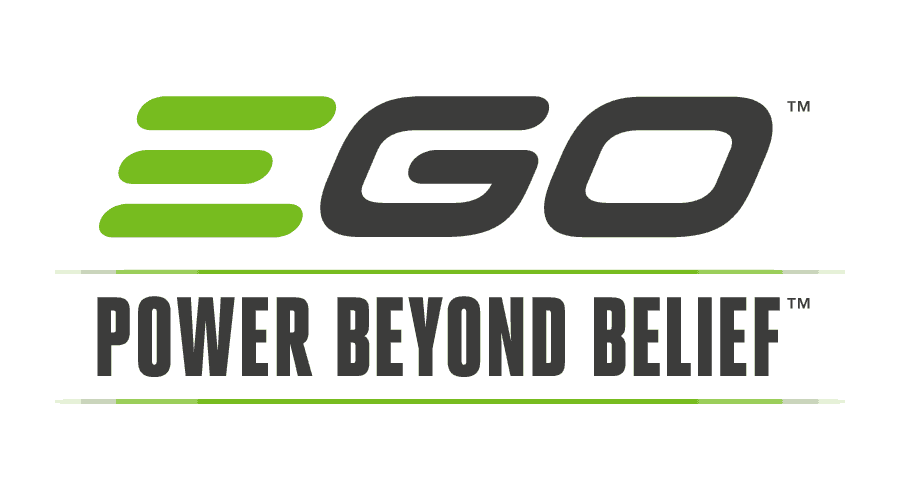 Yep, EGO is all about power. They have a corner on the cordless-blower-with-extreme-power market and have really mastered it.
But today, let's check out WHY they have cornered the market. 
Why we review lawn tools
The reason we started this website in the first place was because we had so much trouble trying to find reasonable, understandable, honest reviews for lawn equipment. And it's not cheap! After hours and hours of research, trying products and returning them, and messing up our yards – we started this site.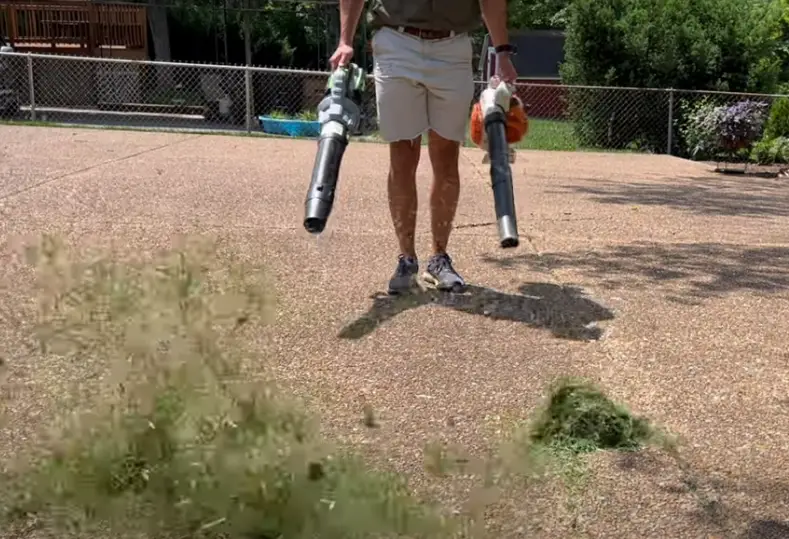 As people who had to learn the hard way, we want you to know exactly what you are signing up for before you purchase a piece of equipment. That's why we are committed to providing honest, easy-to-understand reviews that mean something. 
What to look for in an electric blower
Cordless blowers come in a bunch of shapes and sizes but there are three basic things you need to understand:
CFM – Cubic feet per minute. This is a measure of air output on the blower. Higher CFM = more power, but not necessarily more miles per hour. High CFM with a wide nozzle = lower MPH. High CFM with a narrow nozzle = high miles per hour. Ideally, you want both a high CFM with a narrow to medium nozzle for most residential jobs.
Usability – what is the point of having a blower if it is hard to use? Have to get one that is lightweight, easy to start, and has some functions that make your life easier.
Motor type – brushless motors reign supreme. Cooler running motors with more torque, a longer run-time, and last many more years. Brushless is a no brainer when picking a blower.
These are three things you need to pay attention to when looking through the specifications. 
EGO Power+ LB6504 Blower: Features and benefits
This is the point where we get to really roll up our sleeves and pick apart the functions of this blower. Our goal is to take the technical specifications and put them into meaningful terms that you can understand. Let's get started. We made a cool web story about the EGO blowers if you're interested.
Check out how this compares to the EGO 765 CFM blower.
Power
Well if it is any indication of the power of this blower, the dang thing is named EGO Power+. So I think it has some power.
Coming in at 500 CFMs in standard mode and 650 CFMs (hence LB6504) with the turbo button, power is not going to be something you're worried about. CFMs are a measurement of the volume of air pushed out of the nozzle. Higher CFMs equal higher miles per hour (speed) generally, but can be majorly impacted by nozzle size. The same amount of air coming out of a tapered nozzle is going to be much faster than that of a wide-mouthed nozzle.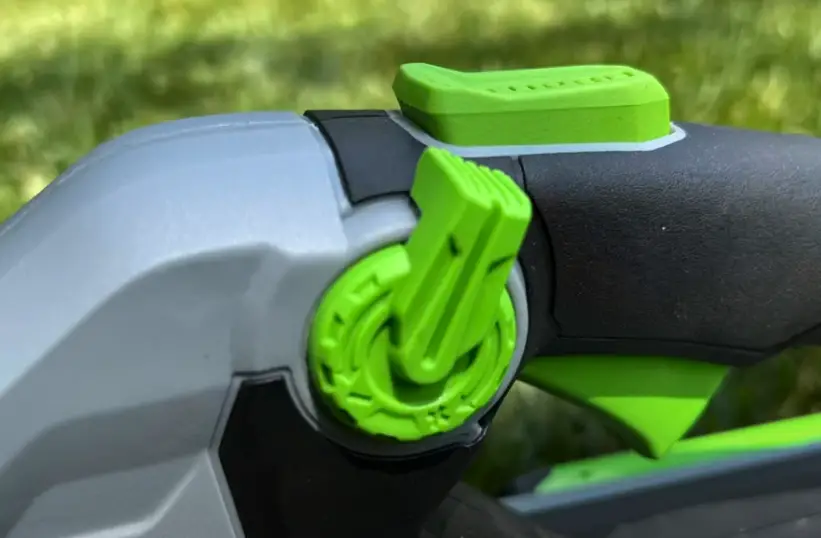 They serve two different purposes. One for speed and one for moving big piles of leaves. Both are good.
At its max speed (with Turbo Button engaged), this thing is going 180 MPH. That's darn fast. It is going to be enough to get all of the wet leaves off of your driveway. With that type of speed, you'll eviscerate big piles of leaves as well.
If you want even more power, check out the EGO LB7654, a bigger brother of this one that has 765 CFMs….
How this blower feels to use
After power, feel is everything. You are the one lugging it around your yard, so it needs to feel comfortable in your hand and not straining your shoulder. It also needs to be easy to control and have some functions that save you time and energy.
The EGO Power+ LB6504 has some functions that make it a breeze to use. Some are relatively common, but most are only found on high end blowers:
Variable speed dial

Basically you just set which speed you want to rock with and pull the trigger to go. You can also control it with your thumb (if you're right handed).

Turbo button

You probably don't ALWAYS want 650 CFMs..but when you do, there's a turbo button.
I smash it all the time.

It weighs 13 lbs

Not Super heavy but also not super light. One noticeable thing about it when you pick it up is that it's solid as a rock. It's a dang Ford F-150 in the blower world. 

Battery indicator has 5 lights

Most have four. Which gives you a pretty big range to guess how much life you have. Some have three. The EGO has five. This provides more accuracy for how much longer you have before a recharge.
These are some of my favorite things. All-in-all, it is a bit heavier than most other blowers but because it is so powerful, you don't have to hold it as long. Kind of a silly way to think about it, but it's true.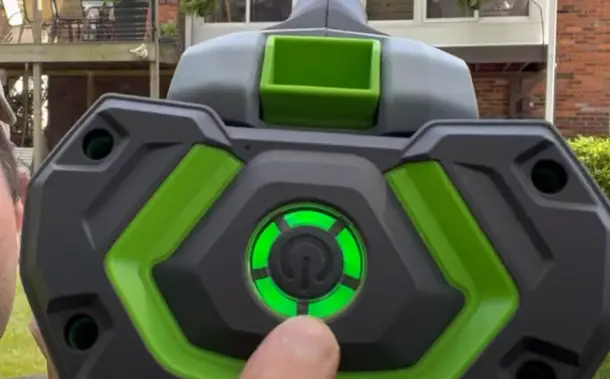 Durability
I kind of just hinted at it, but the EGO Power+ LB6504 blower feels dang sturdy. It's mostly plastic, but doesn't feel plastic-y, if that makes sense.
The real durability of this machine is underneath the hood, however. Like most, if not all EGO products, this bad boy has a brushless motor. Brushless motors are the best battery-powered motors for a few reasons:
They create less friction, meaning it won't overheat
Less friction also means that the parts won't wear down over time
They have more torque
They are quieter
Do I need to say more? As compared to some other trusted brands (like Stihl's new battery-powered line), EGO products are way more durable and longer lasting.
That's why one of my friends still has the early model of the 56V EGO mower. It just keeps going forever and ever. 
Cost and value
So here's the skinny – this is not the cheapest blower on the planet. But it is one of the highest value blowers on the planet. Here's what I mean.
You get what you pay for with EGO. The price point here is a little under $300. Sounds like a lot. But it will last you twice as long as most other blowers. You can take that to the bank.
Would you rather burn through two $200 blowers that are less powerful, or buy one $300 blower that is powerful?
The choice is easy. This is a HIGH VALUE blower.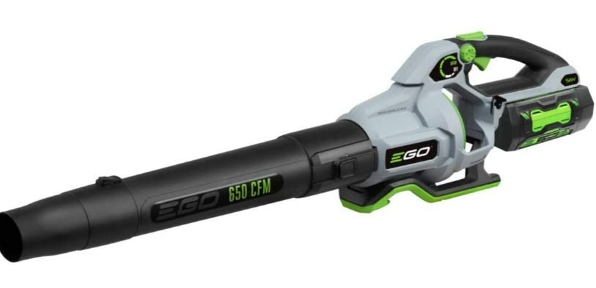 The official review: EGO Power+ LB6504 Blower
Pound-for-pound, the EGO Power+ LB6504 is an absolute unit. It's got great power at a great price. It is made with parts that are built to last – especially the brushless motor. It's really easy to use and is a part of EGO's 56V battery series, meaning you can use this same battery across all of EGOs tools.
If you want to grab it, it's currently on sale on Amazon for a great price. 
Want more power? Check out the EGO vs Ryobi blower post with more power.