The Stihl BG 86 C blower is a mid-sized handheld blower that is perhaps the single best blower ever created. No joke. This Stihl blower is super powerful yet nimble and light enough to use residentially. It's the perfect pair of performance and manageable size. 
Handheld blowers are what about 99.999999999% of homeowners use if you have an acre or less of lawn to work with. This Stihl is the way to go. Before you go buy any old blower on Amazon, check out what your trusted lawn care equipment review experts have to say about this one. 
Check out our video review here!
Jump ahead:
Why we review lawn tools
The reason we started this website in the first place was because we had so much trouble trying to find reasonable, understandable, honest reviews for lawn equipment. And it's not cheap! After hours and hours of research, trying products and returning them, and messing up our yards – we started this site.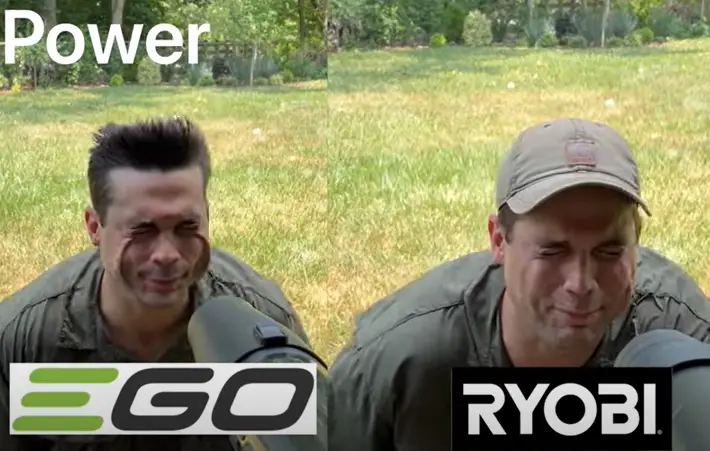 As people who had to learn the hard way, we want you to know exactly what you are signing up for before you purchase a piece of equipment. That's why we are committed to providing honest, easy-to-understand reviews that mean something.
Leaf blowers: Electric vs. gas
Obviously you have two options when selecting a leaf blower: electric or gas.They are worlds apart in just about every aspect. Electric leaf blowers tend to be cheaper, weaker, and only last a few seasons. As I have mentioned in previous posts, I used to have a Ryobi leaf blower attachment that came on their 3-in-1 tool kit. I have now gone through two of the leaf blower heads in which they start making a high pitch scraping noise when I am using it.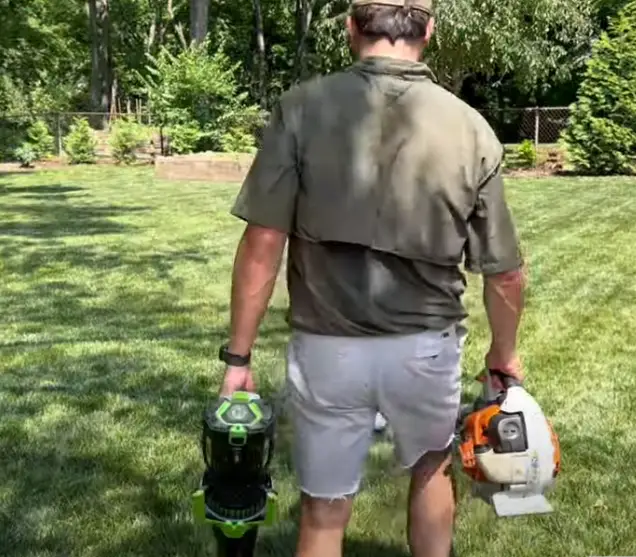 There are exceptions in the electric leaf blower world. One of those is the Ryobi 40V Brushless whisper series blower. It is quiet, extremely powerful, and built to last. It is, however, one of the most expensive electric blowers you can buy.
Gas blowers are superior in almost every way. They are super strong, last many seasons, and quickly get the job done. The reason you see every professional lawn care person using a backpack blower is because they work extremely well. Let's dig into that more below.
Stihl's reputation
Stihl is an industry leader when it comes to yard products, but is probably most known for chainsaws and backpack blowers. The BR350 backpack blower is one of their best selling products because it is something they have completely mastered.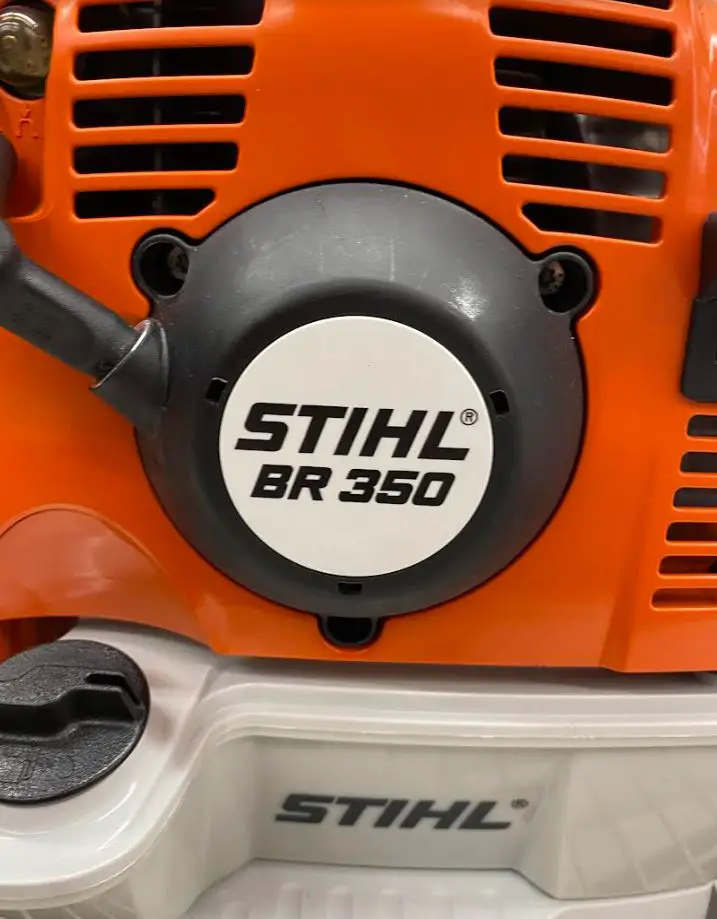 The Stihl family moved to Virginia in the 1970s and opened up their first factory dedicated to a single chainsaw. They have continued to grow and pioneer the lawn care space, most notably with backpack blowers.
Stihl has a great reputation that many commercial landscapers rely on each day. Many residential owners will be more than pleased with their products.
The BG 86 C Blower: Feature review
When it comes to a handheld blower, there are a few things you need to take into consideration. First is power, then comfort, durability and price. Let's get started below.
Power
If you are in the market for a blower, it's probably because you need to move some lawn material around but don't/can't use a rake or broom. In comes a machine that does it for you. Powerfully… The Stihl BG 86 C puts out a whopping 190 mphs of air flow. If you're not careful, in the right conditions you could create a hurricane in your own backyard. Talk about POWER!!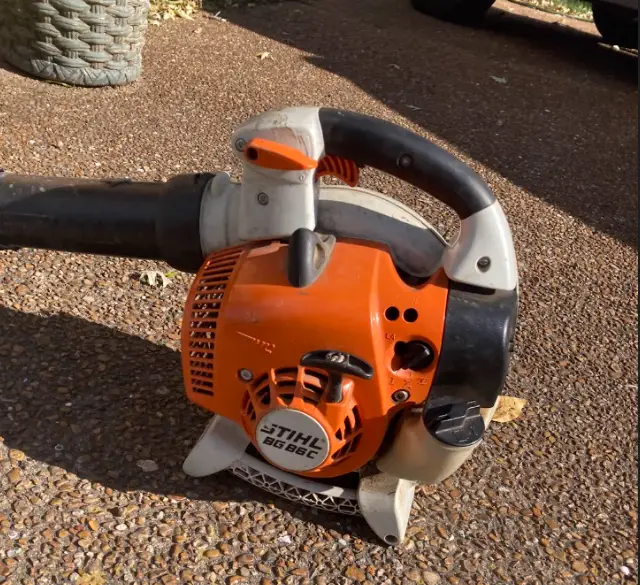 As discussed in the video review above it produces 15 Newtons! No, not fig newtons… A Newton is the force needed to move 1 kg of mass at the rate of 1m/sec2. What does that mean? Not really sure. But it sounds cool. 
In comparison, the heavier duty Husqvarna 350BT backpack blower we've reviewed previously, puts out only 5 more N's. Pretty good for a handheld! 
This engine also boasts 1.07 bhp of power output, which is decent for a blower it's size.
Usability
Usability is probably the most important feature of any lawn tool. Sure, the blower can have a ton of power, but if it is difficult to use, how on earth are you supposed to get your job done? 
I like things that make life easier. The BG 86 C makes blowing pretty easy. For starters, it only weighs 9.9 lbs.. Not bad!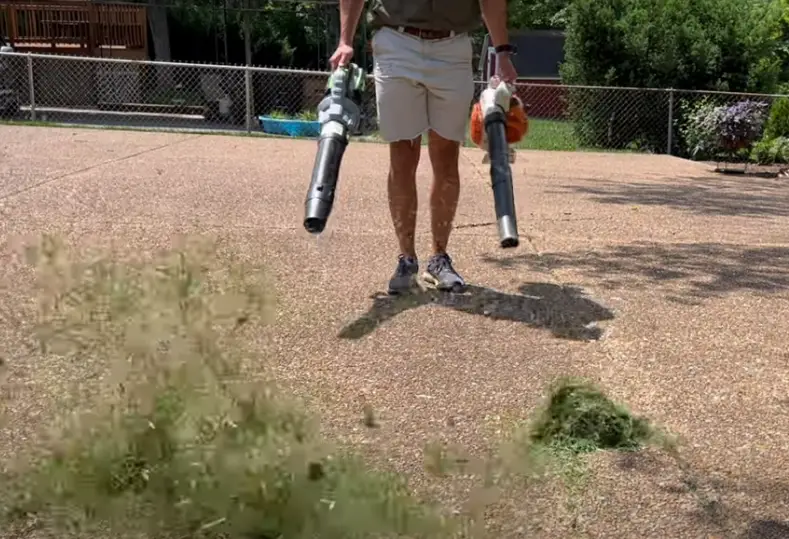 Another thing I love about the Stihl BG 86 C blower is the anti-vibration technology. For us Tennesseans living in a deciduous rainforest, the Fall can be a problem. There will be several weekends a year where I put in about 10 hours on the blower collecting leaves. I simply cannot imagine holding onto a piece of vibrating machinery without some sort of system to lessen the strain. That's where this technology really comes in hand (get it?!). Check out the video to see it in motion. 
Another thing I love about this blower is the soft grip handle. Again, 10 hours in 2 days can do a number on your beer holders. So the soft grip handle really helps me! 
Of course, the Stihl BG 86 C comes with their Easy2Start technology. The geniuses at Stihl came up with something my little pea brain can't really comprehend so I'll let them tell you themselves "This advanced starting system is designed to make starting STIHL products fast and easy. The specific system may vary by model, but in each case, a quick pull overcomes the engine's compression to minimize the strength and effort required to start. Available on selected products.." – Mr Stihl. 
Maintenance and durability
As with most Stihl products, not much maintenance is required on this dude! You will want to make sure to use a 50:1 oil to gas mixture but otherwise will only have to do the occasional filter and spark plug change.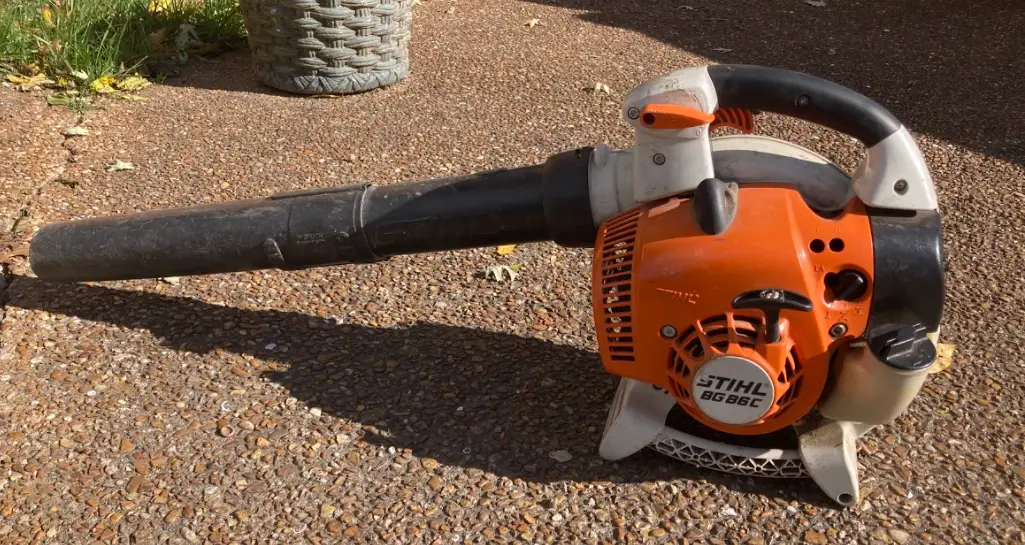 With adequate maintenance, the BG 86 C should last you a decade of mowing seasons.
Stihl BG 86 C Price
The Stihl BG 86 C blower comes in at anywhere between $250 and $300. That is honestly pretty reasonable for a blower. Especially one of Stihl's high quality. This thing should, no joke, last you like 10 years. 
If you're interested, one of the only online places you can buy it is Ace Hardware. You can click this link to go straight to their online store page, buy it online, then go pick it up curbside.
The official review: Stihl BG 86 C Blower
| | | |
| --- | --- | --- |
| Feature | Stihl BG 86 C | Comparable blowers |
| Difficulty to use | Easier to use | Average usability |
| Durability | Better durability | Avg. durability |
| Maintenance | Low maintenance | Average maintenance |
| Value | Higher value | Moderate value |
| For lots <10,000 sq. ft | Highly recommended | Less recommended |
| For lots <1 acre | Highly recommended | Less recommended |
| For lots >1 acre | Less recommended | Less recommended |
Still looking for other blowers? Check out our top list of electric and battery-powered blowers!