Greenworks' 60V 610 CFM cordless blower is a freak of nature. If you don't read any further – this is the best blower for the price on the market – hands down.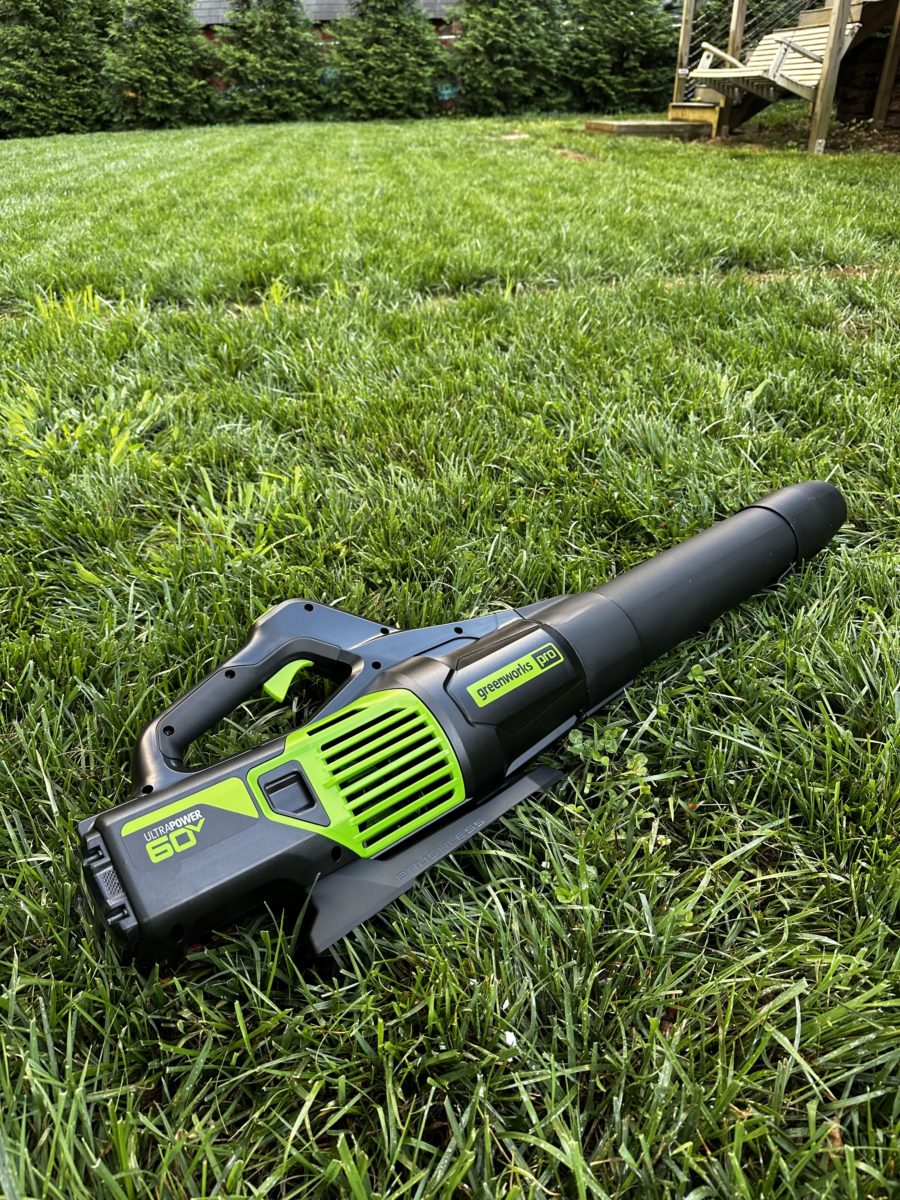 I had the opportunity to give this battery powered blower a try. I'm a notoriously tough critic when it comes to blowers because frankly – many of them are not very good. But Greenworks knocked it out of the park with this one. Let me break down my experience with this blower for you:
My experience with handheld electric blowers
I've had the good pleasure of using dozens of handheld electric blowers. If you go over to my Youtube channel, you'll see that I have done blower face-offs (literally on my face) and several other video reviews that go super in-depth on a bunch of different battery-powered blowers.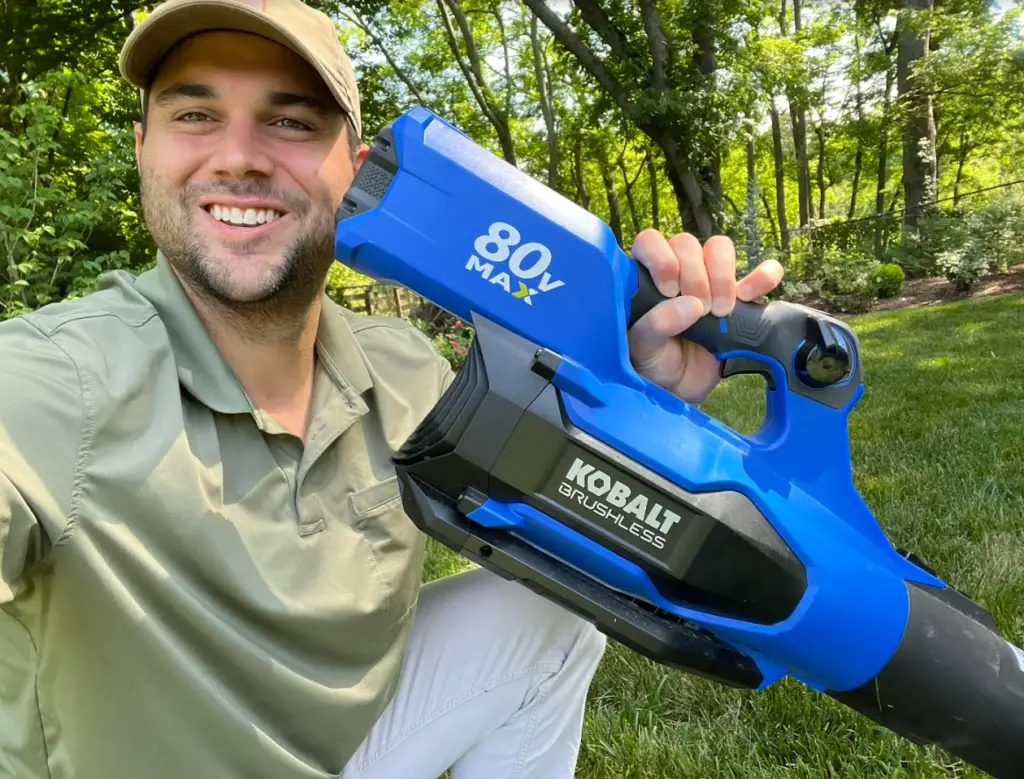 Outside of those reviews, I've also done a ton of other blower reviews, like these most recent ones:
Needless to say, I am one of the few nerds on the planet that actually really cares about this stuff. With the Greenworks 60V blower, I was able to use this one side-by-side with a ton of other blowers to see just how well it performed. Here are my thoughts.
Greenworks 60V Blower Review: 610 CFMs
This blower isn't a super abnormal blower. It doesn't have any features that make it particularly crazy or unique. But my goodness does it have all the good ones and a great price point. Let's break  it down.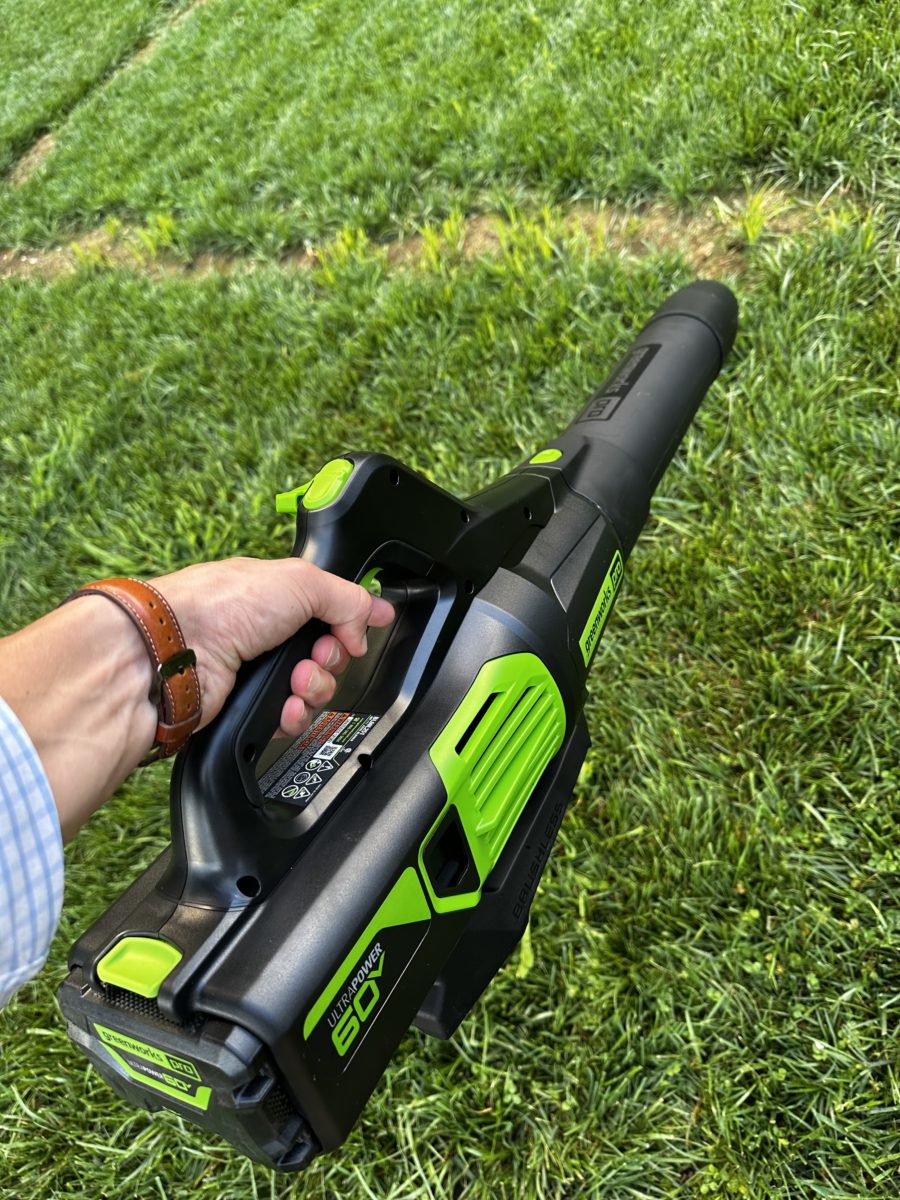 Power output on the Greenworks 60V blower
While the Greenworks 60V blower isn't the most powerful Greenworks blower on the market, this thing still pushes serious air. It's like watching the presidential debates. 
But more seriously, it puts out about 610 CFMs of air at around 130 MPH. If you want to better understand the difference between CFMs and MPH then follow this link. It really means that this blower can move decent piles of leaves at a relatively high speed. Best of both worlds. 
Compared to some other handheld blowers, even the gas-powered Stihl BG 86 C, this blower is going to be relatively similar in terms of power. While there are more powerful blowers on the market like the EGO 765 CFM blower, this one is at a much better price (more on that later).
I've used some dinky blowers in my days and this one has noticeable power and speed that is good for just about every single homeowner with a ½ acre or less. If you have TONS of trees that dump leaves on you in the Fall, you may want to get a bigger backpack blower but otherwise you should be pretty dang good.
If you like Greenworks 60V series, check out their 60V hedge trimmers.
Using the Greenworks 60V electric blower
One thing I absolutely love about Greenworks is that the people that test their blowers actually seem to use them often. They are built with serious comfort and they pay attention to small things. 
Some small details I loved on this blower:
A concentrator nozzle that you can pop on the end and have a more focused jet stream of air (this is great for wet grass or leaves)
Cruise control and variable speed trigger. I turn the cruise control on whenever I know I'm going to be blowing at the same speed for more than a minute or so. 
A little stand that allows you to set the blower down or store it flat without it rolling over (this is extremely underrated)
As compared to gas blowers, electric blowers have the major benefit of being extremely easy to start, require little-to-no maintenance, and don't make you smell bad. Oh, and they are much quieter.
This one also felt really lightweight. Maybe because it has a smaller battery or overall just isn't that big, but it was super easy to be agile with and didn't strain my wrist with sudden movements.
Battery life: Greenworks 60V
Here is where I have a bit of a bone to pick with Greenworks, although it is very minimal. Run times are always super difficult to measure on blowers like these. The suggested times are never right. The area is always overestimated and the recharge time is not right either. Never in the zillions of tests that I've done on blowers have these come through with the correct times. 
Which is why I always test it myself. With an advertised run time of 50 minutes on low, you can actually expect to get much more – depending on how low you go. This isn't a great indicator because not many people use blowers on low. The turbo button is a much better indicator. The advertised run time on full turbo is about 10 minutes. In actual conditions, you may get a solid 7-8 minutes. Not bad, not good.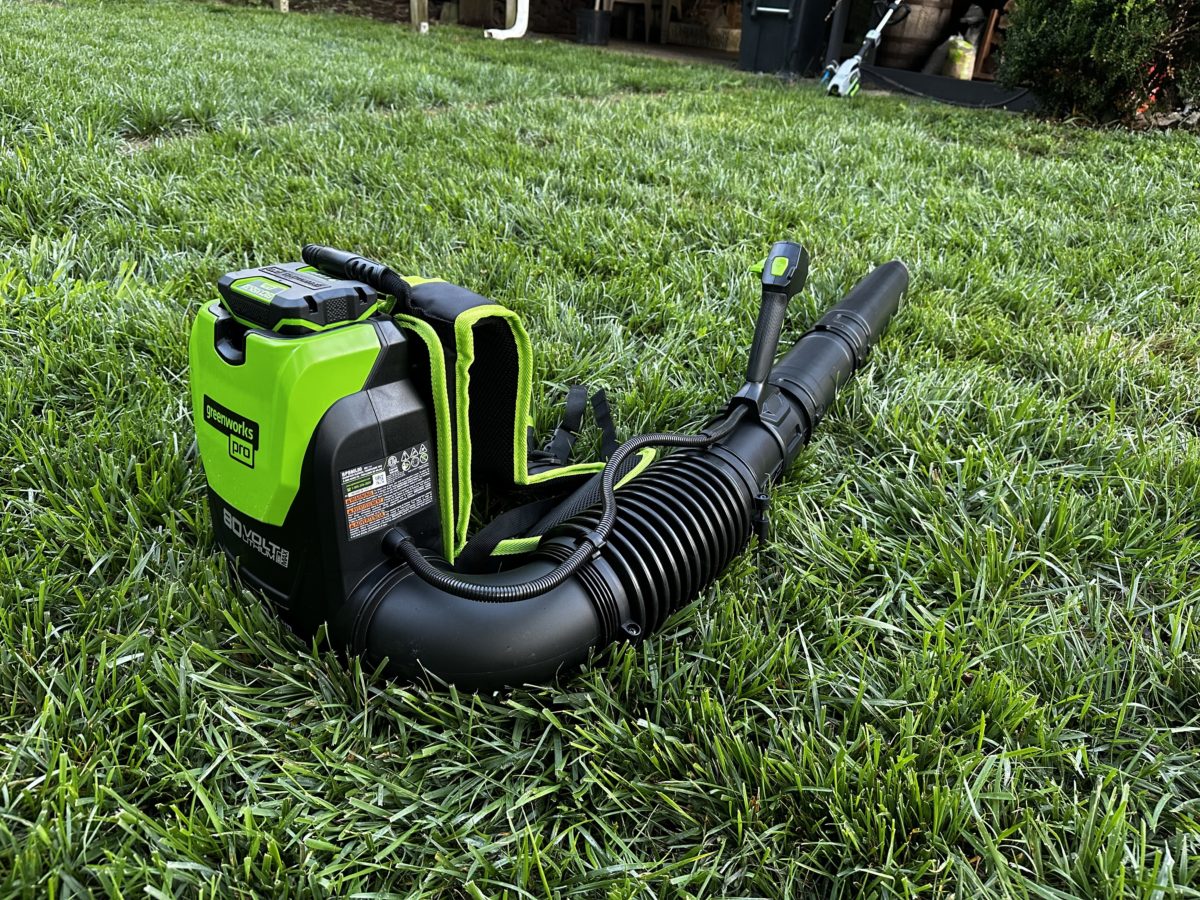 But really the major call-out here is that it says it is advertised for ⅔ acre. I would go a good bit less than that. If I had nearly an acre I would go up to a higher Amp-hour battery blower or to a backpack leaf blower – especially if you want to do it all in one trip.
Cost and value
The cost and particularly the value of this blower are what truly separate it from the rest of the pack. Right now, this puppy is on sale for an outrageous price on Amazon. But even when it isn't on sale and you get the full kit and kaboodle for under $200 – that is an absolutely insane price.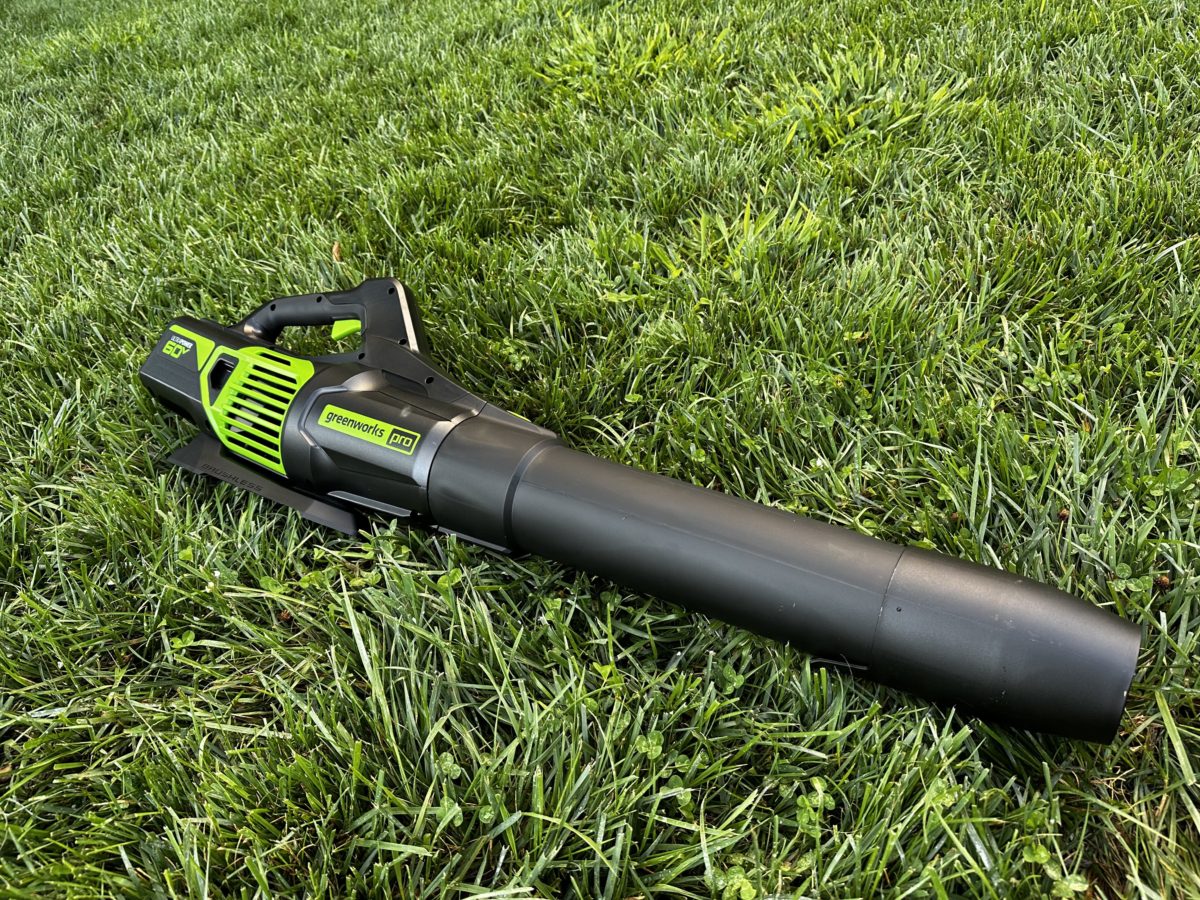 I can't find another electric blower out there with the power, functionality, and quality of the Greenworks 60V Blower that comes near that price.
Greenworks 60V Blower Comparison to the 80V blower
If you're choosing between the 60V or the 80V Greenworks blower – don't overthink it. If you already have either of these batteries, go ahead and get the blower that aligns with that battery and save a ton of money on the tool-only version.
The main difference between the 60V and the 80V blower is the power. They have identical functionality, but the 80V has about 15% more power and speed than the 60V. It is a bit more expensive, but if you have a larger yard or a ton of trees – the 80V can be worth it.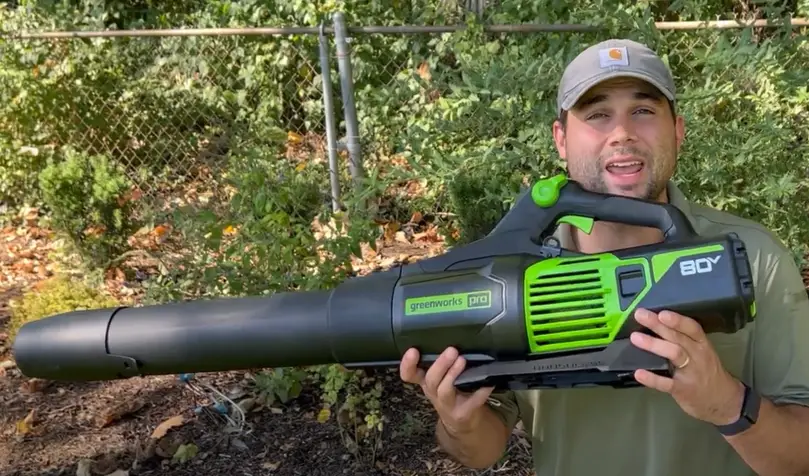 I've used both extensively and think the 60V is the better buy for the money, but you really can't go wrong with either.
Final Review: Greenworks 60V Handheld Electric Blower
If you didn't read anything I wrote and skipped down to the bottom, this may be news to you – but I absolutely recommend the Greenworks 60V Blower. For homeowners with small to medium sized yards, this is a perfect amount of power, size, ease of use, and cost to make you want to pull the trigger (pun intended).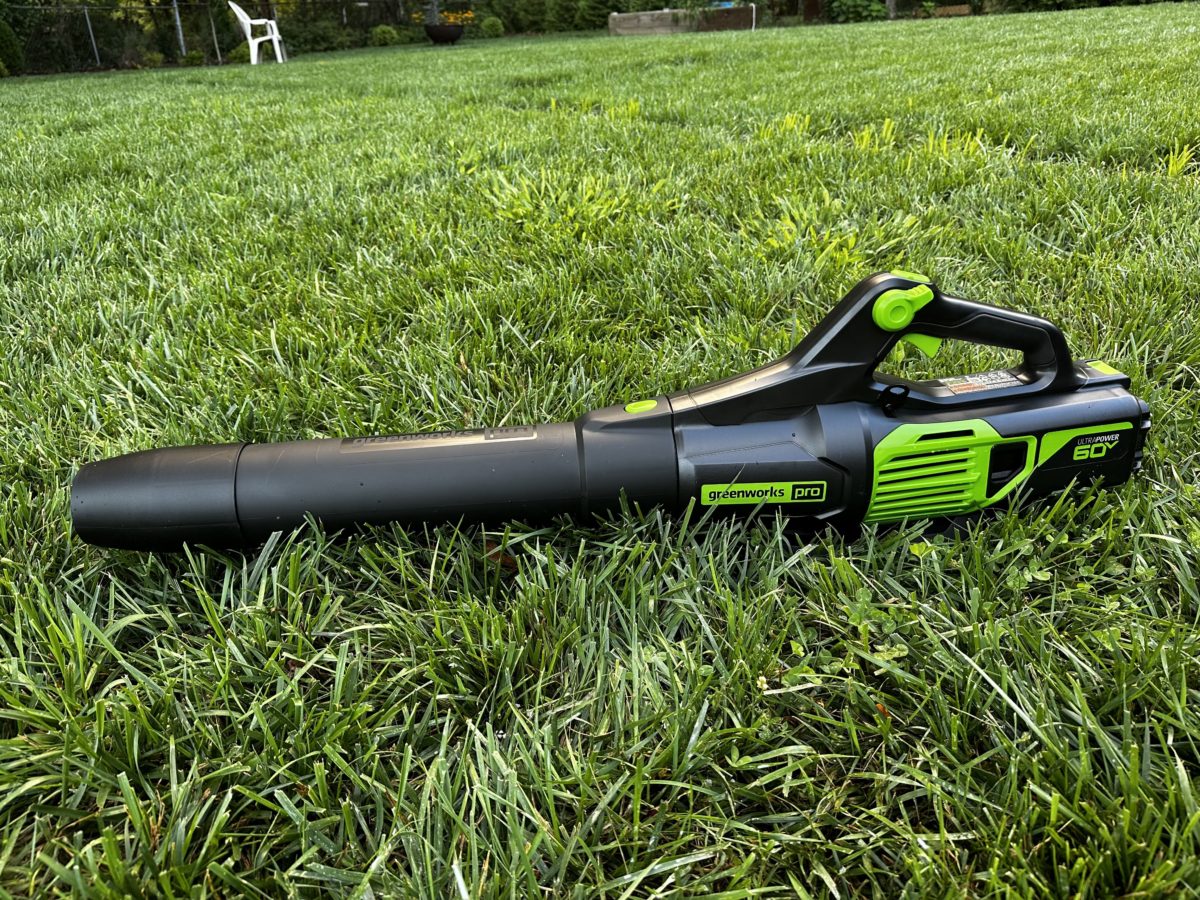 You can grab this blower on Amazon or at a few other places like Tractor Supply Co. online.
What to look for in a battery powered blower
Cordless blowers come in a bunch of shapes and sizes but there are three basic things you need to understand:
CFM 
Cubic feet per minute. This is a measure of air output on the blower. Higher CFM = more power, but not necessarily more miles per hour. High CFM with a wide nozzle = lower MPH. High CFM with a narrow nozzle = high miles per hour. Ideally, you want both a high CFM with a narrow to medium nozzle for most residential jobs.
Usability 
What is the point of having a blower if it is hard to use? Have to get one that is lightweight, easy to start, and has some functions that make your life easier.
Motor type
Brushless motors reign supreme. Cooler running motors with more torque, a longer run-time, and last many more years. Brushless is a no brainer when picking a blower.
These are three things you need to pay attention to when looking through the specifications. 
Why we review lawn tools
The reason we started this website in the first place was because we had so much trouble trying to find reasonable, understandable, honest reviews for lawn equipment. And it's not cheap! After hours and hours of research, trying products and returning them, and messing up our yards – we started this site.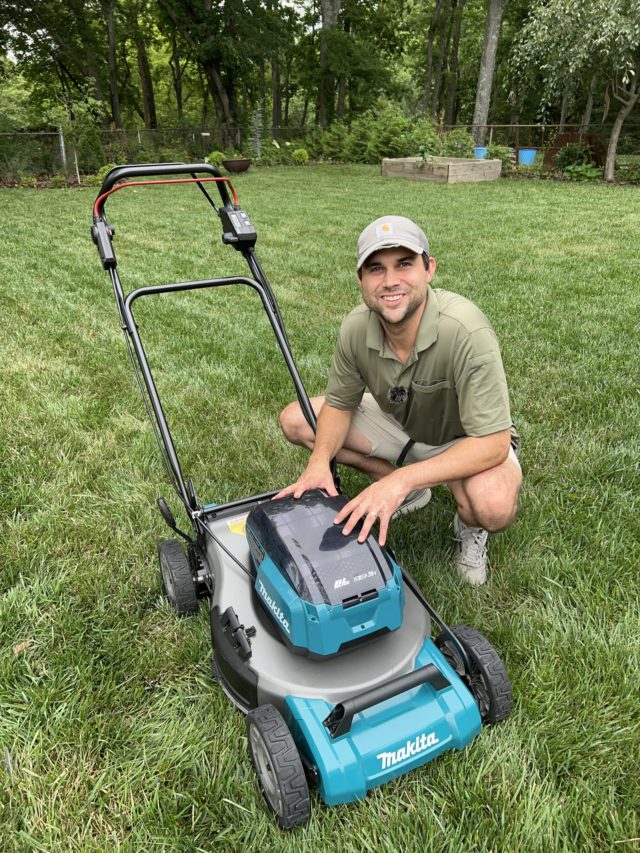 As people who had to learn the hard way, we want you to know exactly what you are signing up for before you purchase a piece of equipment. That's why we are committed to providing honest, easy-to-understand reviews that mean something.