Lawn edgers are some of the most satisfying tools on the planet. You can mow your lawn and remove leaves, but the job isn't complete without an edger. 
Using a lawn edger is what caused my neighbor to go from "you have really nice grass" to "you have the best lawn in the neighborhood" (true story).
Many people try to use weed eaters as lawn edgers, but honestly they can't quite make the yard look as nice.
Today I'll walk through exactly what an edger is, how it compares with trimming, then some of the best lawn edgers we've used.
Let's do it.
Why we review lawn tools
The reason we started this website in the first place was because we had so much trouble trying to find reasonable, understandable, honest reviews for lawn equipment. And it's not cheap! After hours and hours of research, trying products and returning them, and messing up our yards – we started this site.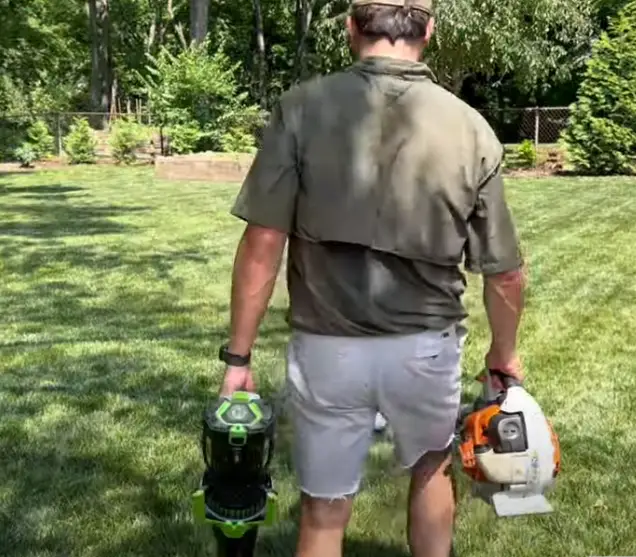 As people who had to learn the hard way, we want you to know exactly what you are signing up for before you purchase a piece of equipment. That's why we are committed to providing honest, easy-to-understand reviews that mean something. 
So…what exactly is a lawn edger?
As the name suggests, a lawn edger is a tool that trims the edges of your lawn's boundaries. For example, you can use an edger to trim the grass that borders your driveway or mailbox. A freshly-edged yard leaves your property uniform and square. 
Edgers can also be used around garden beds, separating mulch from the grass and creating a distinct garden bed that "pops".
You wouldn't go to the barber and only cut the hair on the top of your head without trimming the sides. The same applies to your yard – an edger finishes the job while boosting your home's curb appeal.
Edging doesn't take a professional; anyone who can operate a mower can also master the art of edging. If you already use a landscaping company to service your lawn, they should use an edger after mowing. But if you mow your property yourself and don't have an edger yet, you're in luck. A quality edger will only set you back a couple of hundred dollars (and trust me, they're worth the investment).
If you're looking for an extra crispy lawn, make sure to read our guide on how to sharpen mower blades.
What's the difference between trimming and edging?
Let's set the record straight here. Edging and trimming are two very different things that are often mixed up. 
Edging utilizes a motorized blade that digs into the dirt between a hard surface (street, driveway, sidewalk) and your yard. Edgers push up dirt and dig a small little trench that cleanly separates the yard and surface. Edgers can do a little bit of trimming if grass is growing over the surface, but are not designed for full-scale grass shredding.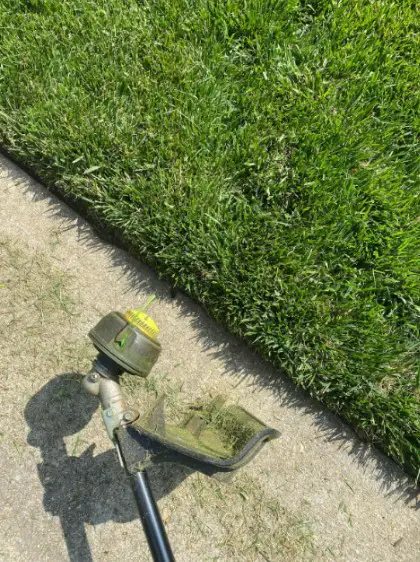 Trimmers are used to cut stray grass not reached or not accessible by mowing. Trimmers can also be used to cut the grass between hard surfaces and the yard, but don't quite have the capability to edge as well as an edger does.
The Best Lawn Edgers for 2023
What better way to start 2023 than with a new lawn edger? If you're looking for a new edger, you have a lot to choose from – how do you weed out the duds? You're in luck – we did the hard work for you already. Check out our article on the five best battery lawn edgers for 2023. 
After comparing dozens of lawn edgers, the below options made the top of our list:
These battery-powered lawn edgers are affordable and offer long-lasting quality and durability (the best of both worlds).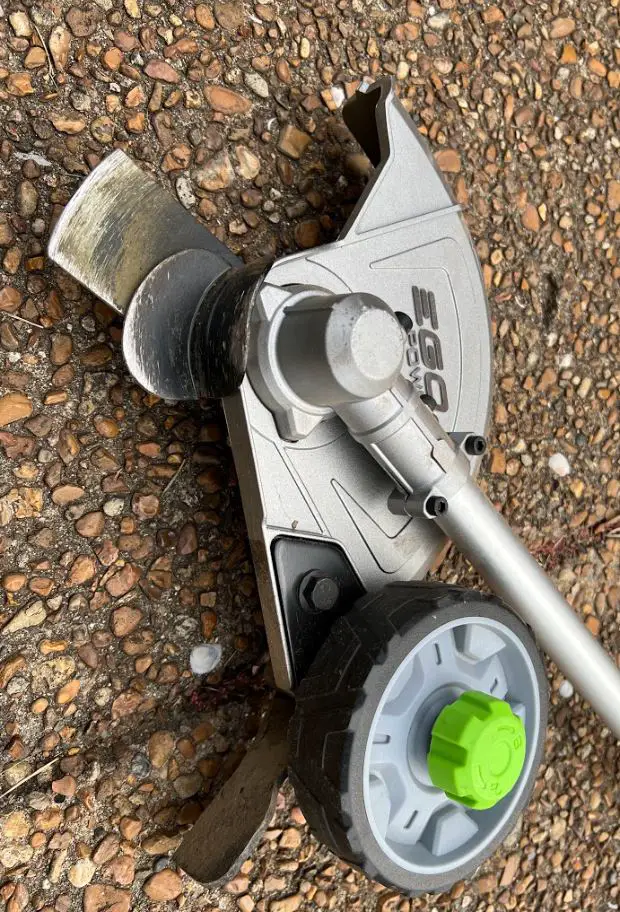 You can also purchase a trimmer and an edger combo to get the most out of your money. While a trimmer does most of the heavy lifting, an edger will make your neighbors stop and stare.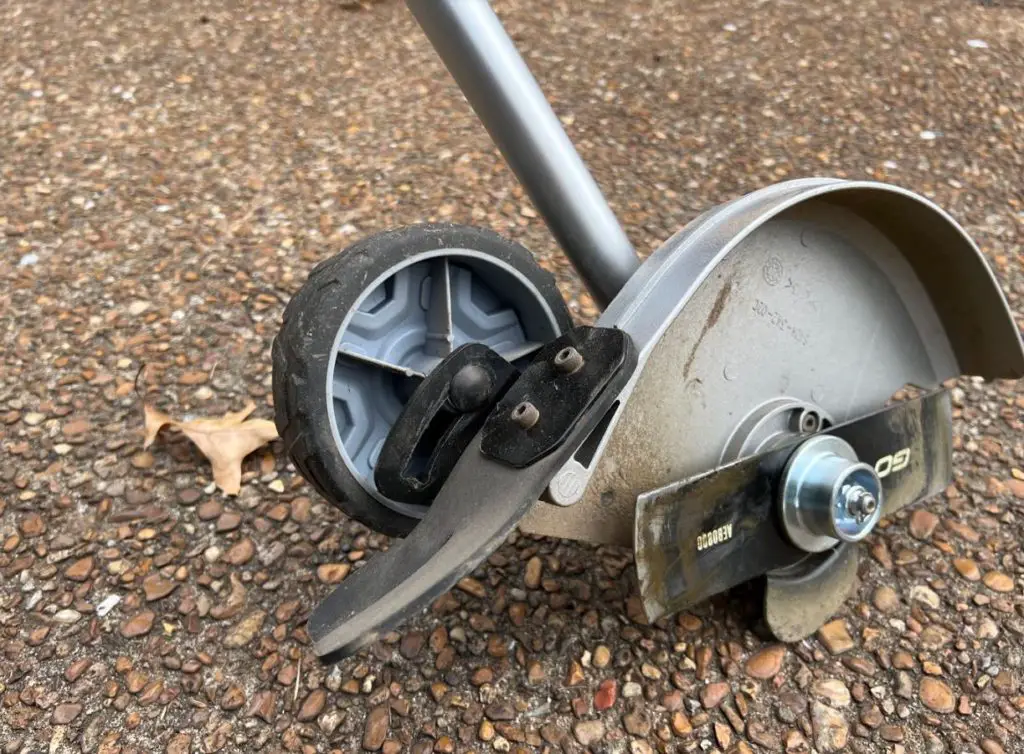 If you're a new homeowner or want to spruce up your lawn, a trimmer and edger combo is a great thing to have in your arsenal. 
How to use a weed eater to edge your lawn
You can do some moderate edging of your lawn with a weed eater. The trick is to have the right weed eater string.
When I was using the stock weed eater string that came with my Ryobi 40V weed eater, I thought it was doing a good job. Then after doing a ton of research and developing the 
Manual vs. Motorized Edgers: What's the Difference?
Lawn edgers come in all shapes and sizes. They also come as manual or motorized. Manual edgers are handheld tools not powered by an engine or battery. Many of these edgers resemble shovels with an inverted cutting tip that penetrates the soil and shapes the grass. It looks like a shovel without any type of curvature. Manual edgers are much cheaper to purchase (and operate) compared to motorized edgers.
In fact, we reviewed the cost of manual edgers on Amazon and home improvement stores and found that the average prices range from $30 to $60. 
Although the price of a manual edger might seem tempting, remember that they require a lot more work. Not only that, but customer reviews are mixed. Many reviewers say the blades break or bend easily. Therefore, you may have better luck with a motorized edger if you don't mind spending the extra money.
A battery or engine powers a motorized edger. Using a motorized edger is much less labor-intensive compared to a manual edger. However, a motorized edger will set you back at least $100 for a high-quality product. A motorized edger is usually the best route unless you have a very small yard.
The Two Types of Electric Lawn Edgers
Out of all the lawn edgers available on the market, electric edgers are becoming the most prevalent. Consumers have two options when purchasing an electric edger: Corded or cordless.
If you buy a corded lawn edger, you'll have to keep it plugged in as you use it which can restrict the distance you travel. On a positive note, you won't have to worry about losing battery life.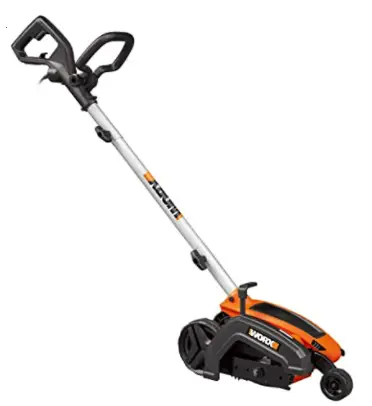 On the other hand, a cordless lawn edger can be operated without plugging it into a power outlet. But despite the cordless option, you'll still need to charge the battery from time to time using a cord provided with the edger.
The price difference between cordless and corded isn't significant. As a result, many homeowners prefer a cordless edger because they don't want to worry about tripping over a cord (can you blame them?). They also don't need to purchase an extension cord to reach all corners of their lawn.
Edgers often come as attachments for attachment-capable multi-tools. These can easily be swapped out to save money on tools and batteries (not to mention storage space).
Frequently Asked Questions
If my guide on lawn edgers has sparked your curiosity, you're in for a treat. I put together a list of the most common questions we get from our community on Youtube.
What is the difference between a lawn trimmer and an edger?
The main difference between trimmers and edgers is the depth at which they cut. Trimmers are used for all purpose lawn trimming and have a more shallow cut. Edgers go deeper to form a border around your lawn or garden bed.
What is an edger used for?
You don't necessarily need a lawn edger, but they're definitely a must-have if you want a clean and squared lawn. Not to mention, you can get one for around one hundred dollars or less.
How much does professional edging cost?
Most lawn care companies offer to edge as part of their services. That is, they'll mow your lawn first and edge it after. If you just want a company to edge your yard (and not mow it), you can expect to pay less than two hundred dollars.
Lawn Edgers at a glance
A well-manicured law requires an edger – a tool that trims the areas of the lawn that the standard lawnmower can't reach. Professional lawn care companies will edge your lawn after cutting it, but you can also do it yourself. Lawn edgers are cheap, easy to operate, and boast advanced features like depth and speed control.
If you want a long-lasting and easy-to-use lawn edger, be sure to check out the four products I've hand selected as the best lawn edgers for 2023. You should also consider a trimmer and an edger combo if you want to pamper your lawn and save your hard-earned money. I'm certain that no matter which edger or edger and trimmer combo you use, the results will leave you more than satisfied.