Brushless motors are big deals when it comes to weed eaters. Practically every "high-end" weed eater has a big advertisement about brushless motors.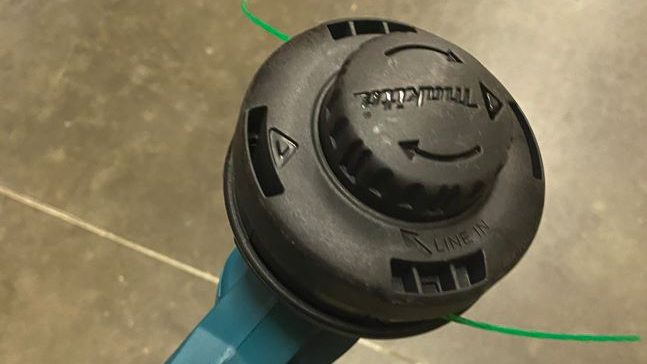 Back in my day, we didn't have brushless or brushed or anything fancy – we didn't even really have electric motors. But this new generation of battery-powered weed eaters is different. 
They pack a serious punch and have a price that makes you really think twice. 
Is brushless worth it? How does it compare to gas? All that and more answered.
What does brushless mean on a weed eater?
Brushless as advertised on a weed eater refers to the motor. Brushless motors are designed differently to leverage frictionless magnets to power a motor. 
Weed eaters with brushless motors tend to last longer, be more durable, and provide more torque. When you see brushless listed at the top, you can know that this is a higher quality electric motor than traditional brushed motors. What you also might notice is a higher price point compared to other weed eaters – including some gas-powered weed eaters.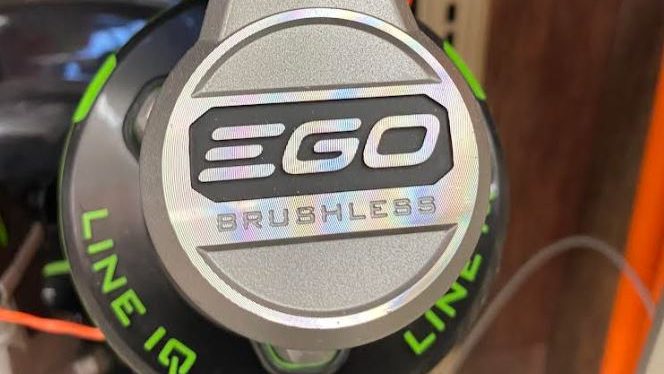 In my opinion, brushless weed eaters are worth the additional cost as they will last significantly longer than others.
How to instantly improve your weed eater
Upgrade your weed eating game with the ultimate GrassKicker Weed Eater String! While weed eaters and lawn edgers are great tools, it's not complete without the right string. Our specially crafted line is designed to enhance your weed eater's performance and give you flawless edges around your yard and garden.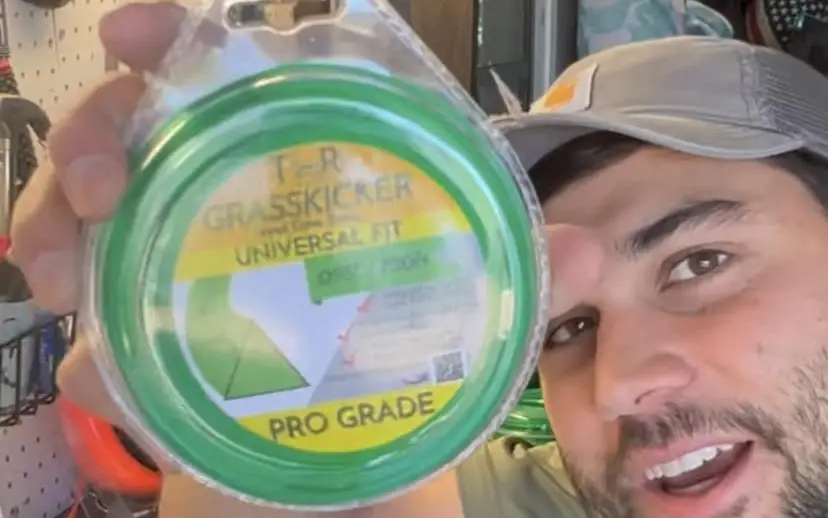 Don't settle for subpar string that breaks easily and leaves ragged edges. Our team has scoured the market and combined the best colors, shapes, thicknesses, and materials to create a superior line that cuts more cleanly and lasts longer.
With GrassKicker, you can take pride in your perfectly manicured lawn and make a lasting impression on your friends and family. And who knows, your envious neighbors might just start dropping by more often! Don't wait, elevate your weed eating game with GrassKicker Weed Eater String today! Click the link now to buy.
Brushed vs Brushless Weed Eaters
Brushless weed eaters have a frictionless, efficient motor design that leverages magnets instead of the friction electron transfer required from brushed motors. 
You may notice that brushed motors get hot, don't last as long, and are overall found on weaker, smaller lawn tools. Brushless motors provide a cooler running motor, are more durable and efficient, last longer, and provide more torque.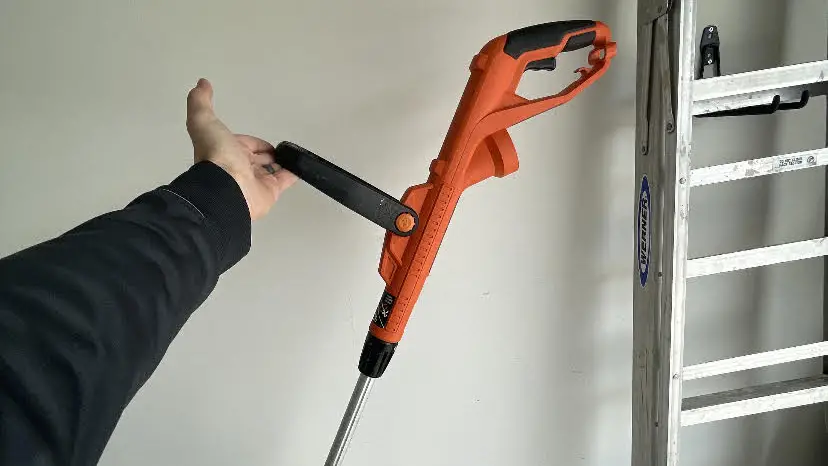 When I was picking out weed eaters, brushless was the first non-negotiable I had on my list. I chose to pay more for brushless because I want a tool that will last longer and won't get so hot.
Brushed motors are often found on lower-end weed eaters and corded weed eaters (often one in the same).
Are brushless tools better?
Brushless tools are better for those looking to have more efficient lawn tools with a longer life. They are not better for those looking for cheap lawn tools that will simply get the job done. Many first time homebuyers settle for brushed, corded weed eaters just to check the box.
In my opinion, making a minor investment in brushless tools will pay off in the long run. Having to replace the tools entirely in half the time as you would with a brushless tool can quickly cost you way MORE than you would have paid to just buy a brushless weed eater in the first place.
Gas vs Brushless Electric Weed Eaters
When it comes to gas vs electric weed eaters, it's important to weigh out the pros and cons. Both are great options, but in my opinion – built for different audiences.
Here are some pros to brushless electric weed eaters compared to gas-powered weed eaters:
No fumes
Super easy to start
No maintenance
Can use the batteries to power other tools
Extremely simple
But gas-powered weed eaters have benefits, too. Some of their benefits include a longer run-time and more power.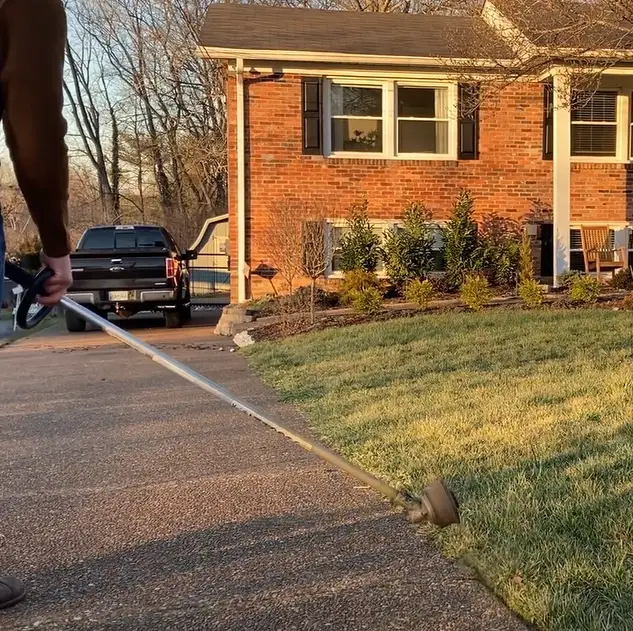 I think the gap is narrowing in power between the two, but a really nice brushless weed eater with power comparable to gas is pretty expensive. Most can be found for around $200 or $250, but some can be north of $350.
3 Best Brushless Weed Eaters
I've used a ton of really good brushless electric weed eaters, but here are a few of my favorites:
EGO Power+ST1623T 16 inch 56V Weed Eater
This weed eater was the number one choice of ours on our list of best EGO weed eaters. There are a bunch of reasons why, but mostly because it has an awesome mix of price, power, and ease of use. 
It has this cool Powerload technology from EGO that allows you to simply drop some weed eater string in, and it will automatically wind it up for you. Kind of nice.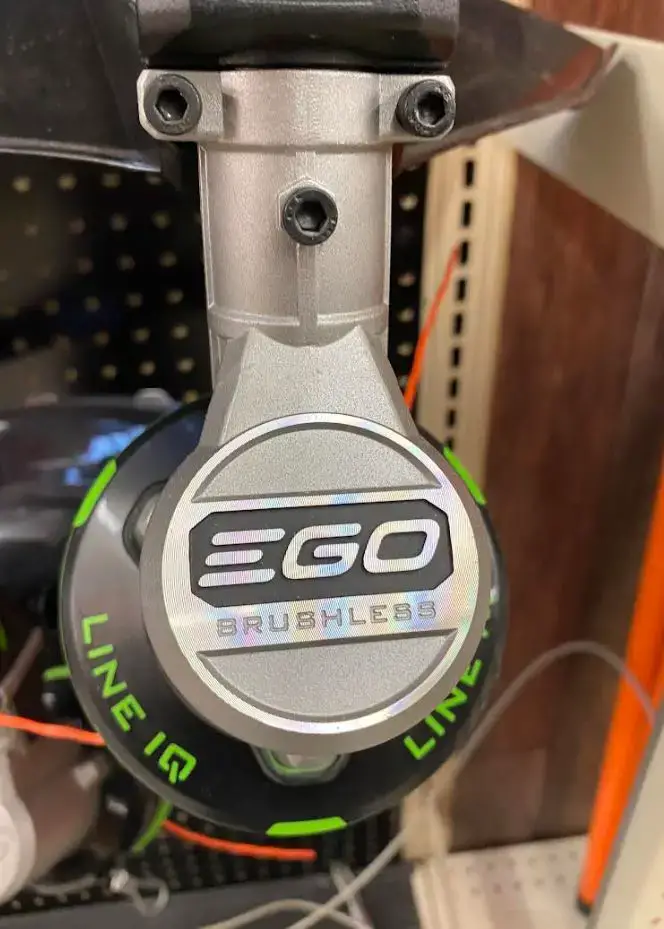 But what really sticks out is the 16 inch cutting swath. This is technically in the commercial category and will be an absolute freak of nature when it comes to power. This is our favorite. 
You can grab this one on Amazon for a really good price.
Makita XRU15PT1 Weed Eater
The Makita XRUP15PT1 weed eater is an equally dominant weed eater but with a slightly smaller cutting swath at 15 inches as compared to the EGO's 16 above. One big differentiator in Makita's favor is that it takes the 18V batteries that can be found on so many other Makita tools, including Makita's mowers.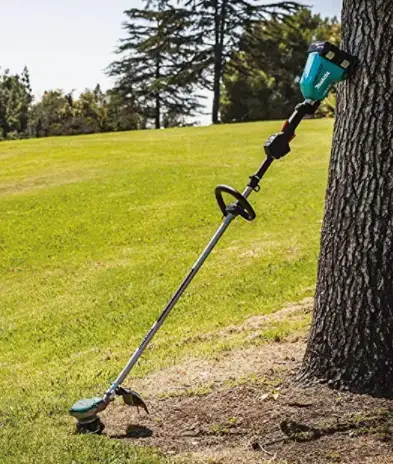 This weed eater works really well for large yards and is my favorite Makita weed eater that compares to commercial landscaping power. It is definitely on the pricier side, but will truly last a long time. It of course has a sweet brushless motor and is backed up by Makita's ridiculous power. 
You can grab it at Home Depot or at Amazon (I suggest trying to price compare using our links).
Dewalt 20V Max Brushless Cordless Weed Eater
Yes, we were extremely surprised, too, when we put together our list of best Dewalt weed eaters. We honestly weren't expecting much when we tried these out but WOW – they were seriously powerful.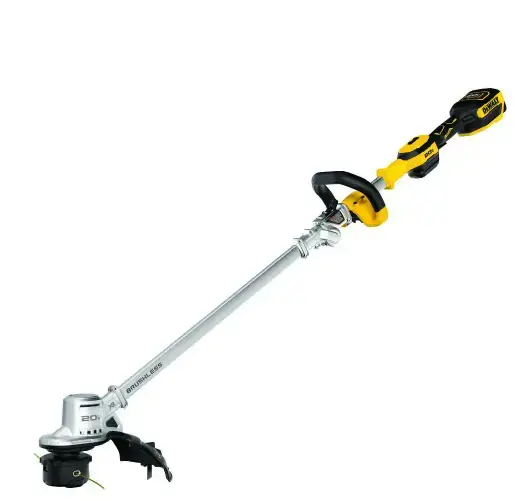 Of course Dewalt is a household name in the power tool space, but they have truly mastered electric tools and translated that into the lawn care space. Similar to the Makita weed eater above, the Dewalt 20V Max weed eater is a really high quality weed eater. 
We like Dewalt's because you can buy the tool-only version if you already have a Dewalt 20V Max battery and save a ton of money. 
These are on sale at Home Depot and can also be found at Amazon (where it was cheaper). 
My experience with brushless weed eaters
I've used a ton of electric weed eaters and a whole lot of brushless ones. Every time I've used a brushless electric weed eater, I've felt a difference in torque and sustained power.
They outlast brushed weed eaters, are bigger and more powerful, and don't get hot when I use them.
I'm super bullish on the future of brushless tools and brushless weed eaters specifically. While I'd like to see the price come down on these tools, I suspect most folks will have these in their garage.
What to look for in a weed eater
Weed eaters AKA string trimmers come in all shapes and sizes. They aren't highly complicated pieces of equipment, but they do have a few nuances. Here is how we evaluate a weed eater at The Lawn Review.
Feel
Obviously this is subjective, but feel is everything to me. I have had weed eaters in the past where the handle is off to the side, making me torque my shoulders and back. If you can, get as many adjustable pieces as possible to make this customizable. It doesn't seem like you use a weed eater for a long time, but the work is precision work that requires a steady hand and focus.
Motor
Brushless motors are a non-negotiable when it comes to battery powered weed eaters. Without a doubt,  they are the best option to ensure you have maximum torque, more durability, and a longer life. These things are top notch performance and will be the only option when others start to catch on.
Curved vs Straight shaft
 I always, always, always prefer straight shafts. They are so much easier to use and control and are much longer than curved shafts. Curved shafts are good for clearing out a small piece of land unable to be mowed. But if you want to actually do some good trimming and edging, a straight shaft is much better. Curved shafts are difficult to maneuver and to create a straight line for edging. 
Why we review lawn tools
The reason we started this website in the first place was because we had so much trouble trying to find reasonable, understandable, honest reviews for lawn equipment. And it's not cheap! After hours and hours of research, trying products and returning them, and messing up our yards – we started this site.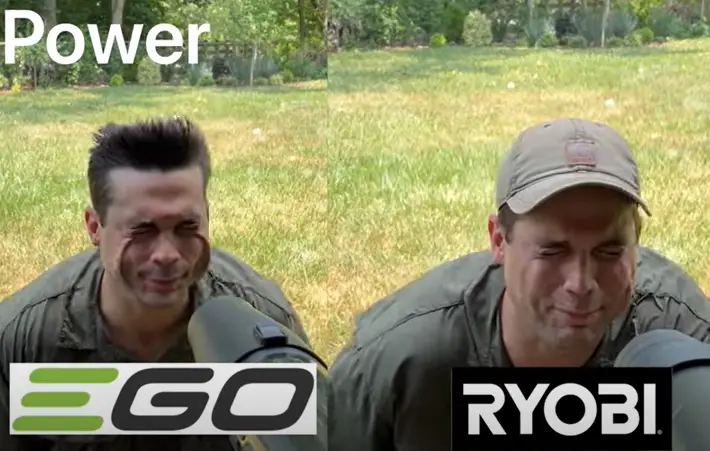 As people who had to learn the hard way, we want you to know exactly what you are signing up for before you purchase a piece of equipment. That's why we are committed to providing honest, easy-to-understand reviews that mean something.