Electric leaf blowers can be great for large yards. Most folks think you can't move big leaf piles with an electric blower, but they are simply wrong.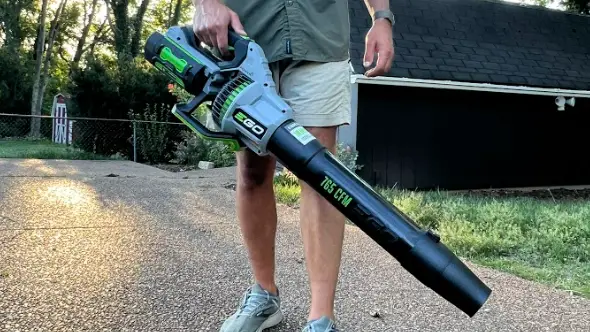 If you have a large yard, you can benefit from no fumes, a quieter blower, and no maintenance – then electric might just be the option. Let me break down why I switch from gas to electric then list out some of my favorite electric blowers I've used over the years.
Let's get started! Here are the best electric blowers for large yards according to our thorough testing:
Why I switched from gas to electric blowers
I've always been a gas leaf blower fan – and I still own two. I own the Stihl BR 600 backpack blower and the Stihl BG 86 C handheld gas blower. Despite being really powerful and always getting the job done, I got sick of the maintenance schedule and the smell. After I had my first baby, the noise became unbearable as well – trying to use the blower around nap schedules.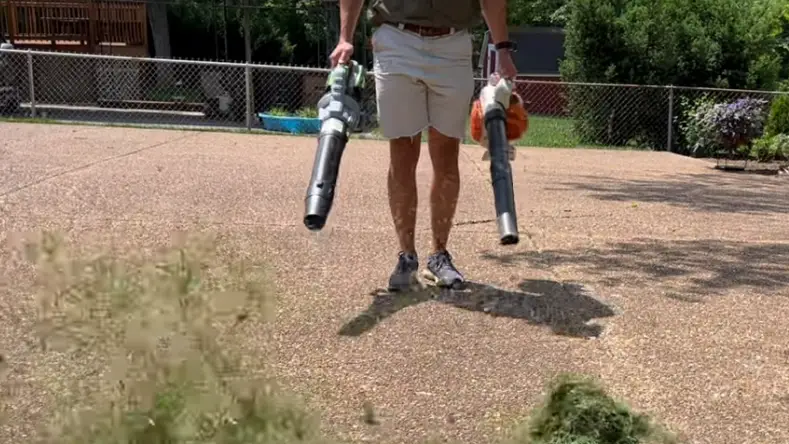 All of that stopped when I got a battery-powered blower. My first battery-powered blower was the Ryobi 40V blower, which quickly changed my perspective. The truth is, a lot of these electric blowers are super powerful – even more so compared to handheld gas blowers. I'll walk you through my favorites below.
How I tested these electric blowers
I've tested these electric blowers using personal experience with all of them. I've written extensive reviews of each of them and put them through the ringer.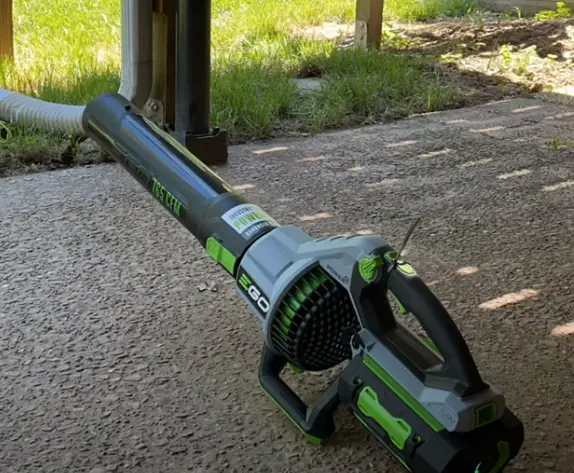 For starters, I tested out their run times compared to the advertised run time. I did this by zip-tying down the trigger and seeing how long it goes for before dying. I also did some side-by-side comparisons to a handheld gas blower. I also compare the noise levels then the other bells and whistles, like turbo buttons.
The Best Electric Leaf Blowers for Large Yards
There are hundreds of electric leaf blowers on the market, both battery-powered and corded electric. A bunch of them absolutely suck. So we've decided to give you the ones we know are absolute beasts when it comes to your large yard.
EGO 765 CFM Leaf Blower
Hands down, I have not found a better electric blower for large yards than the EGO 765 CFM blower. It is an absolute cannon in your hand with extreme power and usability that surpassed my experience with a popular handheld gas blower.
At 765 CFMs, this is best-in-class in the battery-powered blower world. This kind of air volume can move massive piles of leaves across large areas – quickly. With unmatched CFMs and a tremendous combination of MPH, this blower is built for large yards.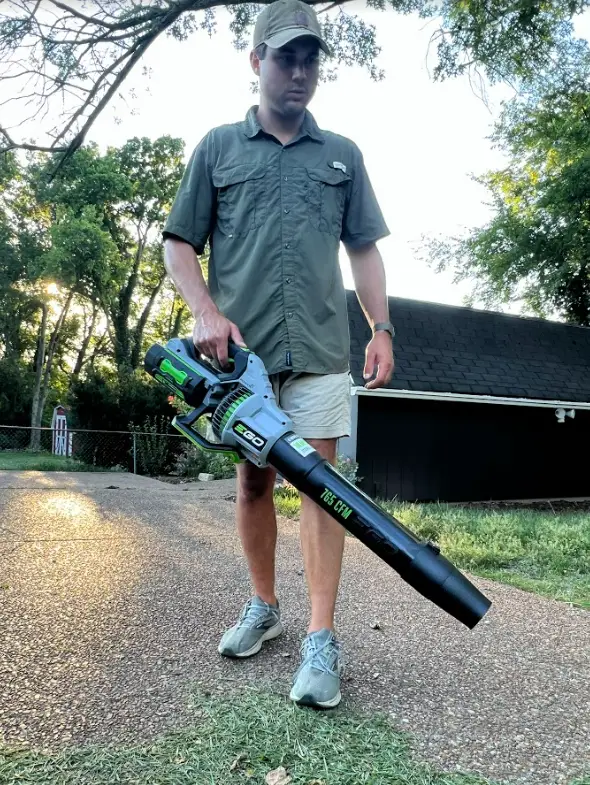 That's an extreme combination of speed and power. When I first used this, it was a powerful blower, then I pushed the turbo button and I had to literally (yes, literally) fight against it because of how powerful it is. It has a brushless motor, is a part of EGO's extensive 56V battery series, and is durable as heck.
You can grab it from Lowe's or get it online at Amazon for a great price.
Toro PowerJet F700 Electric Blower
If you're still with me after my gas blower comment, then I might finally lose you here. But yes – this is a corded electric blower – and it costs less than $100. 
You don't need all the flashy cool features and expensive batteries to put out a freakishly solid blower. This corded blower has 700 CFMs and a super wide nozzle, making light work of massive piles of leaves. This one was built for maximizing air volume, making it great for moving piles of leaves across large yards.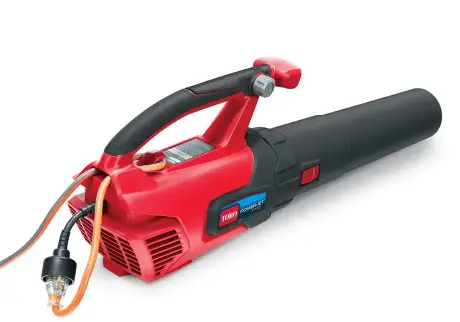 The only downside here is that you will be limited in a large yard by the length of the extension cord. But if you have easy electrical access and a great extension cord, this is the most budget friendly option – by a LONG SHOT.
The Toro PowerJet is available at Home Depot for a shockingly low price.
Makita 40V Max XGT Brushless Blower
I put Makita's 40V Max blower on here because it is one of the best ones they have for large yards.
Here's the simple truth about Makita: their tools are extremely high quality but also pretty expensive. When it comes to Makita tools, they have a bunch of really good power tools and have dominated the electric hand tool space for a long time. 
So it was a no brainer when they jumped over to lawn tools. I love their 40V max blower for a few reasons:
A sweet brushless motor
A 40V battery that can span a bunch of their tools
It has more power than a lot of gas blowers
When "turbo" mode is engaged it has 565 CFMs – nice!
Their XGT battery series is supposed to be a "smart" battery that helps with overheating and delivers a better run time
A telescoping nozzle – lets you pick different lengths – pretty cool
This blower is on sale right now at Home Depot for a pretty deep discount. 
Greenworks 80V 730 CFM Electric Blower
The Greenworks 80V 730 CFM blower is honestly one of the more powerful handheld blowers on the market. It is right there with the Ryobi 40V and EGO 56V blowers in terms of power, and has a true quality build.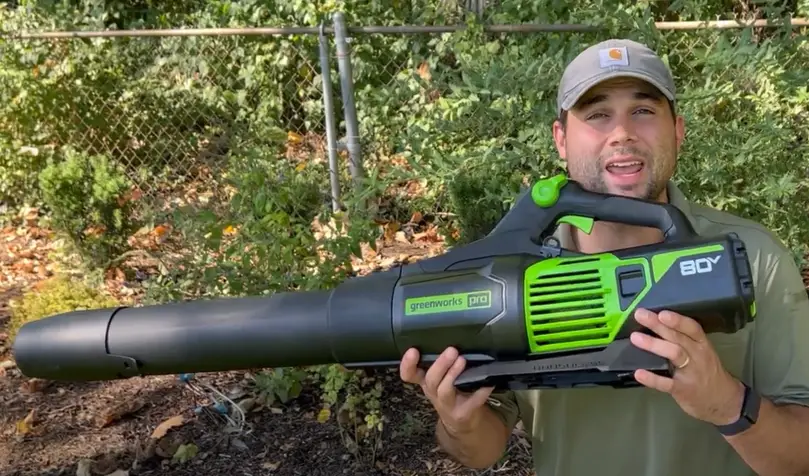 The reason this one is lower on the list is that after I tested this one over the course of a few weeks, it started to develop a high-pitched squealing sound. For larger yards, this would result in a spectacular headache and angry neighbors. If you're looking for power and quality – this blower has it. If you're looking for a peaceful noise, this one does not.
All-in-all, this was a great blower and we spent a ton of time making a video review for it before the sound got all weird. You can watch the full video review here.
The Greenworks blower can be found on Amazon for a great price and is also at Costco.
Husqvarna 230iB Battery Powered Blower
THe Husqvarna 230iB is a new player in the game. Sure, we all know Husqvarna and their popular riding mowers, but battery-powered leaf blowers? You bet. 
While they aren't the leaders in electric tools yet, they did put out a really impressive blower that is great for large yards.
This blower has a few really great specifications:
A brushless motor
A whopping 650 CFMs
A wide mouth nozzle which delivers large volume of air at 136 MPH
One downside to this blower is that Husqvarna doesn't have a huge 40V battery line yet, so you don't quite get the economies of scale you would get from EGO's 56V battery line, for example.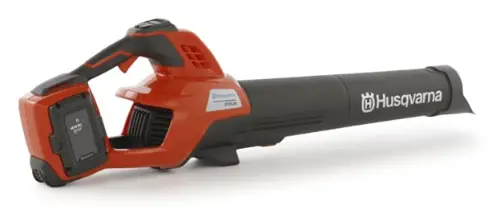 One thing I will give it credit for is digital controls for cruise control and a really nice grip that feels just like a power drill. It is well-balanced, futuristic and nice. 
I imagine Husqvarna will have many good products to come in the future, but for right now they are still immature.
This is a great blower for those looking for a one-off blower and not a full suite of battery powered products. You can grab it on Amazon for a decent price with the battery.
What to look for in a battery powered blower
Cordless blowers come in a bunch of shapes and sizes but there are three basic things you need to understand:
CFM 
Cubic feet per minute. This is a measure of air output on the blower. Higher CFM = more power, but not necessarily more miles per hour. High CFM with a wide nozzle = lower MPH. High CFM with a narrow nozzle = high miles per hour. Ideally, you want both a high CFM with a narrow to medium nozzle for most residential jobs.
Usability 
What is the point of having a blower if it is hard to use? Have to get one that is lightweight, easy to start, and has some functions that make your life easier.
Motor type
Brushless motors reign supreme. Cooler running motors with more torque, a longer run-time, and last many more years. Brushless is a no brainer when picking a blower.
These are three things you need to pay attention to when looking through the specifications. 
Why we review lawn tools
The reason we started this website in the first place was because we had so much trouble trying to find reasonable, understandable, honest reviews for lawn equipment. And it's not cheap! After hours and hours of research, trying products and returning them, and messing up our yards – we started this site.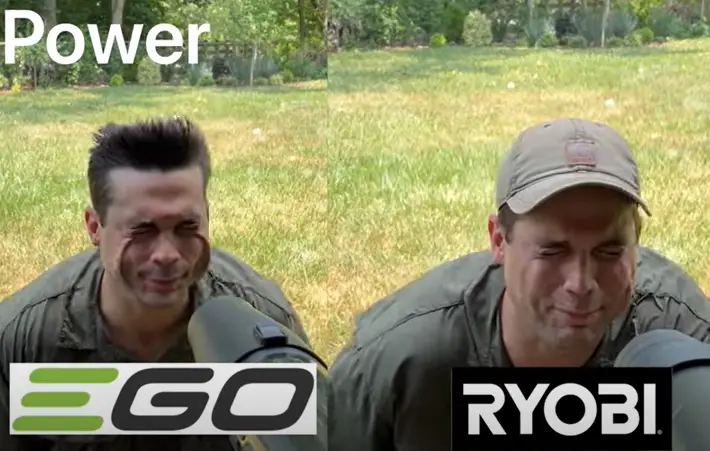 As people who had to learn the hard way, we want you to know exactly what you are signing up for before you purchase a piece of equipment. That's why we are committed to providing honest, easy-to-understand reviews that mean something.