Husqvarna riding mowers are super recognizable and known for one thing: quality.
They sell a handful of riding mowers that are absolute beasts and targeted for homeowners that give a crap. 
Every Husqvarna riding mower comes with a powerful engine that is outsourced to Kawasaki, Briggs and Stratton or Kohler – all magicians in the small engine game.
Today we will break down which Husqvarna riding mowers are the best and will take into consideration size, build quality, bells and whistles, and cost. 
Let's get started.
***SPOILER***: Best Husqvarna Riding Mower: YTH24V48
Why we review lawn tools
The reason we started this website in the first place was because we had so much trouble trying to find reasonable, understandable, honest reviews for lawn equipment. And it's not cheap! After hours and hours of research, trying products and returning them, and messing up our yards – we started this site.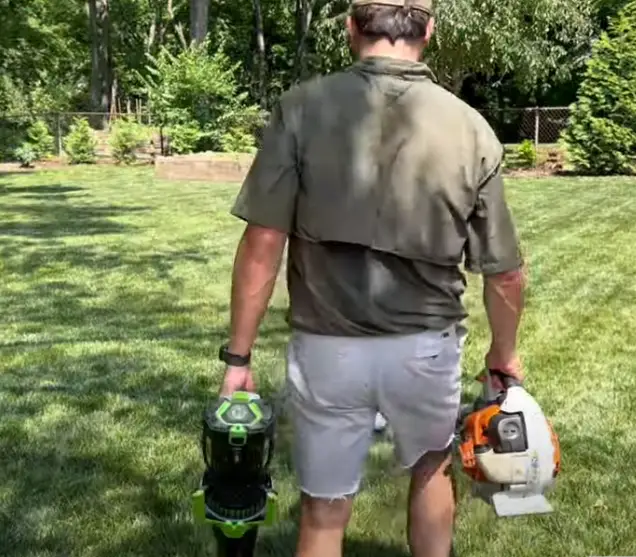 As people who had to learn the hard way, we want you to know exactly what you are signing up for before you purchase a piece of equipment. That's why we are committed to providing honest, easy-to-understand reviews that mean something. 
About Husqvarna
Husqvarna is one of the most respected names in lawn care. Not only are they producers of great, high quality lawn care tools for residential property owners, but they also create really great machinery for commercial use in parks, golf courses, and all over construction sites.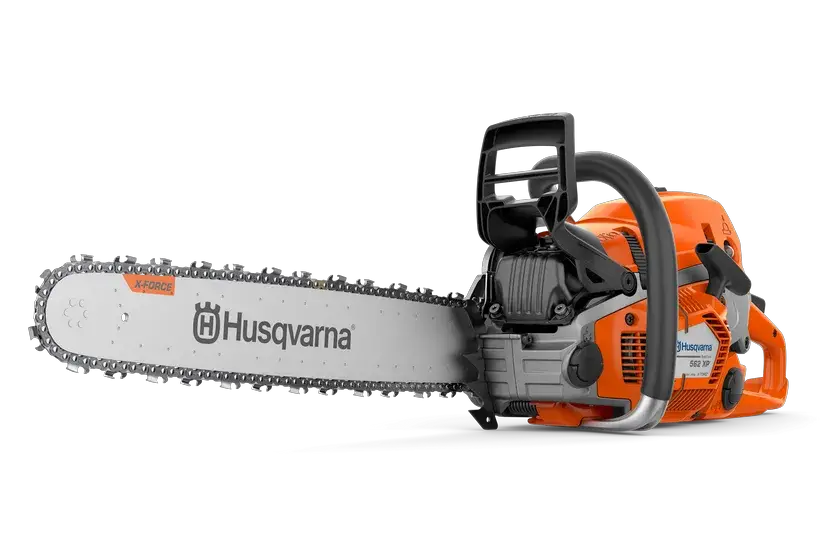 Husqvarna's bread and butter is the heavier, commercial machinery for sure. For example, they don't have a huge presence in the push mower space, but have some absolute units in the zero-turn mower space. Likewise, they produce big boy commercial lawn mowers and chainsaws that you will see clearing forests. 
That being said, you can see how all of Husqvarna's industry experience could lead to them making the best riding mowers for homeowners. 
What to look for in a riding mower
With the dawn of zero turn mowers, electric riding mowers, and flying hovercraft mowers with drone weed whackers (only kidding), the classic lawn tractor is often overlooked.
The reality is that lawn tractors are great machines that still have a place in the modern lawn care garage. Lawn tractors are great for people with a half of an acre up to two acres. They are also fine for people with more than 2 acres with few obstacles to navigate.
The zero-turn mower craze is largely hyped up for the average homeowner by the admittedly cool features. The downside of these mowers is the massive price tag and difficulty with storage. 
We even ranked some of the best electric riding lawn mowers if that's more your speed.
Best Husqvarna Riding Mowers: Ranked
Now that we understand how amazing the products are that Husqvarna makes, let's start breaking down a ranking of their best riding mowers. You honestly can't go wrong with any of these, but I am going to rank them holistically. 
1. Husqvarna YTH24V48 Riding Mower
I put the YTH24V48 at number one for a few reasons. Before I get into that, I just want to highlight the naming convention here. The 24 means it is a 22 HP engine and the 48 means it has a 48 inch wide cutting deck. 
Yes, that is a four foot wide cutting deck on a riding mower. Some are bigger, but this is also bigger than many zero-turn mowers. Heck yeah.
In fact, one of the top reasons I ranked this number one is because it is the biggest and baddest riding mower from Husqvarna that can still fit in your garage (hopefully). The others really start to top out space and require a separate shad or even a whole spot in your garage.

Another reason I ranked this one number one is that it was the best value. Not the cheapest, but pound-for-pound most value dense. 
Here's why I think so:
Super wide cutting deck without being obnoxious, the perfect size
Hydrostatic transmission operated by a pedal
Briggs & Stratton Intek V-Twin 24 HP engine, putting it top of class for riding mower horsepower
Cast Iron front axle, meaning it won't bend or break
All-in this thing has an MSRP value of $2,799. Husqvarna uses local dealers to help you find a sales location. You can find yours by clicking here.
2. Husqvarna YTH18542 Riding Mower
The Husqvarna YTH18542 is second for me. This is the base model for Husqvarna's YTH series and reminds me a lot of the John Deere E100. Both are base models of brands that are known for quality and durability. 
I've done a full review of the Husqvarna YTH18542, but will try to summarize why I like this riding mower so much. It is honestly extremely similar to the YTH24V48 with a few exceptions. For starters, this has a single cylinder engine instead of a twin cylinder. It also is about 10 inches narrower and 6 less horsepower.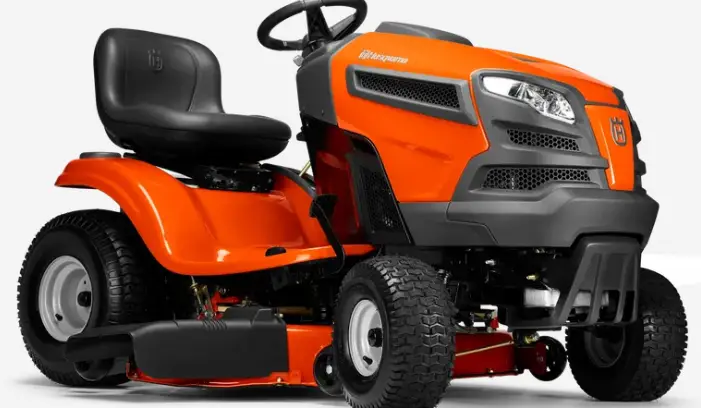 All of these are differences likely not noticed by the average homeowner looking to cut their yard, outside of how dang wide the 24V48 is. But many of the features are exactly the same, including:
The super sturdy cast iron front axle
Attachment-capable system for year-round use, for things like snow plow attachments or pull-behind trailers
Hydrostatic transmission for smooth gear changes
All-in-all this is a great entry point into Husqvarna for first time riding mower buyers. The price point is a huge reason that this one is so popular and widely recognized. 
This thing has an MSRP value of $2,399, or about $400 cheaper than our top ranked model. Husqvarna uses local dealers to help you find a sales location. You can find yours by clicking here. 
3. Husqvarna TS 354XD Riding Mower / Lawn Tractor
The Husqvarna TS 354XD is hands down the absolute most powerful and freakishly badass riding mower Husqvarna offers. At first glance, it is noticeably dominant. It stares you in the eyes until you back down.
Just kidding. But it does have a super high-back chair with armrests that make it seem like the most comfortable riding mower in existence. 
The things that really set apart this mower are:
A 54 inch cutting deck, which rivals most zero-turn mowers and is 4.5 feet wide. Holy guacamole. 
A 24 horsepower engine, yes please.
6 anti-scalp wheels that keep the blade stable when you're going over steep banks and hills
A front brush-guard
A Kawasaki engine
I mention the Kawasaki engine here because when it comes to larger engines, Husqvarna tends to use Kawasaki engines instead of Briggs and Stratton. 
The TS 354XD truly does rival the size of zero-turn mowers, so if you're more of a lawn tractor guy and don't need a zero-turn, this thing is your best bet. This has added functionalities and attachments that you can buy that make this more functional than just a lawn mower. This riding mower is truly a year-round utility vehicle that happens to cut grass.
At close to $5,000 MSRP, you know it means business. 
4. Husqvarna TS 242XD Riding Mower
If you're looking for a mower with almost as much functionality as the TS 354XD but you aren't quite ready to drop 5k, then check out the TS 242XD. 
The TS 242XD is a toned down version of the TS 354XD, but it still has some of the features that make it incredible for over $1,200 cheaper. Sadly, the really cool high-back chair with armrests doesn't come with this one. 
But here are the things that DO come with it that make it an incredible option for those that are still looking to have a year-round lawn tractor. 
2 cylinder Kawasaki engine (21.5 HP)
Front brush guard
Hydrostatic transmission
The main differences (outside of aesthetics) are the fact that this mower cuts a foot more narrowly than the other and has 2.5 less horsepower.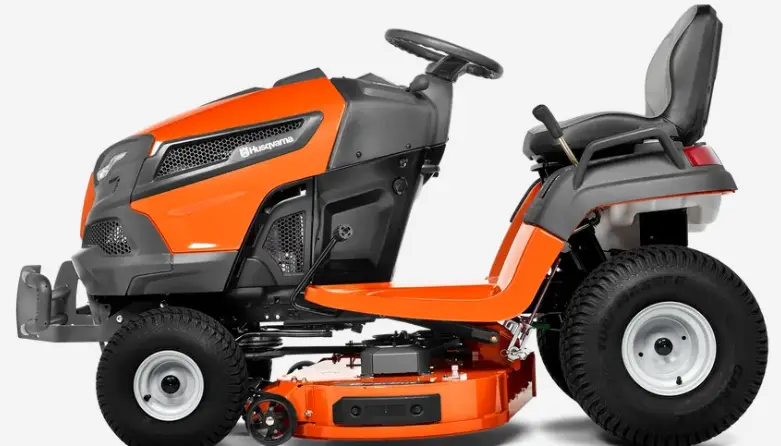 It's a great entry point into year-round lawn tractors that are attachment capable and do way more than just cutting your grass. 
It comes in at $3,700 and can be purchased at your local Husqvarna dealership.
5. Husqvarna TS148X Riding Mower
The TS148X Riding Mower is a great lawn mower. I mean that because it isn't going to do all of the crazy things that the other TS series mowers are doing, but it also isn't as highly priced. 
So yes, you are not getting a brush guard and a bunch of insane attachments on this one, but it is a high quality, powerful lawn mower that is great for cutting grass.
It still has a 24 horsepower engine with a Briggs and Stratton Endurance V-Twin engine and cuts 4 feet wide. It is most similar to the YTH24V48, but comes in at a higher price and doesn't have all that many differences. I still prefer the YTH24V48 for several reasons, but if you can't get your hands on it, this is a great, slightly more expensive alternative.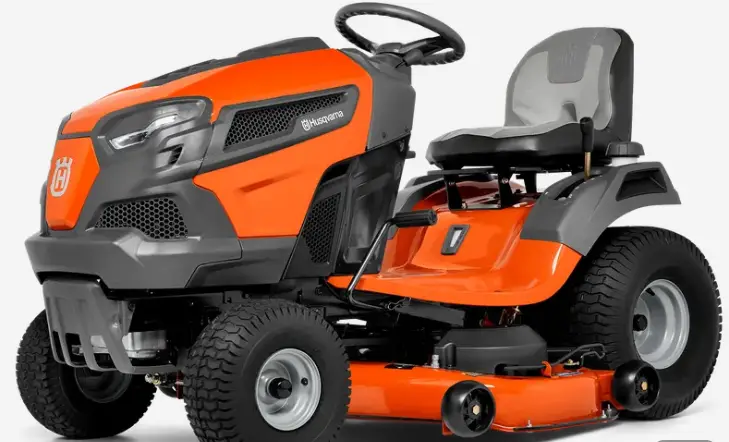 This one comes in at close to $3,100 MSRP, making it a great mower but slightly overpriced compared to our number one choice. That's why we ranked it last on this list (but at least it made the list!).
The Bottom Line on Husqvarna Riding Mowers: They're good
You really can't go wrong with Husqvarna's riding mower and lawn tractors. You can close your eyes and throw a dart at their catalog and end up being fine. But if you're picky or have certain jobs you want to do, some of these are going to suit your needs better. 
For us, we loved the YTH24V48 because it's powerful, wide, but not over-the-top and very fairly priced.