The Stihl BR600 backpack blower is one of the most popular backpack blowers used by both residential and commercial lawn care teams. It is easy to see why this is such a top seller – between the power, the reliability, and the price, this thing is sweet.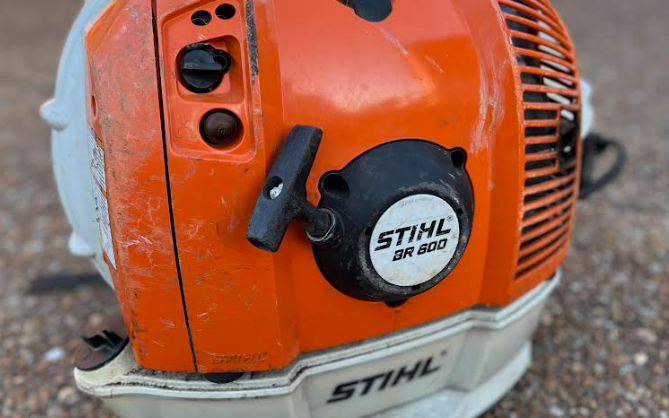 Leaf blowers come in all shapes and sizes. I have had many electric leaf blowers and literally have burned through all of them. The gas powered blowers just mean business. They work harder, they last longer, and they save you serious time. 
We also did an awesome comparison of this blower vs ECHO's PB 770.
Let's get started:
Why we review lawn tools
The reason we started this website in the first place was because we had so much trouble trying to find reasonable, understandable, honest reviews for lawn equipment. And it's not cheap! After hours and hours of research, trying products and returning them, and messing up our yards – we started this site.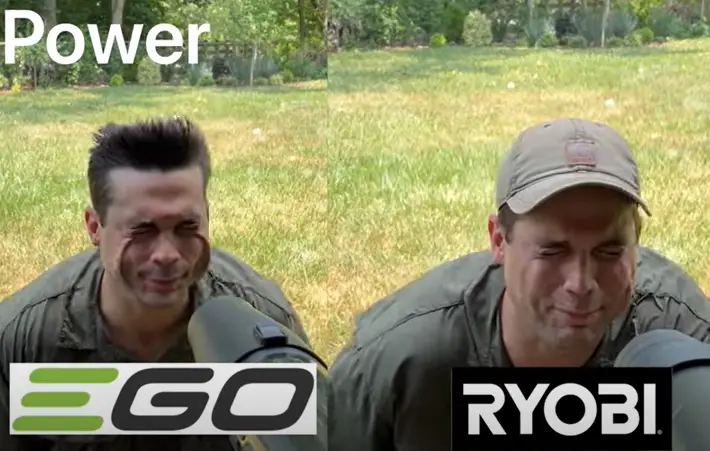 As people who had to learn the hard way, we want you to know exactly what you are signing up for before you purchase a piece of equipment. That's why we are committed to providing honest, easy-to-understand reviews that mean something.
Leaf blowers: Electric vs. gas
Obviously you have two options when selecting a leaf blower: electric or gas. They are worlds apart in just about every aspect. Electric leaf blowers tend to be cheaper, weaker, and only last a few seasons. As I have mentioned in previous posts, I used to have a Ryobi leaf blower attachment that came on their 3-in-1 tool kit. I have now gone through two of the leaf blower heads in which they start making a high pitch scraping noise when I am using it. 
There are exceptions in the electric leaf blower world. One of those is the Ryobi 40V Brushless whisper series blower. It is quiet, extremely powerful, and built to last. It is, however, one of the most expensive electric blowers you can buy.
Gas blowers are superior in almost every way. They are super strong, last many seasons, and quickly get the job done. The reason you see every professional lawn care person using a backpack blower is because they work extremely well. Let's dig into that more below.
Stihl's reputation
Stihl is an industry leader when it comes to yard products, but is probably most known for chainsaws and backpack blowers. The BR600 backpack blower is one of their best selling products because it is something they have completely mastered.
The Stihl family moved to Virginia in the 1970s and opened up their first factory dedicated to a single chainsaw. They have continued to grow and pioneer the lawn care space, most notably with backpack blowers.
Stihl has a great reputation that many commercial landscapers rely on each day. Many residential owners will be more than pleased with their products.
Stihl also makes some other backpack blowers like the Stihl BR200 and BR350.
Stihl BR600 Backpack blower review: Features
Let's check out some of the features that you need to look for when picking a blower and how the Stihl BR600 backpack blower matches up.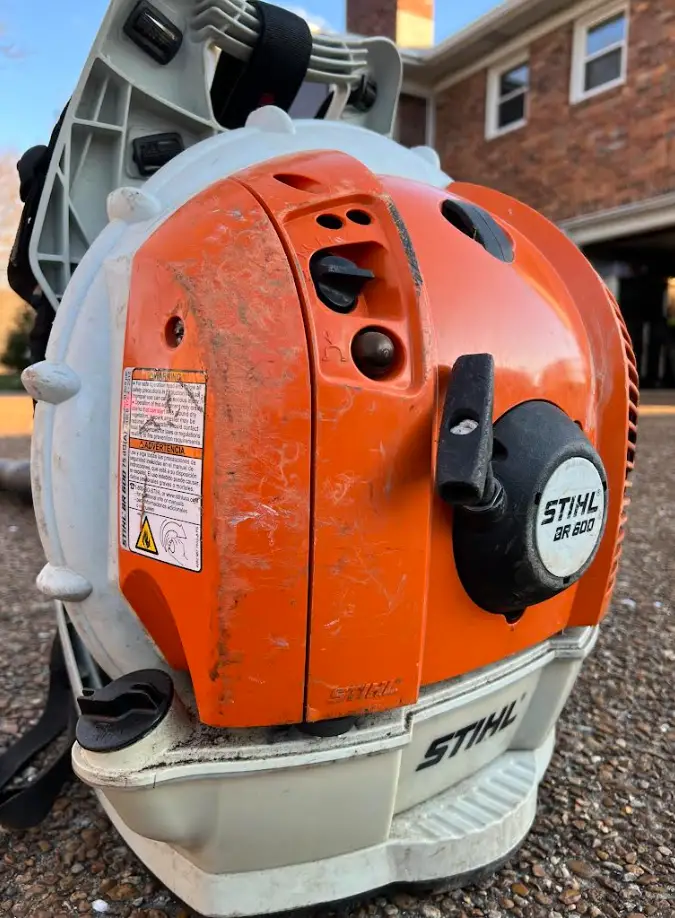 Power
When it comes to a leaf blower, probably the most important feature is power. There is nothing, absolutely nothing, worse than trying to blow a wet leaf off of your driveway and it just will not budge. I have experienced this so many times with my electric blower that I would get closer and closer to the leaf until I scraped it off the dang driveway with the tip of the blower. 
Well, you won't have to do any scraping with the BR600. This thing blows air at 238 mph. That is insanely fast. For perspective, the fastest hurricane wind speed ever recorded was 215 mph. You are walking around with a mini hurricane with the Stihl BR600 backpack blower.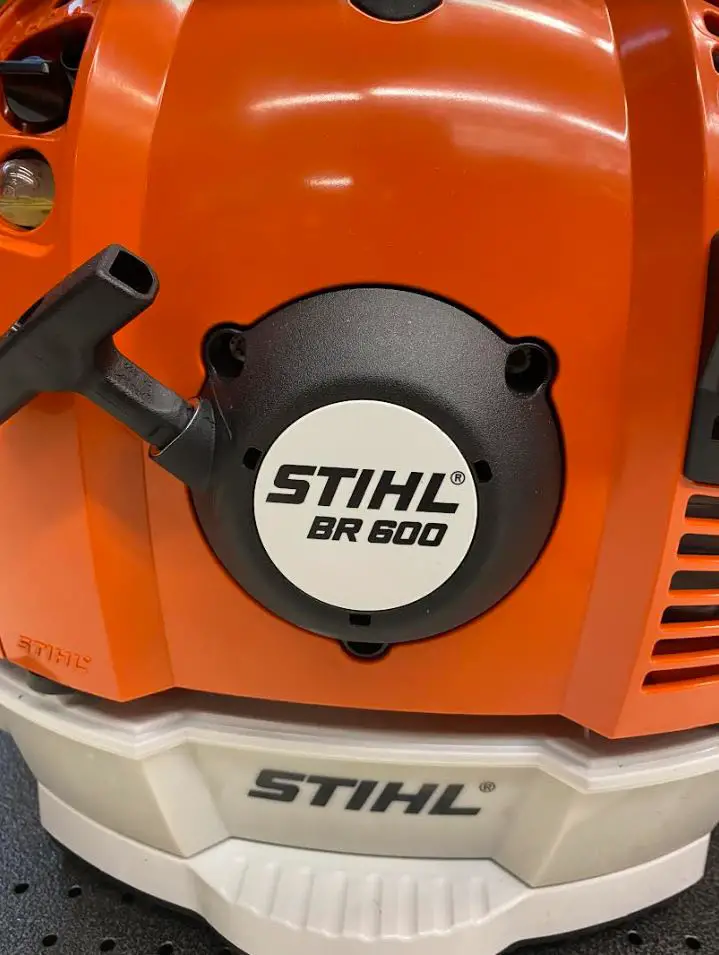 Many blowers also boast a CFM, which is cubic feet per minute. Most electric blowers have a CFM in the 200-300 range. Some get as high as 700, but basically achieve this by attaching a tiny nozzle to the end to maximize the pressure. 
At its normal function, the Stihl BR600 backpack blower has a CFM of 677. This is some serious power from a large nozzle blower. Needless to say, this blower is going to get the job done.
The BR600's little brother, the BR350, is a slightly less expensive and less powerful version.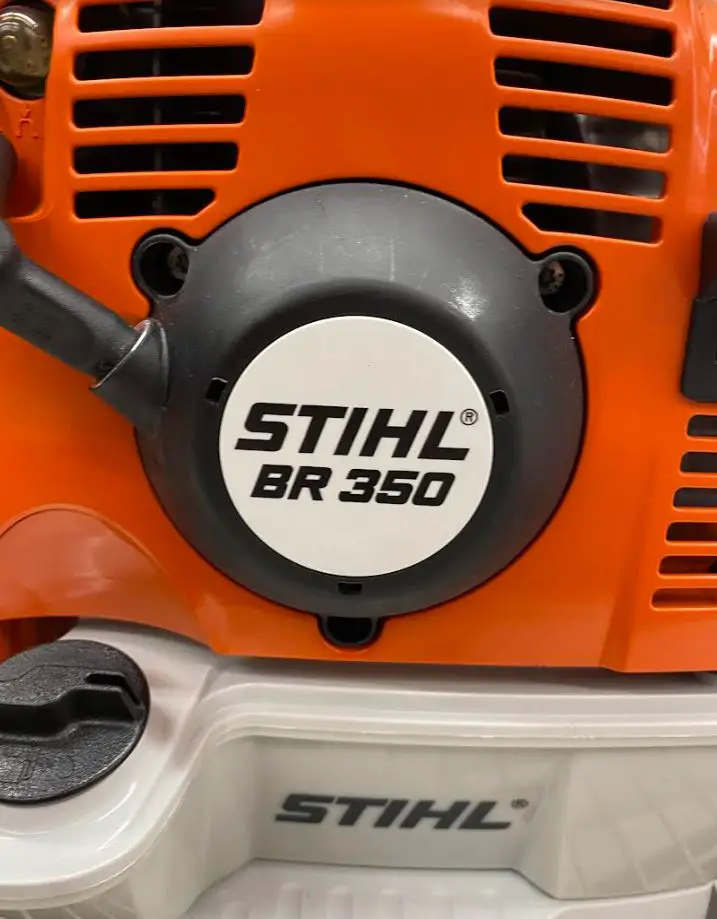 Usability of the Stihl BR600 backpack blower
The Stihl BR600 backpack blower was designed by someone who uses a blower several hours per week. For starters, the backpack is light – only 25 pounds. It sits consolidated into an ergonomic backpack that doesn't have straps or extra parts flapping around. The BR600 is compact and solid, which I appreciate.
It has a handle that extends down from the right side where the air blows from. It is a flexible handle that can be easily navigated and maneuvered. This is a stark contrast to many electric blowers that have a long, hard, plastic tube that will not move. The beauty of this handle is that it also has all of the controls on it as well, like speed and cruise control and all of that.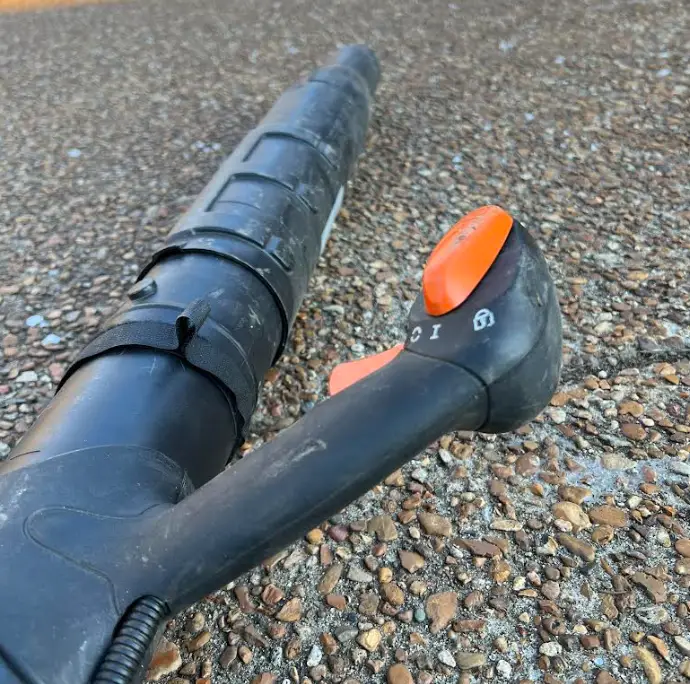 The anti-vibration system on the Stihl BR600 backpack blower also helps you be comfortable. It is so hard to carry around one of these when it is loud, shaky, and hot. The BR600 has anti vibration technology that reduces the "jetpack" feeling like you are about to take off.
Durability and maintenance
This is by far one of the most important things I look for in a blower, now that I have burned through two of the electric ones. The Stihl has a serious engine and is not going to burn up like the cheap plastic electric ones.
The purge pump primer helps keep the carburetor primed with fuel, making the starting process much simpler without flooding the engine. This blower also has lower cost, easier to maintain "in-tank" fuel filters. 

Reading through the manual, it is easy to tell the spark plug and filter change are simple maintenance activities that do not have to occur regularly. As this does require a 50:1 oil mixture, oil changes are not required. 
Starting the BR600 requires the blower to be placed on the ground, which is kind of an awkward starting position. There are choke positions for cold starts and warm starts as well to help make this a 1-2 pull blower starting process.
Cost and value: Stihl BR600 price
The Stihl BR600 costs about $500. While this may sound expensive, it is a good value. If you consider the price of a decent electric blower at about $150, you will quickly realize how valuable the BR600 is. Considering that I have blown through two $150 blowers in the past few years, I can save considerable amounts of money with the BR600 due to its longevity.
You can find the Stihl BR600 for sale from Ace Hardware, the only place we have been able to find it online.
If you use a blower for commercial purposes, this is a no-brainer. This blower will last you for years and has the comfort, ease of use, and power to get you through many, many seasons on the job. 
Curious how this price stacks up? Check out our lawn equipment cost guide for 2023.
The official review: Stihl BR600 backpack blower review
| | | |
| --- | --- | --- |
| Feature | Stihl BR600 backpack blower | Other blowers |
| Difficulty to use | Easier to use cruise control function | Average usability |
| Durability | Very durable and backed by warranty | Average durability |
| Maintenance | Easiest to maintain | Easiest to maintain |
| Value | Highest value | Medium value |
| For lots <10,000 sq. ft | Highly recommended | Highly recommended |
| For lots <1 acre | Highly recommended | Recommended |
| For lots >1 acre | Highly recommended | Not recommended |