Gas and electric weed eaters are two tools that can accomplish the same task: putting the final touches on your yard that make it look amazing. I own both a Stihl FS 56 RC gas-powered weed eater and an EGO 56V electric weed eater (among many, many others) and want to break down why I basically never use my gas-powered weed eater anymore.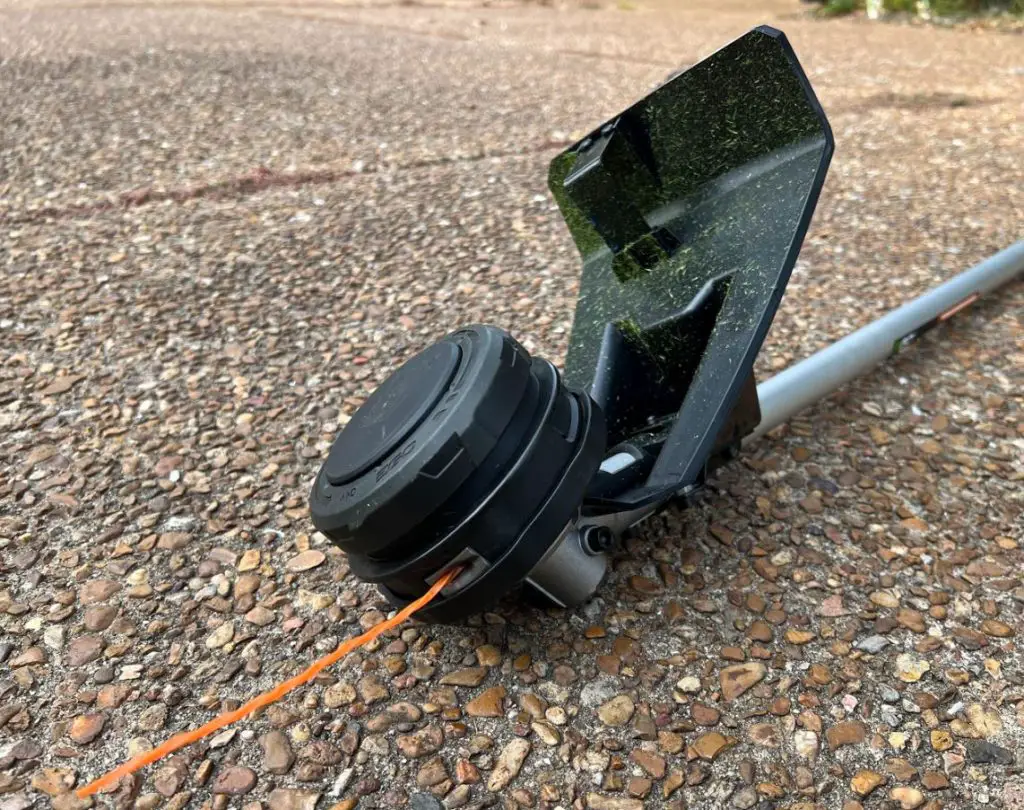 Yes, it is controversial and I get a lot of comments from folks (especially commercial landscapers), but I can't deny reality. 
In all honesty, both are great options and have a bunch of pros and cons – so making a choice is personal preference. Today, I'll break down my experience with both types of tools and which is the best for each type of operator.
How I tested both gas and battery-powered weed eaters
The short answer is: I used both hundreds (if not thousands) of times. I started with my gas-powered weed eater when I owned a landscaping company and used it as my go-to for anything involving trimming. When I moved into my house, I started using a battery-powered weed eater.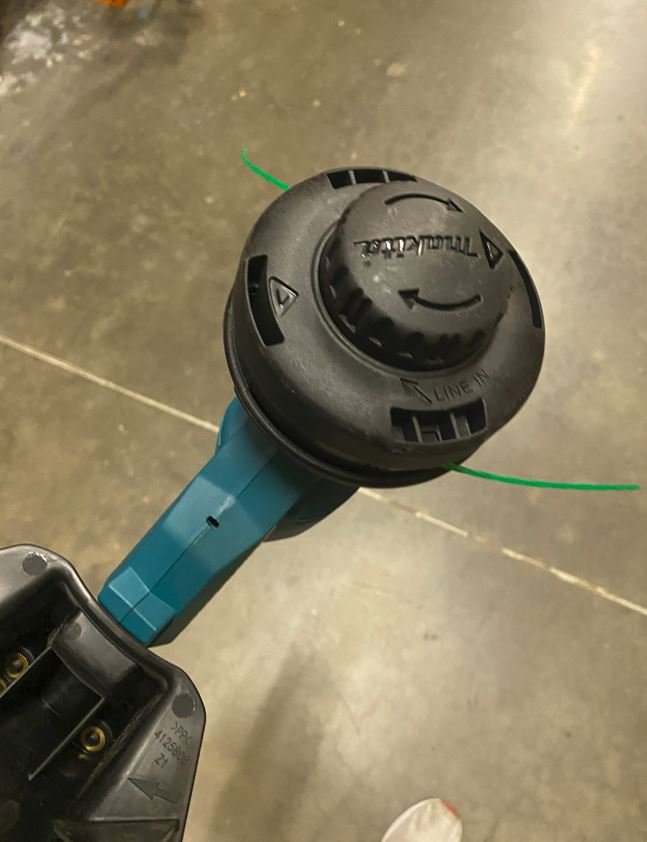 Needless to say, I've dealt with just about every type of weed eater you can use. Tons of different gas-powered ones from folks like ECHO and battery powered and electric string trimmers that you've probably never even heard of. 
When I put them to the test, It is usually a combination of power, handling, and ease of use that I evaluate.
How to instantly improve your weed eater
Upgrade your weed eating game with the ultimate GrassKicker Weed Eater String! While weed eaters and lawn edgers are great tools, it's not complete without the right string. Our specially crafted line is designed to enhance your weed eater's performance and give you flawless edges around your yard and garden.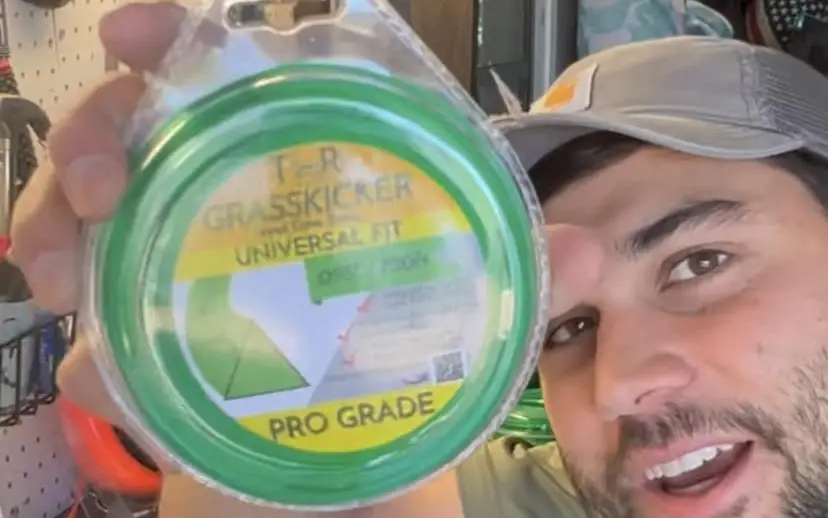 Don't settle for subpar string that breaks easily and leaves ragged edges. Our team has scoured the market and combined the best colors, shapes, thicknesses, and materials to create a superior line that cuts more cleanly and lasts longer.
With GrassKicker, you can take pride in your perfectly manicured lawn and make a lasting impression on your friends and family. And who knows, your envious neighbors might just start dropping by more often! Don't wait, elevate your weed eating game with GrassKicker Weed Eater String today! Click the link now to buy.
Maintenance comparison: Battery vs gas
The most shocking transition for me when moving from gas to battery-powered weed eaters was the lack of maintenance. If you've ever owned a gas-powered weed eater, you know that the maintenance schedule can be kind of intense. For example, below is the maintenance schedule for Stihl's FS 56 RC (which I own):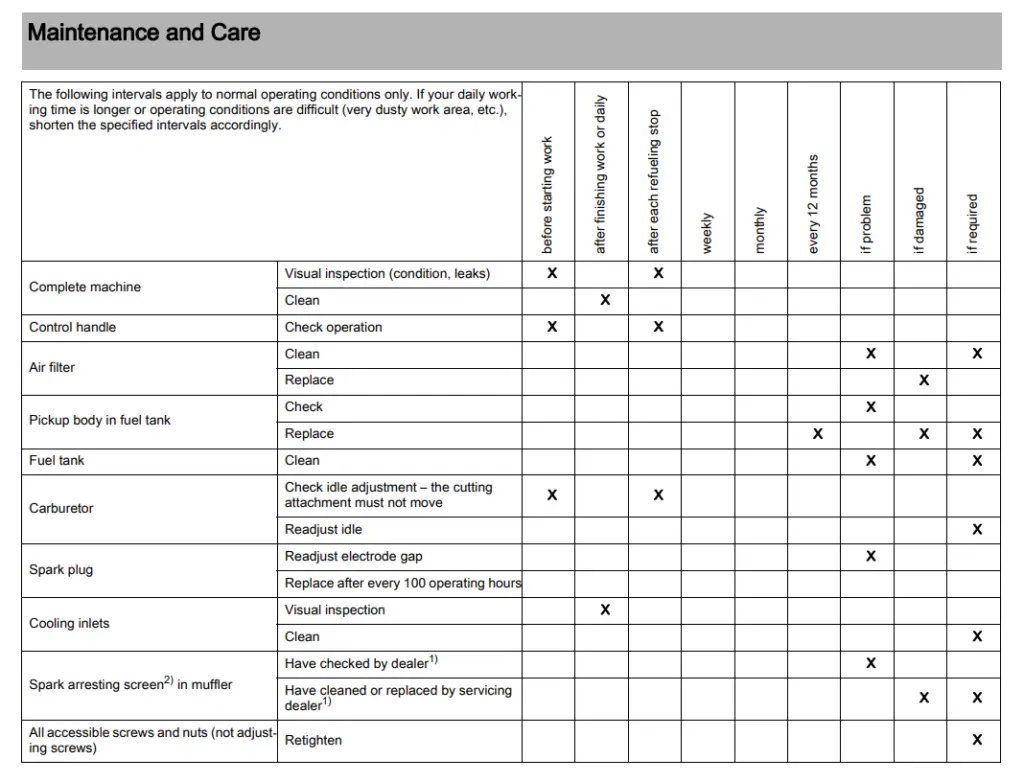 Here is the maintenance schedule for my battery-powered weed eater:
While I am obviously trying way too hard to be funny here, the fact is that battery powered weed eaters require zero maintenance. Yes, you'll have to replace the weed eater string every now and then but I don't consider that maintenance.
Gas-powered string trimmers are just tough to maintain – you have to mix oil and gas (which isn't that hard), but also do things like replace spark plugs, air filters, and all the other moving parts that seem to want to implode all the time. For me, the battery-powered weed eater was so much easier to use.
Run-time comparison: Gas vs Electric string trimmer
Comparing run-times on gas and electric weed eaters is a little silly. When using a gas powered weed eater, you can refill the tank as much as you need and it can run forever. As long as you have gas, you have power.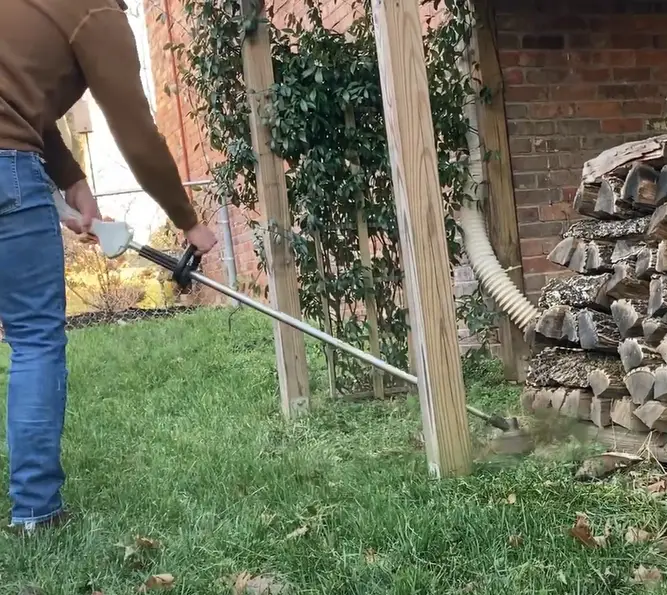 With electric weed eaters, it is more complicated. Corded string trimmers have unlimited run time as long as you keep them plugged into the wall and pay your electric bill.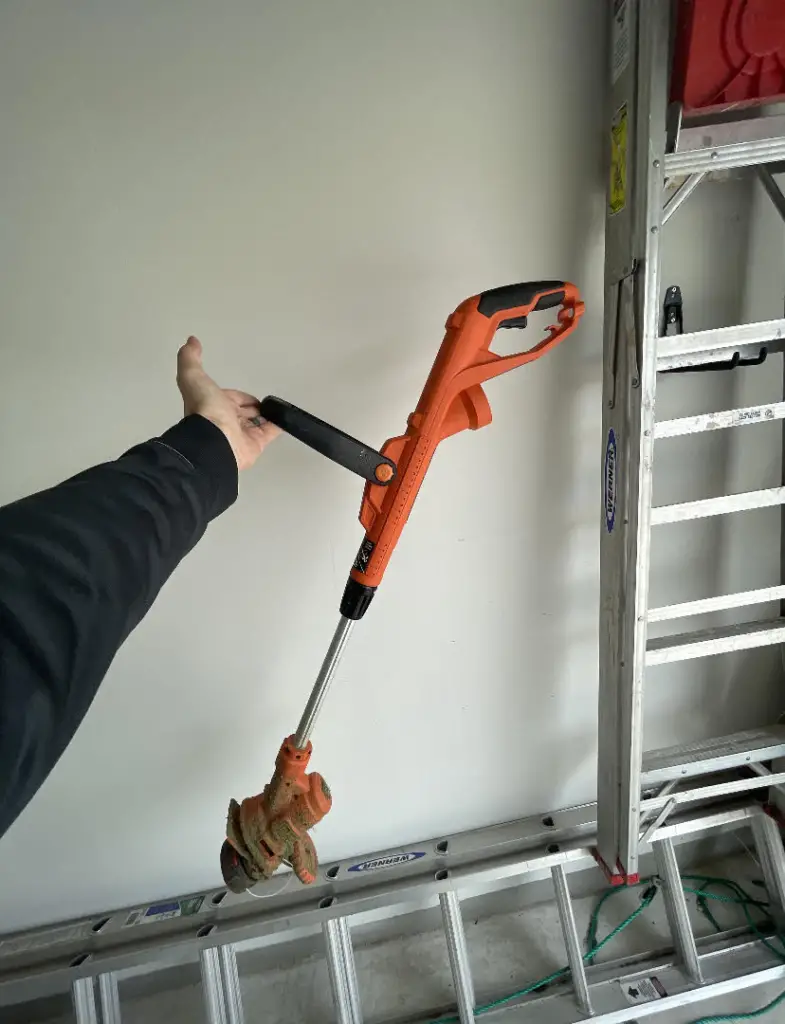 Battery-powered weed eaters provide a limited amount of run time, dependent on the amp-hours of the battery (boring science stuff). You can have multiple batteries that can keep you running as well, so could theoretically have unlimited run time.
The real question is: how much run time do you need with a battery powered weed eater? 
How long does a battery-powered weed eater last?
For most battery-powered weed eaters, you can expect a 30-45 minute run time.
Battery powered weed eater run time is totally dependent on the amp-hours (Ah) of the battery. Additionally, things like cutting swath, how thick of brush you are cutting, and weed eater string size can all cause fluctuations in run-time.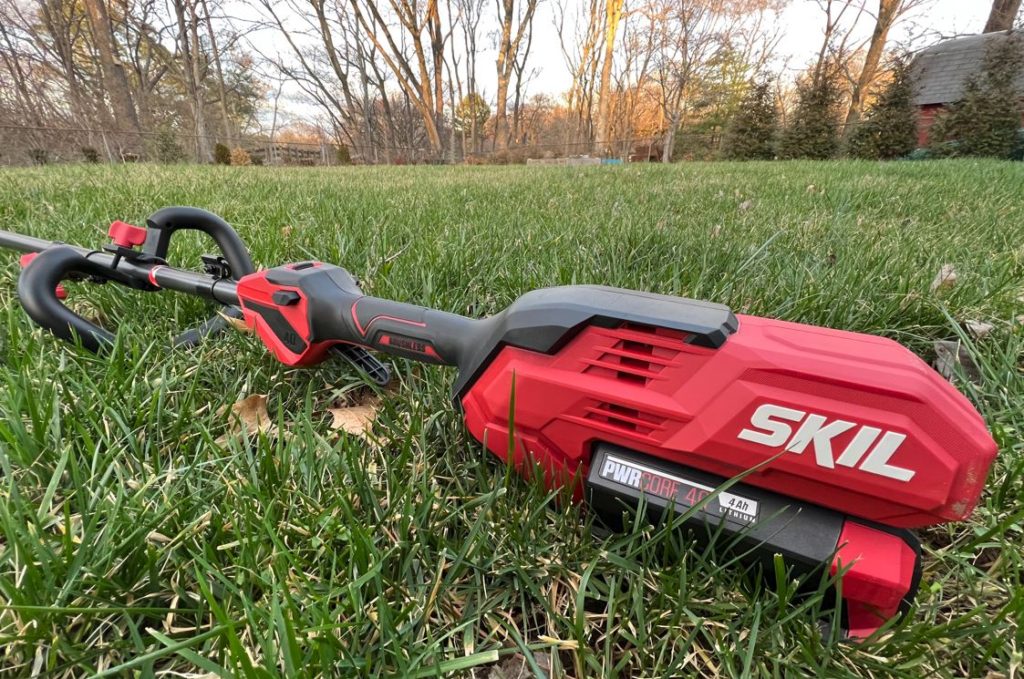 The higher the Ah on the battery, the longer the run time you will get. Higher voltage batteries, thicker weed eater string, and a larger cutting swath all allow for increased power as well, giving you the ability to cut through thicker brush for longer.
Comparing power on gas and battery powered weed eaters
When I first got my battery-powered weed eater I was super skeptical. As a gas loyalist, making the switch was pure blasphemy. I hid it from my friends and neighbors and was scared to use it for a long time. Which is why I still haven't thrown out my gas-powered weed eater.
But boy, was I shocked by the power output on this thing. It can BLAST through grass and has virtually no difference in power from my Stihl weed eater.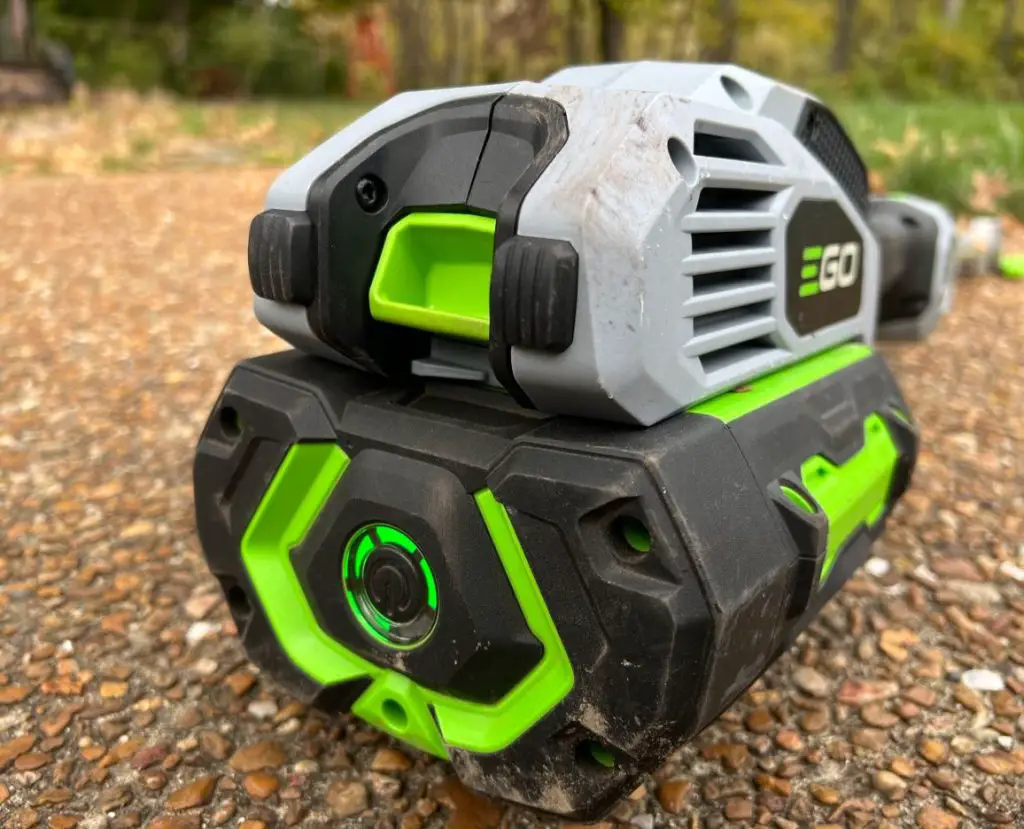 But don't get all angry yet – this isn't true for every battery-powered weed eater. In fact, many are simply wimpy (say that 5 times fast). Here are two I recommend.
Two most powerful battery-powered weed eaters
The first most powerful battery-powered weed eater that I recommend is the Makita XRU15PT1 36V weed eater. It has the following accolades that make it a beast:
15 inch cutting swath
Three speed options (can help preserve battery life)
A ton of other Makita power tools you can use the batteries with
In short, it is designed just like a gas-powered weed eater and has a super trusted name behind it (Makita) that has been in the battery-powered tool space for a LONG time. It's for sale on Amazon for a pretty good price.
The next weed eater I recommend is the EGO 56V Multi-Head system. It is the one the weed eater I use the most because it is so dang convenient AND extremely powerful. I drop in my homemade weed eater string and this thing absolutely rocks.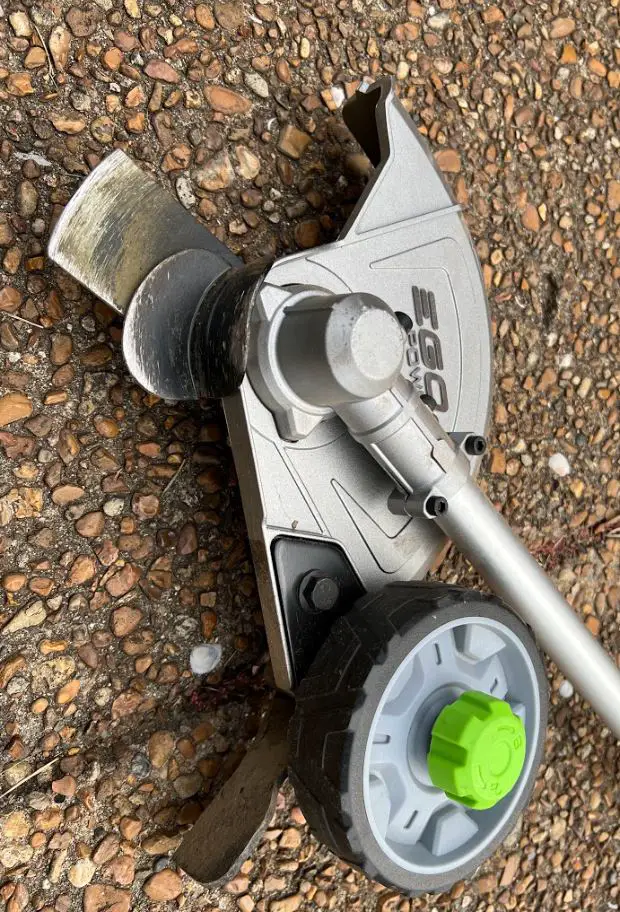 I not only use this as my weed eater of choice, but I also add the edger attachment and a few other attachments that make it darn cool. You can grab it from Amazon for a great price here. 
Ease of use 
Ease of use was the main reason I've started using my battery powered weed eater more than my gas powered one. Insane, already mentioned maintenance schedules aside, there is nothing more I love than walking into my shed and simply popping the battery on and getting started.
From a feel perspective, my EGO weed eater handles exactly like my gas weed eater. In fact, it may even be a little bit lighter. Either way, compared to my gas weed eater the trimming experience is about 7x easier.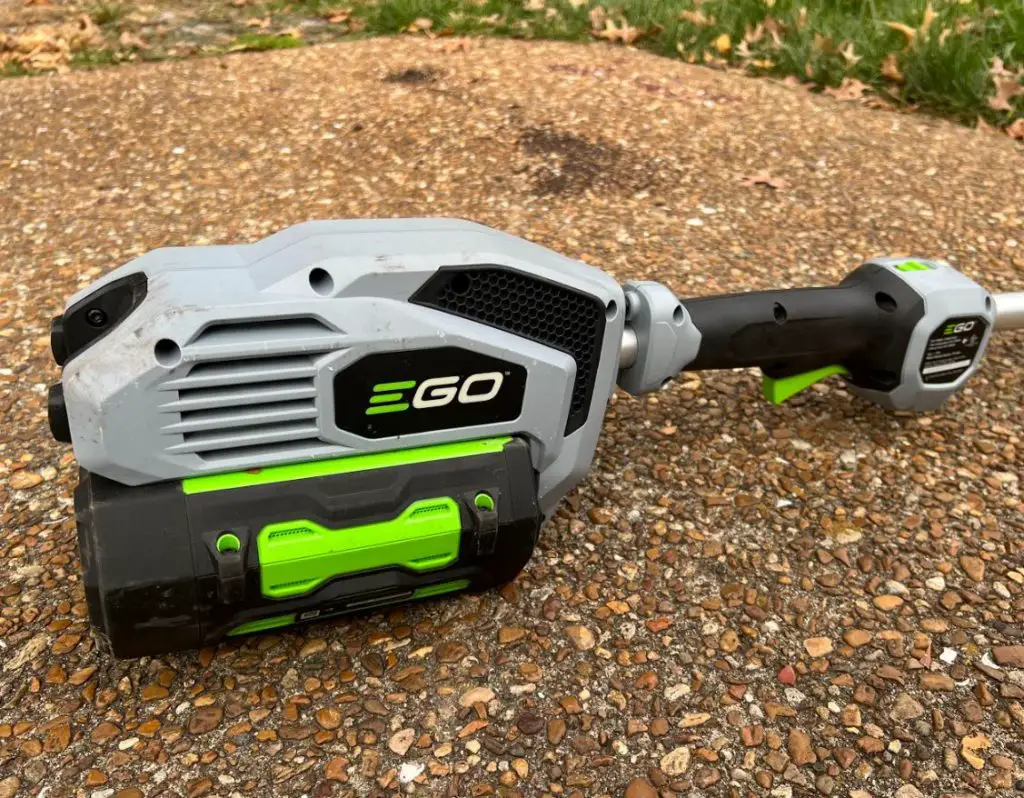 With my gas weed eater I walk outside, make sure it has gas, press the bulb to prime the engine 5x, make sure the choke is in the closed position, pull the cord a few times and then hopefully get it started.
Battery powered weed eaters are so much simpler. For me, it is way easier to choose battery over gas when I know that I will get started way quicker.
Price comparison: Battery vs Gas Weed Eaters
For a decent gas-powered weed eater, expect to spend around $250-$300. For battery weed eaters, you're looking at $300-350.
There's a huge range in prices between battery and gas-powered mowers. In general, a comparable gas-powered weed eater is often slightly cheaper than a battery-powered equivalent. That's because gas-powered weed eaters ON AVERAGE are more powerful than battery-powered weed eaters.

Since battery powered weed eaters are newer and have different technology, a high-powered one is often more expensive.
Which is better: Gas or Battery powered weed eaters?
In my opinion, battery powered weed eaters are better for homeowners and gas are better for landscapers.
Battery powered weed eaters are easier to use, require no maintenance, have a great run time, can be just as powerful, and don't leave a gasoline smell on you.
Gas powered weed eaters often can handle thicker brush and don't require recharging, making them great for moving from job to job as a commercial landscaper.
One day, technology will likely catch up and allow for easy recharging or really long battery life at a reasonable price. I predict most landscaping companies will be using battery powered everything in the next decade.
Why we created The Lawn Review
The reason we started the Lawn Review in the first place was because we had so much trouble trying to find reasonable, understandable, honest reviews for lawn equipment. And they aren't cheap! After hours and hours of research, trying products and returning them, and messing up our yards – we started this site.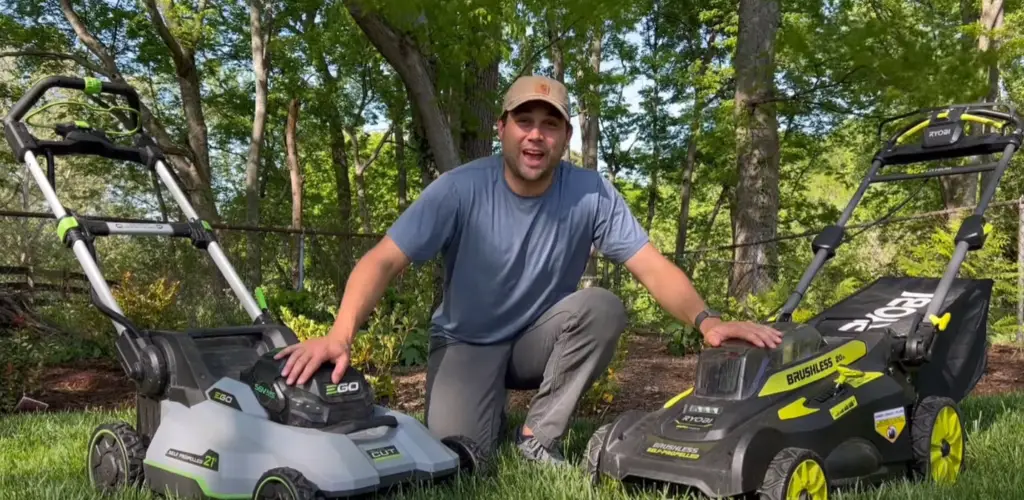 As people who had to learn the hard way, we want you to know exactly what you are signing up for before you purchase a piece of equipment. That's why we are committed to providing honest, easy-to-understand reviews that mean something.