ECHO weed eaters are everywhere. Every other professional landscaper I drive by has an ECHO trimmer strapped to their trailer. They are beasts.
My neighbor also has one and every time I walk on the sidewalk by his house, I can't help but admire the insane borders he's created around his yard. And he doesn't even own an edger. 
That should tell you something about the power of these puppies.
ECHO means business and has a ton of products ranging from backpack blowers to even new battery-powered lawn mowers. 
But today, I'd like to walk you through the definitive ranking of ECHO trimmers. I recently walked into Home Depot and noticed that there are like 6 or 7 ECHO weed eaters side-by-side and you can't tell much of a difference except for the price and can't even really pull them off of the rack to compare.
Which is exactly why we are going to break it down for you today. 
Let's get started!
Here is our ranking of the best ECHO weed eaters:
Check out how ECHO stacks up against Stihl.
Why we review lawn tools
The reason we started this website in the first place was because we had so much trouble trying to find reasonable, understandable, honest reviews for lawn equipment. And it's not cheap! After hours and hours of research, trying products and returning them, and messing up our yards – we started this site.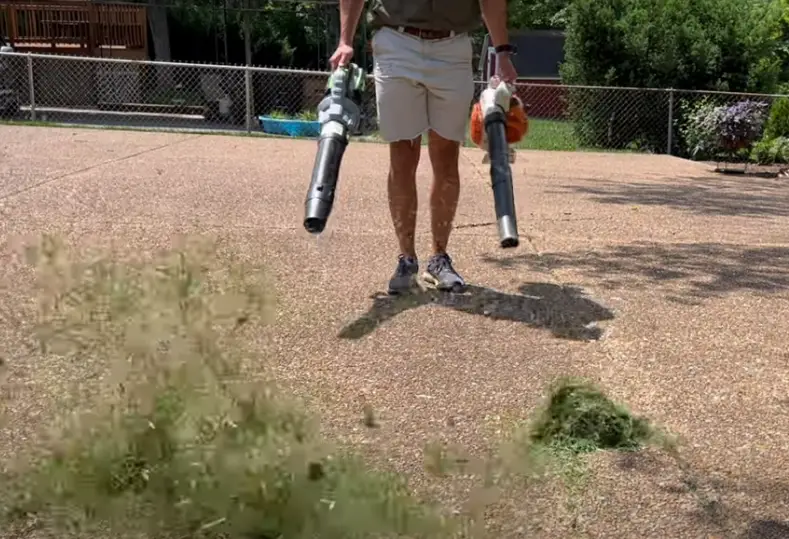 As people who had to learn the hard way, we want you to know exactly what you are signing up for before you purchase a piece of equipment. That's why we are committed to providing honest, easy-to-understand reviews that mean something. 
How to instantly improve your weed eater
Upgrade your weed eating game with the ultimate GrassKicker Weed Eater String! While weed eaters and lawn edgers are great tools, it's not complete without the right string. Our specially crafted line is designed to enhance your weed eater's performance and give you flawless edges around your yard and garden.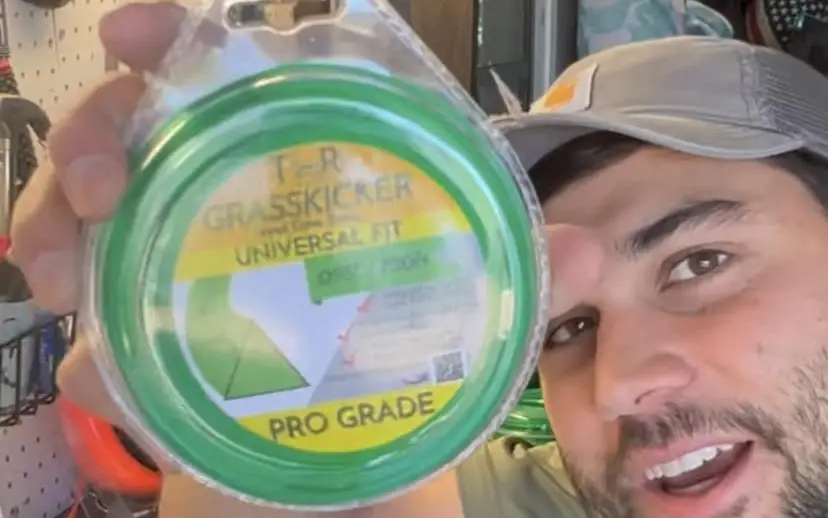 Don't settle for subpar string that breaks easily and leaves ragged edges. Our team has scoured the market and combined the best colors, shapes, thicknesses, and materials to create a superior line that cuts more cleanly and lasts longer.
With GrassKicker, you can take pride in your perfectly manicured lawn and make a lasting impression on your friends and family. And who knows, your envious neighbors might just start dropping by more often! Don't wait, elevate your weed eating game with GrassKicker Weed Eater String today! Click the link now to buy.
What to look for in a weed eater
Weed eaters AKA string trimmers come in all shapes and sizes. They aren't highly complicated pieces of equipment, but they do have a few nuances. Here is how I see it:
Feel – Obviously this is subjective, but feel is everything to me. I have had weed eaters in the past where the handle is off to the side, making me torque my shoulders and back. If you can, get as many adjustable pieces as possible to make this customizable. It doesn't seem like you use a weed eater for a long time, but the work is precision work that requires a steady hand and focus.
Motor – I'm looking for some dang power, but not so much that I shred the weed eater string every five seconds. A moderate amount of cc displacement is great with me. Anything too high is really a waste of money for me.
Curved vs Straight shaft – I always, always, always prefer straight shafts. They are so much easier to use and control and are much longer than curved shafts. Curved shafts are good for clearing out a small piece of land unable to be mowed. But if you want to actually do some good trimming and edging, a straight shaft is much better. Curved shafts are difficult to maneuver and to create a straight line for edging. 
Weed eater string makes all the difference, which is why we broke down the right weed eater string for ECHO tools.
Looking for a battery powered weed eater? Check out EGO's weed eaters.
Best String Trimmer Line for ECHO Weed Eaters
We developed our own weed eater string that absolutely slaps. Extremely powerful, durable, and visible. We tested it against DOZENS of different strings.
Best ECHO Weed Eaters: Ranked
Let's jump straight into the rankings. I will preface this by saying it is my opinion, not gospel. I am speaking from the point of view of a homeowner, not necessarily a professional landscaper, although I do try to view each weed eater holistically. Let's get going.
1. ECHO SRM-225 Weed Eater
The ECHO SRM 225 is like ordering an old fashioned at the bar. You know what you're going to get. And it has amazing power, consistent results, and amazing durability. There is a reason that this is their best selling string trimmer.
It's got everything that I look for in a gas-powered weed eater. Let's start breaking it down:
17 inch cutting swath. Holy cow. That is a massive cutting swath area and can almost (probably) replace your lawn edger altogether. This is a top-of-the-line cutting swath not found on any kind of battery-powered weed eater.
21.2 cc engine – this is about what you expect from a high end residential weed eater. Not too much, not too little – just right.
It is about 60 inches long, or 5 feet. I love when long weed eaters because it gives you more precision and flexibility when cutting and often gives you a straighter line. 
Speed-feed head. This is a registered trademark of ECHO, but it basically allows you to quickly reload weed eater string without having to disassemble the whole head.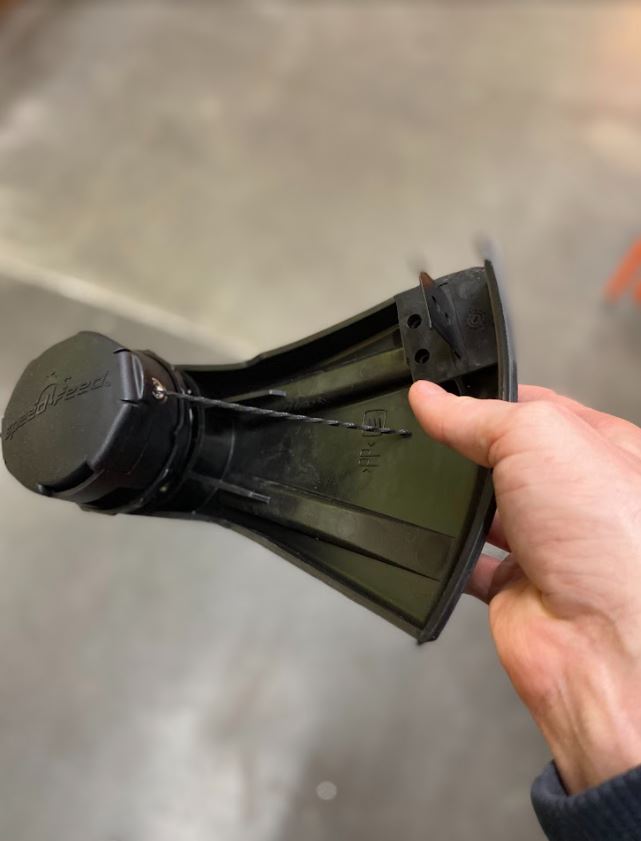 Like I mentioned before, this has just about everything you would want in a weed eater and comes in at one of the lowest prices you can get for an ECHO weed eater. Its MSRP is about $230, but it is currently on sale at Home Depot. 
The only thing I would change is upgrading the weed eater string from the stock crossfire string.
2. ECHO GT-225 Weed Eater
The ECHO GT-225 is a somewhat lighter version of the SRM 225 above. It has a smaller cutting swath, a curved shaft, and doesn't have a speed-feed head, but is otherwise very similar.
While I prefer straight shaft string trimmer, I recognize there is still a place for curved shaft string trimmers. Curved shafts are great for using on flat surfaces where you aren't necessarily trying to shape something. Think areas that are too small for traditional mowers where you still need to mow down some grass.
They're also great around light poles, mailboxes, or other solid structures. I think you lose a bit of visibility and reach when you use them, so I always go for straight shafts.
That being said, the GT-225 still has a nice engine and all the same bells and whistles as the SRM-225. So I have to give this one the best curved weed eater made by ECHO award. 
Still super popular and is actually about $50 cheaper than the SRM 225, coming in at around $180.
3. ECHO SRM-2620 Weed Eater
The SRM-2620 is a beast. I think it may be the best all-around weed eater for commercial landscapers. It is extremely powerful and surprisingly light. This isn't one I would use for tinkering around the yard as I am simply unworthy. 
I would consider this one an SRM 225 on steroids. It has the below similarities:
A 6 foot long straight shaft
A 17 inch cutting swath (which is huge)
Weighs around 12 lbs without any fuel
Speed feed head
The main difference in this one is that it comes with a 25.4 cc engine, whereas the ECHO SRM 225 has a 20.2 cc engine.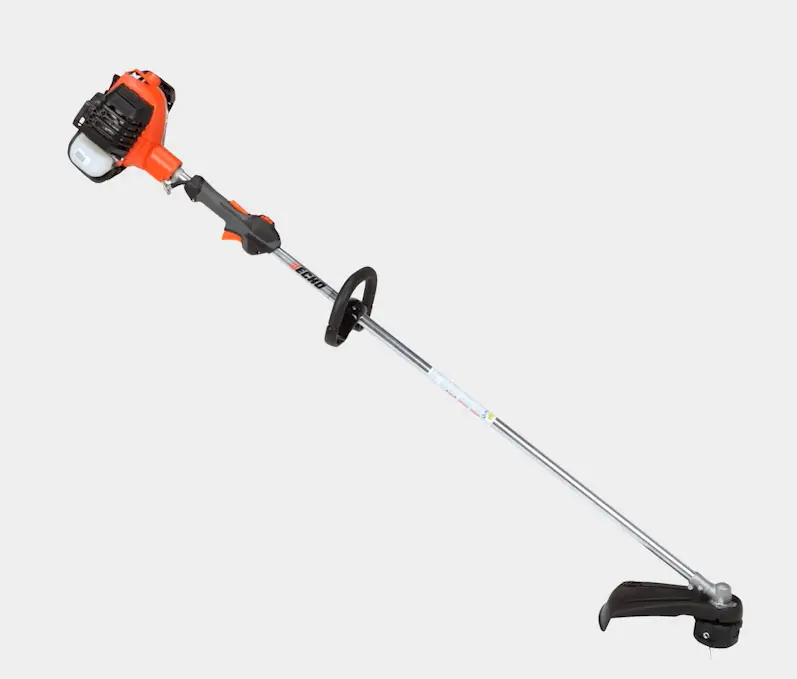 Us normies wouldn't notice the difference, but if you are using these string trimmers for hours per day, you understand the difference in 5 cc of power output. 
It also costs about $120 more than the SRM 225, with the MSRP around $360. You can go to ECHO's website to find a retailer near you, though I've seen these at Home Depot.
4. ECHO SRM-266 Weed Eater
The SRM 266 is a slightly toned down version of the 2620 above. They are nearly identical, with the following differences:
The 266 has a smaller fuel tank, at about 16 oz compared to the 2620's large 20 oz fuel tank.
The 266 doesn't have 1.62:1 gear reduction as found on the 2620. 
The 266 is slightly heavier by about 2lbs, which is odd because the engine area is a little bit smaller
The 266 is about $40 cheaper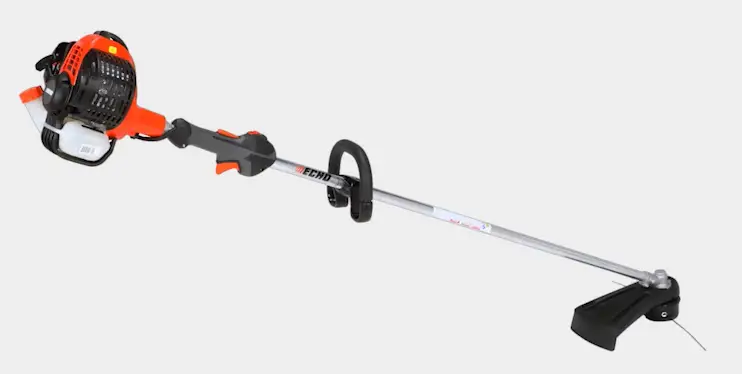 Otherwise, they are the same length and have the same cutting swath. I don't totally understand why ECHO made these two different weed eaters, but I don't make the rules. 
5. ECHO DSRM-2600 Battery-powered weed eater
Uh….this thing is a monster. Doing research for this article, this is actually the first time I've seen ECHO's battery-powered weed eater line and quite frankly this thing smacks. 
The DSRM-2600 has all the things you would want in a sweet battery-powered string trimmer, with one major flaw. This ECHO electric weed eater has a 17 inch cutting swath, which is about 2 inches more than any other battery-powered weed eater I've reviewed (which is a lot).
It also matches EGO's battery powered weed eater line by including a 56V battery. One beautiful thing that ECHO did with their battery-powered motor is including a nice brushless motor. Brushless motors provide more torque, cooler motors, and a longer life. They're table stakes for electric weed eaters.
One major downside to this one is that the run time is only 26 mins with the 2.5 Ah battery. With the 5.0 Ah battery, you'll be able to get 54, but even that is subject to dropping if you are stopping and going a lot or cutting thick brush.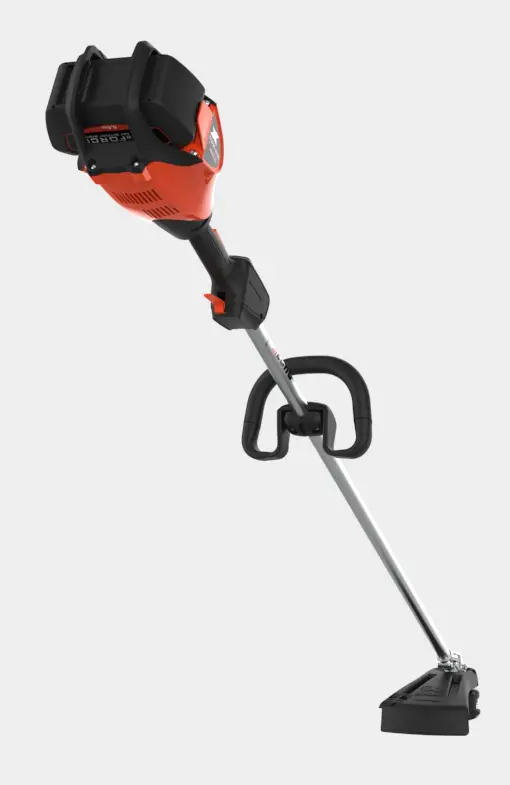 Neither of those are great if you are a professional. This is where many battery powered weed eaters get into trouble. They start to max out power, which is great, but you trade off time. Most people that need a lot of power ALSO need time. The technology just isn't quite there yet. 
One other downside is that you may not use these batteries for much else, unless you want to start using ECHO's battery line for everything else, which is possible. If you have other battery-powered tools, this may just take up another plug in your garage.
We've developed a weed eater string that can turn wimpier electric weed eaters into beasts. That means you can get performance + a longer lasting battery. Heck yeah.
6. ECHO SRM 410X Weed Eater
The SRM 410-X is barely a weed eater. It is actually illegal in 15 countries, including Guam. 
That part isn't true. But this thing is INSANELY powerful, so I had to put it on the list. The numbers on this (price included) are astronomical. All of which I've never seen before. So here they are:
42.7 cc engine. Yes you read that right, that is OVER DOUBLE the SRM 225. 
A 20 inch cutting swath. The next highest I've seen is 17 inches. HOLY COW
33.8 fl oz fuel tank. I mean???
A 60.2 inch shaft length, which is OVER 5 feet long.
Almost $600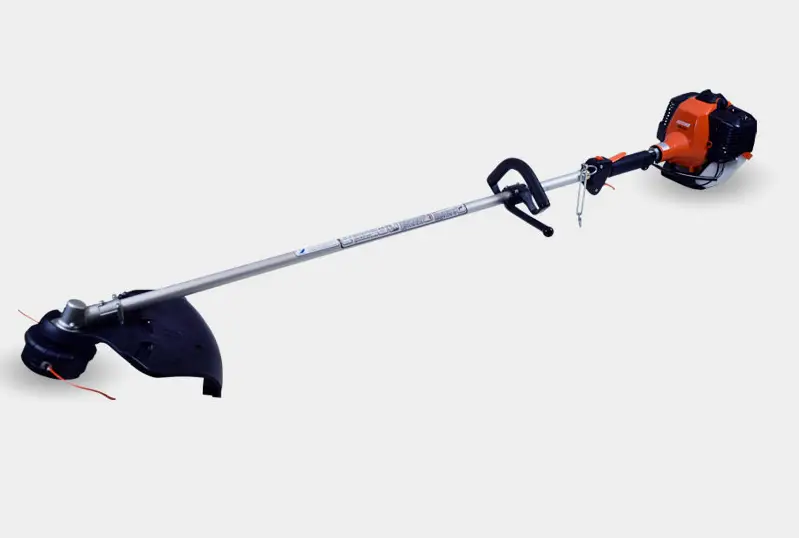 This is easily the most ridiculous string trimmer I've ever seen. And I love it. I want to own this thing so badly I might just go by it right now. I just know I would tear up my yard if I got this thing. It's an absolute jack hammer.
And for that – it had to make the list.
ECHO Weed Eaters: Parting Words
ECHO weed eaters / string trimmers are workhorses. Super reliable, super durable, probably the F-150 of weed eaters (I just made some people mad).
One thing to remember is that each of these come with a 5 year residential, 2 year commercial warranty. They put their money where their mouth is when it comes to durability, making a product you can trust. 
If you're not interested in ECHO or looking to compare, check out the best Husqvarna weed eaters.