Stihl's MS 251 C is the chainsaw for you if you're looking for a chainsaw that's the perfect combination of efficiency and power, ideal for the average homeowner and not too terribly expensive.
The 251 C is my personal chainsaw and I love this dude. Stihl slapped so many cool features on this guy. It's simply a must have if you want to be a cool dad or mom. 
This chainsaw is specifically targeted for small commercial applications or homeowners with a few acres or so. I don't fall into either of these categories honestly but I still love this guy. It's always fun to hear the dogs go nuts when I fire this bad boy up!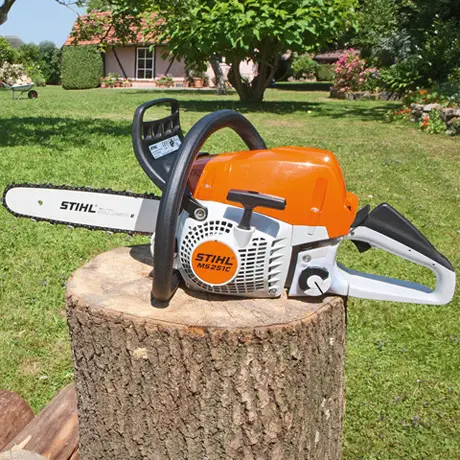 Let's get started:
Why we review lawn tools
The reason we started this website in the first place was because we had so much trouble trying to find reasonable, understandable, honest reviews for lawn equipment. And it's not cheap! After hours and hours of research, trying products and returning them, and messing up our yards – we started this site.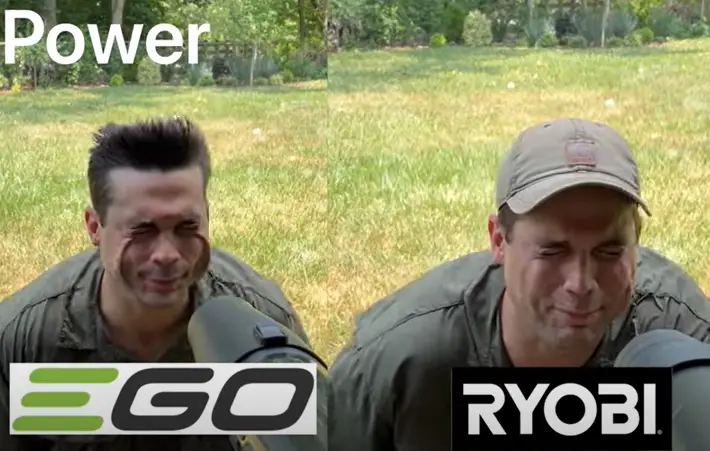 As people who had to learn the hard way, we want you to know exactly what you are signing up for before you purchase a piece of equipment. That's why we are committed to providing honest, easy-to-understand reviews that mean something.
Stihl's reputation
Stihl is widely regarded as one of the GOATS of the yard product game. They are know to have a superior product to their competitors. The Stihl MS 251 C chainsaw is one of their best selling products because it is something they have completely mastered.
The Stihl family moved to Virginia in the 1970s and opened up their first factory dedicated to a single chainsaw. They have continued to master their craft and expand their product offers in the the lawn care space.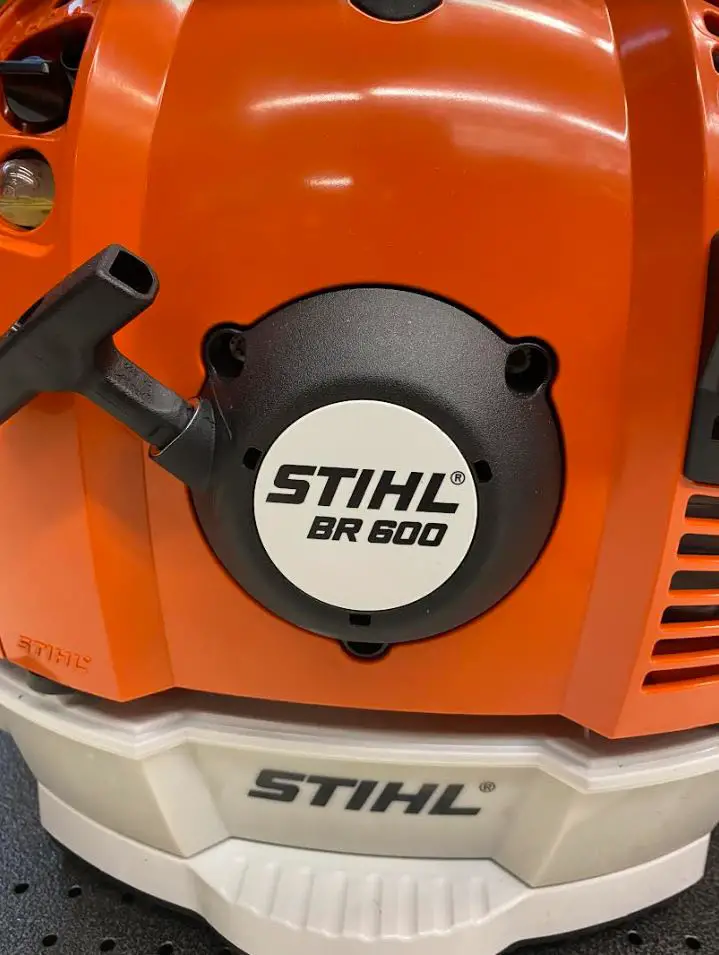 Stihl has a great reputation that many commercial landscapers rely on each day. Many residential owners will be more than pleased with their products.
We at the Lawn Review are big fans of Stihl and have reviewed a ton of their blowers.
Chainsaws vs Axe vs Handsaws vs Loppers
When purchasing a chainsaw, it's important to understand if you actually NEED a chainsaw. Don't get me wrong, I'm all for a loud and proud product but when it's as expensive as most chainsaws are, it makes me wonder… Is this the right tool?
All virtually do the same thing, which is make big pieces of wood smaller. However, each one is targeted for different tasks and frequencies. If you're cutting down a small tree, clearing some brush or splitting some logs an ax is probably all you'll ever need. If, however, you've got A LOT of small trees to take down, or some big branches to remove then a chainsaw is probably better for you.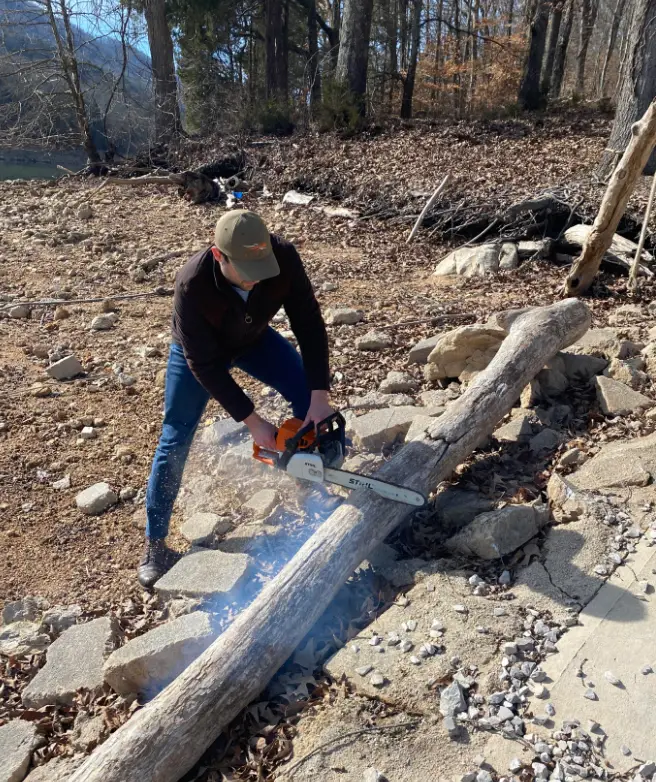 A handsaw is somewhere between, usually like a branch that is 2 to 3" in diameter that you want a clean cut for, like removing a branch close to the trunk of a tree. And last but perhaps my most favorite and often used, a lopper.
A lopper is great for things you could use a handsaw or axe for, it's basically a big shear blade with long handles. I use the heck out of it in my lawn. 
What to look for in a chainsaw
A solid chainsaw is one of the most important tools a homeowner can have. Buying the right one is absolutely essential to your kids thinking you're a cool mom or dad. Chainsaws come in a variety of different shapes, sizes, types, models and flavors. There's a chainsaw for most any application imaginable. Most saws are either gas or electric powered. Depending on your application of course, most people can get away with a 14" bar and chain. Unless you're cutting up massive trees you probably don't need anything bigger than that.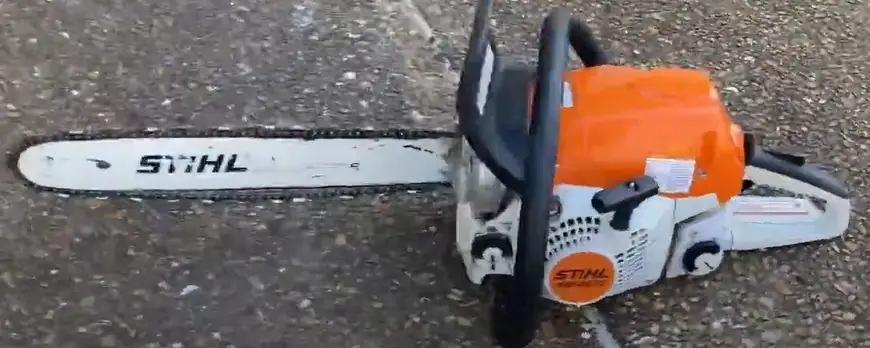 In addition to that, most people nowadays can probably get away with an electric model vs a more powerful, smoother cutting gas powered model. But it's all personal preference. However, honestly I tend to always go with the bigger more powerful engines because I think they'll last longer. So far that's proven to be true, but I could just be wasting money. 
Chainsaw safety
Just make sure your chainsaw has some of the newer safety features. One of my favorites is the kickback reduction feature. Kickback reductions can be in the form of the chain or bar itself. Basically these just prevent you from cutting too aggressively which prevents your saw from bouncing back on you. Or a chain brake which causes the chain to stop when it hits something hard or moves too abruptly. This prevents you from losing one of your digits or head! You only have 10 of them! 
Check out our Dewalt electric chainsaw review here.
Other features that are nice to have are more comfort-centric. These include tool-less tensioners, mufflers, anti-vibration mechanisms, automatic chain oilers, etc. 
Stihl MS 251 C Chainsaw Functionality
Let's get into the meat of the article now. As stated previously, this is one of my favorite tools I have. It's the perfect blend of efficiency and power. This powerful yet efficient chainsaw boasts a 20% fuel savings and 50% emission reduction. Them Stihl boys done did it again! This is the perfect chainsaw for homeowners in my opinion. This guy will last you a long time but won't break the bank like some of the other heavier duty models will. 
Usability
One of my favorite features, in theory, is the Quick Chain Adjuster. It's a little spinny wheel next to the crankcase cover that allows you to adjust the chain tension without the need for additional tools. 
However, at The Lawn Review, we're committed to giving you practical, HONEST, feedback on the products we review. This one is a miss for me. It gets gunked up way too easily and I end up having to take the cover off to make the necessary adjustments. 
Another key issue I've experienced is the "gear" in the crankcase being a bit too short. This can cause the chain to slide or "bounce" out to gear and off the bar. This could be a huge safety issue and a pain in the butt to be honest.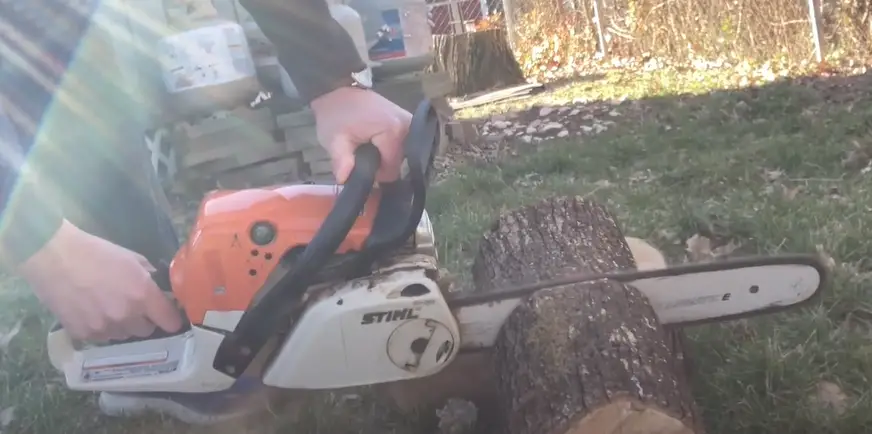 Another feature I've enjoyed is the Master Control Lever. This is a single lever that operates the choke, starting throttle lock and controls engine shut off. I actually really enjoy that and think it simplifies operation quite a bit.
Dependability
Because it's a Stihl, made in the beautiful US of A, you can safely assume the MS 251 C chainsaw is well made with  top notch parts. Stihl doesn't use junk in my opinion. As long as you don't forget to use bar and chain oil like I have done, this should last you for a decade or more. It also comes with a sweet 2 year warranty so long as you use Stihl oil. 
Power: Stihl MS 251 C
This chainsaw has more than enough power to get all the residential jobs done you can think of. I've run this thing through logs I thought it would for sure get hung up in. It has about 45 cc engine output so it's more than capable to get the job done.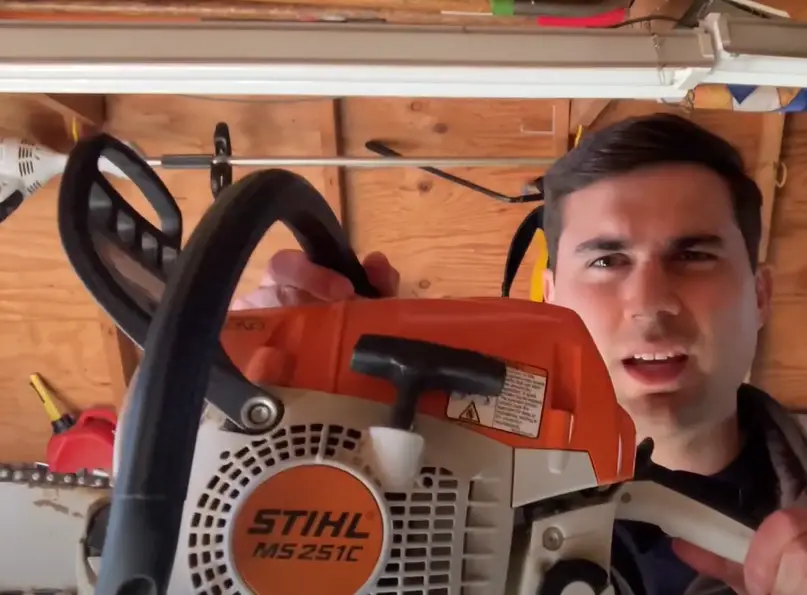 The Official Review of the Stihl MS 251 C Chainsaw
I wouldn't tell you to buy something I wouldn't buy myself – I bought this and I love this chainsaw. I would absolutely recommend this to anyone with an acre or more with a reasonable amount of trees. Or if you want to be a cool mom or dad. That being said, most chainsaws in residential communities are probably unnecessary.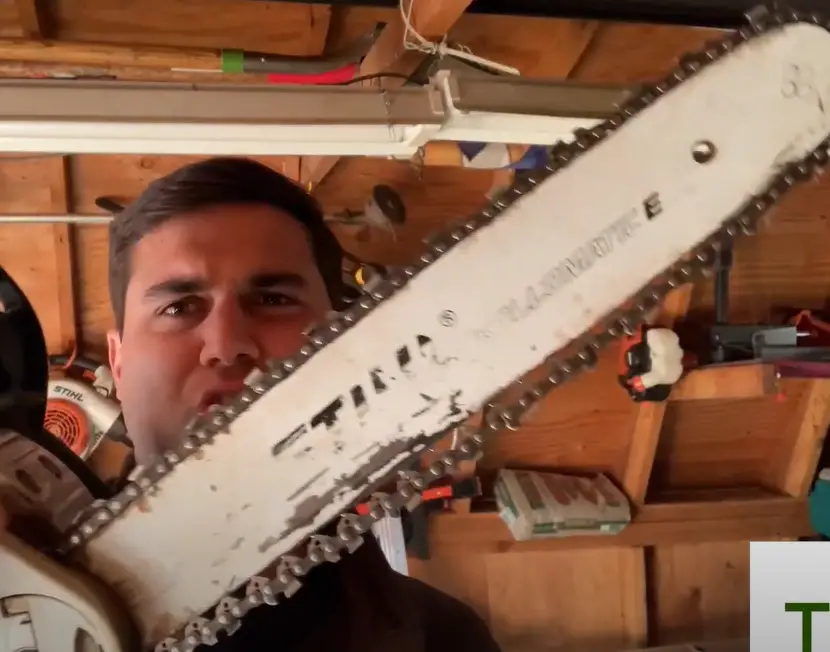 But I bought it and am extremely happy I did. At $400 from most retailers this is going to be one of the more expensive tools you buy besides your mower but this a very well made product from a well respected company in Stihl. 
We got our bad boy at Ace Hardware, where it is currently selling for $399.