Black and Decker String Trimmers are nearly a household name. I mean who doesn't own a Black and Decker product?
Even my two year old son has a toy Black and Decker tool box!
But there are so many options with Black and Decker trimmers that it is nearly impossible to compare.
So we spent about 19 hours (yeah, we are fun) ranking them and compiled a top 5 – just for you.
Let's get started:
**SPOILER** Our favorite is: 20V Max 12-inch 2in1 String Trimmer/Edger
Why we review lawn tools
The reason we started this website in the first place was because we had so much trouble trying to find reasonable, understandable, honest reviews for lawn equipment. And it's not cheap! After hours and hours of research, trying products and returning them, and messing up our yards – we started this site. 
As people who had to learn the hard way, we want you to know exactly what you are signing up for before you purchase a piece of equipment. That's why we are committed to providing honest, easy-to-understand reviews that mean something. 
What to look for in a string trimmer
Cordless weed eaters come in all shapes and sizes. They aren't highly complicated pieces of equipment, but they do have a few nuances. Here is how I see it:
Feel – Obviously this is subjective, but feel is everything to me. I have had weed eaters in the past where the handle is off to the side, making me torque my shoulders and back. Bad. You are going to be using this often and for a long time, so make sure it is comfortable.
Motor – brushless motors are king here. They are longer lasting and more durable. Brushless motors also produce more torque and less heat. With Black and Decker having a more "budget-friendly" line, you may not be able to find this without spending the big bucks.
Batteries – Try to get a battery that can be used with other tools. For example, I have Black and Decker's 20V battery for my power drill – getting a trimmer that takes the same battery is great for saving money and wall space for charging.
Curved vs Straight shaft – I always, always, always prefer straight shafts. They are so much easier to use and control. Curved shafts are better for smaller areas that require "mowing", whereas straight shafts are better for precision and clean lines.
Best Weed Eater String for Black + Decker
We developed a weed eater string that is specifically designed to make battery-powered weed eaters more powerful. Check it out.
5 Best Black + Decker String Trimmers (RANKED)
The beautiful thing about the Black and Decker string trimmers is that one of them, if not all of them, are always on sale on Amazon. That's where we recommend grabbing these, mostly because of their great return policy and quick shipping.
5. Black + Decker 20V Max 10 inch string trimmer (LST201)
One of the most basic, simple, and least expensive string trimmers on the market, the 20V MAX 10 inch string trimmer from Black and Decker is a bargain.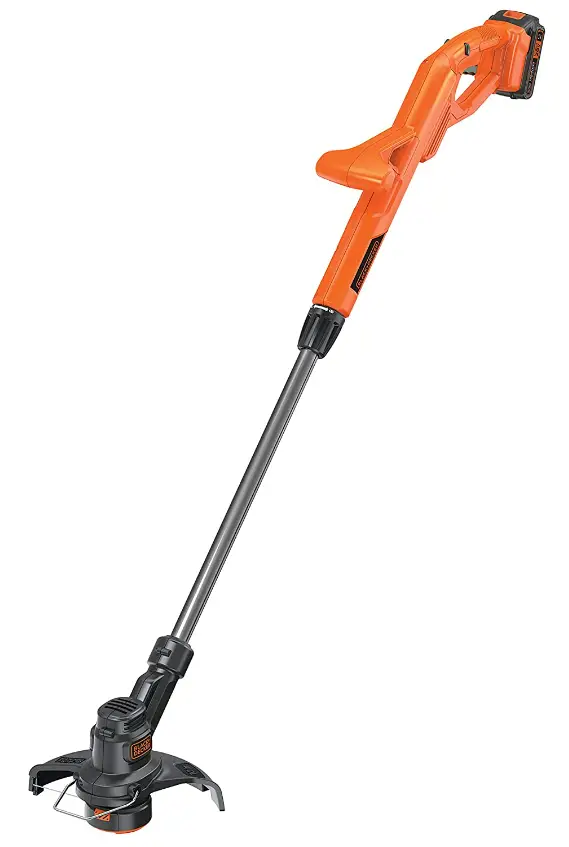 Although I would never use this in a big yard, for small yards this trimmer is great. This is a very basic trimmer that is going to be just fine cleaning up small patches of grass that you missed mowing and giving a nice, clean line that you would expect from any other trimmer.
Definitely don't get this if you have a yard with more than ¼ of an acre – you'll need more power for sure.
All-in-all, this is a really good price for someone looking to make a quick, easy buy. You can get it on Amazon for well under $100.
4. Black + Decker 20V MAX PowerConnect 10 in string trimmer and sweeper combo
While this is likely actually the least powerful of the string trimmers on this list, Black + Decker made it an enticing combo by throwing in a sweeper. The combination here means that you get a nice lawn tool set-up without breaking the bank.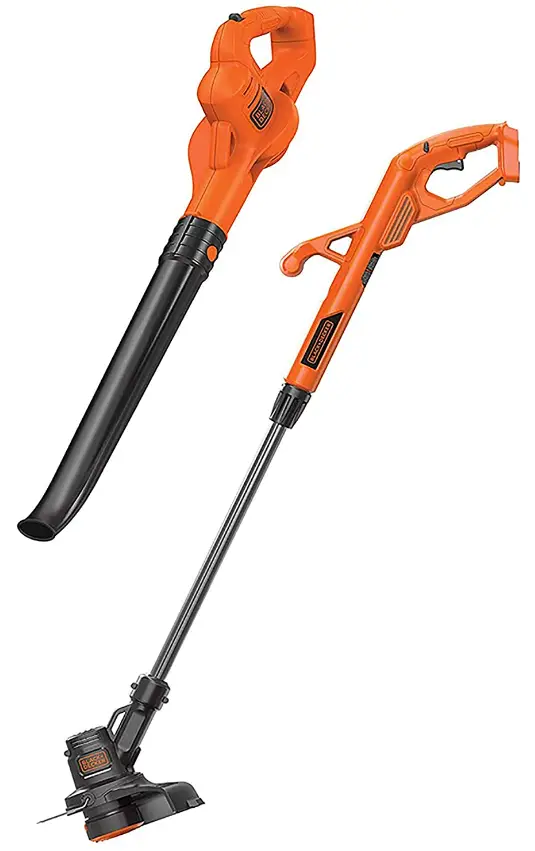 This 20V MAX string trimmer is about 10 inches, which has to be one of the smaller string trimmers in production. Fortunately, it can still flip to an edger and be used for both. This is the ideal string trimmer for someone with a tiny yard who wants to do it all with only a few tools.
To make it even better, they throw in a little mini-blower that can help clean up the grass clippings and do some light-duty leaf blowing. 
You can get both of them, with the battery, for just over $100 on Amazon.
3. Black+Decker String Trimmer, 6.5-Amp, 14-inch (GH900)
This Black and Decker string trimmer isn't battery-powered, but is a great corded electric string trimmer. While it isn't going to provide you the same portability that a battery powered string trimmer provides, it gives you reliable power without being concerned about the battery charge.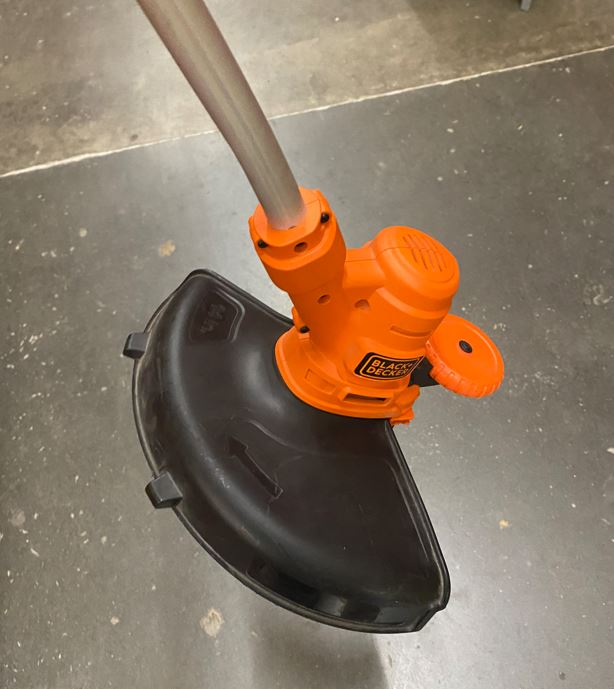 Other than requiring an extension cord, this string trimmer is great. It has a perfect size at about 14 inches and has a lot of the same capabilities as the big dogs. One thing I love about it is the automatic feed spool feature, which will automatically send out more trimmer lines when you start to run low.
The last thing I will say about this weed eater is that it is pretty short and lightweight, so it is super easy to store wherever you need to put it. At just under 6 lbs and about 3 feet long, it can practically go anywhere.
You can grab this one on Amazon for a really good price.
2. Black and Decker 40V MAX 13in. 2in1 cordless string trimmer/edger with POWERCOMMAND Kit
This one wins the award for longest name. Actually, of all the string trimmers on this list, this one is definitely the most heavy duty. It has the classic 13 inch string trimmer, which is great for medium yards, but also has the wheel conversion to an edger. At 13 inches, this will actually  produce a pretty sweet edger (for a string trimmer). 
I love that this one uses a 40V battery as well, a nice step up from the 20V series the other trimmers use. This one also comes with a dial that controls how much power you'd like to use, giving you control over the runtime.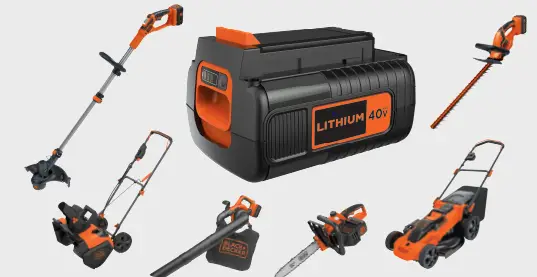 With the 40V battery, you can use things like the snow blower, chainsaw, hedge trimmers, or lawnmower. Step up your game with this trimmer and build your garage around the 40V series.
You can grab this one for under $150 on Amazon.
1. BLACK+DECKER 20V Max String Trimmer/Edger, 12-Inch (LSTE525)
Probably the best mix of versatility, power, and price – the 12-inch 20V Max string trimmer wins the number one spot. This trimmer comes with a decently-sized 12-inch cutting swath that's big enough for medium yards and small enough for small yards. It also includes the wheel on the top that allows you to flip this tool to an edger-type of tool to clean up the lines around your driveway or sidewalk.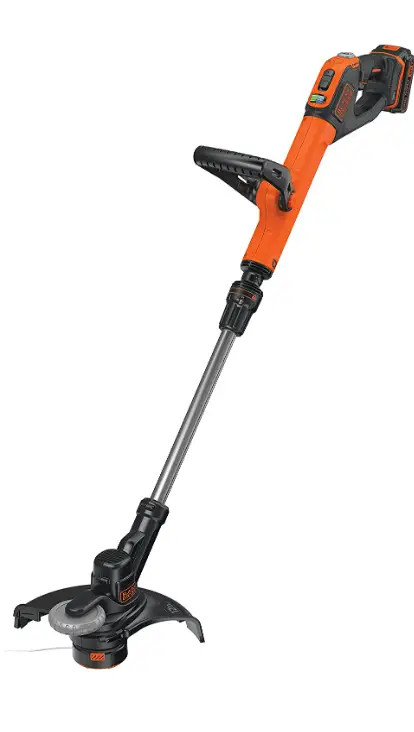 The beauty of this product is that the 20V Max series is huge with BLACK+DECKER and can be  used with tons of other tools. From a usability perspective, it also has a nice easy-feed system to get the trimmer line out after it gets beaten up.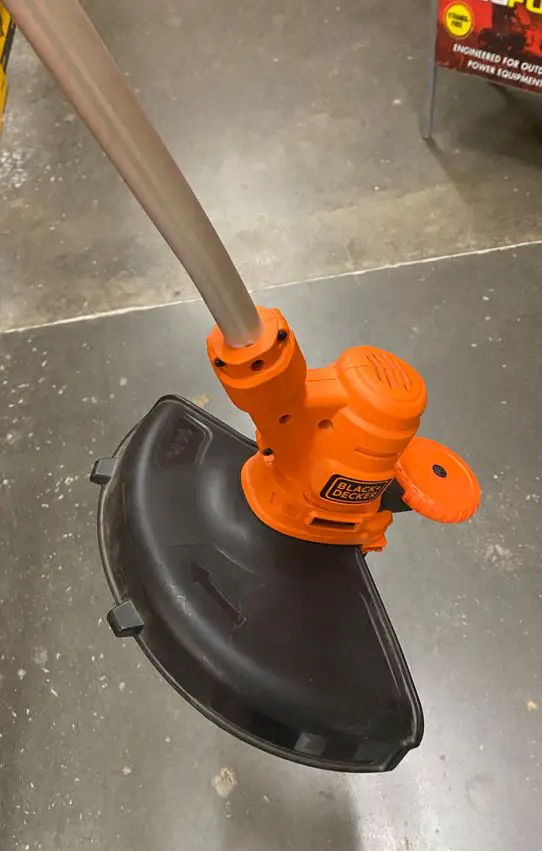 All-in-all, this one packs the same punch as some of the bigger brands with the price of one  way smaller. 10,000 reviews on Amazon back me up on this one.