EGO string trimmers come in all shapes and sizes.
And while each is their own special snowflake, you still have to take one home at the end of the day. So which will it be?
You have a ton of options in front of you, but now you have to pick between a split shaft and straight shaft string trimmer. 
So how do you pick? 
Let's weigh out the pros and cons to both, keeping in mind you'll need this trimmer for a specific purpose – and the audiences for both are way different.
Let's get going!
Why we review lawn tools
The reason we started this website in the first place was because we had so much trouble trying to find reasonable, understandable, honest reviews for lawn equipment. And it's not cheap! After hours and hours of research, trying products and returning them, and messing up our yards – we started this site.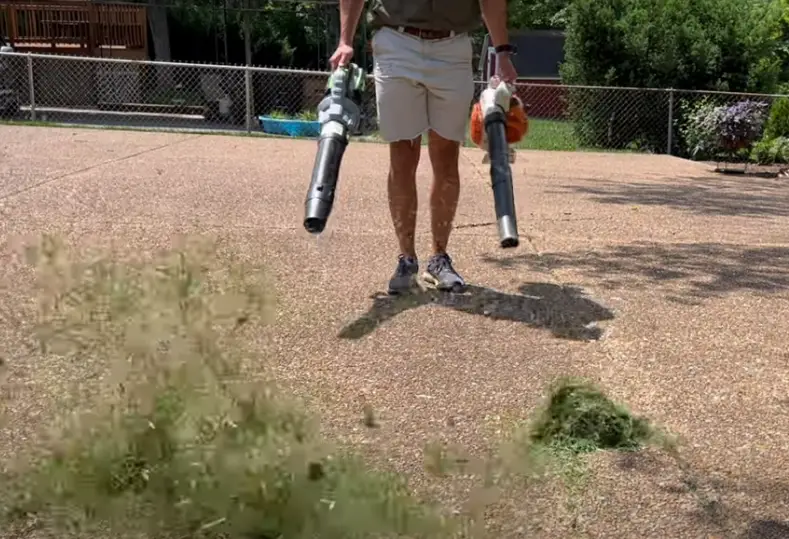 As people who had to learn the hard way, we want you to know exactly what you are signing up for before you purchase a piece of equipment. That's why we are committed to providing honest, easy-to-understand reviews that mean something. 
What to look for in a cordless string trimmer
Cordless weed eaters come in all shapes and sizes. They aren't highly complicated pieces of equipment, but they do have a few nuances. Here is how I see it:
Feel – Obviously this is subjective, but feel is everything to me. I have had weed eaters in the past where the handle is off to the side, making me torque my shoulders and back. Bad. You are going to be using this often and for a long time, so make sure it is comfortable.
Motor – brushless motors are king here. They are longer lasting and more durable. Brushless motors also produce more torque and less heat.
Batteries – Not as much a concern with the EGO products as they all run off of the 56V battery line.
Curved vs Straight shaft – I always, always, always prefer straight shafts. They are so much easier to use and control. Curved shafts are better for smaller areas that require "mowing", whereas straight shafts are better for precision and clean lines.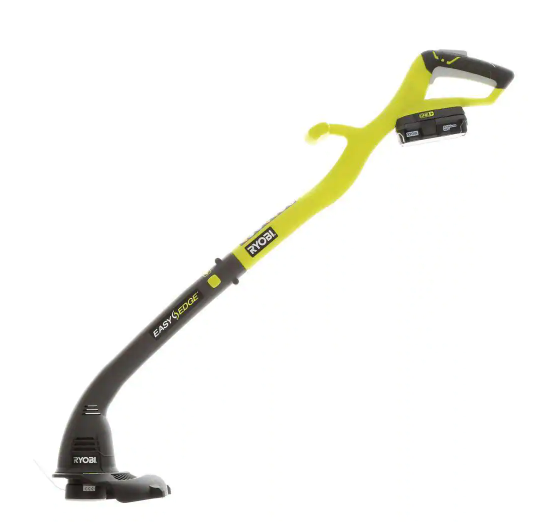 Otherwise, make sure to get a full kit if you don't have any of the EGO batteries. If you do already have some 56V EGO batteries, grab the tool-only version to save a good chunk of change.
EGO String Trimmers: An overview
EGO string trimmers are quickly becoming the go-to choice for both residential and commercial users. And it's no wonder why… These devices are highly effective at removing unwanted growth, whether it's weeds in your garden or overgrowth on your commercial property. But what really sets EGO string trimmers apart is their innovative design. Unlike traditional weed eaters, EGO string trimmers use a powerful battery that provides extended run time and consistent power.
As a result, you can get the job done faster and easier, without having to worry about running out of gas or dealing with messy oil changes. In addition, EGO string trimmers are backed by a 5-year limited warranty, so you can be confident that your investment will last. Whether you're a professional landscaper or a weekend gardener, EGO string trimmers are the smart choice.
EGO String Trimmers: Split vs. Straight Shaft
Okay, let's settle this. A lot of confusion around this. Some of you may have seen the EGO split shaft or you may have heard it called the EGO hinge shaft.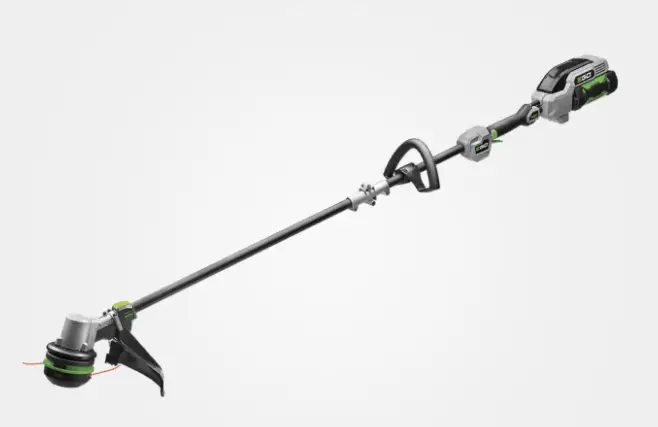 Either way, we need to get to the bottom of it.
EGO String Trimmer Shaft Differences
EGO string trimmers come in both carbon fiber and aluminum shafts.
When I think of carbon fiber products, I think of them as generally lighter. This is not the case, however. The aluminum shafts versions of these string trimmers are about 7 lbs. The carbon  fiber shafts range from 7.5 to 12 lbs.
The key difference in carbon fiber and aluminum is that the carbon fiber trimmer shafts are more geared towards commercial use. Why? Because commercial landscapers are throwing stuff in the truck and speeding to the next site. They want the durability that a carbon fiber shaft offers.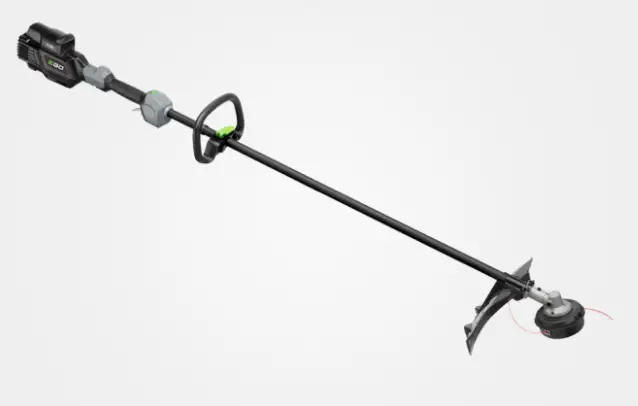 What's the difference between the split shaft and the straight shaft on the EGO trimmer?
The main difference is that the split shaft can fold in half before it is fully assembled, whereas the straight shaft comes in one, long piece.
In fact, the split shaft is never meant to be folded in half again after initial assembly. This is likely for storage or shipping reasons with certain retail stores.
Don't let this impact whether or not to buy a straight vs split shaft string trimmer. Ultimately, they are both the same and offer no material difference in functionality. Sadly, this trips a lot of people up.
So it's not a multi-tool power head?
Nope, EGO does offer a separate multi-tool power head, but the split shaft, or hinged shaft, is NOT that.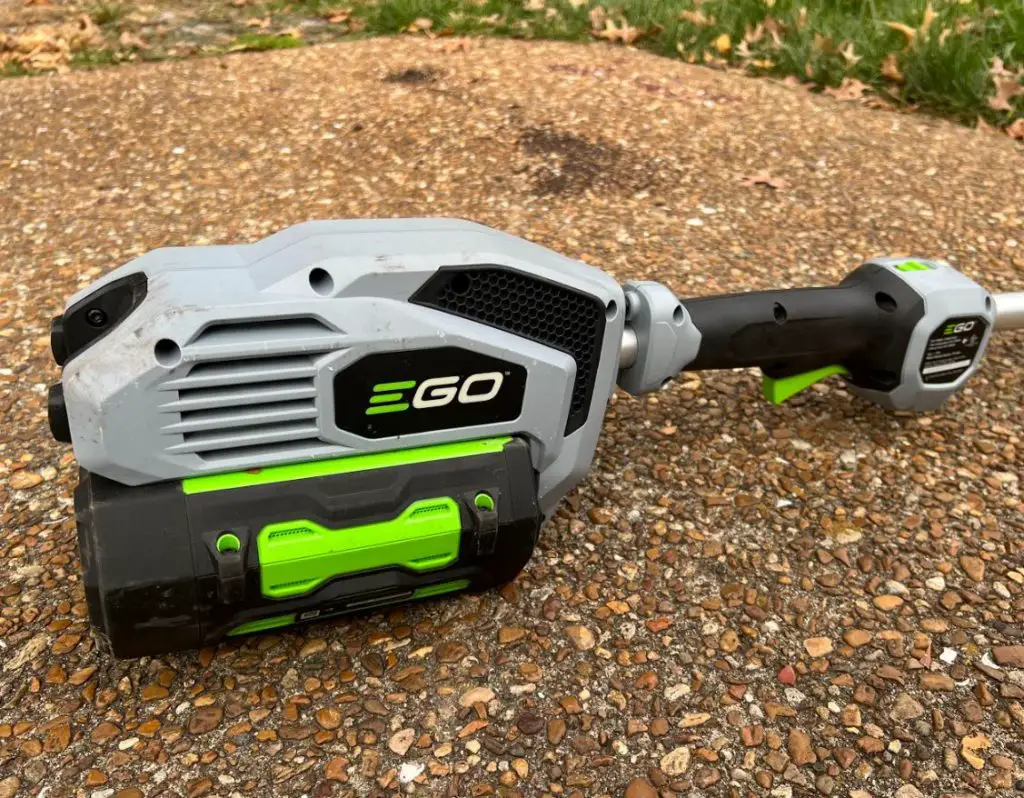 The EGO power head can be purchased separately and has the following attachments:
Extension
Edger
Hedge Trimmer
Pole Saw
String Trimmer
Cultivator
Bristle Brush
Rubber Broom

This is definitely convenient, especially if you consider purchasing a trimmer and blower combo kit.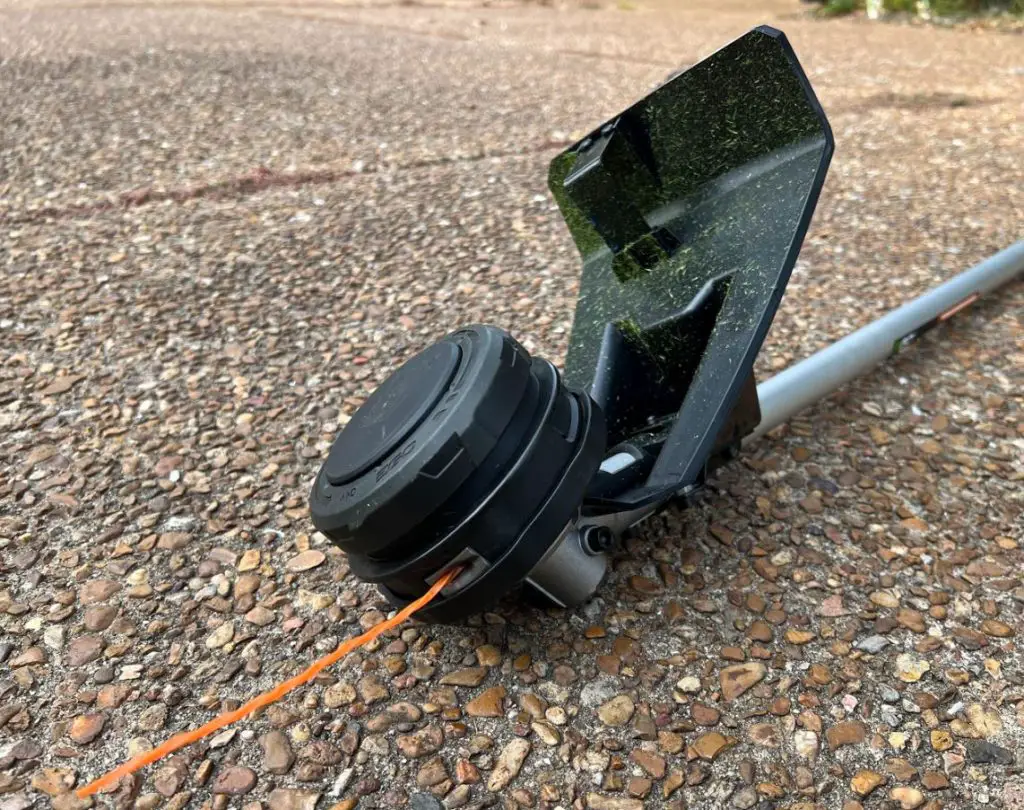 So what's the best EGO string trimmer?
For residential use, I would probably grab the EGO Power+ 15" string trimmer with powerload.
This one has a really nice, wide cutting swath. I also like that it has a brushless motor, variable trigger speed, and powerload technology (basically helps you reload replacement trimmer lines really quickly.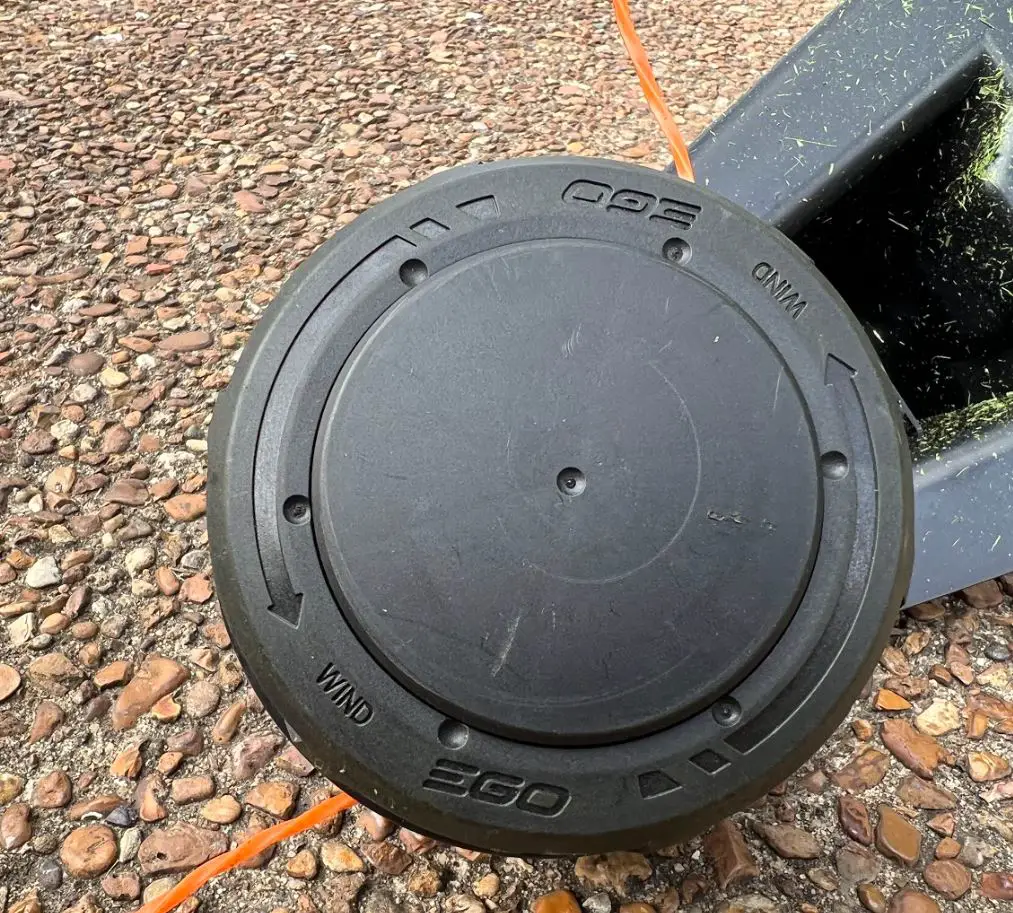 It has a carbon shaft just like the commercial ones, which means it will last quite a while. 
And to break the stigma, this one actually has a split shaft. Shows you how much I am not concerned about that feature.
You can grab the EGO POWER+ 15" string trimmer on Amazon for a nice price!
If you already own the 56V battery, you can get the tool-only version for an insane price on Amazon as well.
The Best EGO Weed Eater String
We developed our own weed eater string using dozens of different strings with an EGO weed eater. It absolutely rocks and turned our EGO weed eater from good to great. Check it out below!