Leaf blower vacuum combos are low-key lawn tools that absolutely rule. In fact, I didn't even know what they were until I saw my elderly neighbor walking around with what sounded like a blender.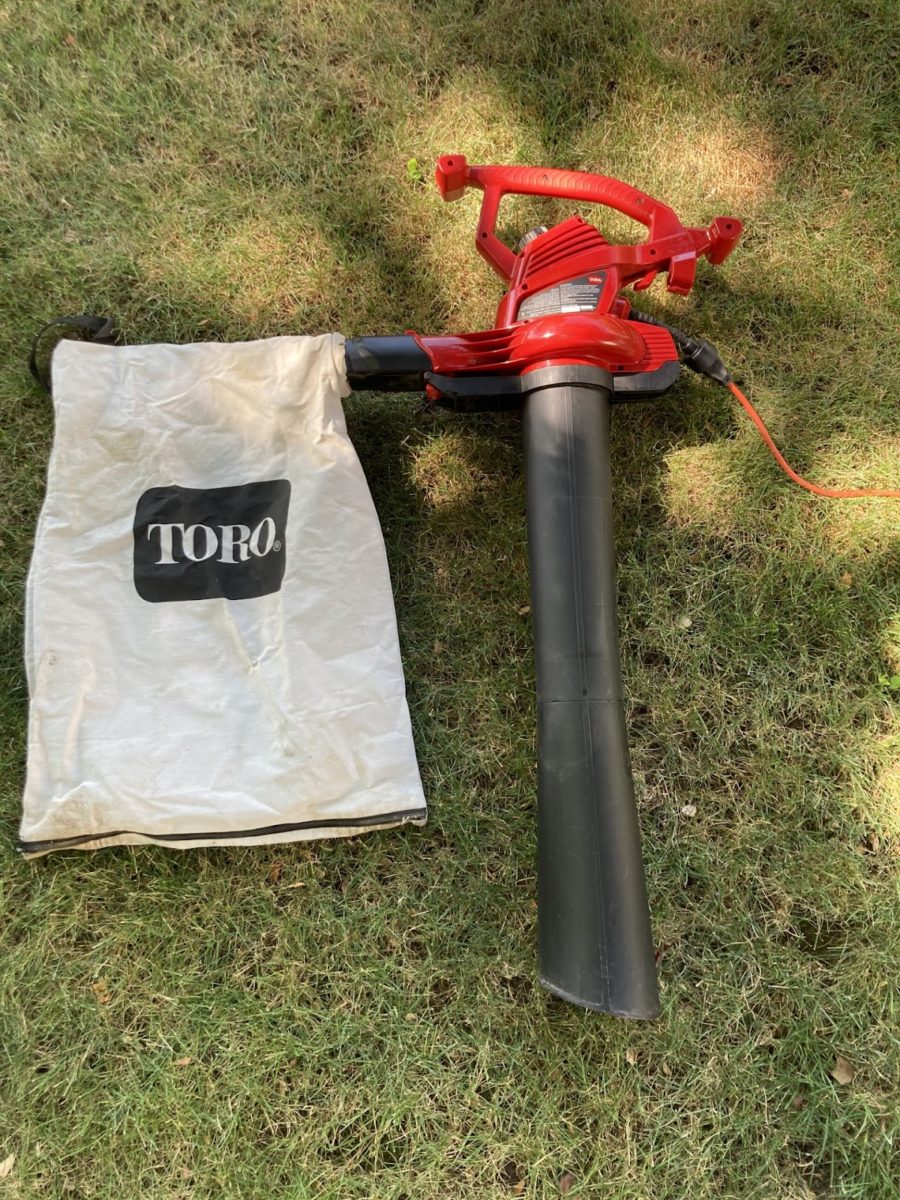 It was a leaf blower with a big bag attached to the back of it. Before I jumped to conclusions, I asked him what the heck it was. 
A leaf blower that doubled as a leaf vacuum. How did I not think of this sooner and become the world's first trillionaire?
Anyways, I decided to get my hands on a couple and find out the best one. Here's the list I came up with for the best leaf blower vacuum combos:
How I tested these tools
Ever since I saw, then subsequently borrowed, my neighbor's blower vacuum combo I've been hooked. I grabbed one and then convinced my father-in-law and brother to buy one. They went different routes and got ones that I hadn't yet used.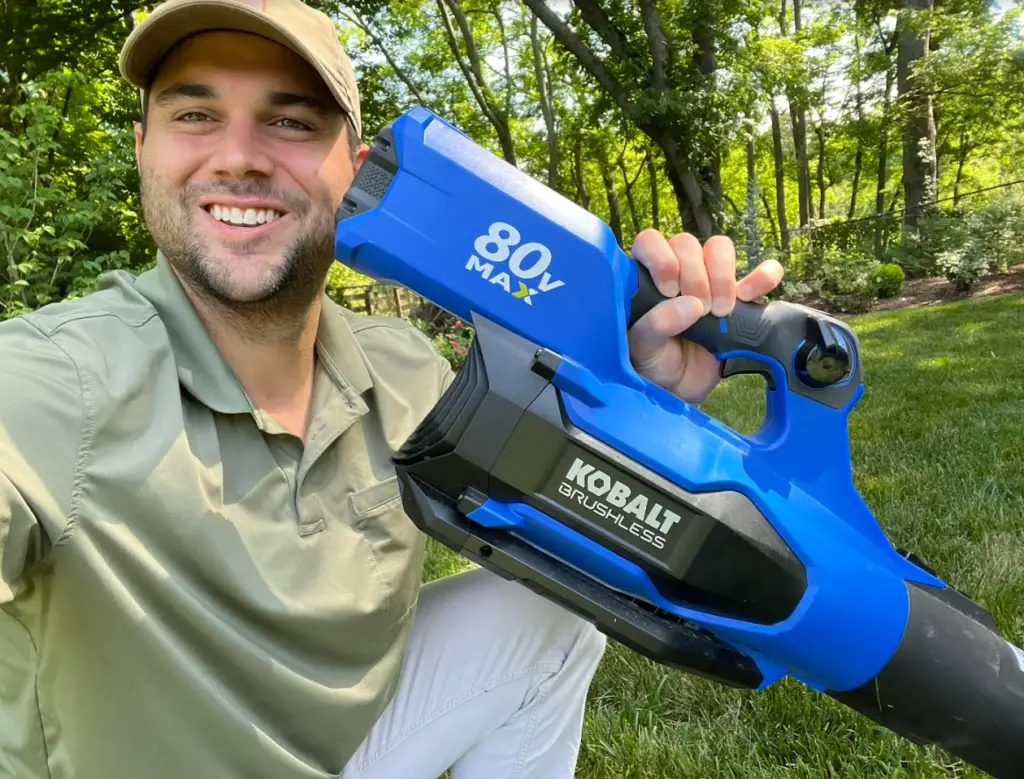 I've used dozens of blowers and reviewed and compared a bunch on my Youtube channel. There you can see me strap two to a spinny chair and see which one wins…
Ranking the best leaf vacuum and blower combos
I've given you my definitive ranking at the beginning of this article, but let me break down exactly why I chose each one. I pick certain characteristics that I like and ones that you need to absolutely keep an eye out for. Let's get started with number one.
Makita XBU04PTV Brushless Leaf Blower Vacuum Combo
Makita makes some amazing leaf blowers – we reviewed a ton of Makita's blowers. I like Makita's brushless leaf blower vacuum combo for a few reasons. For starters, it is the only cordless leaf blower vacuum combo on this list. 
Having a cordless leaf blower vacuum combo is a huge reason why I put this one at the top of our list. Makita knocks it out of the park with every single one of their lawn tools, which is why we have spent so much time with their lawn mowers and weed eaters.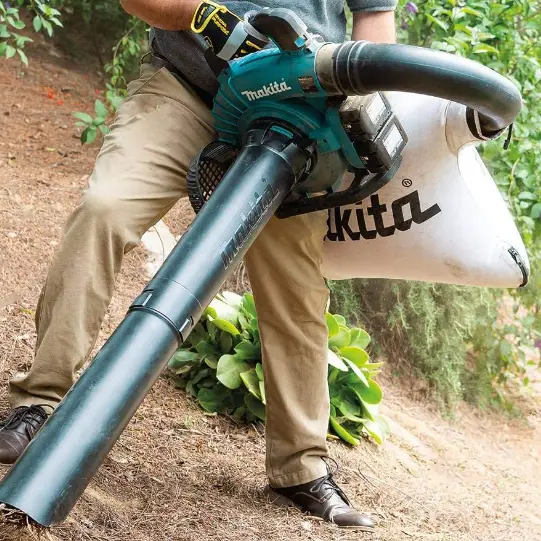 Here are my favorite things about the Makita leaf blower vacuum combo:
Brushless motor – these are longer lasting, more durable, and provide more torque
Makita's 18V batteries that can be used with probably 1000's of other tools, lawn or power tools
473 CFMs, which means this thing moves serious air and has a wide nozzle to push big piles of leaves
A mulching function that not only sucks up the leaves, but finely mulches them into shreds. This has a 10-1 ratio which means it can fit mulch clippings in one bag that would normally take 10 bags unmulched. Wow.
This is the priciest combo on the list, but it provides a ton of value that the others don't. In my opinion, it is well worth the cost because of how much time it will save you. Plus, you can buy the tool-only version if you already own Makita 18V batteries.
This thing goes on sale on Amazon for a great deal.
Worx WG512 Tri-Vac Corded Leaf Blower Vacuum Combo
If you've never used a Worx product, you'd be surprised at how nifty they are. They have a ton of cool lawn products, like this stand-up leaf mulcher and this 8-in-1 wheelbarrow. Worx is notorious for innovative products that are inexpensive.
Needless to say, they absolutely crushed innovation + inexpensive in their Tri-Vac leaf blower vacuum combo. This one is corded unlike the Makita one above, which means you have to keep it plugged into the wall with a long extension cord. This has pros and cons – it never runs out of power but limits where you can go and can tangle you with the leaf collection bag.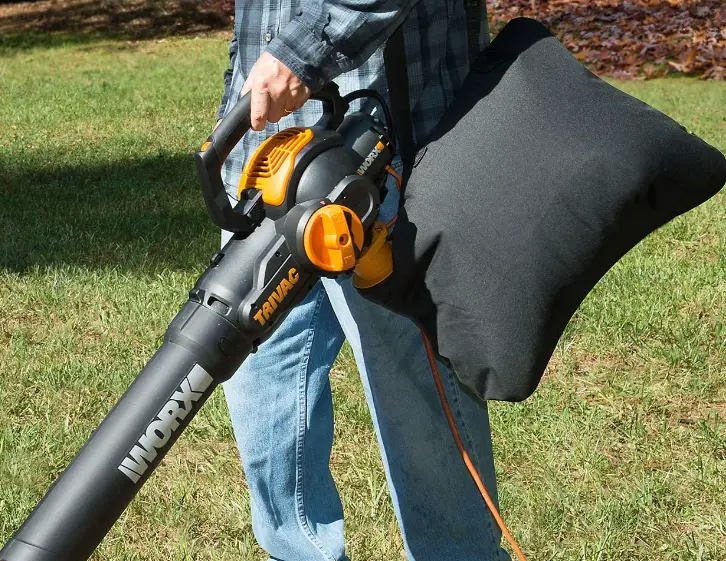 This Worx leaf blower vacuum combo is actually pretty dang sick now that I look at the specifications. My brother loves it, but I had never seen exactly why. It has a few things that set it apart from the Makita.
600 CFMs of power – which means this blower absolutely PUSHES leaves. This is great for moving big piles of dry leaves across a large area.
A super handy dial that changes it from blower to vacuum. No removing the tube and putting it on a different part, just twist the knob.
A 16:1 leaf mulching ratio which means it turns your leaves into dang dust.
The bag on this pops on and off really easily.
Whoever at Worx designed this has seriously tried out a ton of these before and was like "I'm going to go make the best". It is almost perfect. If it was cordless, I'd be in love. Either way, this is a great option and an absolutely ridiculous price.
Right now it is on sale from Amazon for less than $90. Holy crap.
Craftsman CMEBL7000 3-in-1 Leaf Blower Vacuum Combo
Craftsman also has a pretty sweet contender in the leaf blower vacuum combo space. If you've never bought a Craftsman product before, I would be surprised. Craftsman makes EVERYTHING. You can walk around your garage and I guarantee you will find something from Craftsman. They aren't a premium brand or anything, but they've got every type of tool and gadget under the sun PLUS accessories.
The Craftsman 3-in-1 leaf blower, vacuum, and mulcher is another corded option that actually puts out some decent power. It is a bit lower than the Worx product above, but it does still get you to 450 CFMs, which is decent.
At 260 MPH on the blower, you're looking at extreme speeds. Surprisingly high speeds. Actually unbelievable speeds. I don't know for sure, but that number doesn't look right. That is a higher MPH than most, if not all, gas blowers and backpack blowers.
I am sure it is still powerful, but not quite THAT powerful.
One thing I love about this blower, vacuum, and mulcher combo is the backpack leaf collector. For many of the others, the bag hangs below the blower and sags, causes it to be heavy, or gets in the way. The Craftsman has a nice backpack strap that lets you simply carry it around without tripping.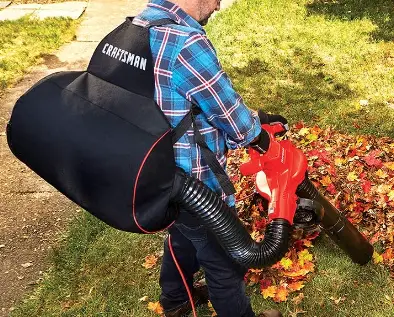 This one is just under $100 on Amazon – for the price and usability it is a DARN good option.
What to look for in an electric blower
Cordless blowers come in a bunch of shapes and sizes but there are three basic things you need to understand:
CFM vs MPH on a blower
Cubic feet per minute. This is a measure of air output on the blower. Higher CFM = more power, but not necessarily more miles per hour. High CFM with a wide nozzle = lower MPH. High CFM with a narrow nozzle = high miles per hour. Ideally, you want both a high CFM with a narrow to medium nozzle for most residential jobs.
Usability
What is the point of having a blower if it is hard to use? Have to get one that is lightweight, easy to start, and has some functions that make your life easier.
Motor type
Brushless motors reign supreme. Cooler running motors with more torque, a longer run-time, and last many more years. Brushless is a no brainer when picking a blower.
These are three things you need to pay attention to when looking through the specifications. 
Why we review lawn tools
The reason we started this website in the first place was because we had so much trouble trying to find reasonable, understandable, honest reviews for lawn equipment. And it's not cheap! After hours and hours of research, trying products and returning them, and messing up our yards – we started this site.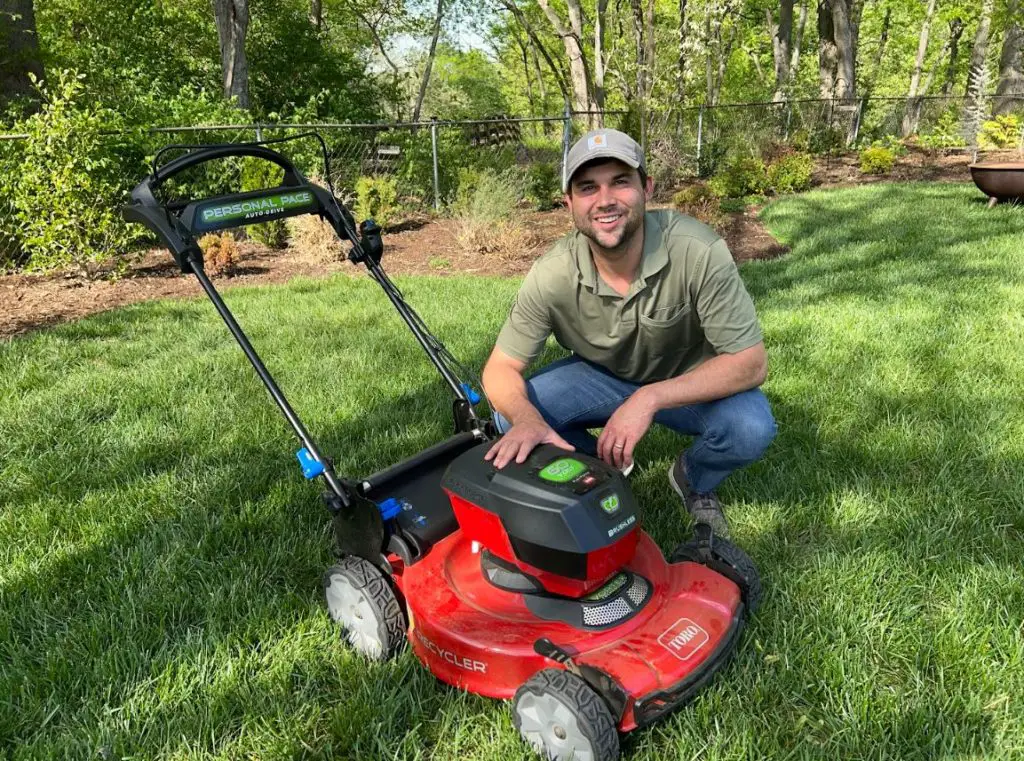 As people who had to learn the hard way, we want you to know exactly what you are signing up for before you purchase a piece of equipment. That's why we are committed to providing honest, easy-to-understand reviews that mean something.