EGO vs Kobalt lawn mowers is the age-old decision – especially if you're standing inside a Lowe's scratching your head.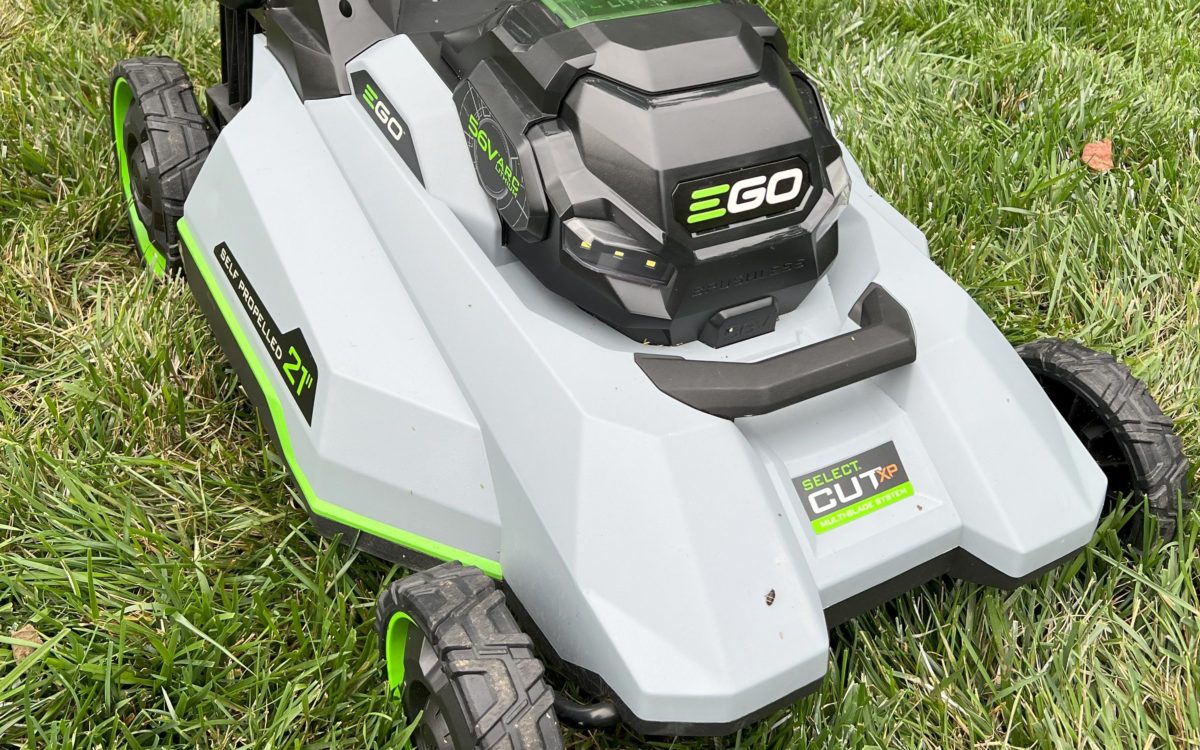 EGO mowers are extremely popular right now, but Kobalt has been around a bit longer and comes at a lower price point.
Both are stellar battery-powered mowers that come in at a similar price point. So how do you  pick between the EGO 56V and Kobalt 80V mower series?
For starters, there are a TON of different EGO 56V mowers, so I'll pick the most comparable to the Kobalt 80V mower, which is the EGO LM2102SP mower.
Let's get started!
Why we review lawn tools
The reason we started this website in the first place was because we had so much trouble trying to find reasonable, understandable, honest reviews for lawn equipment. And it's not cheap! After hours and hours of research, trying products and returning them, and messing up our yards – we started this site.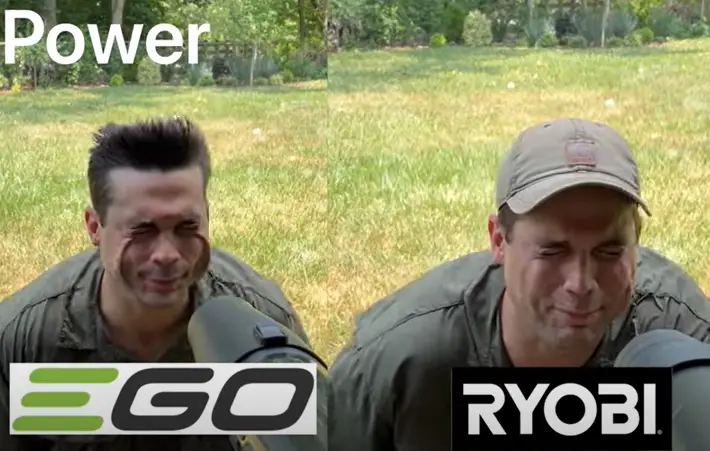 As people who had to learn the hard way, we want you to know exactly what you are signing up for before you purchase a piece of equipment. That's why we are committed to providing honest, easy-to-understand reviews that mean something. 
What to look for in a battery-powered lawn mower
When looking to purchase an electric lawn mower, you need to make sure you understand what things matter. You will get hit with a lot of technical specifications and marketing tactics. Totally forget them and focus on the things that impact you. Below are my recommendations:
EGO and Kobalt brand quality
Quality is going to be super important here. Just about everyone is in the electric mower game these days and there are a ton of junky mowers out there. Avoid anything from a weird brand on Amazon that takes 9 years to ship. It is probably being 3D printed in a Laotian bathroom. Go for brands that have consistent quality and focus on the details, not just flashy colors.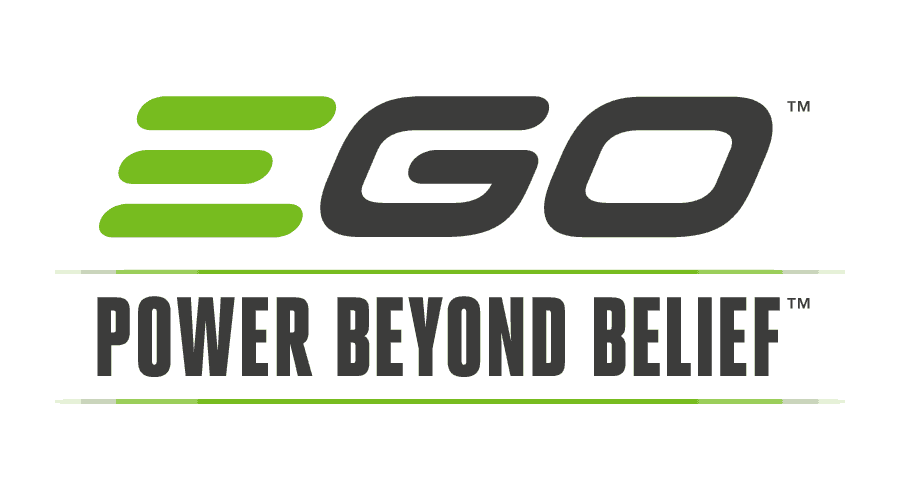 EGO is known for making seriously high quality, dense lawn tools. Yeah, we used the word dense here because when you pick up their tools they feel solid as a rock. We've reviewed a ton of EGO products and made YouTube videos covering EGO's leaf blowers and EGO's mowers.
Kobalt lawn mowers are known for being super reliable tools, including their Kobalt string trimmers and leaf blowers (all of which we have reviewed).
Metal where it matters: the deck 
Most electric mowers are plastic-y. Probably to reduce the weight of the mower so that the battery can get you further, but it feels cheap. Make sure to get metal where it matters – namely the deck. The deck is the part that covers the blades. Don't get plastic here – a rock can rip through it.
EGO sadly makes quite a few mowers with plastic decking, but a couple with metal decks. While I prefer metal decks, EGO's reinforced plastic is actually quite durable. It won't kill you to use a plastic deck, but it can help it last much longer.
Battery interoperability on EGO and Kobalt
 A ten dollar word used here, but really just make sure to buy a mower with a battery that is compatible with other electric tools. Luckily with EGO, they only have a 56V battery line, which can be used across all of their products. The only difference you'll see is in the amp-hours, which increases the amount of time you can spend doing the job.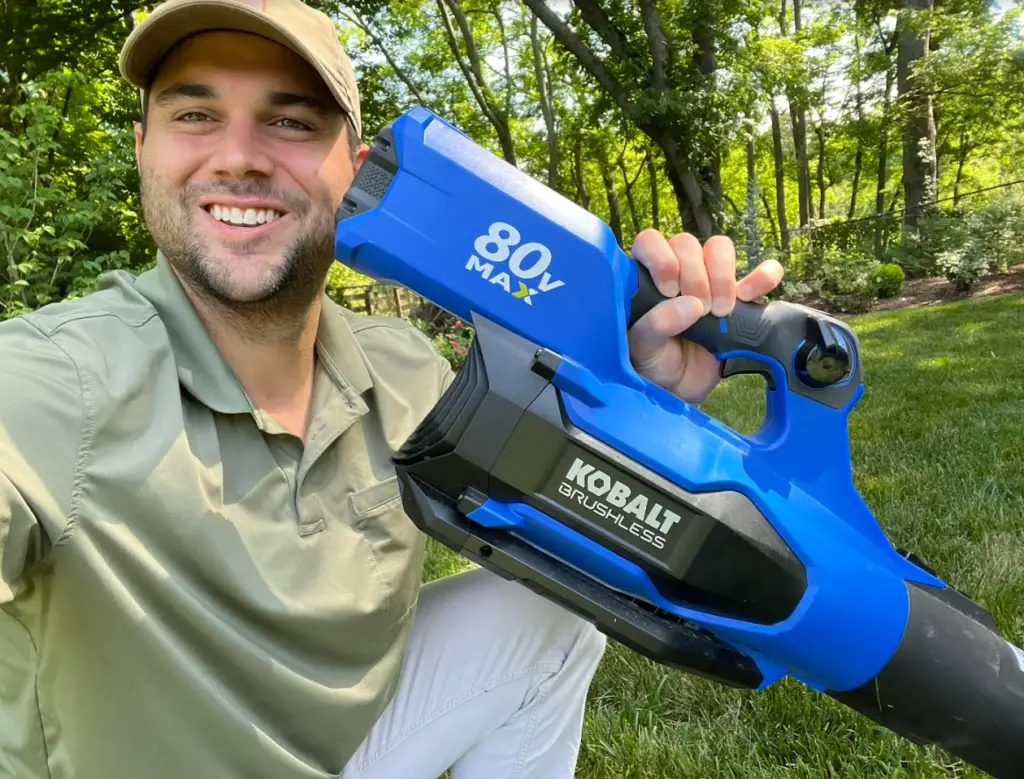 Kobalt has a few different battery lines, with their 80V line being the premium line usable with other 80V products.
If you have more questions, check out our guide to electric lawn mowers.
Kobalt vs EGO mowers: Head-to-head comparison
Kobalt and EGO mowers are both beasts in the lawn mower game. To ensure we are doing the best like-to-like comparison from both brands, we've chosen the Kobalt 80V 21-inch mower (model KMP 6080D-06) and the EGO 56V 21-inch mower (model LM2102SP). We felt these were the most similar comparison in price, size, and features. 
Which is more powerful, EGO or Kobalt mowers?
We are diving head-first. We want to know which one of these has the most power. At the same amount of resistance, higher voltage means more power delivery. Therefore, the Kobalt is the clear winner as it is an 80V system. 
In reality and out of the worlds of physics nerds, there's more than just a simple equation. There is certainly a reality around how much power is put out by the spinning of the blades, but that doesn't always translate to how powerful the mower feels.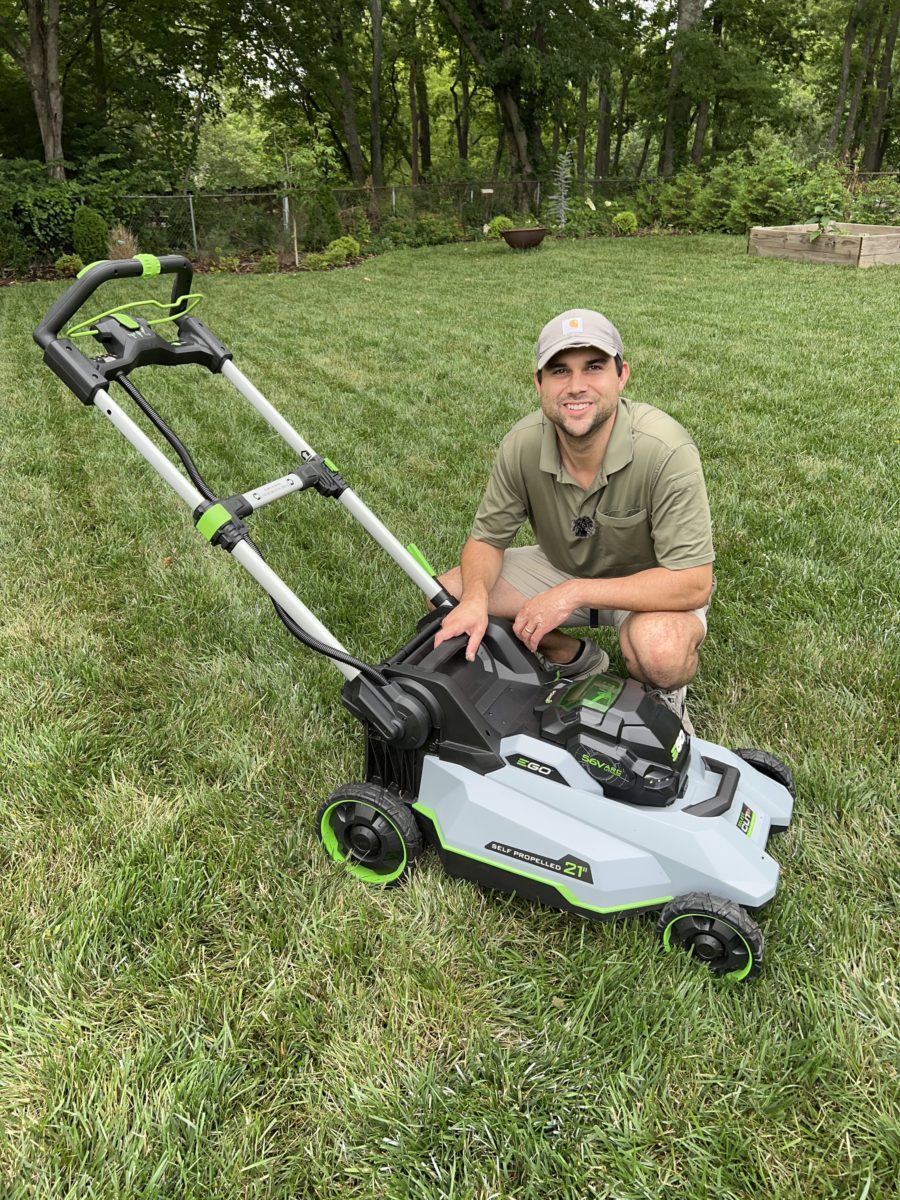 Even outside of science, this EGO mower doesn't have quite the power that the Kobalt 80V mower has. Here's why:
The Kobalt 80V mower has a higher voltage on the battery
The Kobalt mower is about 20 lbs heavier, giving more momentum to the cutting motion and keeping the blades from bouncing off rough patches of grass
Kobalt's mower has an auto-sensing technology that adjusts the performance of the motor depending on the grass conditions. 
As much as I initially thought EGO was going to crush the Kobalt with power, I'm surprised to say that Kobalt objectively wins the battle. As someone who compared the EGO 56V and Ryobi 40V mowers, the EGO felt so much more powerful because of its sturdiness. But Kobalt just happened to one-up them.
Winner: Kobalt's 80V Max lawn mower
Well, which mower is more reliable? EGO vs Kobalt
When I evaluate the reliability of a mower there are two main things I look at: the motor type and the deck construction. As I mentioned earlier in this post about what to look for in an electric lawn mower, the motor type NEEDS to be brushless. 
Brushless motors provide more torque, a cooler running motor, and a longer life than their brushed counterparts. Up until recently, every electric motor was brushed. You'll see some of the more premium brands using brushless now, but it will soon be the standard. 
Fortunately, both the EGO and Kobalt mowers have brushless motors. We can go ahead and check that box in both categories. 
When it comes to deck size, these two are very different. The EGO mower (just like most of the EGO mowers) has a tough plastic decking. While most folks don't have to worry about this, there are definitely durability issues that can impact this mower. Rocks, branches, and root systems can make this decking more vulnerable to breakage. Fluctuations in temperature will also wear down on plastic over time.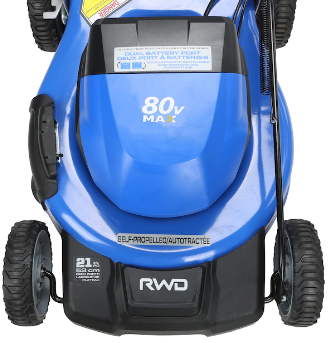 On the other hand, the Kobalt mower has a metal decking that is much more durable than plastic. 
Winner: Kobalt 80V Mower.
Usability and comfort
When it comes to usability, there are a lot of different features to evaluate that are relatively subjective. Let's take a look at the usability features of both:
Kobalt's features:
Self-propelled, rear wheel drive
Variable speed control
7-position height adjustment
LED headlights
Foldable for storage
EGO's features:
Self-propelled
Variable speed control
6 position height adjustment
LED headlights
Foldable for storage
They're essentially the exact same if you're just looking at the specifications. But we want a winner, so let's look a little closer.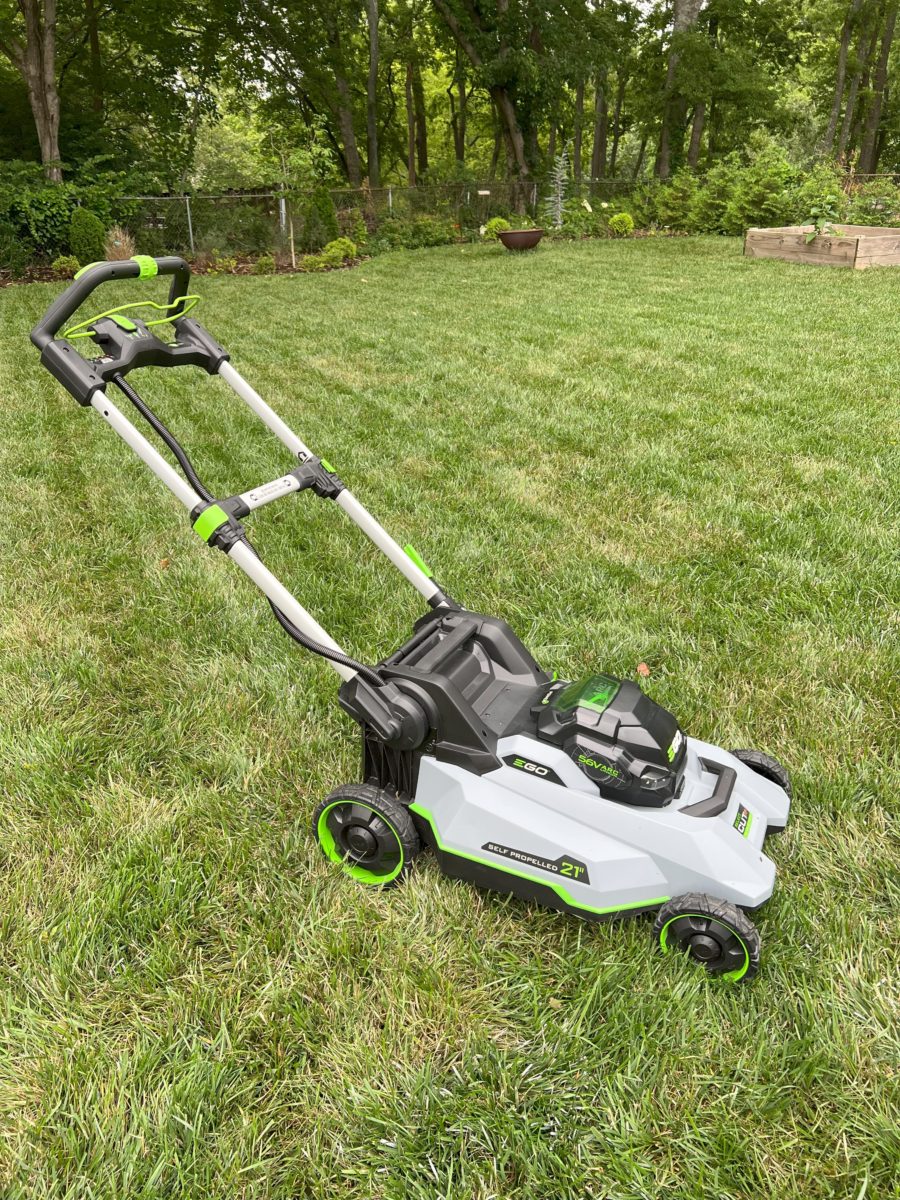 We personally like EGO's height adjustment for the handles. I've heard from several short people that they like to push the handle bars down almost like they're preparing to store it, but then pushing the mower from the condensed position. I can't relate, but appreciate that people have found flexibility with this mower using that function.
It's honestly a tie here, but I could give a slight edge to the EGO mower.
Price and warranty
Just to make things tough for us, the EGO mower and the Kobalt mower both come in at the exact same price. 
The Kobalt mower can be found on Lowe's website (or at a Lowe's near you) for about $699. 
The EGO is available on Amazon for the same price, but tends to go on sale frequently, so click here to check the latest price.
Both come with a limited 5-year warranty on the tool and 3-year warranty on the batteries. You can save some serious money on both if you buy the tool-only version. Here is an identical version of the EGO mower without the battery and charger for over $200 cheaper.
Final Winner: EGO vs Kobalt mower
Picking a winner between EGO and Kobalt is tough. I came into this thinking that the EGO was far and away the better choice, but after getting our hands on more and more Kobalt products – we were wrong. The Kobalt is the clear winner of this face-off because it has more power, better construction, and is available at the same price.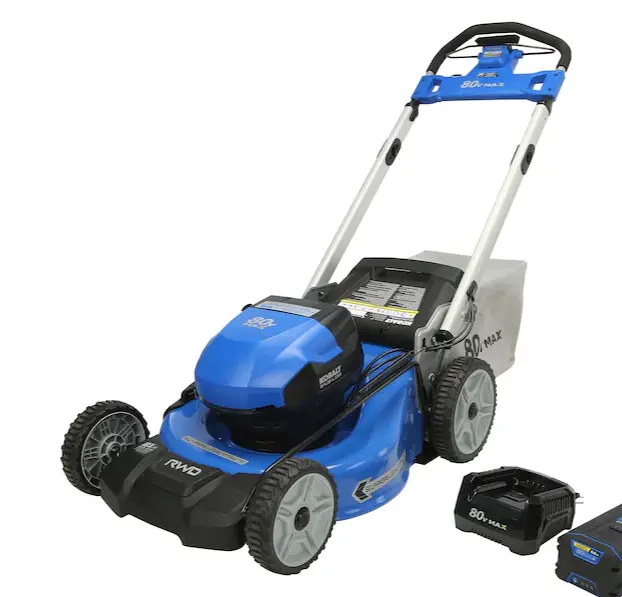 EGO is still a great option though and is the winner if you already own an EGO product with EGO batteries as it is much cheaper.
You really can't go wrong with either, but if we are just evaluating the two as though you don't own any tools – the Kobalt pulls away.