Cordless Kobalt Lawn Mowers are super popular – especially at Lowe's.
But let's be honest. They have way too many models – which can be extremely confusing.
Lucky for you, I actually sat and tried to figure out the differences between each one and what it means for you. Then I wrote down my five favorite and listed them below.
Yes, this took about 19 hours to do. But it's worth it (I tell myself). Because I wish someone would have done this for me.
So let's get to it:
Why we review lawn tools
The reason we started this website in the first place was because we had so much trouble trying to find reasonable, understandable, honest reviews for lawn equipment. And it's not cheap! After hours and hours of research, trying products and returning them, and messing up our yards – we started this site.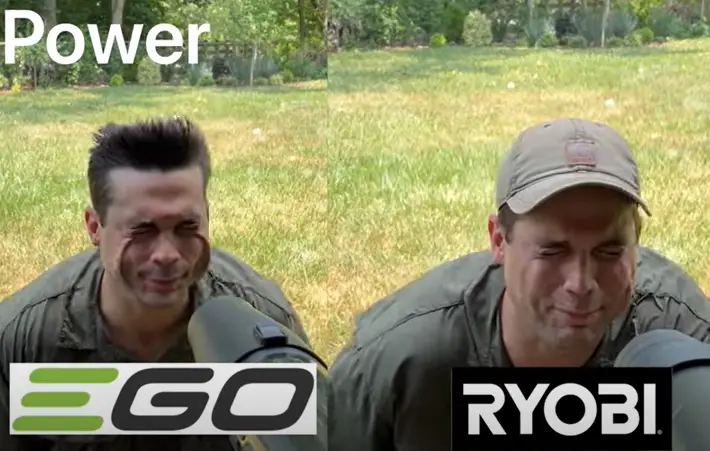 As people who had to learn the hard way, we want you to know exactly what you are signing up for before you purchase a piece of equipment. That's why we are committed to providing honest, easy-to-understand reviews that mean something. 
What to look for in an electric lawn mower 
When looking to purchase an electric lawn mower, you need to make sure you understand what things matter. You will get hit with a lot of technical specifications and marketing tactics. Totally forget them and focus on the things that impact you. Below are my recommendations:
Brand quality

Quality is going to be super important here. Everyone is in the electric mower game these days and there are a ton of junky mowers out there. Avoid anything from a weird brand on Amazon that takes 9 years to ship. It is probably being 3D printed in a Laotian bathroom. Go for brands that have consistent quality and focus on the details, not just flashy colors.

Metal where it matters. 

Most electric mowers are plastic-y. Probably to reduce the weight of the mower so that the battery can get you further, but it feels cheap. Make sure to get metal where it matters – namely the deck. The deck is the part that covers the blades. Don't get plastic here – a rock can rip through it.

Battery interoperability.

 A ten dollar word used here, but really just make sure to buy a mower with a battery that is compatible with other electric tools. Ryobi has this, so does Dewalt, and so do some of the Greenworks products. This will save you garage clutter and plug space.

Self-propelled or not. 

I actually don't like the self-propelled feature. It doesn't help you that much and it drains battery – I would pass here. This is a marketing gimmick in my opinion.
You can read more about our electric lawn mower buying guide here.
5 Best Cordless Kobalt Lawn Mowers
Here we go: these are meticulously ranked mowers that hit on all of the best things to look for in an electric mower (see above).
We were recently quoted in the Washington Post as experts on the topic – so you can trust us!
Check out how these mowers stack up against EGO's 56V mower.
5. Kobalt 40V Max Brushless 19-inch Cordless Electric Lawn Mower
The Kobalt 40V Max Brushless 19-inch cordless electric mower is perfect for small yards. Actually may be one of the better mowers for small yards. This is a mower that will last you for a long time, is extremely efficient, and easy to store.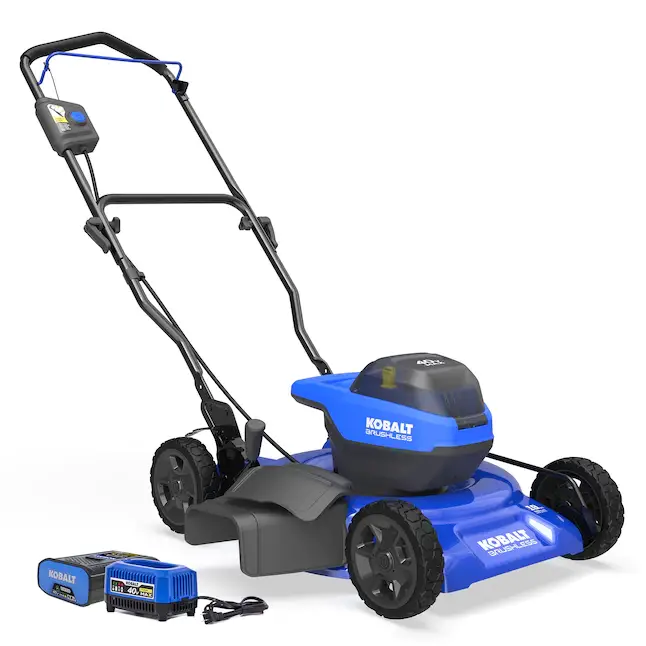 Here is what I like:
Brushless mower: Brushless mowers last much longer, are more durable, and much more efficient. 
Can run for 30 minutes on a single 40V charge, which can cover ¼ acre.
A metal deck! This is so important but an absolute must for a mower
Seven different positions for cutting the grass.
A 5 year warranty.
A decent price (Can get the tool only for under $250).
Here is what I don't like:
Not much to dislike about this mower unless you have a larger yard.
Not many buying options outside of Lowe's.
All-around, this is one of the best mowers I have seen for a small yard. In fact, it has almost everything I would look for. My only gripe is that there aren't a ton of places to buy this. If you are a Lowe's loyalist or already have the Kobalt 40V battery – then this is a perfect purchase if you have a smaller yard.
This one is for sale at Lowe's but I couldn't find a better price anywhere else.
4. Kobalt 24-Volt Brushless 20-inch cordless electric lawn mower
The Kobalt 24-Volt Brushless 20-inch cordless lawn mower has 2 24V batteries, which really make it a 48V beast. This mower runs for 60 minutes on a single charge, has a slightly wider steel deck, and also comes with a little self-propelled function (not bad!).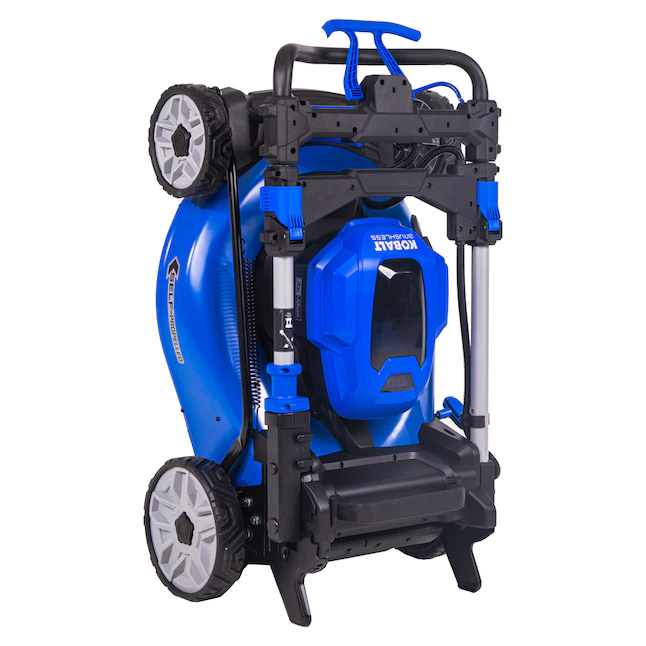 I ranked this one slightly higher for a few reasons:

Self-propelled is a nice plus if you use it
20 inch deck means it gets the job done quicker and is more versatile
Brushless – which is our favorite, longest-lasting, and most durable motor type for electric mowers
One-handed folding handle for great storage capabilities
Things that concern me:
The 24V batteries from Kobalt are not as common for their lawn tools
The price is pretty high ($499 at Lowe's right now)
This mower is great! I don't have hardly any complaints with it and it has just about everything you would want in a smaller-to-medium sized yard.
I do get nervous about the 24V batteries because this is one of the only mowers Kobalt offers that battery voltage. If you already have these batteries, then this is a great mower. If not, I'd probably try to find one in their 40V series.
This is also a decently high price for a mower of this size, but its also really high quality. My suggestion here is that you get what you pay for!
The 24-volt brushless mower from Kobalt is only for sale at Lowe's as far as I can tell.
3. Kobalt Gen4 40V 20 inch self-propelled cordless electric lawn mower
The Kobalt Gen4 40V 20 inch cordless electric lawn mower is sweet. While it isn't a part of the 40V MAX series, it still uses some of the legacy 40V batteries. If you have had a Kobalt tool in the past with a 40V battery, you are still good to use this mower.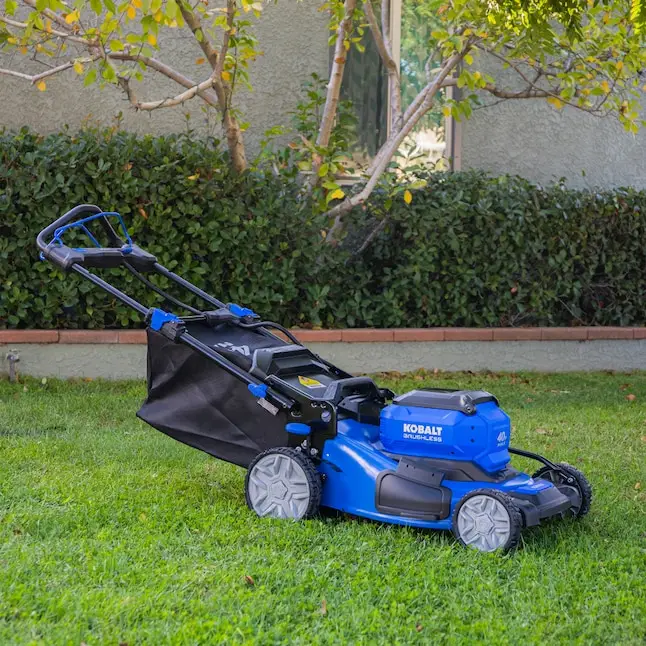 Here are some of my favorite things:
20 inch deck is great for small to medium yards
3-in-1 mulching and bagging system gives you versatility (we prefer letting the grass clippings fall onto the grass and not the bag)
A brushless motor just like the rest of the cordless mowers from Kobalt
Self-propelled if you're into that
A great price
Here are some things I don't love:
Not a part of the 40V MAX series
Basically, this is one of the highest value mowers in the Kobalt series. Huge fans over here.
This is another one that is sadly only for sale at Lowe's.
2. Kobalt 40V MAX Brushless 20-inch cordless electric lawn mower
A slightly newer, sexier version of the Gen4 model, the Kobalt 40V MAX Brushless 20-inch cordless electric mower is my personal top choice. This is exactly what I would look for in an electric mower, but taken to the MAX.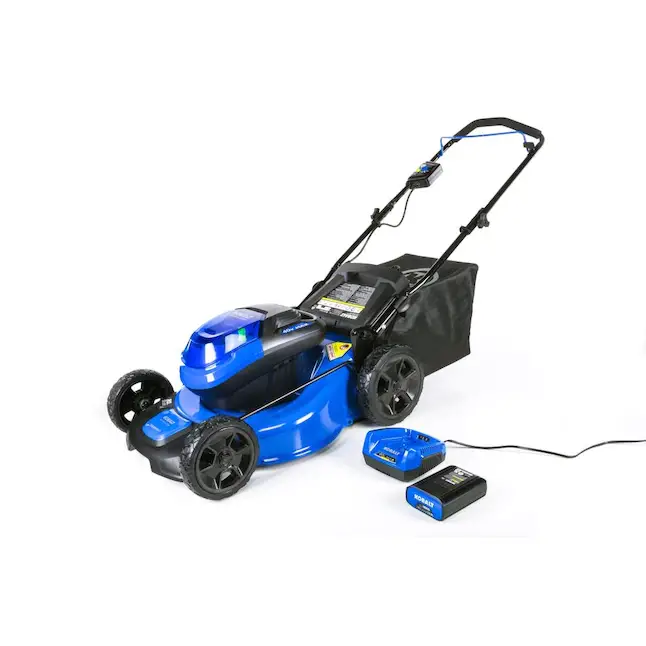 Seriously, most people like self-propelled mowers so I am the weird one, but this one has all the things that fit my checklist. You may like self-propelled, but I think it drains too much battery and don't mind pushing (I'm jacked).
The things I look for in an electric mower that this mower has:
The Steel Deck:  durable, going to last you a long time
The 40V battery: this 40V MAX battery can be used with the huge line of Kobalt 40V MAX batteries
No self-propelled function: longer lasting battery
A high quality brand
Oh, and an insane price. Lowe's is practically giving this thing away.
This puppy can mow up to ½ an acre. With a self-propelled function, it would probably get cut in half.
It also comes with a powerful 5 Ah battery and all the other bells and whistles that customize this mower to your grass style.
You can get this one at Lowe's where we saw the best price (no affiliation).
1. Kobalt 80V 21 inch Brushless mower 6 Ah and 5 Ah (Tool only and regular)
The Mac-daddy Kobalt 80V 21 inch brushless mower is the king of them all. By far the biggest and baddest, it has all the bells and whistles.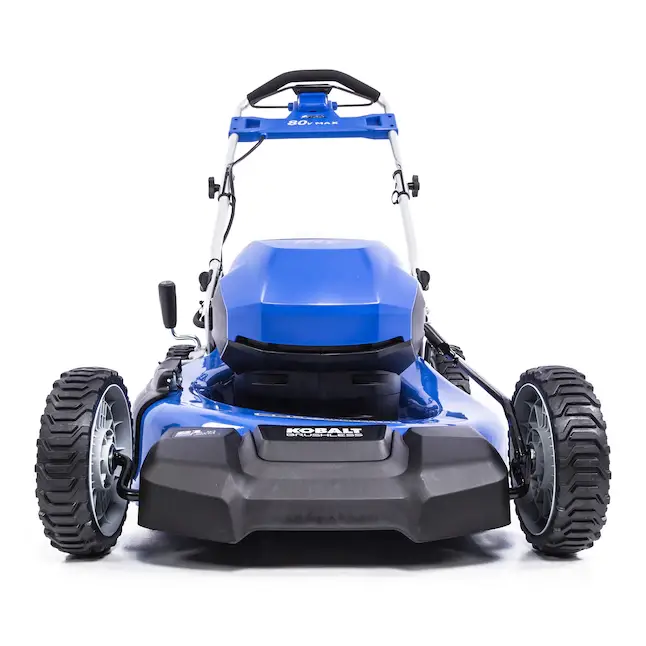 The Kobalt 80V 21 inch brushless mower series comes in both a 6 Ah and 5 Ah power battery set – which is why it looks like there are 10 of the same mower on any of the websites. They also come in tool-only or regular. Tool only is the version without the battery, assuming you already own them – this is a much better price.
If you are looking for serious power, the 6 Ah set is going to take you the furthest. 
Here's what I love about the 80V series and why I ranked it number one:
The 80V batteries give you an hour of run-time
The 21 inch deck is the largest in class and also the standard for most gas mowers, so it can easily replace your gas mower
Self propelled with speed control. Whew. That is serious business
It can adjust its motor depending on grass conditions, great for those with mixed-grass yards (heathens)
A little dashboard on the handle that shows you remaining battery life
A dang 5 year warranty.
The Kobalt 80V MAX brushless self-propelled mower is quite literally a beast. 
You can grab it a number of places including Lowe's, but the best price I have found is actually at Amazon, where it is $50 cheaper.
Our recommendation
Despite the 80V series being ranked #1, I actually like the #2 choice – the Kobalt 40V MAX 20 inch mower. It is just as durable, covers almost as much ground, is less expensive, and is a part of the 40V MAX series, which is what most of the new Kobalt products are working with.
Grab it at Lowe's or Amazon – however I think Lowe's currently has a lower price!
*We do not have an affiliate program with Lowe's