The EGO Select Cut XP self-propelled mower is an absolute tank. EGO did it again – and this mower has all of the bells and whistles. 
If you have never heard of EGO, you're missing out on a modern day cult. Everybody that has one of their lawn tools is obsessed and promises to never go back. Heck, we did a five-way head-to-head matchup with a bunch of mowers and the EGO flock came out in full force to represent. 
Let me break down my review of the EGO Select Cut XP – the model number LM2150SP or LM2156SP (whatever that means).
Jump ahead:
Psst….you can grab one of these for a really good price on Amazon instead of Lowes.
My experience with EGO mowers
I've had the good fortune of using a few EGO mowers. They have a noticeable trait that makes them stick out: they are absolute tanks. They feel like a man's mower. Bulkier, sturdier, more powerful – a self-propelled function that truly pulls you forward.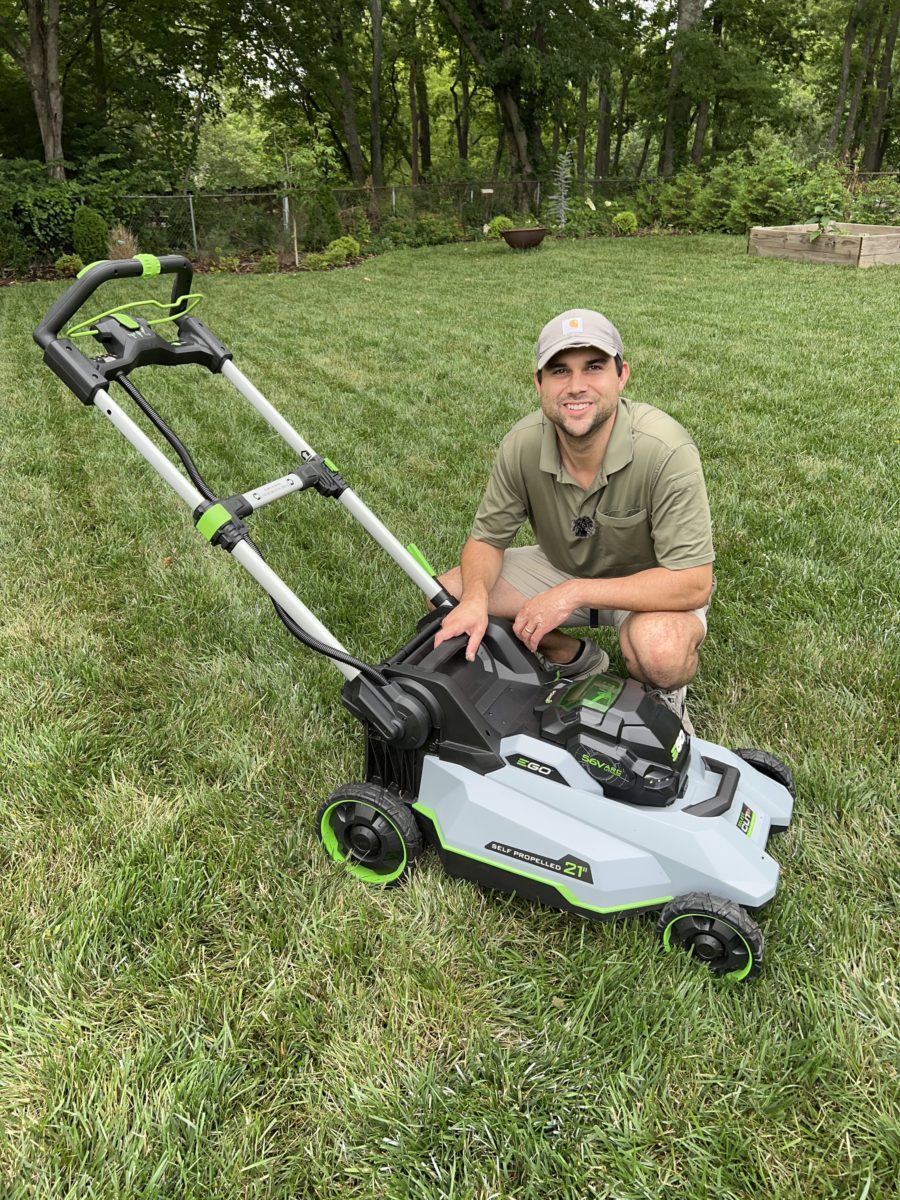 I've gotten to use a few and compare them across a bunch of other electric mowers – probably well over a dozen now. EGO is always one of my favorites because of how popular they are. Needless to say, I'm experienced when it comes to using these. In fact, I walked one of them on the street in my neighborhood until it died. It was well over an hour – that's dedication.
EGO LM2150SP Electric Mower Review
The EGO LM2150SP has a lot to love. Let me do a rundown of my experience using this mower to help you see if you would want to snag one of these. I'll start by breaking down the power.
Power and feel on the EGO LM2150 / LM2156 mower
The EGO LM2150SP Select Cut XP is one of the best analogs to gas-powered mowers that I have come across. For starters, it just feels like a gas powered mower despite looking nothing really like one. When EGO says Select Cut XP – they mean that this is their highest torque mower. At 8.3 lbs/ft – the EGO Select Cut XP puts out more torque than just about any normal residential gas mower. More than Honda's lineup of push mowers for sure.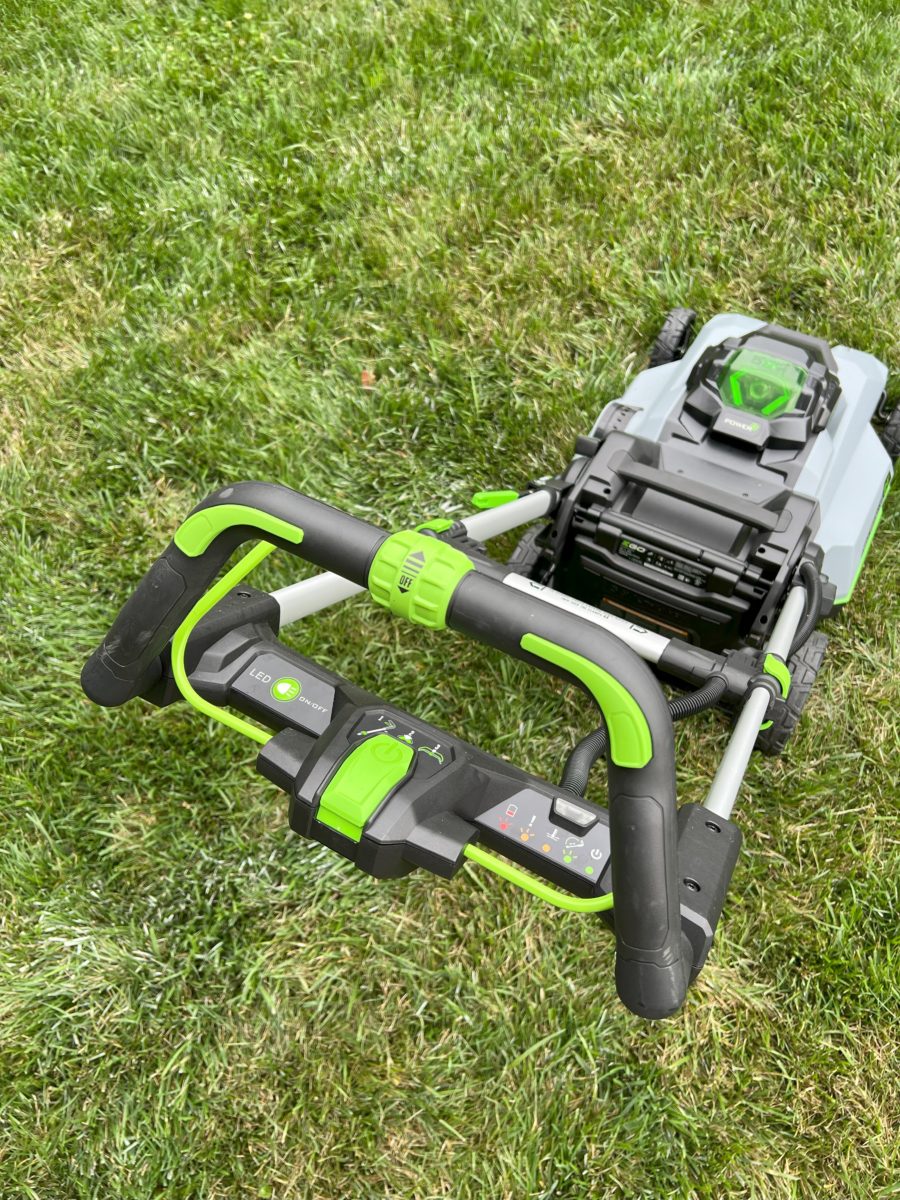 One thing I love about the LM2150SP is that the self-propelled function is super easy to use and control – even when in use. You simply roll up this little cylinder to toggle the self-propelled function's speed. Something that stood out to me the first time I used EGO's Touch Drive technology was how it truly pulls you forward, whereas others are a bit underwhelming and still require a good bit of pushing. 
Lastly, this mower has multiple blades. Two at a time will run on this bad boy, which means it will be tough to miss a blade of grass. The mower comes with three blades that can be swapped out depending on if you are bagging or mulching.
EGO 56V Battery performance
I put a ton of elbow grease and time into this series of tests. Like I mentioned earlier, I actually walked this mower around my neighborhood until it died to see how it compared to four other mowers. This isn't the most scientific test in the world, but it does help you see how it is relative to other mowers (if you are shopping around).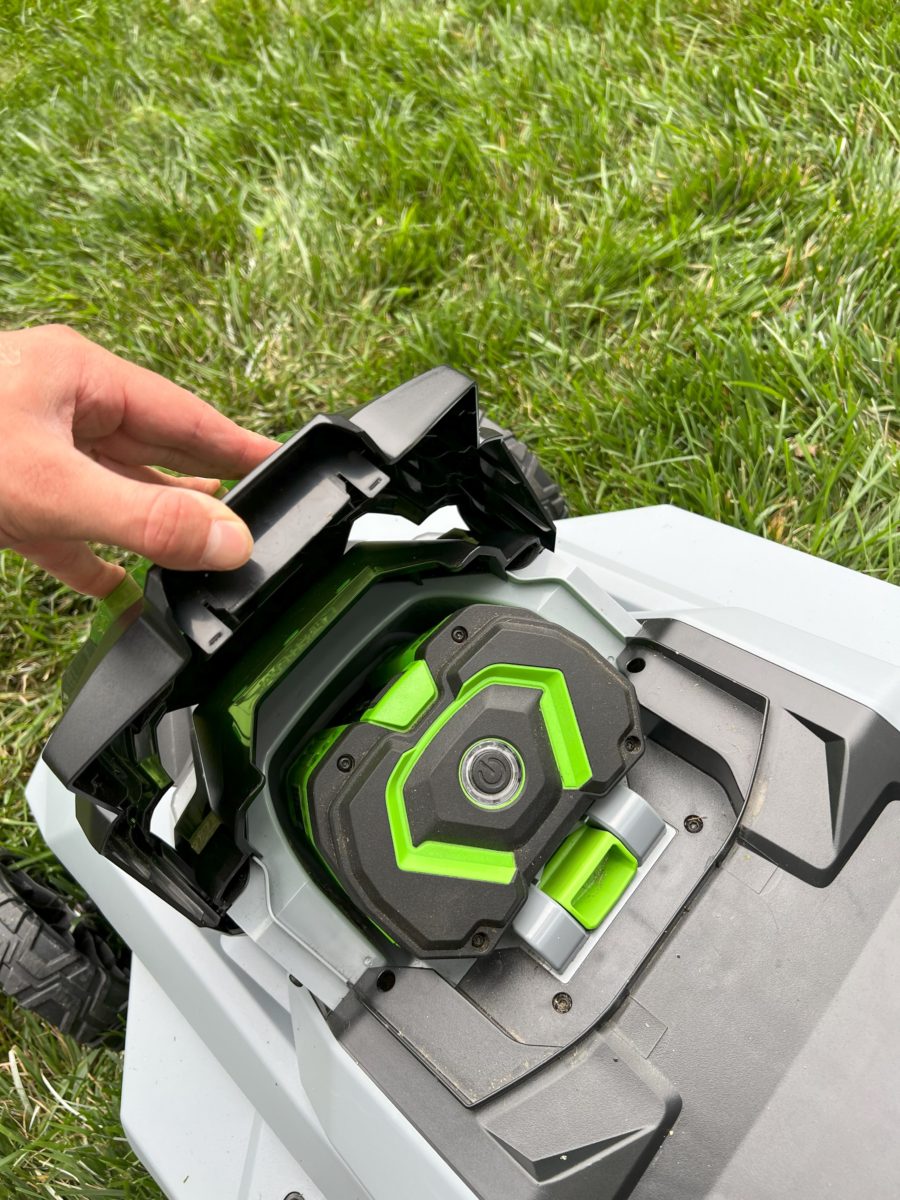 Once the battery was dead, I plugged it into the charger to see exactly how long it took for the 10 Ah battery to recharge. 
Here were my results:
The EGO ran for an hour and thirty one minutes before dying – not bad!
The 56V 10Ah battery took the least amount of time to fully recharge, compared to the other mowers – an hour and four minutes.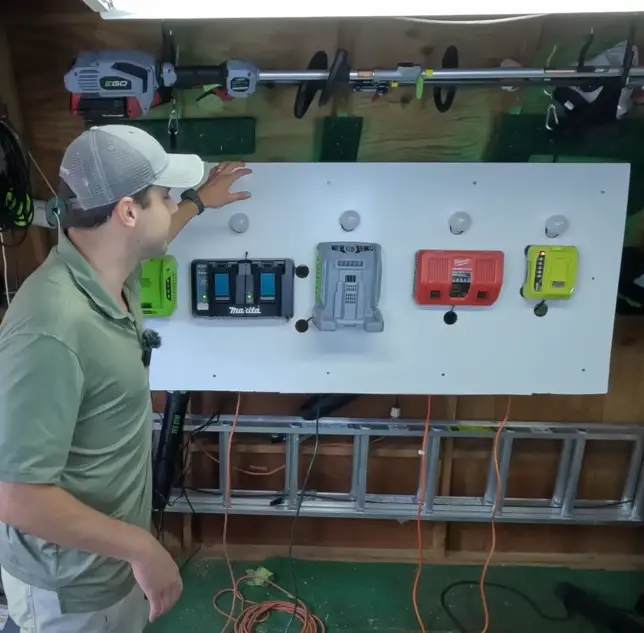 Battery time will vary wildly depending on many factors, like the load you are cutting – but is entirely dependent on the amp-hours (Ah) of your battery. The more Ah, the more run time. If you are grabbing this mower, make sure you have some higher Ah batteries to ensure it runs as long as you need. Mine came with 10.0 Ah, but I have smaller EGO batteries as well that fit into the 765 CFM blower and their Multi-Head tool.
EGO Mower Durability
One thing I dislike about the EGO, and most EGO mowers in general, is that they have plastic cutting decks. Traditional gas push mowers have metal decks – it is just the name of the game for heavy duty lawn mowing.
The LM2150SP from EGO is no different. A plastic cutting deck – I really prefer metal decks. I haven't had a bad experience (yet) with these decks, but am always worried about cracking, chipping or otherwise just breaking in half.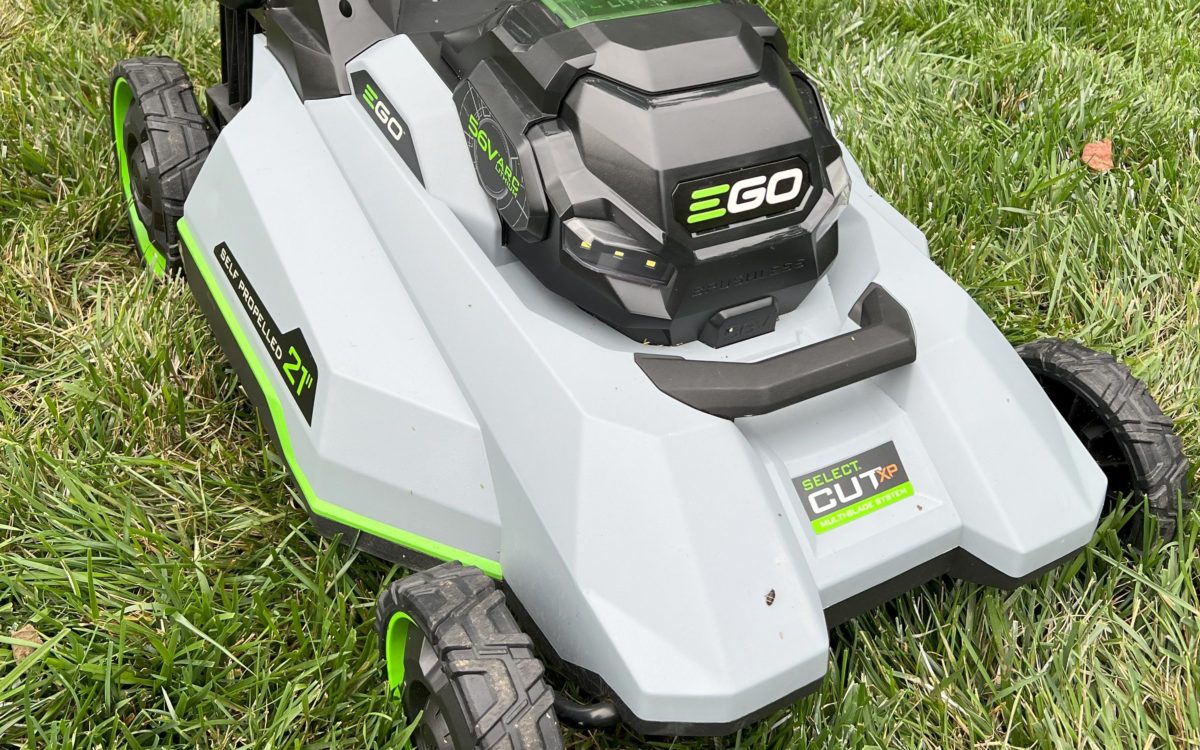 To be fair, I've read hundreds of Youtube comments from folks who have their EGO mowers for 8+ years without the slightest damage to the plastic cutting deck. Otherwise, I haven't heard or experienced any issues with durability. These things are built like tanks and will only leave you worrying about changing the batteries every 5-7 years.
Value and cost of the EGO mower
The EGO Select Cut XP (LM2150SP) comes in at around $450 for the tool-only version on Amazon, where I found it for the lowest price. That means if you already own the battery and don't need an extra, you can get it for an absurd steal.
If you want to get it with huge batteries and a turbocharger (the LM2156SP version), you're going to pay a lot more but can grab it on Amazon nonetheless.
My recommendation: EGO Select Cut XP Self-propelled
The EGO Select Cut XP is a really, really good mower. In fact, it has changed the hearts and minds of hundreds of thousands of skeptics who now are obsessed with it (me included). It has some pretty fancy functionality, is way more durable than I thought, is powerful as all-get-out, and if you get it tool-only, is a heck of a price.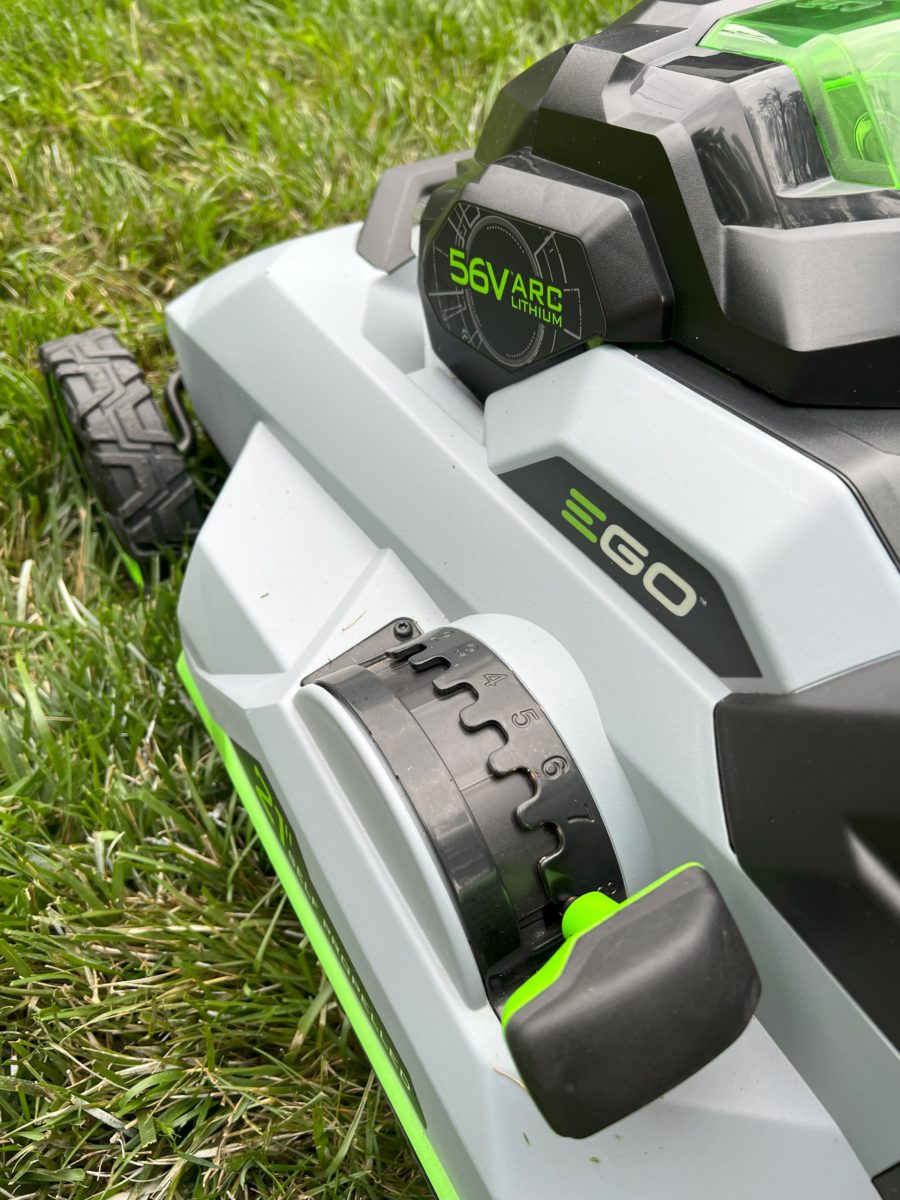 All-in-all, this one gets the TLR stamp of approval. If you're going with EGO and have money to spend, this is probably the top of the line option and will definitely turn your neighbors' heads.