Kobalt's 40V string trimmer is one of those cool blue lawn tools that can be found at Walmart, Lowe's and Amazon.
Their distinctive brand is one of the few cool-looking lawn tool brands.
Kobalt has some nice lines of batteries. A 40V line, a 40V MAX line (yes, there's a difference), and some 80V products as well.
Today we are going to check out their 40V Max straight cordless string trimmer, which comes in a 12, 13, 15, and 16 inch size. Wow.
Let's break it down:
Why we review lawn tools
The reason we started this website in the first place was because we had so much trouble trying to find reasonable, understandable, honest reviews for lawn equipment. And it's not cheap! After hours and hours of research, trying products and returning them, and messing up our yards – we started this site.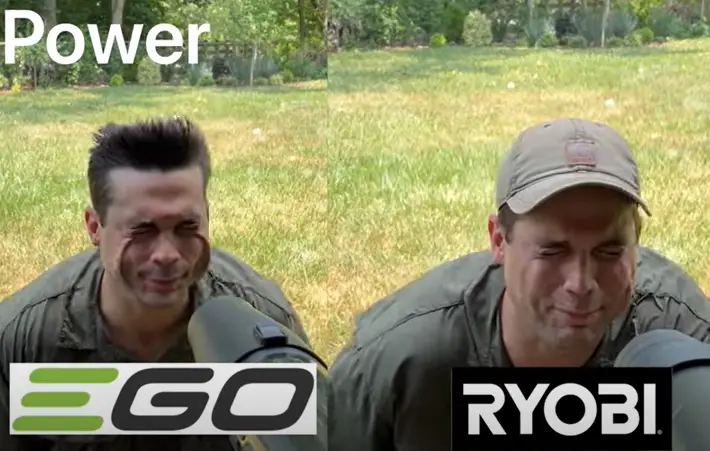 As people who had to learn the hard way, we want you to know exactly what you are signing up for before you purchase a piece of equipment. That's why we are committed to providing honest, easy-to-understand reviews that mean something. 
How to instantly improve your weed eater
Upgrade your weed eating game with the ultimate GrassKicker Weed Eater String! While weed eaters and lawn edgers are great tools, it's not complete without the right string. Our specially crafted line is designed to enhance your weed eater's performance and give you flawless edges around your yard and garden.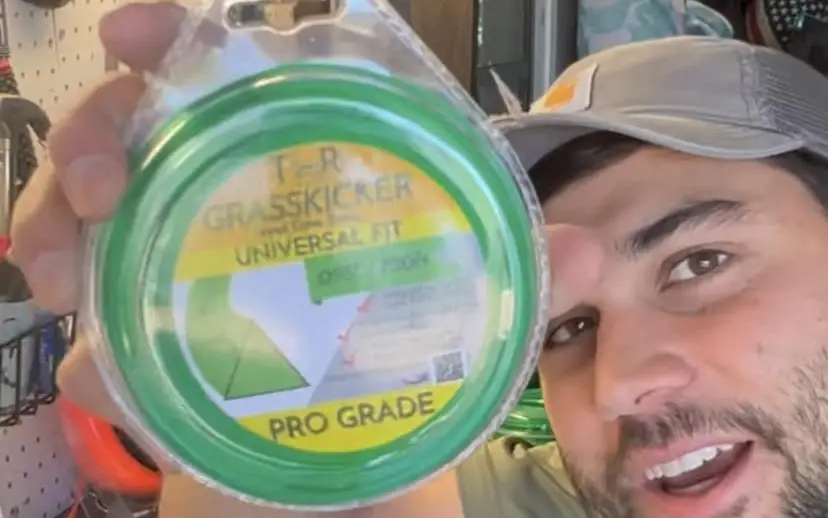 Don't settle for subpar string that breaks easily and leaves ragged edges. Our team has scoured the market and combined the best colors, shapes, thicknesses, and materials to create a superior line that cuts more cleanly and lasts longer.
With GrassKicker, you can take pride in your perfectly manicured lawn and make a lasting impression on your friends and family. And who knows, your envious neighbors might just start dropping by more often! Don't wait, elevate your weed eating game with GrassKicker Weed Eater String today! Click the link now to buy.
What to look for in a cordless string trimmer
Cordless weed eaters come in all shapes and sizes. They aren't highly complicated pieces of equipment, but they do have a few nuances. Here is how I see it:
Feel – Obviously this is subjective, but feel is everything to me. I have had weed eaters in the past where the handle is off to the side, making me torque my shoulders and back. Bad. You are going to be using this often and for a long time, so make sure it is comfortable.
Motor – Brushless motors are king here. They are longer lasting and more durable. Brushless motors also produce more torque and less heat.
Batteries – If you want to save money, make sure to stick to one battery line from one brand. Batteries aren't cheap!
Curved vs Straight shaft – I always, always, always prefer straight shafts. They are so much easier to use and control. Curved shafts are better for smaller areas that require "mowing", whereas straight shafts are better for precision and clean lines.
About Kobalt lawn tools
Kobalt power tools have been a trusted name in lawn care for generations. Kobalt's lineup of cordless and corded tools is designed to help normal folks like us get the job done quickly and efficiently. 
Today, Kobalt is known for its innovation and quality, with its products being used in most of the world's garages. Kobalt's products are designed to stand up to the toughest lawn conditions, and the company has a dang good reputation. When it comes to power tools, Kobalt is a name that you can trust.
We reviewed Kobalt's best lawn mowers in another article you can read here.
Kobalt 40V Max cordless string trimmer: Features and benefits
Now that you know way too much about Kobalt, let's actually dig into the different key benefits of this trimmer.
Power
Kobalt's string trimmers mostly come in a 40V battery package, meaning it is optimally designed for yards up to ½ acre. Some people think this sounds weak, but honestly most yards are under a ½ acre – so what does it matter?
Yes, if you are trailblazing in the woods then you may want to step it up to a gas-powered or commercially-focused string trimmer. But most of us aren't.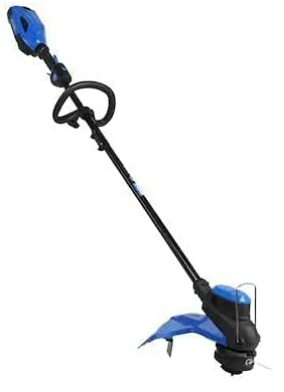 When comparing sizes of Kobalt string trimmers, you want to think about the cutting swath, or width of the cutting path. This is where I like to go slightly bigger. A 15 or 16 inch cutting swath can handle thicker areas of grass and brush. Another benefit to larger cutting swath string trimmers is that they do a tremendous job replacing edgers. 
If you are looking for power, most of us are going to be totally content with the 40V max battery offered by Kobalt. If you are wanting to really "max" out the power, go with the 15 or 16 inch model.
Feel
Feel is everything.
If you've ever used a traditional gas-powered string trimmer, you know how heavy and unwieldy they can be. And if you've ever tried to use one for an extended period of time, you know how quickly they can start to hurt your back and shoulders. For me, I am very tall and get wonky shoulder pain pretty quickly.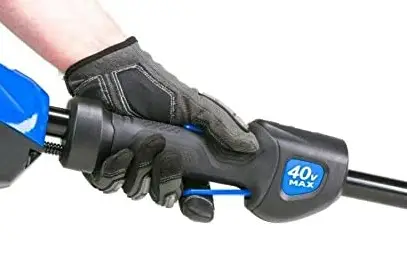 The Kobalt 40V string trimmer is a game changer in this regard. It's incredibly lightweight and easy to use, and the battery is positioned perfectly to give it a nice balance. Plus, the adjustable handle means that you can customize it to fit your height and reach. In other words, it's the perfect tool for anyone who wants to get their yard work done without having to deal with the pain and discomfort of a gas-powered trimmer.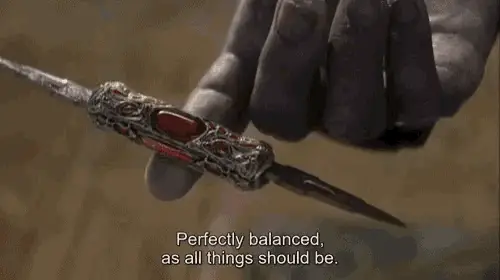 I love having longer, straight string trimmers because they have a nice see-saw effect that, when balanced appropriately, make the job easy. Longer shafts also allow for surgical precision – like using a paintbrush.
Battery life
Battery life is everything and it is also nothing. The 40V line of string trimmers from Kobalt throws out "half an acre" of run-time. But what does that mean? Surely, you can't trim your entire yard like a mower if it is half an acre?
It's tough to say. Battery life is dependent on the work being done – is it some super thick brush you are cutting? Are you edging and digging into the ground? Are you starting and stopping a lot? Are you using it on a low-speed setting?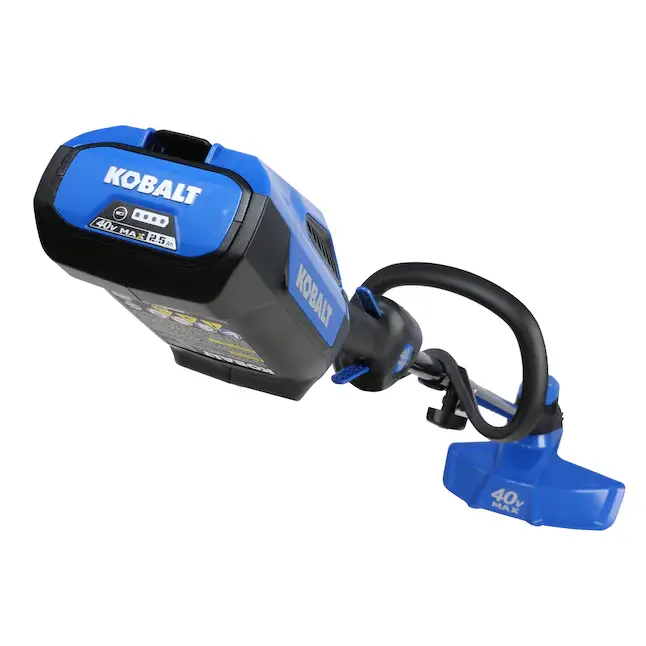 There are a ton of variables, but expect this to last for about 30-45 minutes with normal use. I have never run into a problem with battery power when I have been trimming, but if I tack on edging to that and then put the battery on the blower and do some blower work – then yeah, my battery starts to run lower.
Tough to say here, but I think the more important point is to make sure you have a fully charged battery, grab a battery that can be used in a bunch of different tools, and don't expect to be able to go all day.
The cons: A few dislikes about the Kobalt 40V string trimmer
As much as it pains me to complain about the Kobalt 40V string trimmer, I have to bring to light a few things. I am not a fan of the motor on this. It is a brushed motor, not brushless. This means that it may not last as long as its brushless counterparts, will get hotter, and has slightly less torque.
I have also read that some online ordering can be sketchy. One reviewer at Amazon said that they bought the tool-only version and it looked like someone bought the full version, took out the battery, and then made someone pay for both separately.
Sounds weird. 
One secret
The same company that makes motors for Greenworks makes them for Kobalt. Greenworks has a great reputation. While I'm surprised this isn't brushless, this is probably going to be the best non-brushless electric trimmer series on the market.
Kobalt 40V MAX string trimmer: Review and recommendation
The jury is in: this is a good string trimmer. It is a GREAT string trimmer if you already have 40V MAX batteries, because you can get the tool only version for significantly cheaper.
It is a good string trimmer if you're new to electric tools and are looking to start with the Kobalt series.
It is a bad string trimmer if you are working commercially or have over ½ an acre of land you're trying to clean up.
You can grab it on Amazon here for a great price, or you can check out the selection at Lowe's.