The Ryobi ONE+ 18V Cordless Backpack Chemical Sprayer kills weeds. They are the Achilles heel in every man's lawn. It doesn't matter how much you dethatch, aerate or seed, you're still getting that pesky crabgrass or dandelions showing up like a rock in your shoe.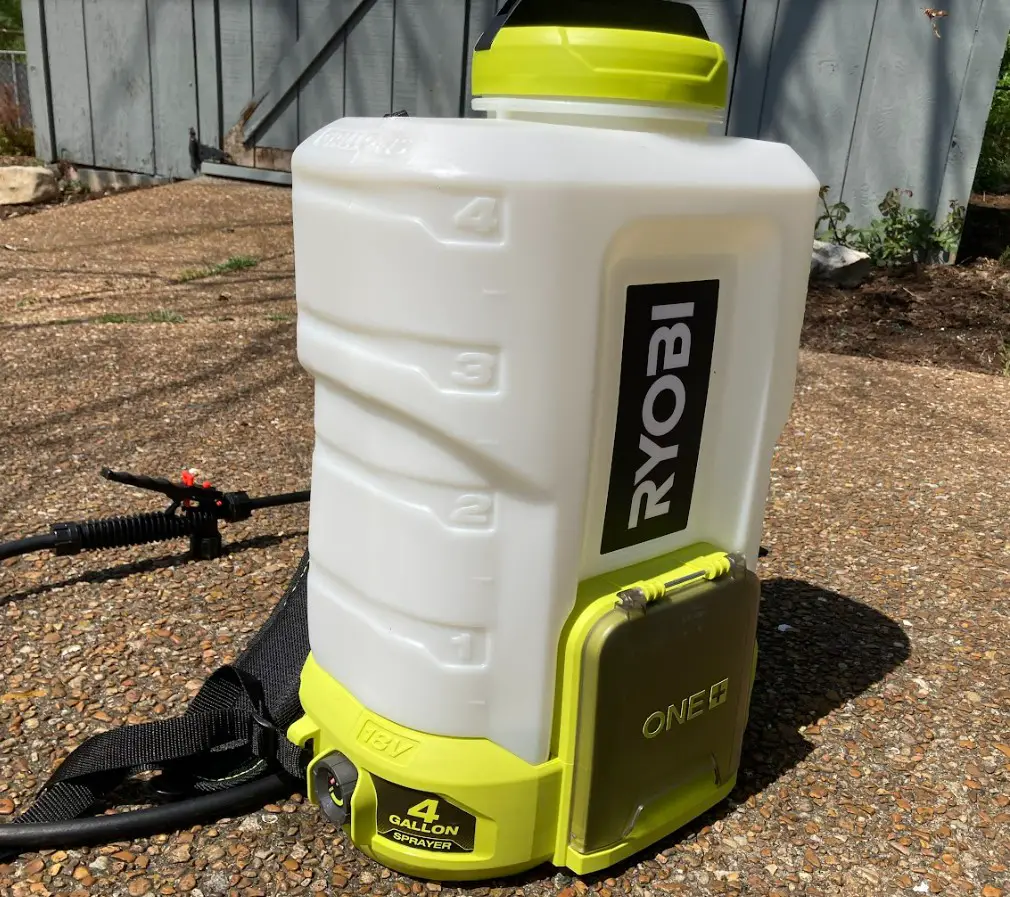 The best way to put an end to the weed madness (we're talking plants here, guys) is to regularly treat your lawn with an herbicide. To do this, you're going to need a reliable sprayer so that you're not coming into direct contact with the chemicals. Better yet – a pumpless, cordless, battery-powered backpack sprayer by one of our favorite manufacturers in the market – Ryobi.
If you're a frequent reader of our lawn care equipment reviews, you probably know by now that we are hot on Ryobi. They have finally entered the chemical sprayer game and have not disappointed. 
For the next couple minutes, I'm going to walk you through some of the benefits of the Ryobi ONE 18V Cordless Backpack Sprayer, and you can be the judge. 
Want to skip ahead? Click any of the links below to see for yourself.
Why we review lawn tools
The reason we started this website in the first place was because we had so much trouble trying to find reasonable, understandable, honest reviews for lawn equipment. And it's not cheap! After hours and hours of research, trying products and returning them, and messing up our yards – we started this site.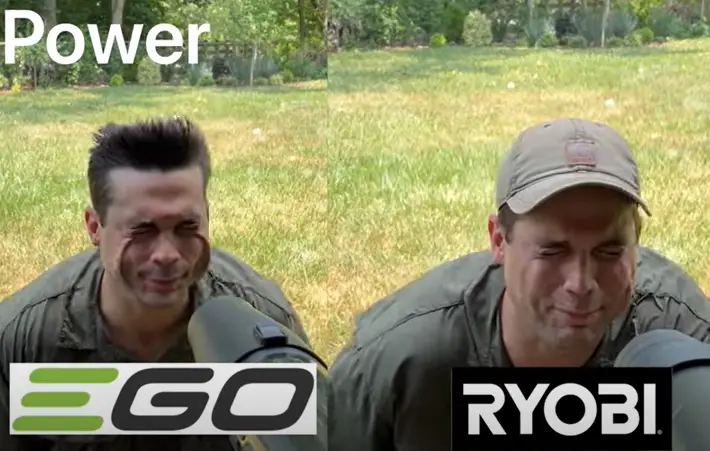 As people who had to learn the hard way, we want you to know exactly what you are signing up for before you purchase a piece of equipment. That's why we are committed to providing honest, easy-to-understand reviews that mean something.
Why to use a backpack sprayer
Pressure sprayers are perfect tools for applying chemicals to your lawn and garden. From fertilizer, to herbicides & fungicides, to insecticides, a pressure sprayer is the piece of equipment you need for year-round landscaping needs. 
BUT WAIT… there's more. Putting aside all the uses that the Ryobi ONE+ Cordless Backpack Sprayer has in your lawn and garden; it also has several other uses that will save you time and money. Stepping off the lawn for a minute, below are some ancillary uses for this sprayer that you might not have considered:
Sanitizing and Cleaning: In this day in age, health is at the utmost concern for lots of homebuyers. If you're applying a large amount of disinfectant for any application, try using a pressurized backpack sprayer to save yourself some time and money.
Mildew Removal: Every 3 years like clockwork, I start to see mildew and algae creeping in on my deck and house siding. Instead of hiring a company to come and take care of it for me, I use my Ryobi Cordless Backpack Sprayer to apply outdoor cleaner to hard-to-reach places, and ensure I've covered the entire surface area to get my surfaces looking like new again. You do NOT want to let mildew build up. The longer it builds up, the harder it is to get rid of.
Deicing: Skip the rock salt this year and apply a deicing liquid to your driveway and front steps. The experts say that liquid deicer tends to stick to hard surfaces better than salt. With a pressurized sprayer, you can quickly ensure that you are creating the safest conditions possible when that winter storm warning hits. 
Always remember to thoroughly clean out the jug after using it for the various purposes listed above. The LAST thing you want is to accidentally kill patches of your yard because you didn't clean out a prior product from the jug properly. These chemicals are potent, and just a small amount could do damage if used improperly
Check out some of our favorite Ryobi products, including Ryobi's 40V blower series. We also review their 40V weed eater, 3000 PSI pressure washer, and of course the best Ryobi mowers – ranked!
Ryobi ONE+ 18V Backpack Sprayer: Features and benefits
Alright, enough of the boring stuff. On to the benefits of the Ryobi ONE+ Cordless Backpack Sprayer. Sprayer? I just met her.
Ditch the manual pump – Welcome to the 21st century
1980 called, they want their manual, boring backpacker sprayer back. But seriously, why in this day in age are we settling for a hand-operated power system for our lawn equipment when electricity was invented by George Washington over 1000 years ago?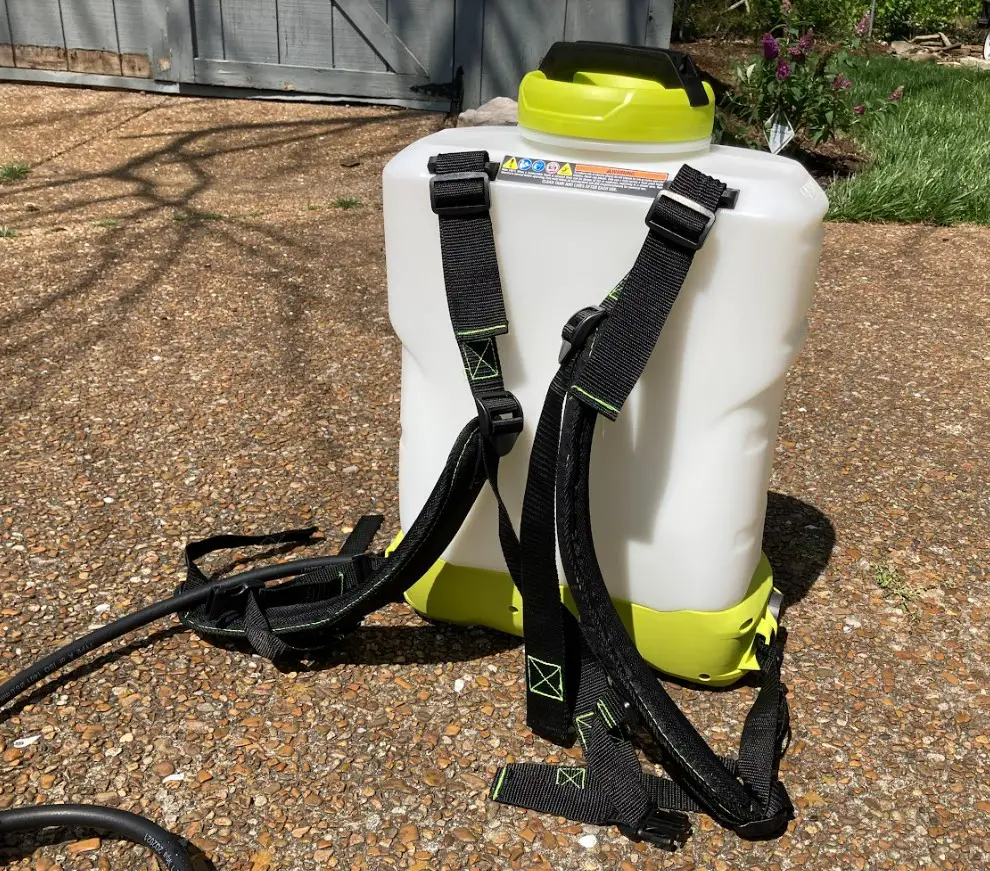 My absolute favorite feature of the Ryobi ONE+ 18V Cordless Backpack Sprayer is the fact that you don't have to pump every couple sprays. Look, I consider myself to be relatively in-shape, but my right shoulder always ends up sore after a day of spraying weeds with a manual sprayer. Finally, technology has once again come to save the day.  Ryobi – my weakling shoulder thanks you.
RYOBI 18V lithium ONE+ battery AND Charger
One of the best features of the Ryobi Backpack Sprayer is the versatility of the battery — it works with all Ryobi ONE+ products. Whether its your Ryobi brushless mower, hedge trimmer, drill, or auger, you can switch out batteries between all of them – as long as it's an 18V wattage.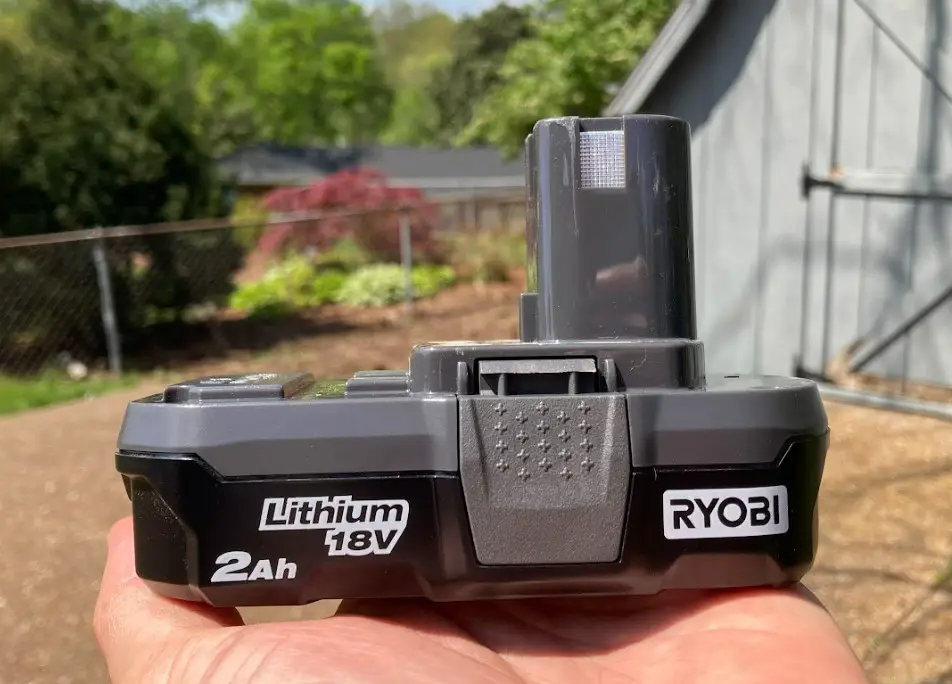 No more waiting until the battery has recharged to start back up again, just pop that fully charged battery in from your drill and you're good as gold. This has been the biggest pain point for me and my tools – the fact that each electric tool has a different battery with a different charger. Ryobi has created an ecosystem of tools through their ONE+ batteries that removes this problem. You can literally have one battery for over 200 different Ryobi tools. I'm nerding out here, but this is a long time coming. 
Check out our FAQ guide about electric tool batteries and comment on our Facebook page if you want to add to the list!
Oh, also, the 18V ONE+ battery lasts for ELEVEN tank fill-ups. Unless you have a square mile of crabgrass to kill, this should be plenty of battery life to cover the average size lawn, and then some. 
Ryobi Cordless 4 Gallon Sprayer Tank
The Ryobi ONE+ Cordless Backpack Sprayer comes with a 4 gallon, translucent tank that allows you to easily check how much product you have left in the tank, rather than taking it off your back and opening up the top and checking yourself. Might seem trivial, but you're adding stress to your back each time you have you to take it off and put it back on. Ease-of-use is the name of the game here, folks.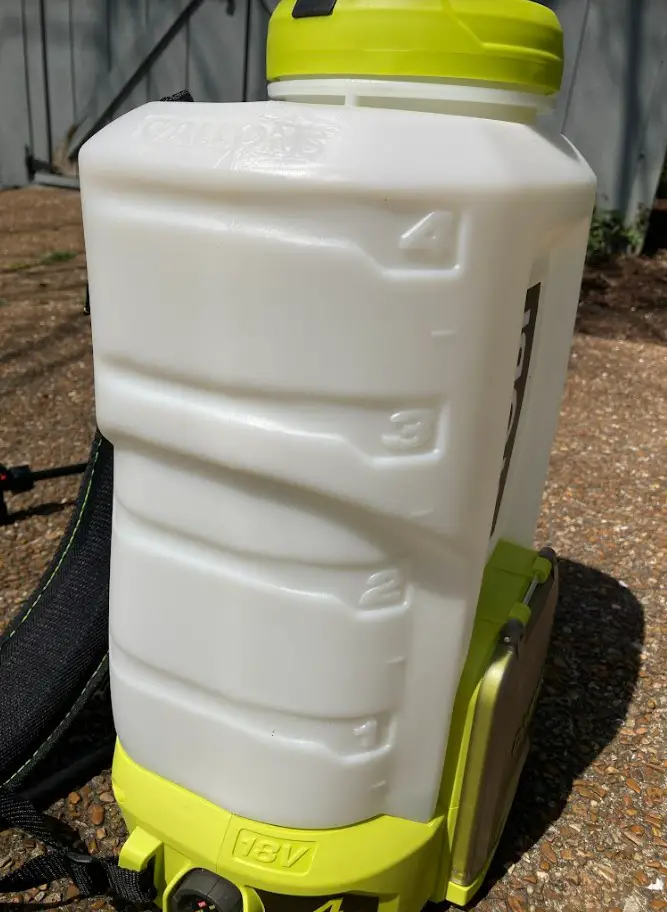 Inside the tank, you'll find a filter assembly that, when pouring in your additional product, removes all debris. One of the biggest pain-points I've had in the past with pressurized sprayers is debris entering the tank and clogging up the hose. With the intuitive filter addition, the interior of the tank and hose assembly is quarantined from debris that can cause headache down the line. 
Variable Pressure dial on the Ryobi ONE+ 18V Chemical backpack sprayer
Once pressurized, depressing the spray button activates the pump. Release it, and the pump stops. The activation button can be locked "on" to give your thumb a rest. I've won many thumb wars in my day, but after spraying for a couple hours with my old sprayer, my thumb would be cramping. This feature allows my thumb to take a rest, prop its feet up, and let the battery do the work.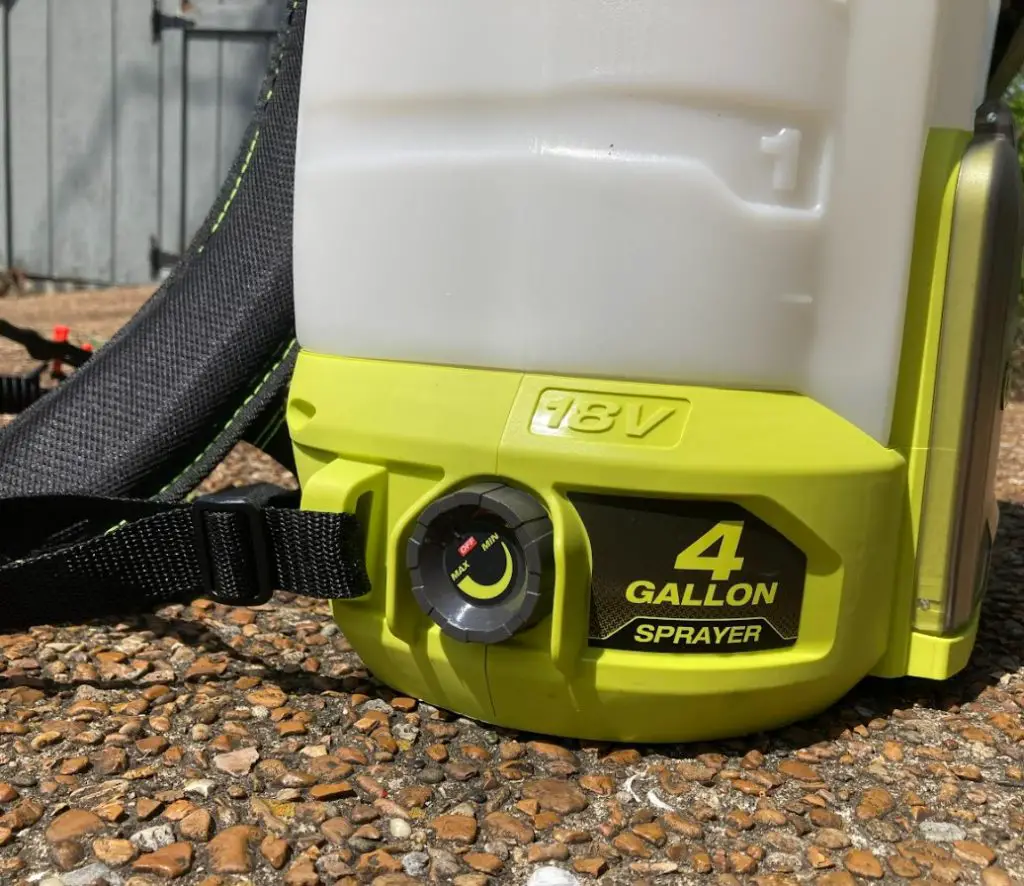 Also, no more pumping and dealing with various amounts of pressure. The pressure control knob is easily adjustable to allow spray to easily reach areas 10 ft. away or more if needed for cleaning solutions on house siding or reduced to low pressure for plants at your feet if using a liquid fertilizer. The versatility of the control knob opens up the door to all sorts of uses, allowing it to be customizable to fit your needs. 
Nozzle
The sprayer comes with two tips; one that has a cone pattern and the other with a fan pattern. The latter, when the power was on full, spayed an area 10 feet away. 
For me, the adjustable cone nozzle was best for use in the yard. When spraying bushes with insecticide or herbicide, I twist that nozzle to maximum open setting and spray away. When treating smaller areas like cracks in pavement or standalone weeds in my beds, and to conserve my chemicals, I would tighten up the nozzle for maximum accuracy.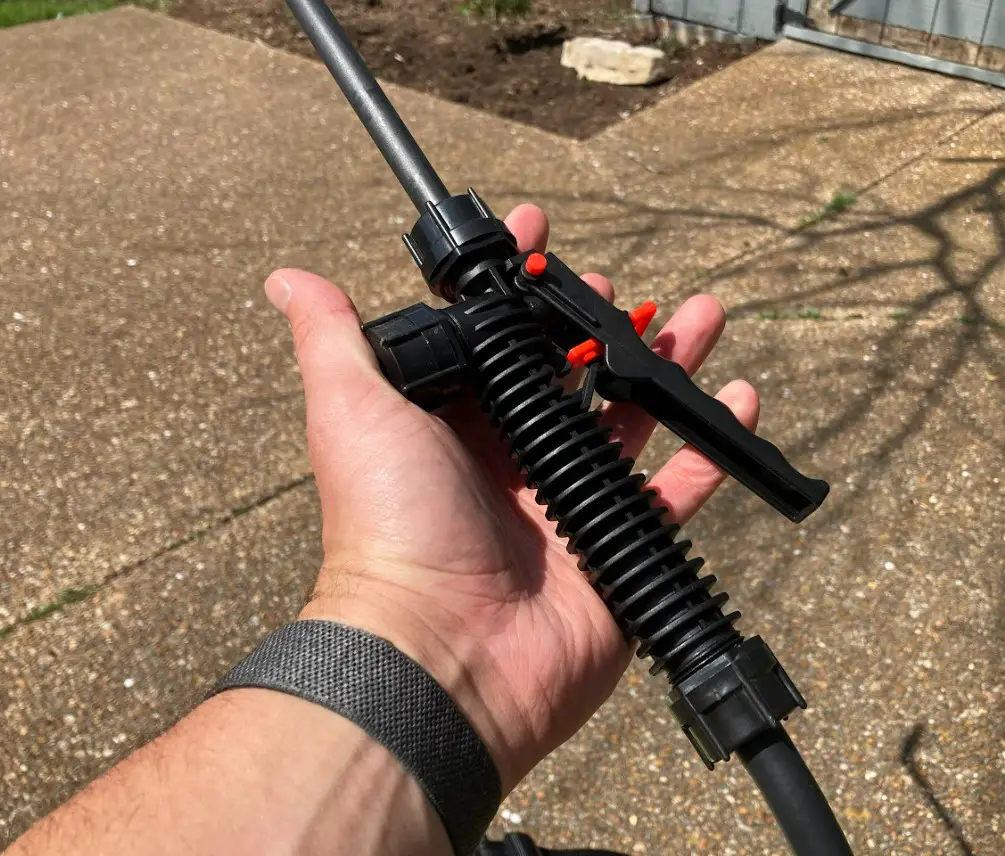 The fan nozzle is great for use when you're looking for a uniform spread across a surface. This nozzle was perfect for killing the grass for my entire front yard last fall, or the ancillary applications I touched on earlier, like mildew treatment on your outdoor siding or deck. 
Honestly, I think you could get away with about every possible application with just the adjustable nozzle, but the fan nozzle has its benefits. 
Value
In the pressure sprayer game, you get what you pay for. Because of the added benefits of battery-powered and automatic pump assembly, you're going to be paying a premium of $160 to $180 depending on the retailer. Guys, it's worth it. Your shoulder will thank you.
Official review: Ryobi ONE+ 18V Cordless Backpack Chemical Sprayer
The Ryobi ONE+ 18V Cordless Backpack Chemical Sprayer is one of our favorites on the market for pressurized sprayers. Ryobi has elevated the level of technology in this space and left other manufacturers in the dust. If you're looking to for a versatile, electric, backpack sprayer to make your outdoor tasks simpler, the Ryobi ONE+ 18V is the chemical sprayer for you.