Ryobi's 40V and 18V battery lines mirror each other. They have a ton of the same products in both 18V ONE+ configurations and 40V – including string trimmers. We got the opportunity to try both and do a side-by-side comparison. 
To make it fair, we had to take one of the more powerful 18V weed eaters from Ryobi and compare it to the Ryobi 40V Expand-It series weed eater. 
We were pleasantly surprised with the performance of both, but had to pick a winner between the two. If you're in the market for a new string trimmer and are confused as to why Ryobi has two different battery offerings, you're in the right place. Because before this article, we had the same question.
Jump ahead:
Why we review lawn tools
The reason we started this website in the first place was because we had so much trouble trying to find reasonable, understandable, honest reviews for lawn equipment. And it's not cheap! After hours and hours of research, trying products and returning them, and messing up our yards – we started this site.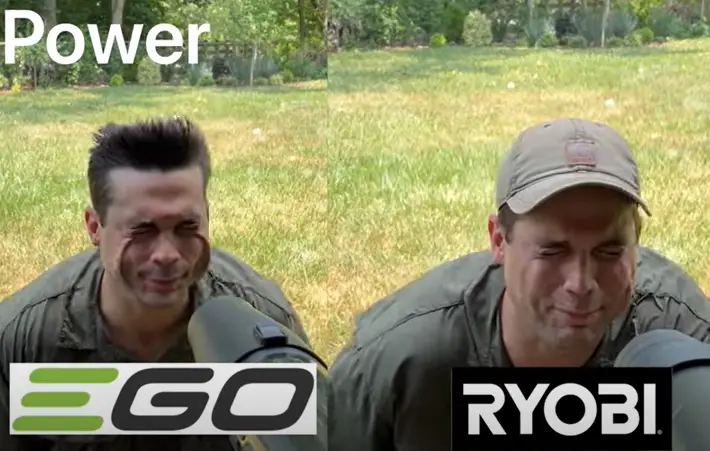 As people who had to learn the hard way, we want you to know exactly what you are signing up for before you purchase a piece of equipment. That's why we are committed to providing honest, easy-to-understand reviews that mean something.
What to look for in a weed eater
Weed eaters AKA string trimmers come in all shapes and sizes. They aren't highly complicated pieces of equipment, but they do have a few nuances. Here is how I see it:
Interested in more? Check out the best Ryobi weed whackers.
Feel
Obviously this is subjective, but feel is everything to me. I have had weed eaters in the past where the handle is off to the side, making me torque my shoulders and back. If you can, get as many adjustable pieces as possible to make this customizable. It doesn't seem like you use a weed eater for a long time, but the work is precision work that requires a steady hand and focus.
Motor type: Brushless vs brushed
Brushless motors are a non-negotiable when it comes to battery powered weed eaters. Without a doubt,  they are the best option to ensure you have maximum torque, more durability, and a longer life. These things are top notch performance and will be the only option when others start to catch on.
Curved vs Straight shaft
 I always, always, always prefer straight shafts. They are so much easier to use and control and are much longer than curved shafts. Curved shafts are good for clearing out a small piece of land unable to be mowed. But if you want to actually do some good trimming and edging, a straight shaft is much better. Curved shafts are difficult to maneuver and to create a straight line for edging. 
How to instantly improve your weed eater
Upgrade your weed eating game with the ultimate GrassKicker Weed Eater String! While weed eaters and lawn edgers are great tools, it's not complete without the right string. Our specially crafted line is designed to enhance your weed eater's performance and give you flawless edges around your yard and garden.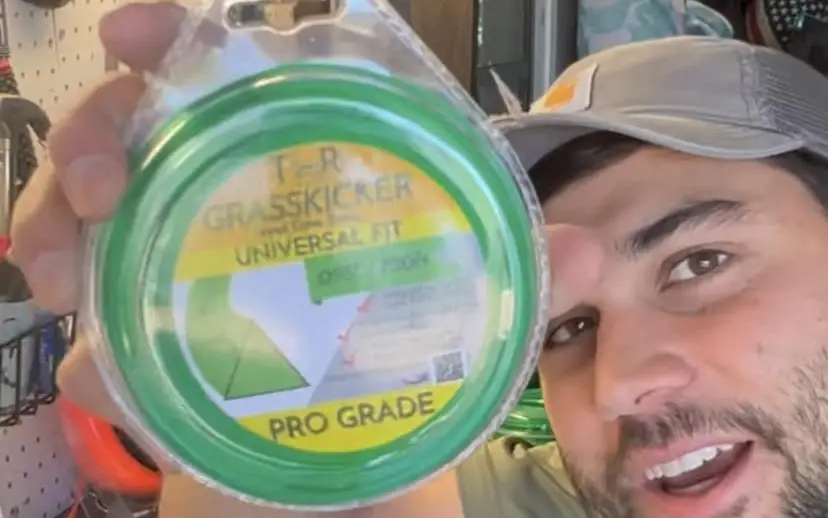 Don't settle for subpar string that breaks easily and leaves ragged edges. Our team has scoured the market and combined the best colors, shapes, thicknesses, and materials to create a superior line that cuts more cleanly and lasts longer.
With GrassKicker, you can take pride in your perfectly manicured lawn and make a lasting impression on your friends and family. And who knows, your envious neighbors might just start dropping by more often! Don't wait, elevate your weed eating game with GrassKicker Weed Eater String today! Click the link now to buy.
Comparing the Ryobi 40V vs 18V String Trimmers
Ryobi makes great power tools and I want to kick off this comparison with a piece of advice. If you ALREADY OWN either the 18V ONE+ battery or the Ryobi 40V battery – you should go with the trimmer that corresponds with it. You can buy the tool-only version of either trimmer and save a ton of money. Now let's jump in.
Power comparison: 18V vs 40V weed eater
When evaluating a string trimmer to see how powerful it is, the easiest thing to note is the difference in voltage. Yes, 40Vs are bigger than 18Vs – so right away you can infer that the 40V is the more powerful of the two assuming all else is the same.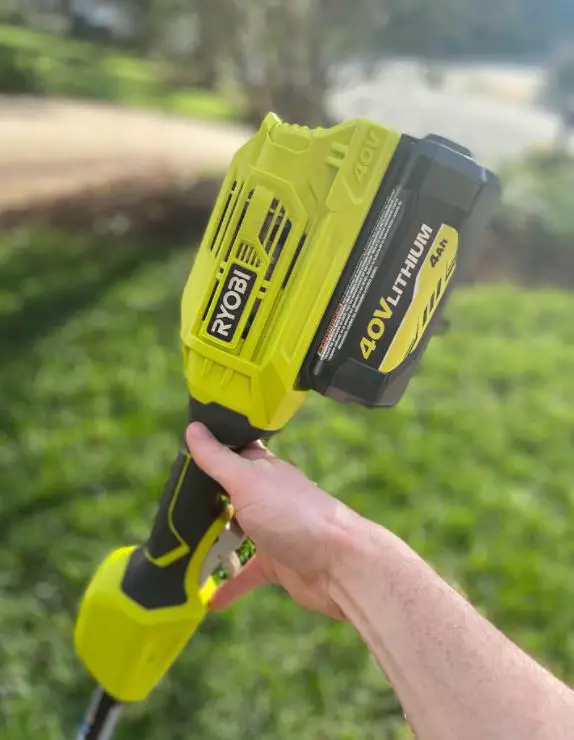 But it's also worthwhile to note that cutting swaths are a huge factor in evaluating both of these as well. The larger the cutting swath, the more power you're able to get. For example, most commercial string trimmers have 17-19" cutting swaths. The 18V ONE+ Brushless String Trimmer has a 13 inch cutting swath. Compare that to the Ryobi 40V weed eater's 15 inch cutting swath.
It's clear that the 40V is the winner of this battle, but it was designed to be the winner. The ONE+ series of tools is mostly designed for lighter duty jobs, smaller yards, etc. But that doesn't mean that it still can't be the right string trimmer for you. Let's keep going deeper.
Winner: Ryobi 40V String Trimmer
Durability
When it comes to durability in weed eaters, there are really two things that matter:
The type of motor
The type of weed eater string
When it comes to motors, brushless motors are the far superior choice to brushed. We did a full write up of Ryobi's brushless vs brushed motors, but it really comes down to how the motor spins. Brushless motors use magnets to spin the motor and generate the transfer of power from the battery. This is opposed to brush motors that use friction, generate heat, and ultimately burn out.
Brushless motors are the way to go. Fortunately, the Ryobi ONE+ weed eater has a brushless motor, but sadly the 40V Expand-It series does not. I can feel the Expand-It getting hot when I use it, sometimes overheating on my warm when I am using the trimmer. They've recently upgraded this one to a brushless motor, so if you can find that one then it is definitely the winner.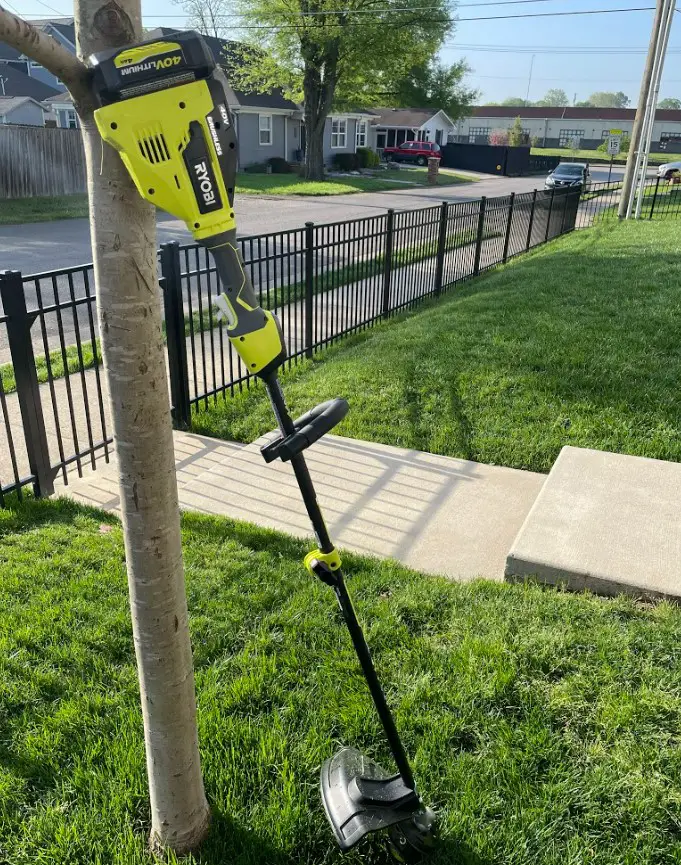 Other than the motor build, these two are very similar in the durability category. The first thing I would do with BOTH of these weed eaters is change out the weed eater string to a more durable one. I had the stock weed eater string on this and it was so lame. Changing it out made a MASSIVE impact. We developed our own weed eater string and tested it in the Ryobi 40V. It was life changing. 
Winner: Ryobi ONE+ 18V String Trimmer
Usability
String trimmers need to not only be powerful and durable, but easy to use. A few things I take into account when comparing weed eaters is the weight, balance, and handling. 
The last thing you want when walking around your yard trying to do precision work is to have a clunky, difficult, shoulder-crushing tool. The ONE+ 18V Ryobi string trimmer comes in at 7.3 lbs whereas the 40V string trimmer is 11.3 lbs. Those 4 pounds are definitely going to be felt after you've been carrying this around for a few minutes.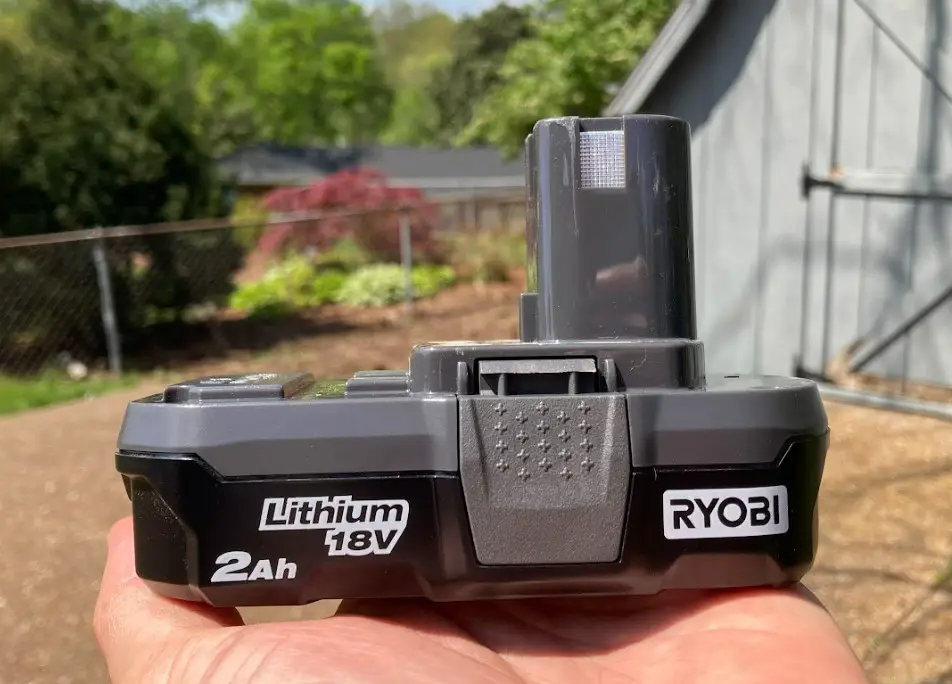 Another thing I look at in these string trimmers is length. Short weed eaters are more difficult to use and require you to lean way down to the ground to get a good cut. Both of these are right around 5.5 feet long, making them a great length. It's a tie here.
Lastly, I look at how they handle – the Ryobi 40V has an adjustable D-loop handle that's also found on the 18V weed eater. They will handle almost identically given their similar build. The one thing that gives the 40V a competitive edge (pun intended) here is that it has the ability to take on a ton of other weed eater attachments. This can save you big money in the long run.
So the 18V string trimmer is lighter, but the Ryobi 40V has more functions due to the attachments. 
Winner: It's a tie!
Cost and value comparison
Cost is important! One thing that both of these weed eaters share is a battery system that works with a TON of other tools. The 18V ONE+ battery series has a ton of tools, all of which tend to be lighter-duty like their 18V backpack sprayer. The 40V battery system also works with a lot of heavier duty tools like the blowers and mowers.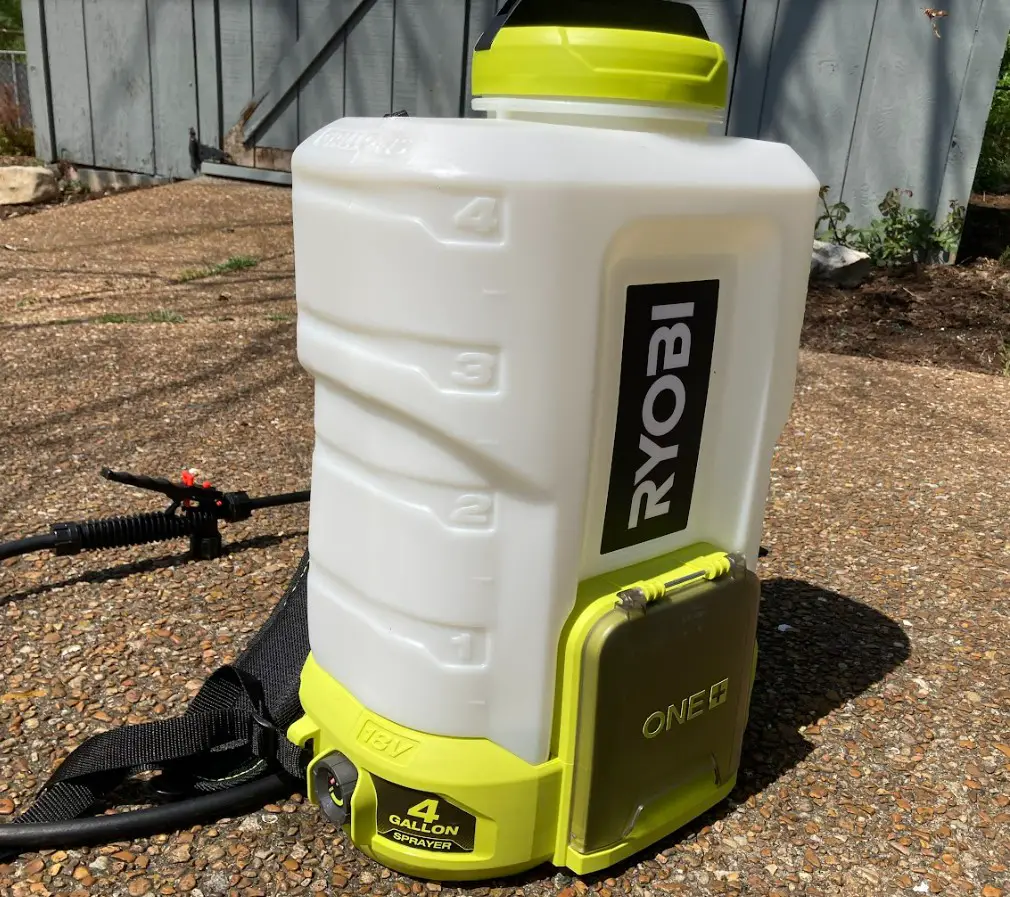 You can grab the 40V Expand-It weed eater for around $180 from Home Depot or grab the tool-only version on Amazon for about $125.
The 18V ONE+ weed eater can be found on Amazon for an ever-changing price, but a good one is around $150. They're also for sale at Home Depot.
Final ranking: Ryobi 40V vs 18V String Trimmer
This is a tough one. My first piece of advice is to go with whichever one you already have the battery for. This allows you to grab the tool-only version and save a ton of money.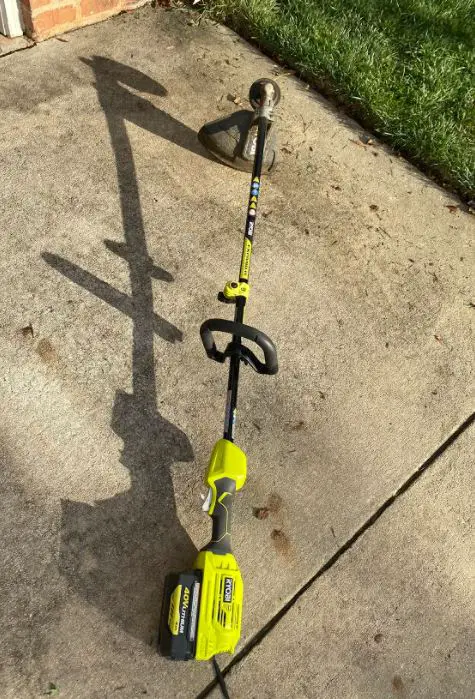 If you own neither Ryobi batteries already, I think the 18V string trimmer is the best bang for the buck. It has a brushless motor, a great price, and has all the bells and whistles you want out of a weed eater. My only advice is to change out the weed eater string.
The 40V is also a good option if you want to add on a blower or mower at some point in the future and can grab the brushless edition.