Toro and John Deere's zero-turn mowers have increased in popularity lately. You pull up to any old Home Depot and these bad boys are parked right outside, glistening in the sun. 
This is the same old trick that card dealerships use. Put the sweetest ride outside that turns people's heads as they walk into the store. It is the ultimate piece of landscaping equipment that you will own.
When it comes down to the two zero turn mowers, we decided to compare the most popular, readily available ones on the market: the Toro TimeCutter SS4225 and the John Deere Z315E.
So, we decided to take a look at both of them separately. Since the demand for mowers will grow in the next few years, this is the perfect time to look around for the best ones on the market. Read on, as we are giving zero-turn mowers more than just a place to shine here – we are providing them with an incredible spotlight!
Jump ahead:
Why we review lawn tools
The reason we started this website in the first place was because we had so much trouble trying to find reasonable, understandable, honest reviews for lawn equipment. And it's not cheap! After hours and hours of research, trying products and returning them, and messing up our yards – we started this site.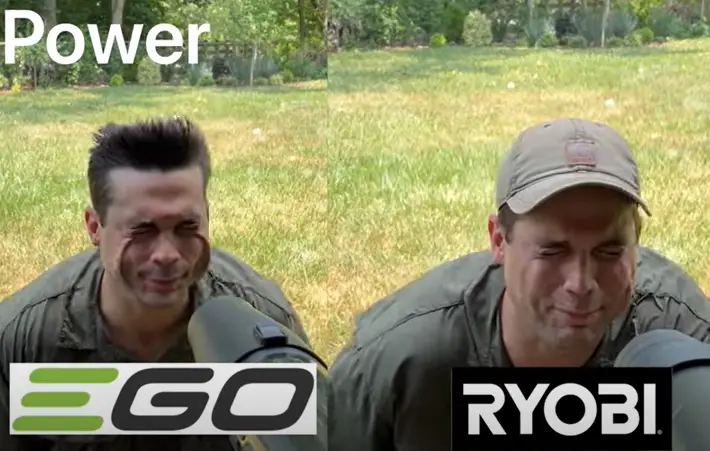 As people who had to learn the hard way, we want you to know exactly what you are signing up for before you purchase a piece of equipment. That's why we are committed to providing honest, easy-to-understand reviews that mean something. 
What we look for in zero-turn mowers
A few things to look for in zero-turn mowers are blade size, transmission, accessory capabilities and cost. 
Cutting width
Blade size and cutting width are important to keep consistent with the size of your lawn. Obviously longer blades are best for larger lawns, but begin to sacrifice a little bit of the agility afforded by a smaller blade. 
Transmission type
Transmission is also an important consideration for a zero-turn mower. Most zero turn mowers do not have manual transmissions, but have either automatic or hydrostatic transmissions. Automatic works just like an automatic car does with a gas pedal and belts. Hydrostatic transmissions use fluid to transfer their power to the blades and the rest of the engine. I prefer and recommend hydrostatic transmissions because they typically require less maintenance and have a longer life (plus it sounds cooler).
Cost and value
Cost is generally of the utmost importance as well. Zero-turn mowers are expensive. In fact, you can buy an old Honda Civic for less than most zero turn mowers. Expect to spend no less than $3,000 for a zero turn mower. Keep in mind that these will last a long time and save you a ton of weekend time when compared to a riding tractor or push mower. Zero turn mowers are an upfront investment, but reap a huge return over time.
Toro Timecutter SS4225 vs. John Deere Z315E Zero turn mower: Comparison
As we deepened our research, two names that often came up were Toro Timecutter SS4225 and John Deere Z315E. Having to compare these two models means entering an important battle. There is so much at stake at both ends (mostly your wallet). These two models are considered some of the best zero-turn mowers on the market, and they are constantly in demand.
Power
Let's start with the John Deere Z315E zero turn. Considered an entry-level model, this is a zero turn made for the modern homeowner with over an acre of land. The cutting-edge technology and the sleek design are visible right from the start – with the classic John Deere green and yellow just to make sure your neighbors know what's up. What makes this mower increasingly popular is its power, wrapped up in such compact dimensions. This mower has a 20 HP V-Twin engine manufactured by Briggs & Stratton.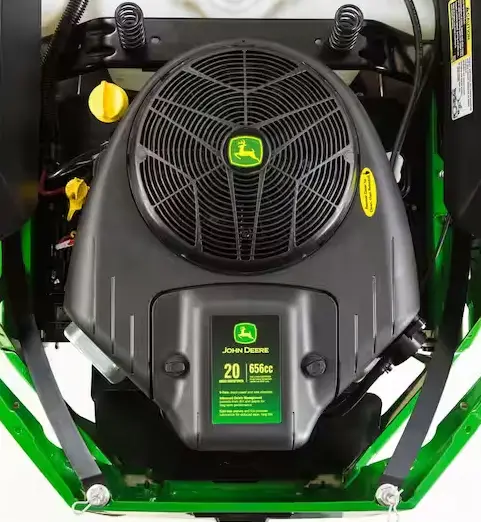 When we talk about power, this thing can move at up to 7 mph forward or 3.5 mph in reverse – that's what I'm talking about baby.
Moving on to the Toro Timecutter SS4225. The Toro TimeCutter SS4225 features a 22.5 HP V-twin engine, slightly more powerful than the John Deere.The engine itself is manufactured by Toro. It has similar speeds as the John Deere and is also the homeowner's model of Toro mowers.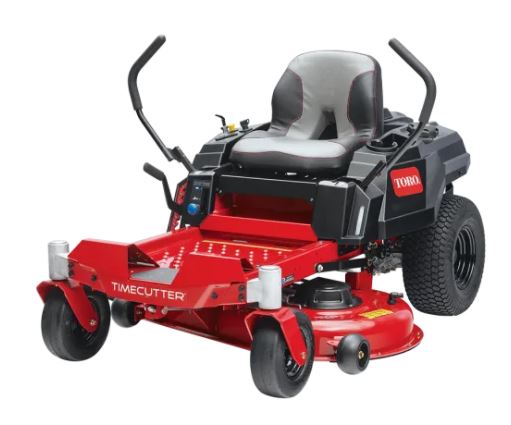 I give the edge in this battle to Toro. I like John Deere's engine being manufactured by Briggs and Stratton, but Toro has been at this game for a long time. They also have a little over 10% more horsepower than John Deere. 
Winner: Toro TimeCutter SS4225
| | | |
| --- | --- | --- |
| Feature | John Deere Z315E | Toro Timecutter SS4225 |
| Horsepower | 20 HP V-Twin | 22.5 HP V-twin |
| Engine type | Briggs & Stratton | Toro |
| Speed | 7 FWD, 3.5 REV | 7 FWD, 4 REV |
| Transmission Type | Hydrostatic | Hydrostatic |
Comfort and Rideability
One of the things that makes the Toro Timecutter SS4225 better than any other type or model is comfort. This is an exceptionally important thing to consider, and the designers of this model have clearly mowed a yard or two. Once you pick up this model, you will realize you are dealing with a high-backed seat and even a cup holder! And let us tell you, right from the start; you could get used to this.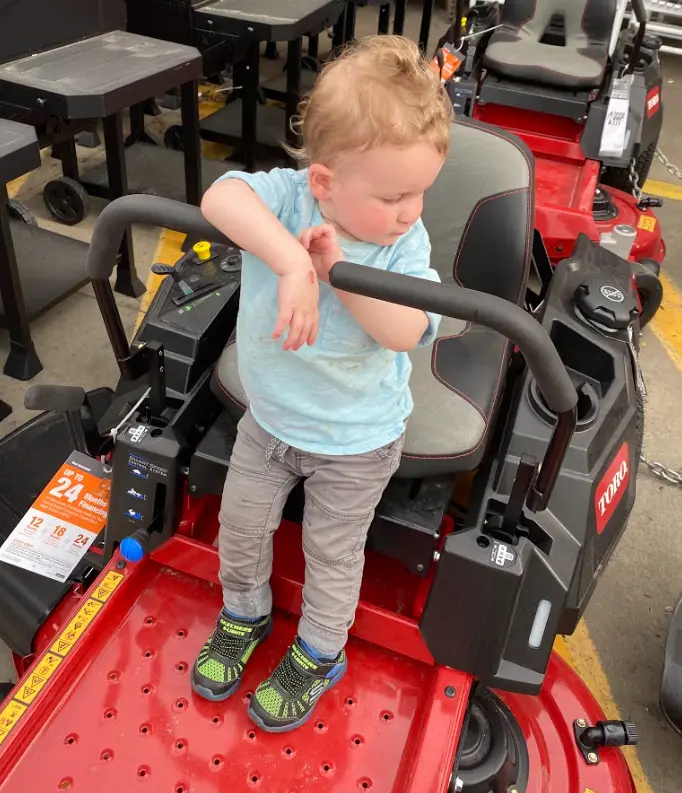 One thing I love about the TimeCutter is that the seat feels like an old leather recliner.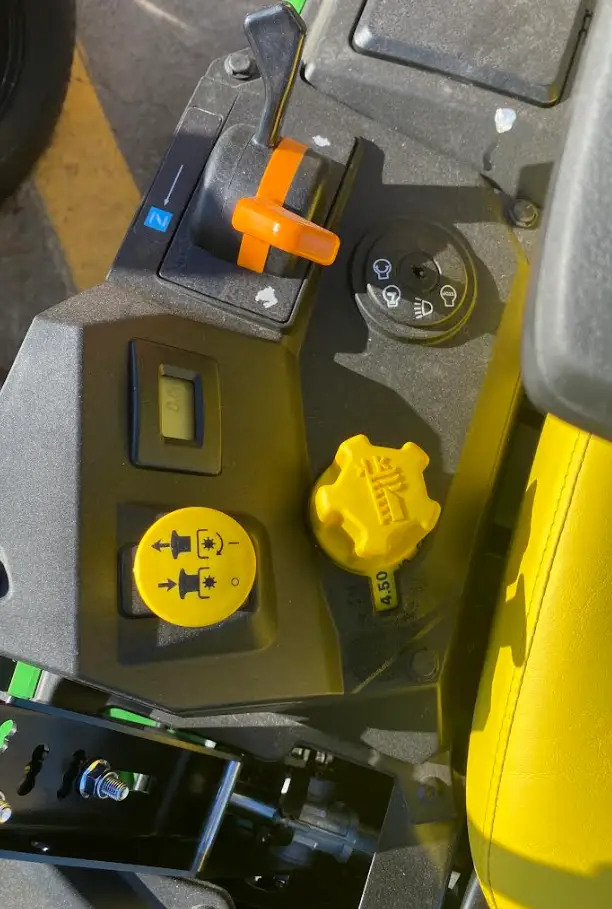 However, John Deere Z315E isn't too far behind. Slightly more stiff, the John Deere Z315E has a nice little control panel and a few of the same features as the TimeCutter. In fact, it has an adjustable seat, colored controls, and excellent visibility forward and on the sides – making operating comfortable and super easy. 
Winner: It's a tie!
Cutting experience
The Toro TimeCutter SS4225 has a bunch of features that make it a super smooth ride:
Hydrostatic transmission
Smart Speed technology – allows you to quickly adjust the speed without the blades being impacted. It's like the windshield wipers that slow down or speed up when your car does.
A step-through front end which makes onboarding really easy
Really easy to maintain (like all Toro models)
The John Deere is also pretty sweet though, with some really unique features:
Built in TN (Go Vols!)
Accel deep deck – pulls air up in the deck causing the grass to stand up for an even cut
Easy adjustable deck height with the flick of a toe
Automatic parking brake when steering levers aren't engaged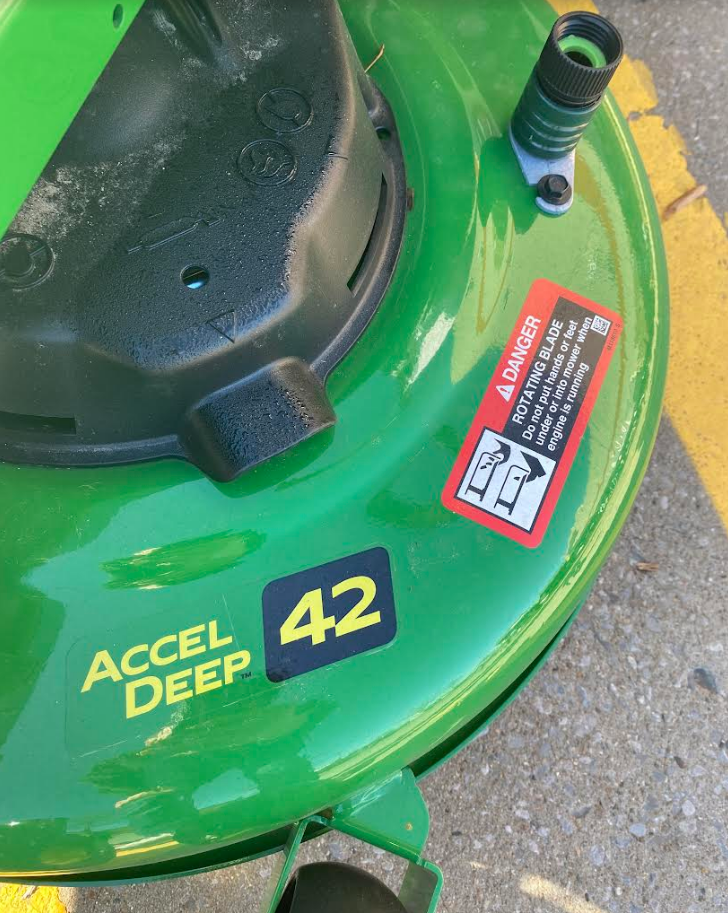 Both of them don't have hour meters showing how long you have been cutting. When it comes to the John Deere model, the hour meter is optional. Toro makes you buy a separate one.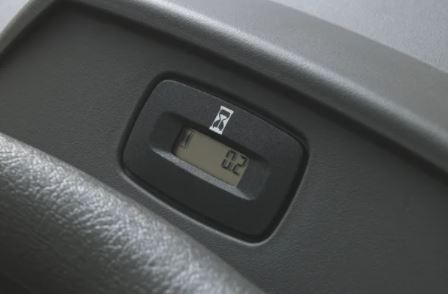 I picked the Toro here because the SmartSpeed technology is pretty advanced and the maintenance schedule is easier. I also like that it comes with a 300 hour, 3 year warranty compared to John Deere's 200 hour, 3 year warranty (although neither have an hour meter to keep you honest).
Winner: Toro TimeCutter SS4225
Price comparison: Toro Timecutter vs. John Deere
At the end of the day, when you get different products, naturally, you pay a different amount of money. The John Deere comes in a couple hundred dollars less than the Toro, although both have prices that vary wildly depending on when you buy.
The final ruling: Toro Timecutter SS4225 vs. John Deere Z315E Zero Turn Mower
| | | |
| --- | --- | --- |
| Feature | John Deere Z315E | Toro Timecutter SS4225 |
| Power | | Winner |
| Comfort | Tie! | Tie! |
| Cutting Experience | | Winner |
| Price | Winner | |
Both of these powerful mowers incorporate cutting-edge technology that any garden owner would love to have. To be completely honest, making our final ruling here is difficult since we loved both models. Though we have to admit – the cup holder of Toro Timecutter SS4225 may have won us over a little bit.
You can check the price of the Toro TimeCutter (and buy it online actually) at Home Depot.
The John Deere, a slightly cheaper alternative, is also available online for a great price at Home Depot and at Lowe's.