Lawn mowers and steep banks and hills don't often get along. You end up hauling the dang mower straight up a hill, or try to do it sideways and end up missing a bunch of spots.
So what do you do?
You get a lawn mower that can handle hills well. 
You get your lawn back.
And you don't fall and get crushed by your mower trying to mow your dang lawn.
Let me show you how.
**SPOILER***: Best Lawn Mower For Hills: Greenworks Pro 80V Brushless Self-propelled Lawn Mower
Why we review lawn tools
The reason we started this website in the first place was because we had so much trouble trying to find reasonable, understandable, honest reviews for lawn equipment. And it's not cheap! After hours and hours of research, trying products and returning them, and messing up our yards – we started this site.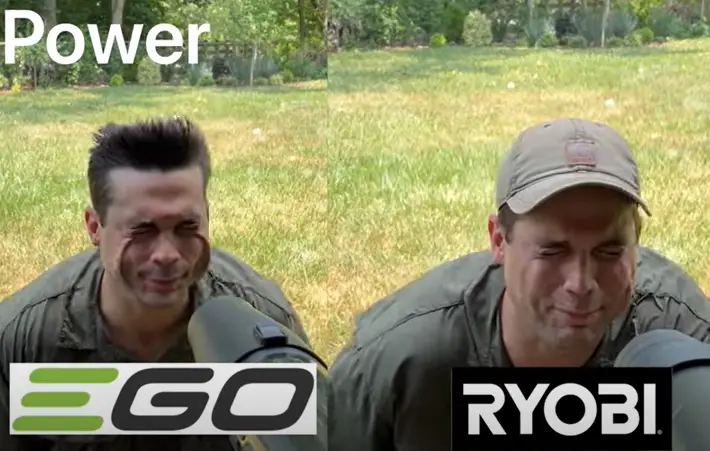 As people who had to learn the hard way, we want you to know exactly what you are signing up for before you purchase a piece of equipment. That's why we are committed to providing honest, easy-to-understand reviews that mean something. 
What to look for in an electric lawn mower 
When looking to purchase an electric lawn mower, you need to make sure you understand what things matter. You will get hit with a lot of technical specifications and marketing tactics. Totally forget them and focus on the things that impact you. Below are my recommendations:
Brand quality

Quality is going to be super important here. Everyone is in the electric mower game these days and there are a ton of junky mowers out there. Avoid anything from a weird brand on Amazon that takes 9 years to ship. It is probably being 3D printed in a Laotian bathroom. Go for brands that have consistent quality and focus on the details, not just flashy colors.

Metal where it matters. 

Most electric mowers are plastic-y. Probably to reduce the weight of the mower so that the battery can get you further, but it feels cheap. Make sure to get metal where it matters – namely the deck. The deck is the part that covers the blades. Don't get plastic here – a rock can rip through it.

Battery interoperability.

 A ten dollar word used here, but really just make sure to buy a mower with a battery that is compatible with other electric tools. Ryobi has this, so does Dewalt, and so do some of the Greenworks products. This will save you garage clutter and plug space.
If you have more questions, check out our guide to electric lawn mowers.
What you need to tackle hills with a lawn mower
Steep hills and embankments give every homeowner a fit. We all know the challenges they present, which is why we wrote this article.  Here's what you need in a mower for steep hills:
Lightweight – it has to be able to be easily controlled and not topple over or get off track. 
Self-propelled – this not only helps push the mower for you, but will keep the wheels moving straight with its forward momentum
Battery-powered – if you have a really steep hill, you can definitely run into issues with gas not funneling into the engine. Battery powered mowers avoid that.
A walk-behind mower – even if you have a big property, I would separately purchase a walk-behind mower for the steepest part of the hills or steep banks. 
So here is what we recommend.
3 Best Lawn Mowers for Steep Banks
It was hard to narrow down, but I was able to distill the list down to just three. I have to tell you, these three are titans in the electric lawn game. I am not bringing any bush league mowers to my recommendation list. These are not only top mowers for steep banks, but also top battery powered mowers in general. Let's get started.
3. Makita XML03CM1 18" Brushless lawn mower
Makita mowers are pretty sweet. If you have owned any Makita products before, likely one of their power drills, you know that they have super high-quality products.
I put this mower at number three for a few reasons. For starters, it is heavier than the other two, coming in at over 80 lbs. It also does not have a self propelled function, meaning you are going to be pushing that 80 lbs, which is the average weight of a regular gas mower.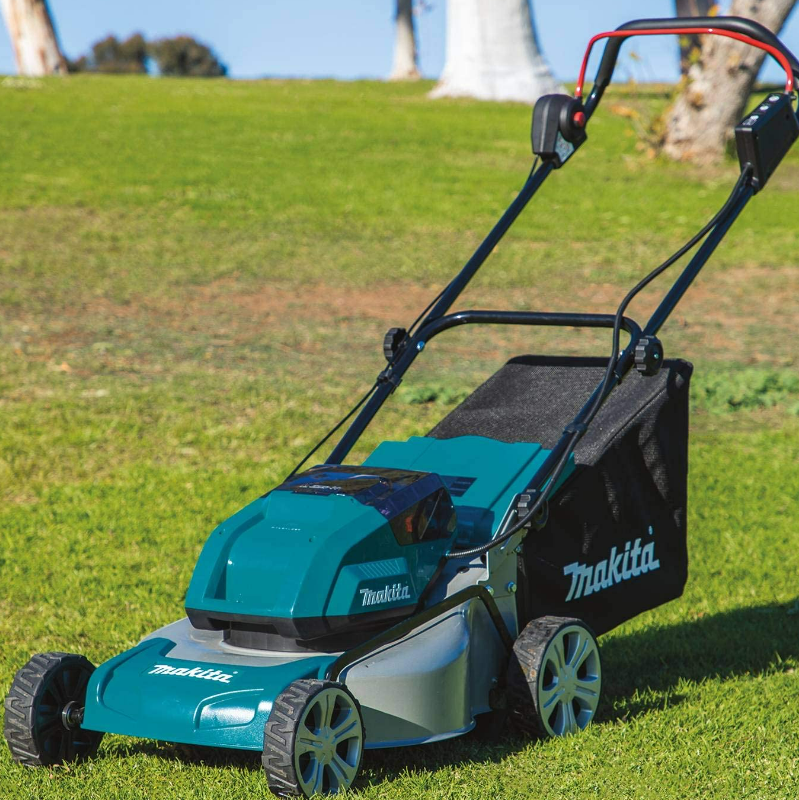 I have this one at number three because it is a high quality mower that is extremely durable without being overkill on size. If you have a big property, this one is the type I would keep for steep banks and hills that my lawn tractor or zero turn couldn't reach or were unsafe. It uses the same batteries that are found in the power drills, saving you a ton of money on a new set of batteries. 
This Makita mower is for sale on Amazon for a very reasonable price.
2. Greenworks 40V 16" Cordless Electric Lawn Mower
Greenworks is one of our favorite brands because they ONLY do battery powered lawn equipment. So they are the pros. 
Anyways, we love the 40V 16" cordless mower from Greenworks because it is small and light. This mower is perfect for effortlessly tackling the steep banks and hills. Many people are concerned about having to push a mower, when in reality the difficult part is holding onto the mower if you are fighting gravity downhill. This is true if you cut in a vertical pattern and are moving downwards with the mower. It is also tough when cutting horizontally and trying to keep the mower straight instead of toppling over.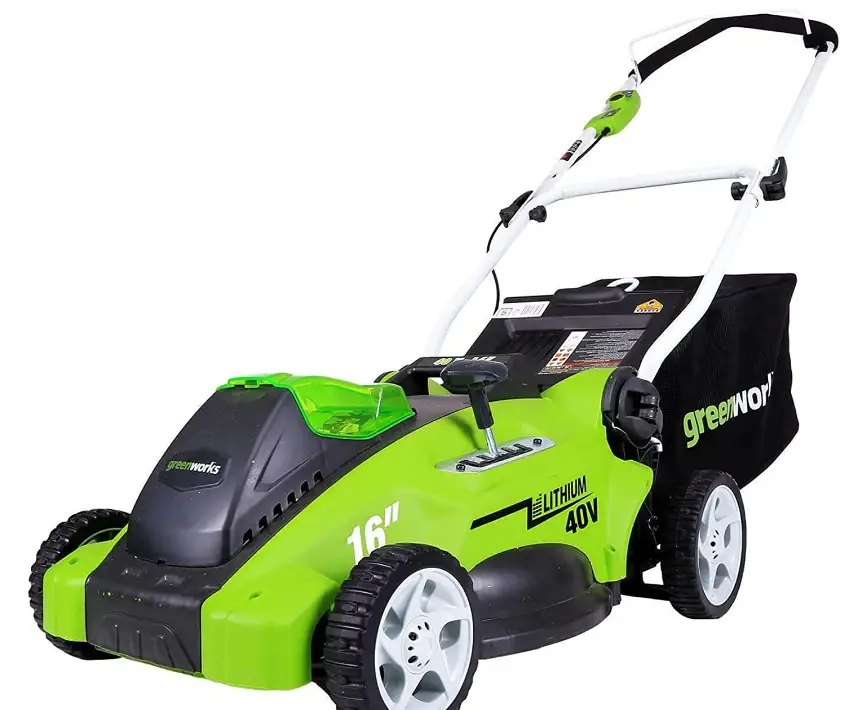 Worry no more – this mower weighs less than 40 lbs, making it an extremely easy to use mower for steep banks and hills. At 16 inches, you don't have to worry about it taking up a ton of space in your garage, either. 
In fact, this is one of the most popular mowers ever purchased on Amazon, with over 8,000 review comments left. You will probably see your neighbor with one.
Check it out on Amazon for a really great price.
1. Greenworks Pro 80V 21-inch Brushless Self-propelled Mower
Bring in the big dog. This mower is perfect in just about every way. 
Brushless motor. Self propelled. Steel cutting deck. Amazing brand. Battery line that works with all Greenworks 80V products.
It is really a dream mower.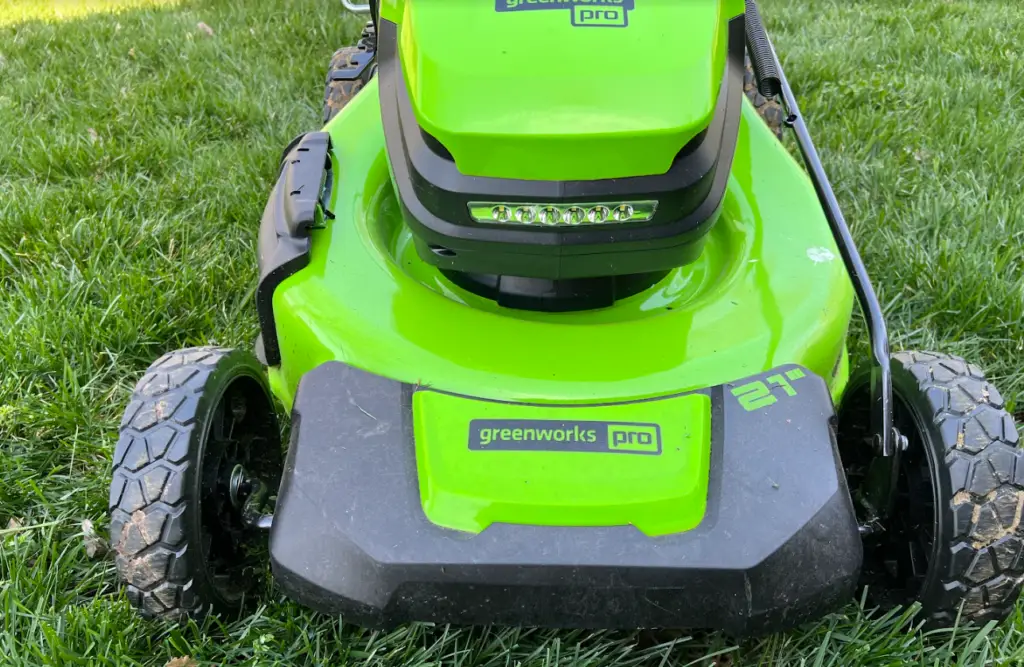 I love it for hills because it can do a lot of the marching uphill for you. An underrated component of this mower is that it's self-propelled function will help hold a steady and straight line when mowing horizontally on a hill. So basically you feel like you're sideways, but the mower keeps marching forward.
This one is lighter than most gas mowers as well. You'll be surprised at what it feels like to use on hills.
It is definitely worth the money and a great buy on Amazon.