The Toro TimeCutter SS4225 is a zero-turn mower offered by Toro. The "SS" in the name refers to Smart Speed – a dynamic speed setting controlled by the handle levers. SmartSpeed allows for more maneuverability in making sure you get every last angle of your lawn.
More on that later, though. The TimeCutter is one of the best-selling residential zero-turn mowers on the market and also one of the most affordable. 
Let's check out why! Jump ahead to:
Why we review lawn tools
The reason we started this website in the first place was because we had so much trouble trying to find reasonable, understandable, honest reviews for lawn equipment. And it's not cheap! After hours and hours of research, trying products and returning them, and messing up our yards – we started this site.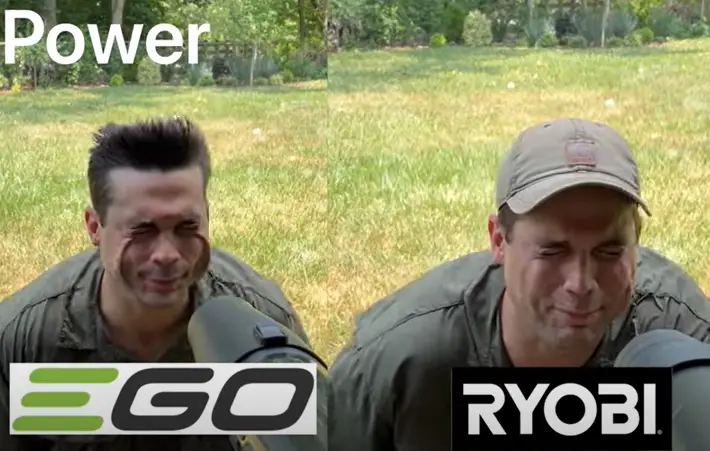 As people who had to learn the hard way, we want you to know exactly what you are signing up for before you purchase a piece of equipment. That's why we are committed to providing honest, easy-to-understand reviews that mean something.
Toro equipment reputation
Toro is a well known company that serves lawn equipment for homeowners. They are also one of the preferred products for golf courses, sports fields, and agriculture. They clearly know what they are doing.
I've reviewed other Toro equipment, like their recycler push mower. One thing that stood out to me in that review is their engineering. I truly believe they have quality equipment and there's a few ways to tell. The first is how heavy and solid their equipment is. Their quality stands out to me as top tier.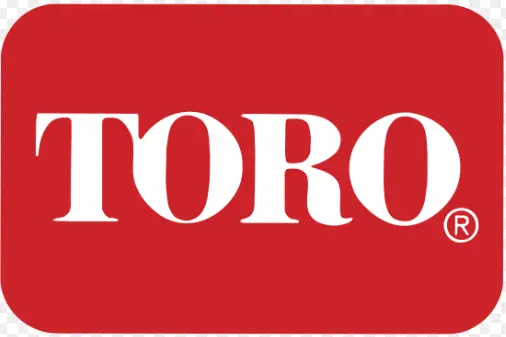 Another thing I noticed when reviewing the recycler mower is the attention to details. The mower just grinds and grinds and grinds until it produces a fine consistency that feeds your lawn. Other mower manufacturers do not put considerations like this into their products. They even have a patent for the fine grass clippings that nourish your yard.
Zero-turn mowers
Zero-turn mowers have blown up. Everybody wants a zero turn mower now, even those with smaller lawns. They are cool as heck, save a ton of time, and are straight up fun to ride. Once you figure out how to use one, you get hooked.
Zero turn mowers like the Toro TimeCutter 4225 are powerful and fast. People love zero turn mowers because they are generally faster than your traditional lawn tractor and provide much more agility. Zero turn mowers are especially popular for commercial lawn mowing companies as they provide much more speed and power, have larger gas capacity, and are more nimble than the traditional lawn tractor.
Have a smaller yard? Check out our electric mower buying guide for smaller yards.
The Toro TimeCutter SS4225 features
The TimeCutter was aptly named because it boasts cutting your lawn mowing time by 50% when compared to a normal riding mower or lawn tractor. Yep, take back your Saturdays and spend more time watching football (or shopping with your wife). Let's look at some of the features that make this thing special.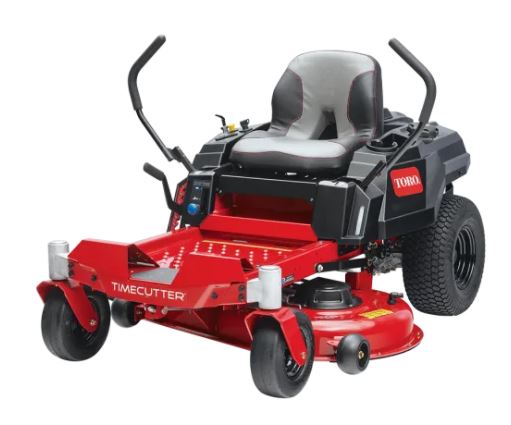 Power
The Toro TimeCutter SS 4225 boasts a 22.5 HP V-twin Toro engine (I think that is where the 225 in the name comes from). From what I can tell, Toro used to offer a Kawasaki or Kohler engine, but has made the switch to in-house engines. The 22.5 hp engine is marketed as a "commercial" engine, which is actually accurate. This is a powerful engine that goes above and beyond what you see in normal residential mowers.
With forward speeds up to 7mph and reverse at 4pmh, you can save a ton of time on your weekends by moving quickly. This thing means business and has a 42 inch deck. For scale, most push mowers are anywhere between 18 and 24 inches. This means that each pass you make is basically double the width of a push mower and (depending on how fast you move), three to four times faster. The 50% speed reduction is super conservative in my opinion.
Maneuverability
Something lovely about the Toro TimeCutter SS is the "SS" or SmartSpeed. The SmartSpeed functionality allows you to slow down when making tight maneuvers so that you can make sharp, smooth cuts around garden beds. 
Once you get used to using a zero-turn mower, you will understand how this works. You can simply pull back the levers slightly during tight squeezes and be precise with your cuts. Controlling the TimeCutter is super easy because this technology adjusts to your pace. This is a highly maneuverable mower, even for beginners.
Comfort
Again, a thing I love about Toro mowers is that they begin with the driver in mind. They truly think through the driver's experience and craft their mowers to accommodate them. One of these features is simple – a cup holder. It is great to have nice cool water (beer) while mowing the lawn. Competitors have not figured out this simple amenity. 
Another great feature is the high back seat. This is an 18 inch seat back, which I believe is the highest I have ever reviewed. Seat height and comfort are some of the most important elements to me because it makes a world of difference. I love being able to lean a little further back and rest my arms on the levers. 
A couple of other things I love – a small cubby under the seat to store things like gloves or your phone as well as a front step-through. The step-through allows you to easily climb onboard the TimeCutter without worrying about stepping on top of the deck or over the output shield.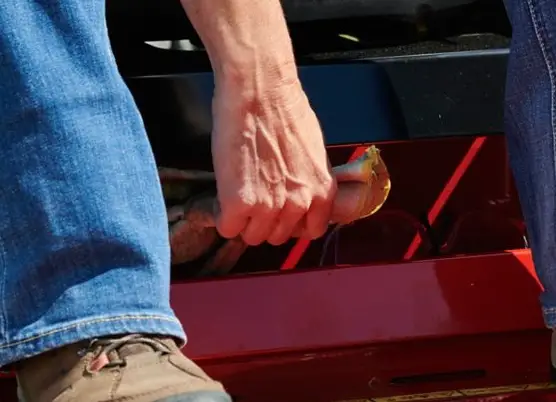 As mentioned previously, they have truly thought through everything and are appealing to experienced mowers that have requested these types of features. 
Maintenance
Maintenance on the Toro TimeCutter SS 4225 is pretty standard for a zero turn mower. The two most common things you will have to do will be the oil change and air filter replacement. The hydrostatic transmission is another feature that helps improve the longevity of zero-turn mowers. 
The air filter is super accessible – just flip it open and replace it with ease. Likewise, the oil change just requires a quick empty and refill through the oil drain tube. Some other mowers I have seen, particularly standard riding mowers like the John Deere I reviewed, have easier to maintain features, but none of this is too cumbersome. 
The Toro TimeCutter SS4225 comes with a three-year, unlimited hour warranty. This is also the first time I have seen an unlimited hour warranty – which means Toro is not messing around with their confidence in this mower. 
Criticisms of the Toro TimeCutter SS4225
While I love nearly everything about the Toro TimeCutter, I don't love absolutely everything. One thing I dislike is the height adjustment for the deck. So many other decks have sophisticated systems where you simply twist a knob.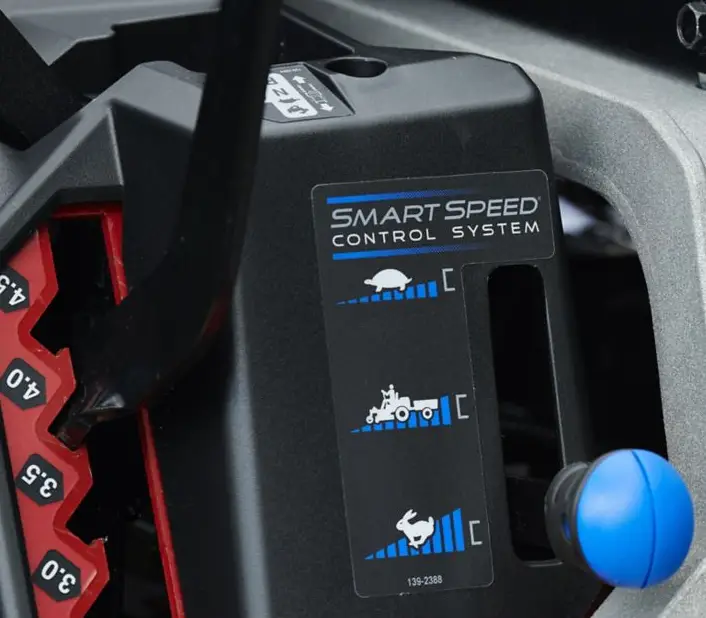 The Toro TimeCutter SS series has you cranking one of those metal levers to the desired blade height. Something that most people don't mind, but an area where Toro has not yet innovated.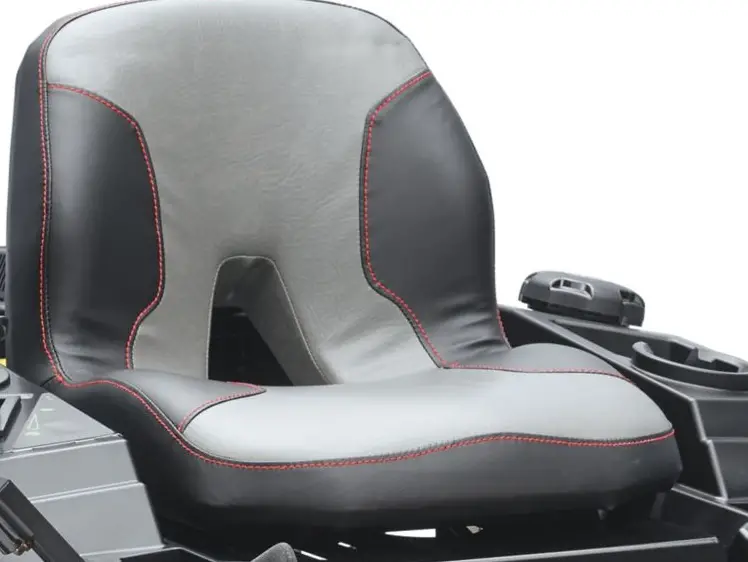 Sadly, this mower also does not have an hour meter or front lights – features that many other zero-turn mowers do have. An hour meter can be purchased separately, but you are on your own when it comes to lighting. 
Cost and value
Okay – now that we have reviewed all of the features I love and paired them with some of the criticisms I have, let's talk cost. For context, most zero-turn mowers of the same size range between $3,000-$4,500. Basically mini cars. 
The Toro TimeCutter SS 4225 comes in just under $3,500 at Home Depot – making it a ridiculously good deal. I think this is a high-value mower for those with residential, mid-sized properties. 
Curious at how this cost stacks up? Check out our lawn equipment cost guide.
We compare this mower to a popular competitor, the Cub Cadet Ultima ZT1 – check out our comparison post here or the John Deere Z315E comparison.
The official review: The Toro TimeCutter SS4225
| | | |
| --- | --- | --- |
| Feature | Toro TimeCutter SS4225 | Comparable residential ZT mower |
| Difficulty to use | Easiest | Average |
| Durability | More durable | Average durability |
| Maintenance | Less maintenance due to hydrostatic transmission | More maintenance |
| Value | High value | Medium value |
| For lots <10,000 sq. ft | Would not fit | Would not fit |
| For lots <1 acre | Probably overkill but is fun and looks cool | Probably overkill but is fun and looks cool |
| For lots >1 acre | Highly recommended | Highly recommended |