The best lawn mowers for townhouses are the ones that are easy to use, lightweight, and relatively low cost. Let me give you a little peek behind the curtain.
I wrote this post after doing HOURS of research for my parents. They recently downsized to a townhouse and got rid of everything (and I mean everything) when they made the move. This purge also included their lawn tractor and all their big gas-powered lawn tools.
Little did they know, they still had a small 20×20 yard in the back that needed to be mowed. Much to their (and my) dismay, they entered the lawn tool market once again.
I'll summarize what we found:
How we picked the perfect lawn mower for their townhouse
Well, we looked at a ton of lawn mowers. Most of them were too big, couldn't be stored, and required gas. How are you supposed to transport a big 'ole mower through your kitchen if you want to mow the backyard? 
We used the below criteria to find a good townhouse mower.
Size

A few things we asked ourselves as we considered the appropriate size for a townhouse lawn mower. Is it light enough to carry? Is it narrow enough to allow for a close cut to the corners of our yard? Can it easily be stored in our garage, or better yet, our closet? Can we transport it home in our small car? 
All of these questions helped us narrow our focus and view it more as another household tool, like a vacuum. 

Power source

We almost immediately crossed gas powered mowers off of our list and here is why. A gas can in the garage was another thing that needed storage. My parents' townhouse also did not have backyard access from the road. So anything that  needs to go back there has to go through their kitchen. Did they really want gas to spill into their kitchen?
This left us with battery-powered and electric corded mowers. Two considerations for storage here as well. One requires an extension cord and the other requires a place to keep and charge the batteries. This is total personal preference, but an extension cord can also be used for other things that aren't lawn-related.

Cost

My parents were bummed enough to have to buy lawn equipment again, so cost was a big component to them. They wanted an inexpensive but reliable piece of equipment. 
Once I helped them walk through each of these components, we narrowed our list down to these five mowers.
Why we review lawn tools
The reason we started this website in the first place was because we had so much trouble trying to find reasonable, understandable, honest reviews for lawn equipment. And it's not cheap! After hours and hours of research, trying products and returning them, and messing up our yards – we started this site.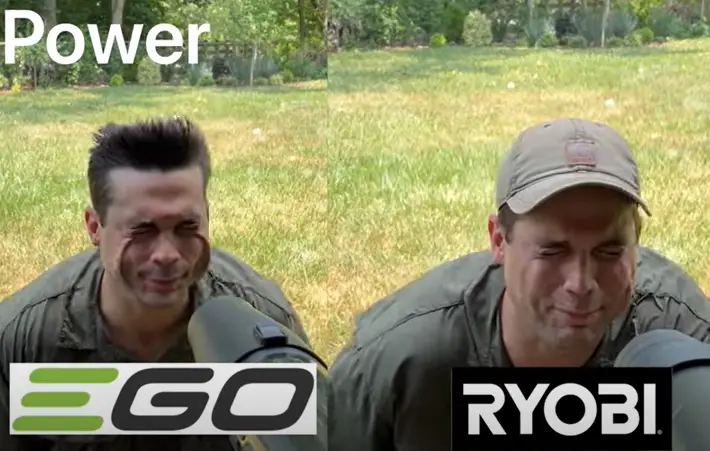 As people who had to learn the hard way, we want you to know exactly what you are signing up for before you purchase a piece of equipment. That's why we are committed to providing honest, easy-to-understand reviews that mean something.
The Top 5 Lawn Mowers for Townhouses
Now I know what you're thinking – can't you just do it all with a string trimmer? Well, maybe, but it will look like my 2-year old when he tried to cut his own hair. 
If you want it to look nice and respectable, then check out our list below:
We made a nice little web story that highlights the best mower here.
5. Worx WG779 14 inch 40V Cordless Push Mower
I become a bigger and bigger Worx fan with each passing day. The Worx WG779 40V cordless mower is great for small yards. 14 inch mowers are almost perfect for townhouse backyards. I think this mower is a tad overkill for most townhouse yards, but a little too much is better than a little too little.
This mower has the bells and whistles you would expect from a normal lawn mower, with height adjustments, an intellicut torque system, a bag, and an onboard battery meter. 
This mower comes in at about 29 lbs, so not too heavy but also not the lightest. It is also super quiet and easy to use.
The mower comes in at anywhere between $200 and $300 and is often on sale on Amazon. We recommend checking the price to see if you are getting a good deal, which is anywhere under $275.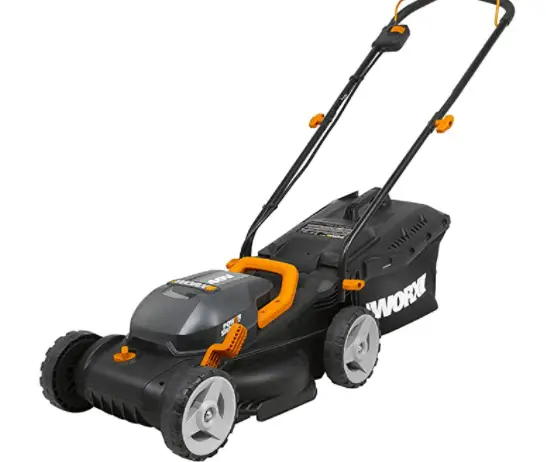 4. Greenworks 10A 16-inch corded mower
The Greenworks 10A 16-inch corded mower is even larger than the Worx mower listed above and has a lot of the bells and whistles.
This mower also has a height adjustment, a bag, and easy storage options with foldable handles. This mower is definitely one of the bigger corded mowers on the market, with a 16-inch deck. The Greenworks 10A 16 inch mower is also slightly heavier and less "toy-like". This is a great larger option for those looking to just use a traditional corded mower. 
I am a big fan of Greenworks' products. They continually provide high quality tools and equipment that are just as powerful as their gas-powered counterparts. 
You can grab this mower on Amazon, where it is listed for less than it is on Greenworks' own website. It is listed for a pretty ridiculous price right now – only $133. You get a lot of mower for not much money by grabbing this one today on Amazon.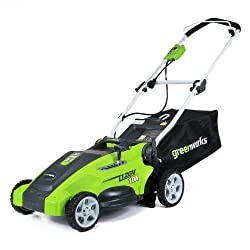 3. Sun Joe MJ401E Electric Lawn Mower
One thing I love about Amazon is that it has a renewed/refurbished store. If you are one of those who returns about 50% of your purchases to Amazon and wonder, "what happens to it?", then here is your answer. It gets cleaned up and sold for a discount. 
That's what is happening here with the MJ401E-RM. It is usually a little over our price point of $100, but can be purchased on the cheap if it is refurbished.
Although it has the appearance of a large tortoise, this is a nice electric mower that will be able to tackle a decent-sized job. Sun Joe is a great brand and this is a wonderful all-around mower. 
Things to love about the Sun Joe MJ401E-RM
Positives:
Easier to push than a manual mower
Comes with a nice little bag
Lightweight, easy storage
No gas fumes
Easy to start
Negatives:
Corded, so requires an extension cord
Plastic decking which is less durable
This is honestly a great, great deal and can be found on Amazon for super cheap right now.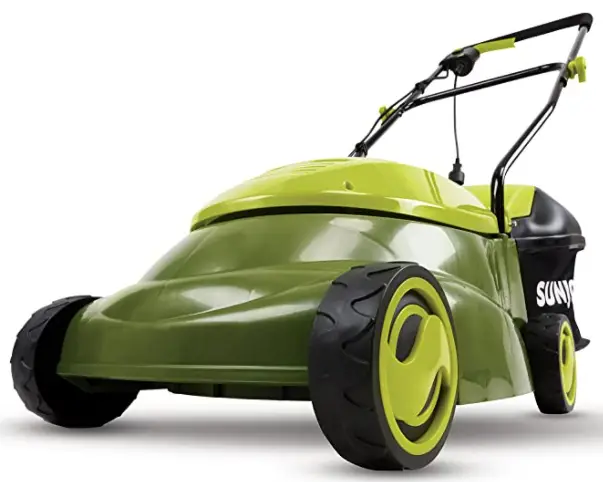 Looks like a turtle but totally rocks.  
2. Greenworks RM1400 Reel Lawn Mower
The next best (in my opinion) manual mower is the Greenworks 14-inch Reel Lawn Mower RM1400.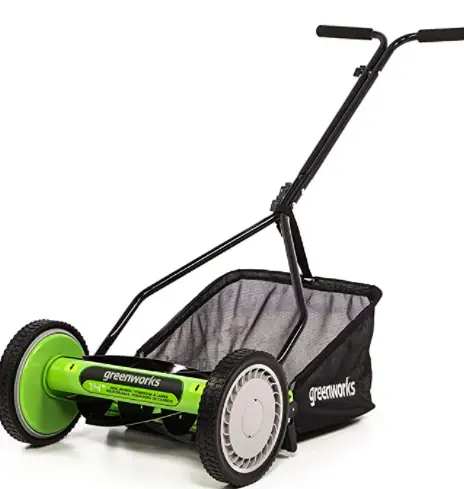 Some things I like about the Greenworks RM1400:
Positives:
Great company
Removable grass catching bag
Adjustable cutting height
Environmentally friendly
Negatives:
Plastic wheels
Not super sturdy handles
Narrower
Slightly more expensive than Sun Joe
Greenworks is a great brand and very well-trusted in this space. If you want to boogie outdoors and use this mower, you can find it on Amazon for a great price. 
1. Black + Decker 3-in-1 Corded Lawn mower, trimmer and edger (12-inch)
This has it all. I love the Black and Decker 3-in-1 because it just makes so much sense for townhouse owners. It was a total no-brainer when I showed it to my parents. 
The Black and Decker 3-in-1 has a 12-inch cutting deck, but behaves more like a trimmer than it does a mower. It has a string at the bottom, just like a trimmer, that is held flat to provide a consistent and clean cut, like a mower.
It is a weird hybrid that can easily convert to a nice string trimmer with edging capabilities.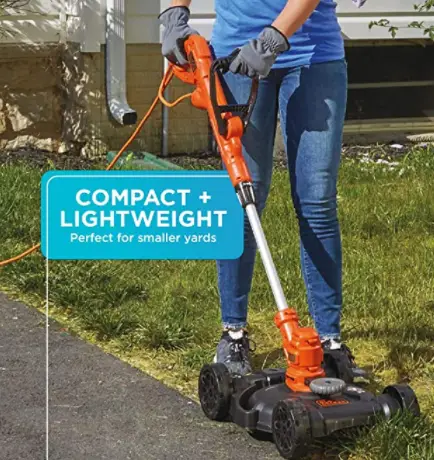 This one checked the boxes for my parents. Super easy to store, lightweight (less than 10 lbs), has multiple functions, is the perfect size, requires only an extension cord and…..
I haven't even mentioned the price. 
The Black and Decker 3-in-1 tool can be purchased on Amazon for a whopping $79. That is an insane deal considering what you are getting.
I recommend this product to anyone living in a townhouse with any sized yard.