The Cub Cadet ZT1 vs Toro TimeCutter SS4225 mower is a true battle of the giants. Think Godzilla vs. King Kong – except much more is at stake. These mowers are two of the hottest zero-turn mowers on the market for homeowners. Today, we are going ringside to battle it out.
Jump ahead: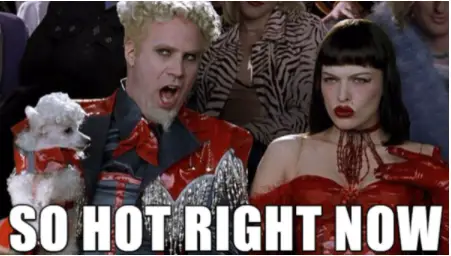 Why we review lawn tools
The reason we started this website in the first place was because we had so much trouble trying to find reasonable, understandable, honest reviews for lawn equipment. And it's not cheap! After hours and hours of research, trying products and returning them, and messing up our yards – we started this site.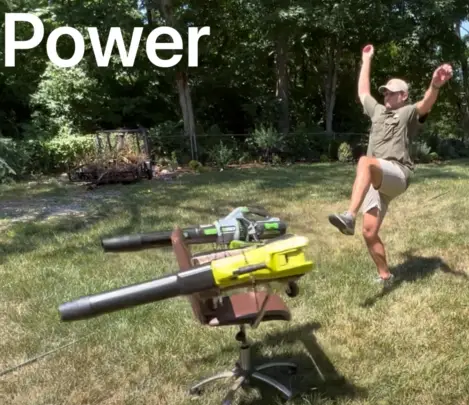 As people who had to learn the hard way, we want you to know exactly what you are signing up for before you purchase a piece of equipment. That's why we are committed to providing honest, easy-to-understand reviews that mean something.
Zero-turn mowers 101
People love zero turn mowers because they are generally faster than your traditional lawn tractor and provide much more agility. Zero turn mowers are especially popular for commercial lawn mowing companies as they provide much more speed and power, have larger gas capacity, and are more nimble than the traditional lawn tractor.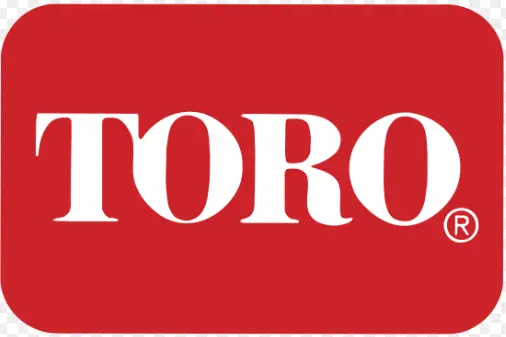 Zero turn mowers have continued to grow in popularity but are still intimidating to others. While lawn tractors have a steering wheel similar to any other automobile, zero-turn mowers have large handles that stick up and meet in the middle of the mower. To operate the mower, you push forward and use the individual horizontal handles to either push the mower to the right or to the left. 
What to look for in a zero-turn mower
Zero-turn mowers are all about comfort and size. If you are a commercial landscaper, you will likely want a mower with a large deck. The deck houses the blades and the wider the deck, the wider the blade. 
For us residential mowers, we will want to take into account yard-size into our selection process. For those with less than one acre of land, I don't often recommend zero-turn mowers. They take up too much space for smaller lots and are difficult to store. For those with more than one acre, zero-turn mowers are great. The larger the acreage, the wider the deck you will want. 
Cub Cadet ZT1 vs Toro TimeCutter: A breakdown
Okay – now that we have done some background information, let's hop on to brass tacks. These are two beasts that are super popular. Make sure you understand their power, comfort and ridability, and cutting experience before making a purchase. 
Power
One of the most important components of a zero-turn mower is power (duh). The Cub Cadet Ultima ZT1 has a 22HP Kohler Engine (if you get the 42 inch version, Kawasaki if you get the 50). Kohler and Kawasaki make great small engines. This one can get your mower up to 8 mph in forward motion, and 4 in reverse, making it a pretty speedy lawn mower.
The Toro TimeCutter SS4225 has a 22.5 HP V-twin engine, manufactured by Toro. In most cases, I like when companies outsource their engines to folks like Kohler, Kawasaki, or Briggs & Stratton. 
| | | |
| --- | --- | --- |
| Feature | Cub Cadet Ultima ZT1 | Toro TimeCutter SS4225 |
| Horsepower | 22 HP | 22.5 HP V-twin |
| Engine type | Kohler, Kawasaki | Toro |
| Speed | 8 FWD, 4 REV | 7 FWD, 4 REV |
| Transmission Type | Hydrostatic | Hydrostatic |
While the TimeCutter has slightly more power output, the ZT1 has a little bit more speed. For this round, I've gotta give it to the Cub Cadet Ultima ZT1.
Comfort and Rideability
Comfort isn't everything, but it is incredibly important. You can have all the power in the world, but want to get back inside in five minutes because you are insanely uncomfortable. When picking a zero-turn, I look for things like a high seat back, arm rests, and a cup holder. It sounds bougie, but it makes a difference if you can have a nicer ride.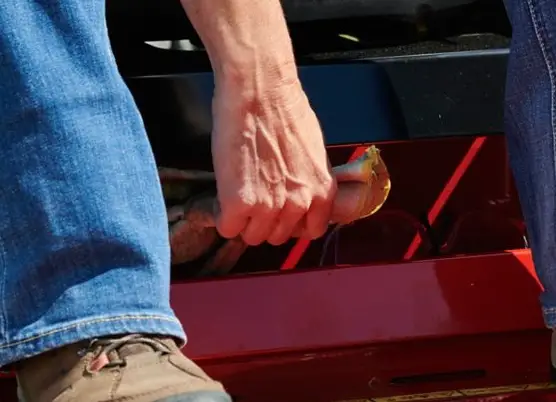 The Cub Cadet Ultima ZT1 has details like an anti-vibration floor mat that helps provide a smooth ride. This zero turn mower also has a fully adjustable 18 inch seat back, adjustable arm rests, and ergonomic hand groups that allow for more comfort.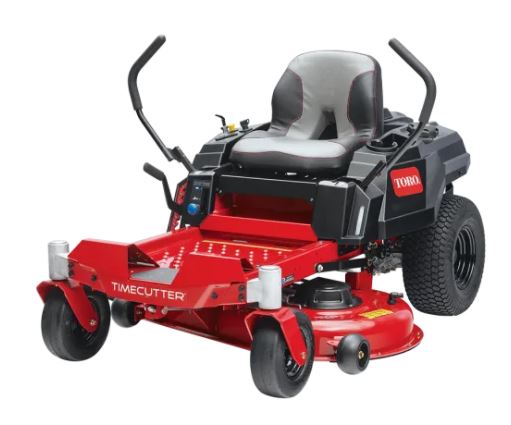 The Toro TimeCutter SS4225 also has an 18 inch seat back, but no arm rests. Despite the lack of arm rests, it still comes with a beer holder and a little storage cubby under the seat for storing other things (like your tired arms). Read more about the best Toro mowers.
This is a super tough call, but I think I'm going to have to go with the Cub Cadet Ultima ZT1 here again. Arm rests are an absolute must for me. 
Cutting experience
Both of these mowers are fantastic cuts. When taking these for a spin, the Toro TimeCutter SS4225 feels slightly cheaper or "stock" compared to the Cub Cadet Ultima ZT1, but overall the cut seems exactly the same.
One thing I dislike about both of these machines is that they lack an hour meter. Hour meters are used to measure how long you've been riding and help you figure out when you need an oil change. 
I also dislike that the Cub Cadet lacks a fuel meter – you are kind of flying blind. Another thing that bothers me about the TimeCutter SS4225 is that it has a "hand crank" deck height lever. Most of the more advanced zero-turns have a knob or something more sophisticated.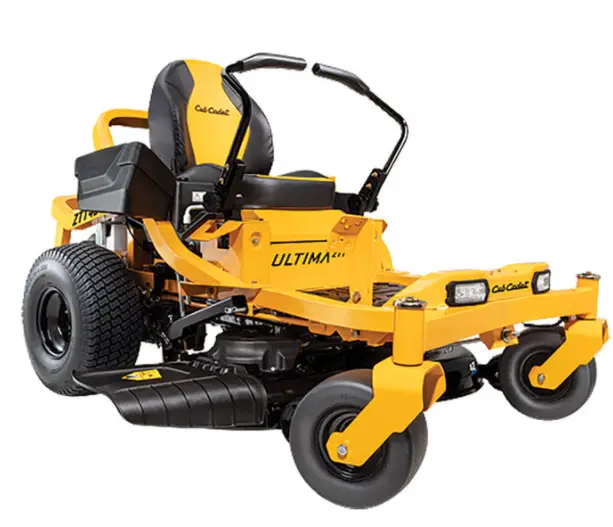 All-in-all, I can't complain too much about either of these machines. They are both very reliable, have great warranties, and come from higher-end, trusted brands. 
Price comparison: Toro TimeCutter vs Cub Cadet ZT1
Now that we know these machines are both quality and comfort, let's see how they stack up on price.
The Toro TimeCutter SS4225 is for sale from some retailers for around $3,000 – about $3,200 at Home Depot right now.
The Cub Cadet Ultima ZT1 is for sale for about $3,500 as well, and it sells almost exclusively at Home Depot.
The final ruling: Cub Cadet ZT1 vs Toro TimeCutter SS4225
| | | |
| --- | --- | --- |
| Feature | Cub Cadet ZT1 | Toro TimeCutter SS4225 |
| Power | ++++ | +++ |
| Comfort | ++++ | +++ |
| Cutting Experience | ++++ | ++++ |
| Price | ++ | ++ |
This is super, super close. Basically these are identical lawn mowers. To me, it comes down to reliability over the long term and I'm going to have to go with the Cub Cadet Ultima ZT1. The engine being from Kohler/Kawasaki just makes me feel more secure going with them. 
Also, the arm rests.
To see our full review of the Cub Cadet Ultima ZT1, click here.
To see our full review of the Toro TimeCutter SS4225, click here.