Greenworks 40V chainsaws are top tier. In fact, Greenworks everything is top tier.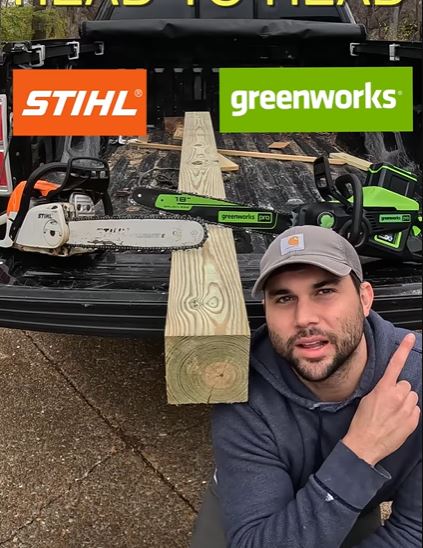 If you've read any of our stuff before, you know that we are kind of obsessed with Greenworks. They did not pay us for this post and haven't paid us for anything – we are being honest.
They are probably our favorite all-around electric lawn tool provider. 
As self-proclaimed chainsaw experts who have reviewed a handful of Stihl gas-powered chainsaws and a couple electric chainsaws as well, we decided to give the Greenworks 40V chainsaw a spin.
You can save the planet with a battery-powered chainsaw as you chop down trees!
Jump ahead:
Why we review lawn tools
The reason we started this website in the first place was because we had so much trouble trying to find reasonable, understandable, honest reviews for lawn equipment. And it's not cheap! After hours and hours of research, trying products and returning them, and messing up our yards – we started this site.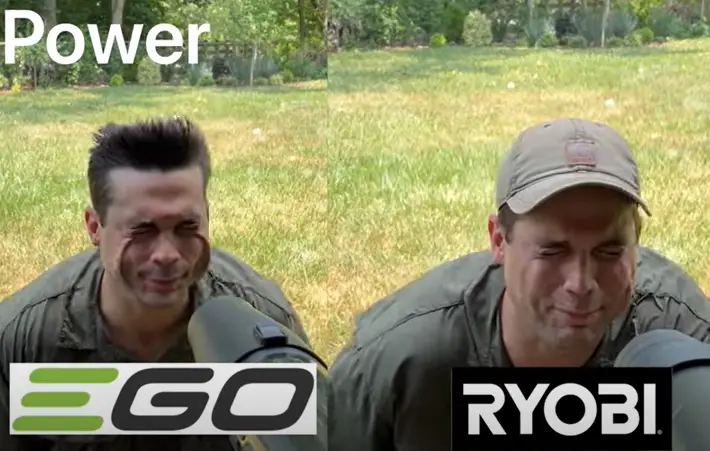 As people who had to learn the hard way, we want you to know exactly what you are signing up for before you purchase a piece of equipment. That's why we are committed to providing honest, easy-to-understand reviews that mean something. 
What to look for in a chainsaw
A solid chainsaw is one of the most important tools a homeowner can have. Buying the right one is absolutely essential to your kids thinking you're a cool man or woman. Chainsaws come in a variety of different shapes, sizes, types and models. Most are either gas or electric powered. Depending on your application of course, most people can get away with a 14" bar and chain. Unless you're cutting up massive trees you probably don't need anything bigger than that. 

In addition to that, most people nowadays can probably get away with an electric model vs a more powerful, smoother cutting gas powered model. But it's all personal preference. However, honestly I tend to always go with the bigger more powerful engines because I think they'll last longer. So far that's proven to be true, but I could just be wasting money. 
Must-have chainsaw features
Just make sure your chainsaw at least has a kickback reduction feature. This prevents you from losing one of your precious fingers! You only have 10 of them ya know! Kickback reductions can be in the form of the chain or bar itself. Basically these just prevent you from cutting too aggressively which prevents your saw from bouncing back on you. Or a chain brake which causes the chain to stop when it hits something hard or moves too abruptly 
Other features that are nice to have are more comfort-centric. These include tool-less tensioners, mufflers, anti-vibration, automatic chain oilers, etc. 
Greenworks G-MAX 40V 16 inch cordless chainsaw: Benefits and features
Let's check out all of the features available in the Greenworks G-MAX 40V 16 inch mower. Many of these comparisons will be against a gas chainsaw, which are the most commonly used chainsaws. We also do some comparisons to other electric chainsaws.
Greenworks electric chainsaw Power
The first thing I will say that I love about the Greenworks cordless chainsaw is that it comes with a brushless motor.
For those of you who haven't heard of brushless motors, they use magnets instead of friction to generate power. This comes with a few benefits:
Longer run-time
Significantly quieter and less "whiny"
More durable motor life
Double the torque
These things take a battery powered chainsaw from good to great. Oh, and the motor here is equivalent to a 35cc gas chainsaw. Woah.
Don't believe us? Check this video out that we made comparing it to a Stihl.
Speaking of torque and power, this chainsaw can cut through a 15 inch piece of lumber pretty reliably. This is perfect for any homeowner who is trying to cut up a fallen tree after a storm.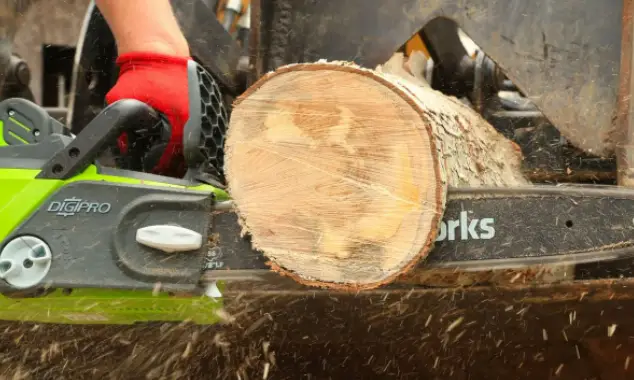 Usability and feel of the Greenworks battery chainsaw
Another great thing about cordless chainsaws is the decrease in noise. While this isn't absolutely quiet, it is significantly more quiet than a gas chainsaw.
The lack of fumes is also pleasing, meaning I can stay focused on a single cut without choking through the fumes.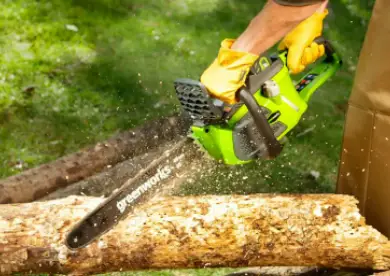 The Greenworks 40V 16 inch chainsaw has some pretty slick anti-vibration technology. Compared to a gas chainsaw, and even some of the electric chainsaws out there, we loved the feel this one had. It was extremely "tight" feeling in that you knew it was delivering some serious linear power, but it didn't make your hands go numb with vibration like some of the others.
Also, coming in at just over 10lbs makes it maneuverable and easy to use. The whole experience is pretty pleasant.
Maintenance, safety and battery life
Unlike most gas chainsaws, the Greenworks 16 inch 40V G-MAX chainsaw doesn't require any gas or oil mixtures. The battery is a 40V 4 Ah lithium ion battery that can make it through about 140 cuts of smaller lumber – mostly the size of smaller branches (around 4 inches). 
Still, this battery life puts it in the top tier of battery powered chainsaws.
The Greenworks cordless chainsaw has a chain brake and a low kickback chain that helps prevent accidental kickbacks. 

The tool-less tension adjustment on the body of the chainsaw allow for quick adjustments to chain tension and easy loosening to maintain the chain.
The last-piece here which is important is the auto-oiling function. Candidly, a lot of chainsaws have this function, but it is always good to see it in the Greenworks one. Make sure to store this flat instead of hanging, otherwise the oil will drip down the blades and onto whatever surface is below.
Greenworks 40V 16 inch chainsaw vs 12 inch chainsaw
The 16 inch chainsaw is super popular, but so is the 12 inch chainsaw.
A few key differences include the brushless motor on the 16 inch chainsaw vs the traditional brushed motor on the 12 inch. The 12 inch chainsaw is obviously shorter as well, not giving you the same cutting depth as is possible with the 16 inch chainsaw. Lastly, the 12 inch chainsaw comes with a 2 Ah battery instead of a 4 Ah battery, meaning it will not be able to make as many cuts.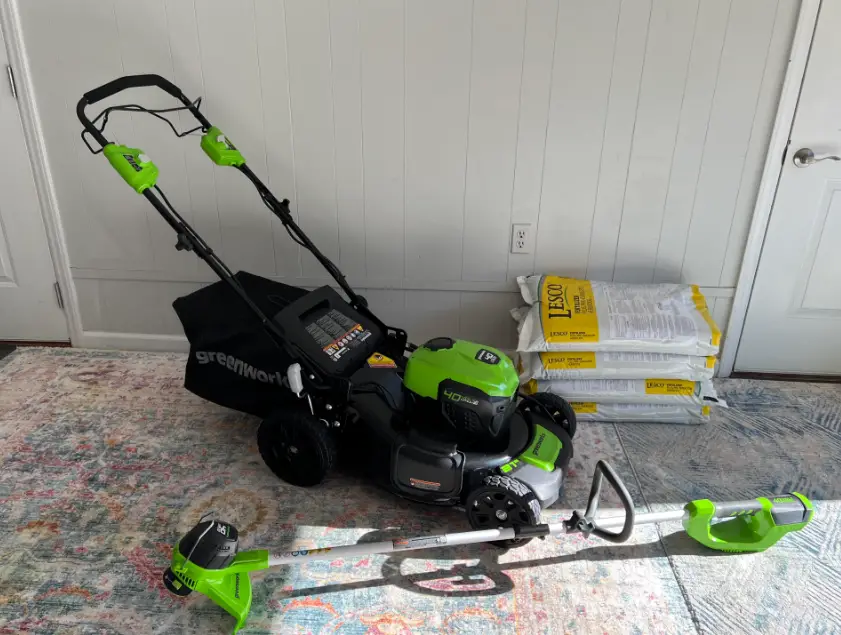 All in all, the 12 inch is great for residential folks as well, but is going to limit you with larger trees and branches. Totally fine if that isn't what you're looking for.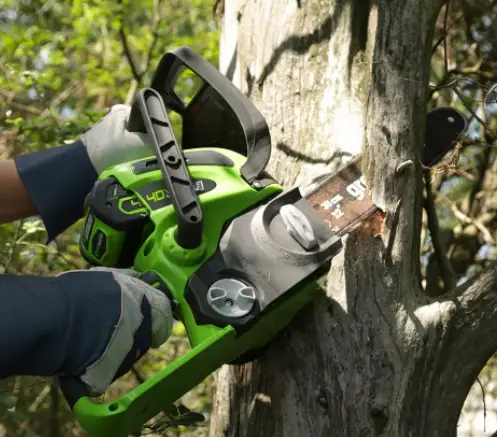 From a price perspective, the 16 inch chainsaw is only slightly more expensive. To me, it makes the most sense to go with the 16 inch to get a stronger battery, better tool, for only a little bit more money.
Final review: Greenworks GMAX 40V 16 inch cordless chainsaw
This is a top tier cordless chainsaw, on par with some of the gas chainsaws available on the market. In comparison to some of our other cordless chainsaws, this one is not only more powerful and longer lasting, but more durable as well. 
You can grab it directly from the Greenworks website, or on Amazon for a big sale. For some reason, this one is much cheaper on Amazon than it is on the Greenworks website.