The John Deere E100 lawn tractor is an iconic mower that is one of their best sellers. I have reviewed a different John Deere tractor and ultimately did not love the price. The price on this lawn tractor is much more affordable. Let's review some of the features and get started on the below:
Why we review lawn tools
The reason we started this website in the first place was because we had so much trouble trying to find reasonable, understandable, honest reviews for lawn equipment. And it's not cheap! After hours and hours of research, trying products and returning them, and messing up our yards – we started this site. 
As people who had to learn the hard way, we want you to know exactly what you are signing up for before you purchase a piece of equipment. That's why we are committed to providing honest, easy-to-understand reviews that mean something.
John Deere's reputation
John Deere is a 180-year old company that has been making things like lawn tractors and large scale agricultural products. While John Deere has a big reputation in the agricultural world, they are also major players in the residential mowing world. They are also featured in the hit country song, "Big Green Tractor" and many other country songs.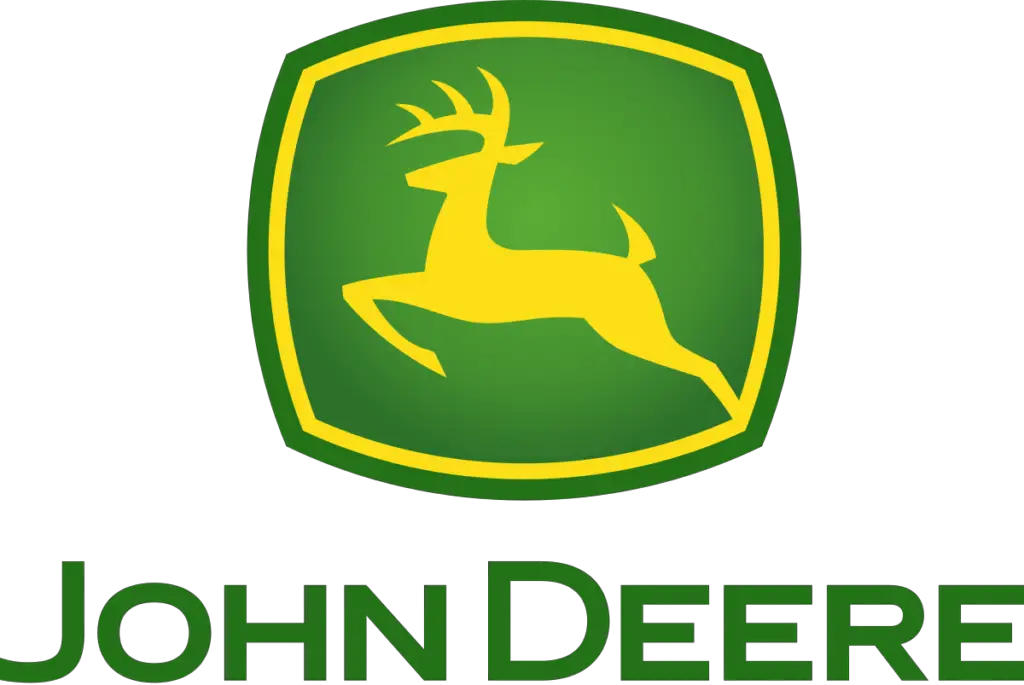 In addition to their massive pieces of equipment, they also sell things like Gators. Gators are similar to golf carts but more industrial and can carry things around your property. Needless to say, things like lawn tractors are a walk in the park for them to manufacture. 
They make amazing John Deere zero-turn mowers as well!
Lawn tractors: A crash course
Many people who consider a lawn tractor (traditional riding mower) are considering which option is the best for their yard. Push mowers or even self-propelled push mowers are good for lawns up to about a half of an acre. Zero-turn mowers are great for properties with one or more acres. Lawn tractors fall right in the middle of those. 
While lawn tractors can fit smaller yards, they aren't always a necessary option for those that are mobile and able to push a mower. With larger yards, lawn tractors again can be used and can be great, but will take much longer than a zero-turn mower. 
Despite being in a "middle ground" of lawn size categories, lawn tractors are still extremely popular. Many people have between a half and two acres of land, so rely on lawn tractors to get the job done. They are also pretty fun to drive around. 
To learn more about other riding mowers we have reviewed, click here.
The John Deere E100 riding mower
Let's take an up-close look into the features of this mower. While not the most tricked out pony on the market, it certainly has what it takes to get the job done. Here we go!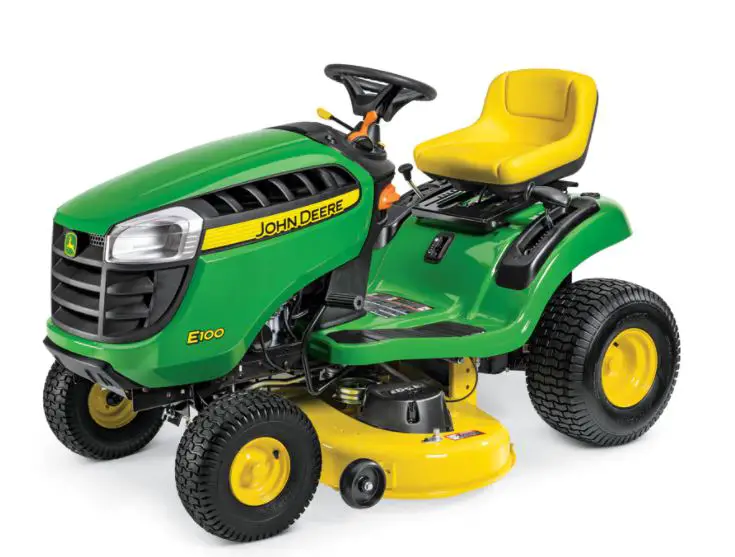 Comfort
The John Deere E100 riding mower is a very standard lawn tractor. Nothing wild about it. Growing up, we had a similar lawn tractor in our garage that I would play on. It felt exactly the same as this riding mower. It has a seat with a totally standard seat back and a very normal steering wheel. If you are looking for cup holders, storage spots, or any other unique comfort features, you will not find them here.
Similarly, this mower has side-by-side foot pedals that help give the driver control of speed and forward/reverse with their feet. The seat also is able to be modified slightly to accommodate the size of the driver. The steering wheel is fixed and not adjustable, however. 
Keep in mind, if you are mowing half of an acre to an acre of land with this mower, then you are not going to be out there for a very long time. Bells and whistles are not needed. This is a bare bones, stock level of mower – and that's totally fine for most people. The need to turn mowers into the next Rolls Royce is not always functional. 
User experience
As I mentioned previously, this is a very standard lawn tractor. This means the deck and blade engagement system is manual in most versions of this model. The John Deere E100 has the manual levers on both sides of the chair that have various functions.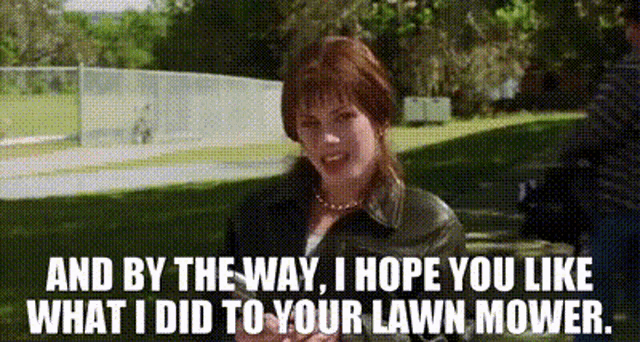 While some of the more modern and more expensive riding mowers and zero-turn mowers have electronic or dial-operated systems, the E100 is old school. Fortunately, this means less moving parts or things that can break. For those of us that appreciate simplicity, this could actually be a great feature. 
Power
This lawn mower boasts a 17.5 horsepower engine, pretty standard for a lawn tractor. I do like the 2.4 gallon gas tank which allows for basically any job to be completed that you would do with a lawn tractor.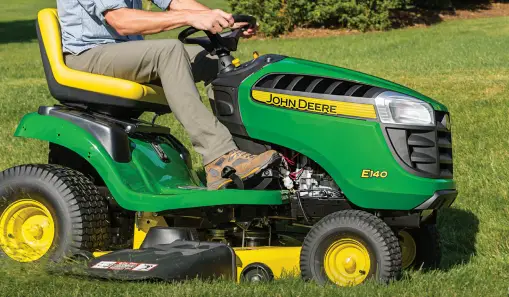 The E100 offers the lowest amount of horsepower in the E series from John Deere. As you go up to E110 through E180, the horsepower increases modestly to accommodate a wider deck. The standard deck size on the E100 is a 42 inch cutting blade. The body basically stays the same on all of them, however. 
A newer feature of this model is the increased battery power. This is feedback that John Deere received on their older models of the E100. Previously, the mower was difficult to start – the new, larger battery has fixed that issue and increased the reliability of a solid start. 
Maintenance
One thing I do love about John Deere tractors are their relatively easy maintenance requirements. The Easy Change 30-second oil change system they created allows for a super quick oil change. Basically, there is an oil canister that you just pop on to replace the oil. 
This is an amazing feature.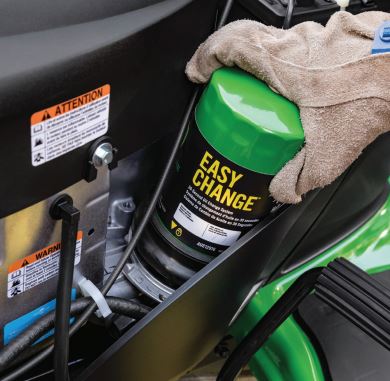 John Deere E100 price new and used
The John Deere E100 is a more affordable lawn tractor. For a new John Deere E100, you will pay about $1,500 for the machine. For a used John Deere E100, expect to pay around $1,000 or so depending on hours. 
A machine with hundreds of hours will bring the price down quite a bit. As I mentioned previously, the low-cost and quick maintenance on these mowers is incredible. Additionally, John Deere mowers have a reputation for being durable and long-lasting.
Curious at how this cost stacks up? Check out our lawn equipment cost guide.
What's the difference between the E100 and S100 John Deere mowers?
From what I can tell on the surface, nothing. They have the same horsepower and look basically identical. I'm sure John Deere is rolling in his grave (if he is dead), but these look to be the same. If you are looking between the two, you could probably save a ton of money getting a lightly-used E100 versus chunking out $1,800 for a S100. Totally up to you, though!
The official review: The John Deere E100 lawn tractor
Let's check out how the John Deere E100 compares to the average lawn tractor.
| | | |
| --- | --- | --- |
| Feature | John Deere E100 | Comparable lawn tractor |
| Difficulty to use | Average, maybe slightly more difficult | Average |
| Durability | Above average durability | Average durability |
| Maintenance | Less maintenance due to easy oil change | Average maintenance |
| Value | Medium value | Medium value |
| For lots <10,000 sq. ft | Not recommended | Would not fit |
| For lots <1 acre | Highly recommended | Highly recommended |
| For lots >1 acre | Highly recommended up to 2 acres | Highly recommended up to 2 acres |