Electric riding lawn mowers are an excellent way to stay on top of yard work without having to pay for gasoline. You'll also love not dealing with the headache-inducing maintenance that some gas-powered lawn mowers require. 
As the shift to all things electric grows, so does the supply of electric riding lawn mowers on the market. If you're dead set on buying an electric lawn mower or even still on the fence, read on to see the best electric riding lawn mowers in 2023 – I bet we can do some convincing.
We tried our best to stick with just pure electric lawn tractors, but couldn't resist throwing in a zero-turn in our top picks.
Best Electric Riding Mowers, Ranked:
Why we review lawn tools
The reason we started this website in the first place was because we had so much trouble trying to find reasonable, understandable, honest reviews for lawn equipment. And it's not cheap! After hours and hours of research, trying products and returning them, and messing up our yards – we started this site.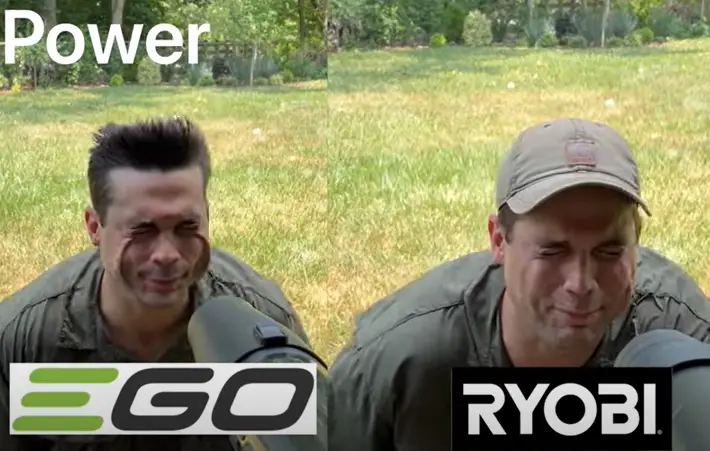 As people who had to learn the hard way, we want you to know exactly what you are signing up for before you purchase a piece of equipment. That's why we are committed to providing honest, easy-to-understand reviews that mean something.
What We Look for in Electric Riding Lawn Mowers
There are various things we consider when looking at electric lawn mowers that make or break their performance. Before pulling the trigger on one of these, make sure you've done your research (or just keep reading our recommendations).
Battery life on electric riding mowers
The ideal electric lawn mower should have a good runtime (ideally two hours or more). It shouldn't take more than four hours to recharge the battery. If an electric mower has a low runtime and high recharge time, cutting your lawn will become a much more difficult feat.
Further, you should be able to pop off one of the batteries and use it with a blower, trimmer, or other lawn tool. This is how you can save some serious money – buying the tool-only version of other tools in the same battery line.
Comfort
Additionally, an electric riding lawn mower should have a comfortable and adjustable seat. After all, you'll ride it for at least an hour a week – you don't want dreaded back pain. It sounds ridiculous to make this a sticking point, but it HAS to be comfortable if you are sitting on this bad boy for a while.
Easy to use and control
Moreover, we look at the different cutting options the lawn mower offers. The electric riding lawn mowers we hand-selected have multiple cutting options – bagging, side discharge, and mulching. Lastly, the riding mower should be easy-to-use and relatively maintenance-free.
It's also really cool that riding mowers can double as little ATVs that pull trailers around your yard.
The Best Electric Riding Lawn Mowers: 2023 Ranking
Finding the best electric riding mowers wasn't too tall of an order. A few of these we've used personally and frankly, the market still isn't very large. The bold companies that have put these out there are making a big bet on the future – and I think they'll be right.
1.) Greenworks CrossoverT Electric Riding Lawn Mower
Greenworks dubs itself the "final evolution of lawnmowers." When you see the specs and features of the CrossoverT Riding Lawn Mower, you'll see why. My favorite thing about this mower is that it cuts up to 2.5 acres on a single charge and only takes 90 minutes to recharge. 
Holy smokes, those are some great numbers. 
Not only that, but this electric riding mower comes with six 8.0 Ah batteries and three dual-port turbochargers. Again, you can use these same batteries on any of your Greenworks 60V products. 
Aside from its quick recharge time, the CrossoverT is super comfortable, with padded seats, foldable armrests, and advanced back support. Moreover, you won't waste any energy thanks to innovative microchips that monitor the grass quality in real time. The mower boasts high-torque rear-wheel drive that lets you climb 15-degree inclines – basically better than my car. 
I also love that there's built-in theft protection – the perfect way to protect your precious investment. To add the cherry on top, the CrossoverT requires absolutely no maintenance other than recharging and sharpening the blades as needed.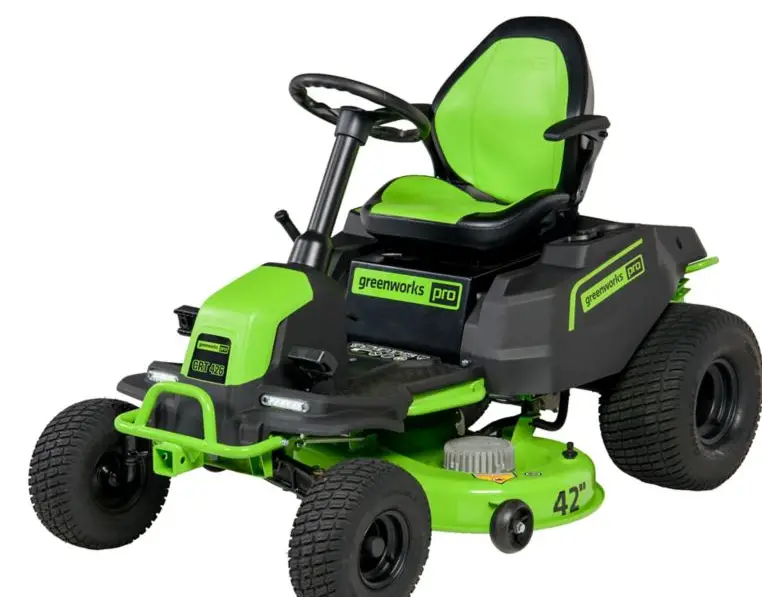 Why this mower made our list:
Runs for up to 60 minutes with the included 8.0Ah batteries
90 min charge time (!)
Cut like a professional with SmartCut Technology that auto-adjusts and senses grass thickness
Features a high-padded seat and armrests
Designed with an integrated cargo bed that can hold up to 200 lbs. of yard supplies, like big bags of mulch
The folks at Greenworks absolutely crushed it with this riding mower. While it isn't a zero-turn, it's a great, affordable electric lawn tractor that absolutely slaps. They sell these at Tractor Supply Co (we have no affiliation) for $4,500 MSRP. 
2.) EGO Power+ Electric Zero-Turn Lawn Mower
Delivering all-electric power comparable to a 22 HP engine (like the one on this Toro zero-turn mower), the EGO Power + Zero-Turn Lawn Mower never fails to deliver. Compared to other electric mowers on the market, this EGO product stands out because it holds six batteries – four of which are included. It also has swanky features like premium LED lights, a USB charging port, and Bluetooth technology. Not bad.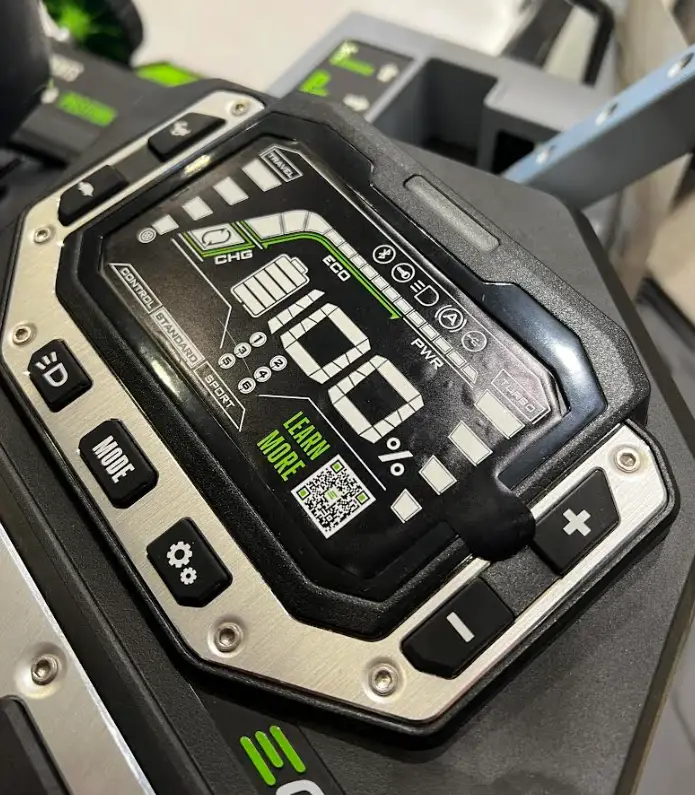 It still delivers some serious cutting width, up to 42 inches (about twice the average push mower). This is on the lower end of zero-turn mowers and about average for regular riding mowers.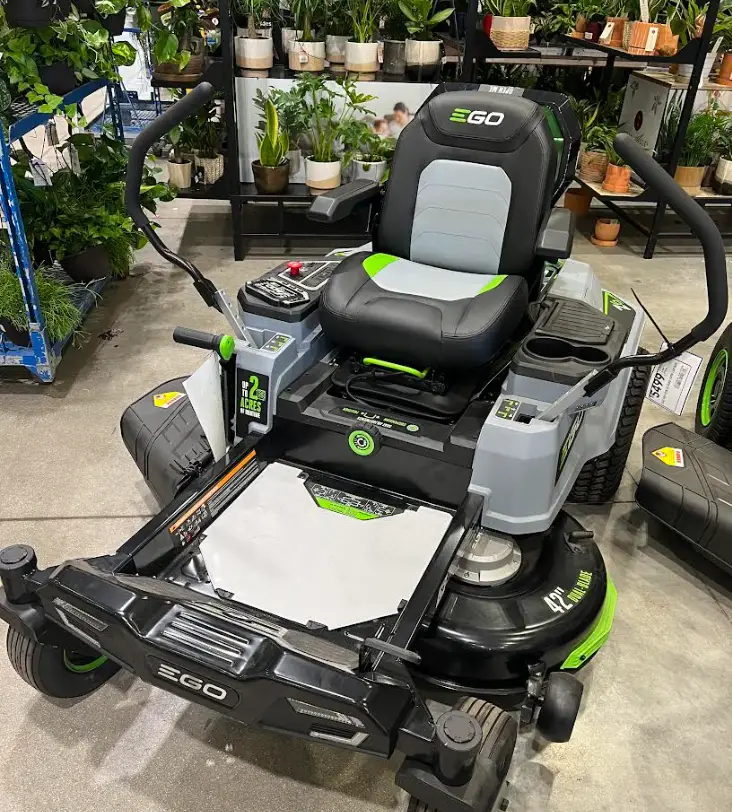 With an adjustable hydraulic seat (WITH ARMRESTS!), you can rest assured knowing you'll stay comfortable as you accelerate up 7 MPH (or 8 MPH in travel mode). The EGO zero-turn mower can cover up to two acres on a single charge, and recharging only takes a few hours. Given its premium features and three driving modes (Control, Standard, and Sport), some might call this product the Bugatti of electric mowers, and rightfully so. 
Summarizing what we loved about the EGO Power+ Zero-Turn Mower:
Supports up to six batteries for longer run time
It boasts the electric equivalent of a gas-powered engine with 22 HP
Can cut up to two acres of lawn without a recharge
Comes with three different driving modes: Sport, Standard, and Control 
Features a premium LED interface that gives you complete control over the mower
It has a separate charging cord that allows you to charge all the batteries at once
You can pop a battery off and straight into your EGO blower or EGO weed eater
These things are absolutely sick, but they come at a cost. If you're dedicated to electric riding mowers, then you're going to have to show it at the cash register. You can grab this one from Lowe's (we have no affiliation) for $5,500. This is on the higher end for a zero-turn mower, especially one with limited run-time, but it's still great for a homeowner with less than 2 acres.
3.) Cub Cadet XT1 LT42E Electric Riding Lawn Mower
You may have seen the LT42E posted up outside of Home Depot next to its gas counterpart, the Cub Cadet XT1 LT42. The Cub Cadet XT1 LT42E might not seem like the most innovative electric mower, but it provides great bang for your buck. This all-electric mower can mow two acres (roughly 1 ½ hours) on a single charge. It also doesn't fade as the battery power starts to decline, meaning you won't have to re-mow areas of grass – most lithium Ion batteries operate this way.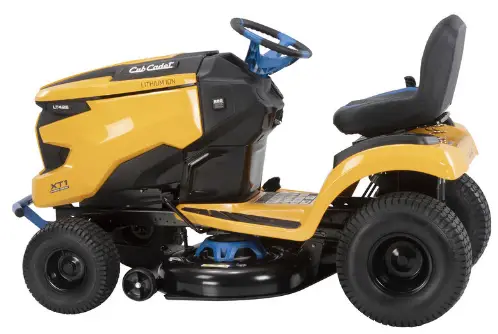 Recharging the battery takes around four hours, so it's not as fast as the Greenworks CrossoverT, but still reasonable. When it comes time to recharging the battery, you can use a standard 110-volt outlet. 
There are two brushless motors that fuel the mower's steel direct drive and twin-blade cutting deck. And since the mower is completely electric, you'll never need to shift between gears – just push a button and get ready to rumble. You'll also enjoy a comfortable ride with a premium adjustable cut-and-sew seat. Since this mower isn't the cheapest product on the market, you'll be glad to know you get a three-year limited residential and four-year limited battery warranty.
The highlights:
Mow up to two acres without recharging the 3000Wh lithium-ion battery
Comes with a (somewhat) fast charger that only takes four hours to recharge the battery
Features four-gauge wheels for anti-scalping and a 1" – 4" cutting range
Forward speed of 5.5 MPH and reverse speed of 3 MPH
Comes with a three-year limited residential warranty and a four-year warranty on the battery
This mower is great for a mid-size homeowner's lawn. I wouldn't let it do anything super heavy duty, but it is definitely well constructed. 
One downside of this mower is that Cub Cadet doesn't have a ton of battery-powered items, so you won't gain any economies of scale with this battery.
You can check out the price of this one exclusively at Home Depot – where they seem to be selling a lot of them.
4.) Ryobi 100 AH Electric Riding Mower
Ryobi turns it up a notch with its 100 AH Electric Riding Mower. This low-maintenance mower has no filters, spark plugs, or belts. It can run up to 2 ½ hours per charge (approximately 2 ½ acres). It has a sleek black and yellow design paired with a comfortable, well-adjusted seat. 
This one made our list of the best Ryobi mowers, coming in at #7 and being the only riding mower.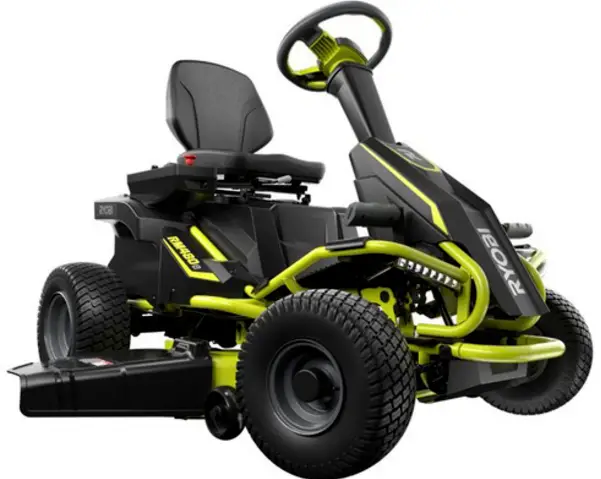 If you want to mow at seven in the morning without waking up your kids, this Ryobi mower will do the trick with its quiet cutting and cruise control. The mower features three cutting options – bagging, side discharge, and mulching. It comes with a three-year warranty, and if you ever run into issues, you can take the mower to one of 300+ service centers nationwide. 
This is definitely the lightest-duty mower on this list, only able to boast a 38 inch cutting deck, but still with an impressive run time. It also is  the lowest price, so is actually one of pound-for-pound strongest electric riding mowers on the market.
Summary of why we liked this mower:
Get up to 2 ½ hours (2 ½ acres) per charge despite having a smaller cutting deck
Quiet cutting keeps you from waking up your neighbors (this is a negative if you don't like them)
12-position manual deck adjustment – wish this was electric but still nice
Get the job done quickly with a maximum speed of 7 MPH
Comes with a three-year limited warranty for extra protection
All-in-all, this one is a really good value if you are more price sensitive. It isn't quite as comfortable as the others, but will definitely get the job done. 
This one is available for just over $3,000 at Home Depot , which is a crazy good value.
The Bottom Line on electric riding mowers
If you're considering investing in an electric riding lawn mower in 2023, you can't go wrong with the EGO, Greenworks, Cub Cadet, and Ryobi brands. These companies offer some of the most inventive electric riding lawn mowers that make mowing fun – not a chore.
And that's what it's all about, right?
Looking for some exercise? Check out our best battery powered push mowers ranking.