Trailers on lawn mowers are underappreciated tools that let you turn a normal lawn tractor into a straight up do-it-all beast.
Yes, there's a reason they're called tractor trailers – many tractors originally served as the ultimate vehicle. Fortunately, folks like Ford bailed us out and gave us the F150 straight from heaven. 
But that doesn't mean there isn't a place for a good old trailer for your lawn mower. These are great for hauling hay, mulch, feed, salt, or anything else across your property. Luckily, there are a ton of options and plenty of buying options – many of which you can get delivered straight to your house.
Let's explore the best trailers for lawn mowers:
Why we review lawn tools
The reason we started this website in the first place was because we had so much trouble trying to find reasonable, understandable, honest reviews for lawn equipment. And it's not cheap! After hours and hours of research, trying products and returning them, and messing up our yards – we started this site.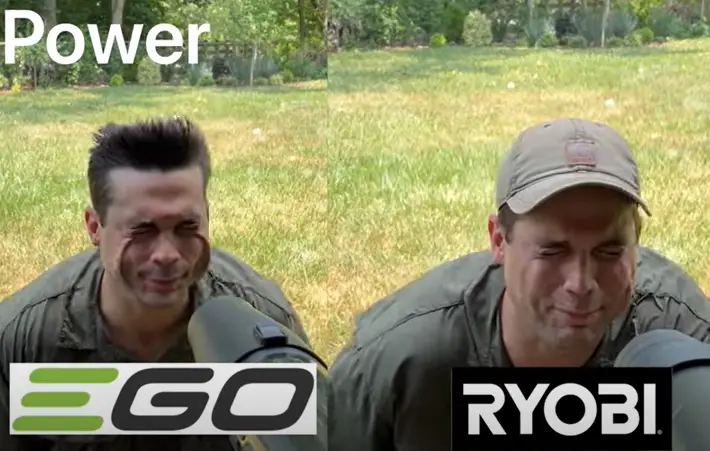 As people who had to learn the hard way, we want you to know exactly what you are signing up for before you purchase a piece of equipment. That's why we are committed to providing honest, easy-to-understand reviews that mean something. 
What to look for in a trailer for a lawn mower
When we check out a new trailer for our mower, we have a few things we make sure to check out. While some of it may be obvious, these trailers are different from the ones you use with your truck. Here's how:
Weight capacity
This one is pretty obvious. You want your lawn mower trailer to be able to hold enough weight to get your job done, but not leave you on two wheels spinning in the mud. Most of the lawn mower trailers hold under 1,000 lbs – not because they will fall apart but because they will burn  out your lawn tractor.
Dimensions
Mower trailers vary a bunch in size, with some being basically wheelbarrows to some looking like they could tow a boat. Don't get any more than you need by spending a lot of money. You can always make multiple trips.
Usability
Make sure to grab a trailer that functions in ways that are helpful to you. I'll get more into it later, but some of these can be used for multiple purposes outside of just a lawn mower trailer. Get more bang for the buck instead of buying a lawn mower trailer and a yard cart.
Ranking the best lawn mower trailers
Because all of these are such different trailers with different uses, it's hard to compare them equally. So we've gone ahead and broken them down by category – with the ability to purchase online and even have them delivered. Pretty dang cool. Let's get started.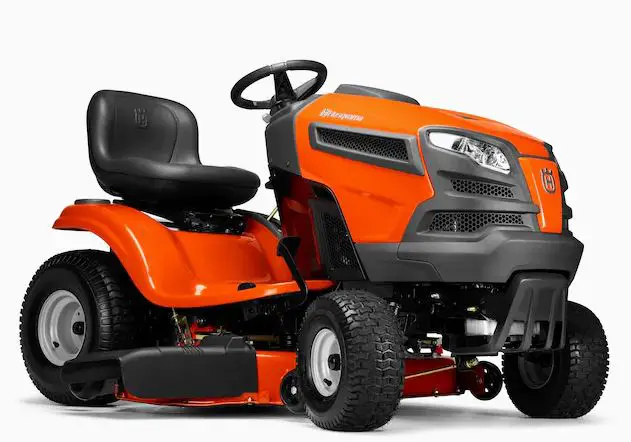 If you're looking for some good lawn tractors, check out Husqvarna!
Best lawn mower tow behind dump cart: Agri-Fab 750 Pound
If you're looking for an old-fashioned dump cart for your lawn mower, this is going to be the best lawn mower trailer for you. When it comes to moving mulch, seed, water, or other things – this is the classic trailer that you have in mind.
A few things we love about this tow-behind dump trailer:
Made in America (USA #1)
A universal trailer hitch that fits any lawn tractor
Steel bed with 750 lb capacity and 12 cubic feet
Big pneumatic (air-filled) tires
A really convenient foot lever that lets you pump up the dump cart and tip it back
It's really convenient that it can fit any lawn tractor and carry quite a bit of mulch, hay, or whatever else you need to haul around.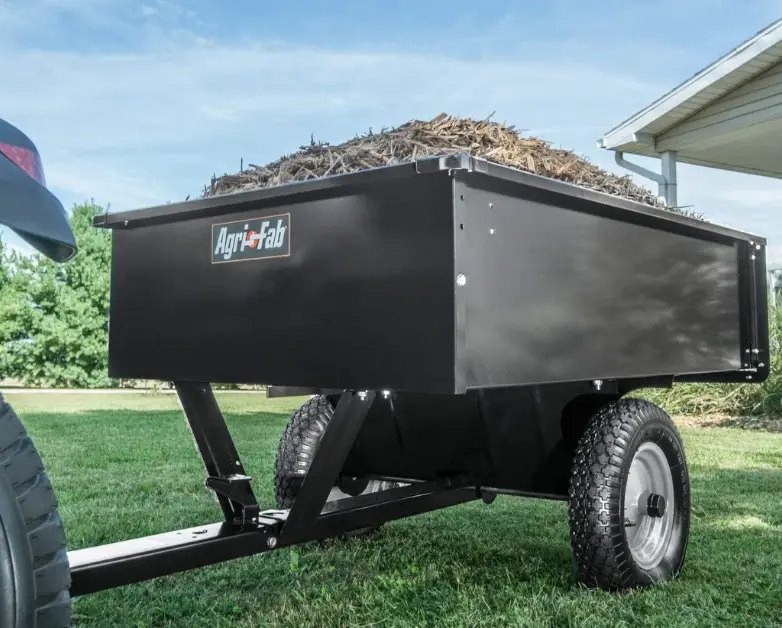 The best part is you can order this online and have it shipped straight to your house. This one is for sale on Amazon for a really good price and is pretty easy to put together.
Best multi-purpose lawn mower trailer: Gorilla Carts 2-in-1 Convertible handle
Now this lawn mower trailer has me scratching my head. I honestly don't understand how it is able to pull off such a ridiculous payload, but here we are. What struck me about this 2-in-1 Gorilla Cart was why on earth anyone would NOT buy it? Everyone needs a good yard cart (they're 1000x better than a wheelbarrow) and if you ever need to hitch it to a lawn mower or ATV – then you're set. 
The handle on this dump cart not only allows you to pull the cart behind you on the four pneumatic tires, but serves as a lever to pump the back of the cart up for dumping. Oh – and it also hitches to a dang lawn mower. 
But I glossed over something here – this has 4 tires on it, making it really easy to transport and takes a massive amount of weight off of your shoulders if you are hand-pulling it. It also keeps the cart flat when being towed.

Another huge benefit is that you can unlatch it from the mower and keep pulling it by hand if you need to take it the last mile by yourself. With traditional lawn mower trailers, you are out of luck.
This one is really crazy as well because it has multiple purposes and functions, a huge 1200 lb capacity, and is an insane price on Amazon, where it has over ten thousand 5 star reviews. Holy cow…
Best heavy duty lawn mower trailer: MotoAlliance Impact 1500 lb 
So this one is really designed for ATVs and UTVs, but has the same hitch as a lawn mower and can easily be towed by most zero-turns with big engines. This one made the list because it most closely resembles a normal trailer but will take you places a normal trailer can't go.
The MotoAlliance Impact has a 1500 lb capacity and 15 cubic feet. We love that it has a huge bed and steel construction but also love the super wide tires that help it go over concrete, snow, or really anything else. It is a huge tire upgrade from the other two options on this list and it shows.
It also has big side rails that can hold in hay bales or anything else, but are also removable for dropping in trees or brush. One of my good friends has one of these at his lake house for hauling wood and uses an old ATV to pull it around. It does a great job and has been worn down for a long time.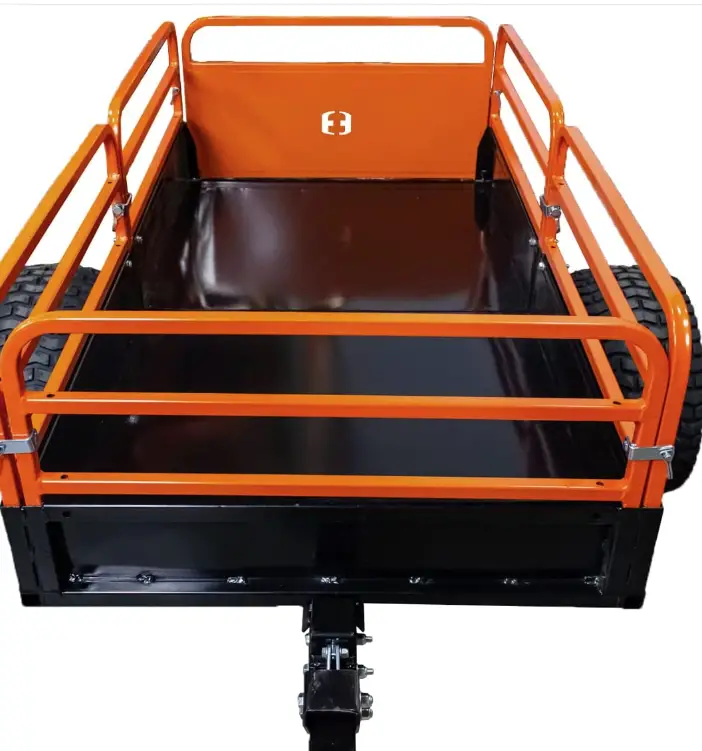 While it is super heavy duty for a lawn mower trailer, it still comes in at a decent price. You have to do some assembly if you buy it online, but it is well worth it. 
You can grab it on Amazon for just under $500.
Lawn mower trailers: The bottom line
If you have a lawn tractor and want to use it for things besides just cutting the grass – turn it into a multi-use vehicle and grab a trailer. This is one of those simple pleasures in life that made me smile when I got to turn my mower into a little truck. 
This is super helpful if you have bagged mulch from Lowes or somewhere else. Simply rack and stack and haul off to the nearest bed.