The Cub Cadet XT1 LT series of the Cub Cadet XT1 LT42 and LT46. To help break this down, Cub Cadet has the XT series with LT (short for Lawn Tractor), with either a 42 or 46 inch deck cutting width. 
As two of the most popular lawn tractors on the market, many people have asked me to review the Cub Cadet XT1 LT series and compare the LT42 and LT46.
Let's get started:
What to look for in a lawn tractor
With the dawn of zero turn mowers, electric riding mowers, and flying hovercraft mowers with drone weed whackers (only kidding), the classic lawn tractor is often overlooked.
The reality is that lawn tractors are great machines that still have a place in the modern lawn care garage. Lawn tractors are great for people with a half of an acre up to two acres. They are also fine for people with more than 2 acres with few obstacles to navigate.
The zero-turn mower craze (of which Cub Cadet has some awesome mowers) is largely hyped up by the admittedly cool features. The downside of these mowers is the massive price tag and difficulty with storage. 
Cub Cadet's XT1 LT42E even made our list of best electric riding mowers.
Convenience of lawn tractors
Lawn tractors are still convenient for many folks. The beauty of lawn tractors is that they can easily squeeze into your garage between two cars. Zero-turn mowers need their own separate garage or storage facility simply due to the size. Lawn tractors are also straightforward to operate and have less moving parts than zero turn mowers.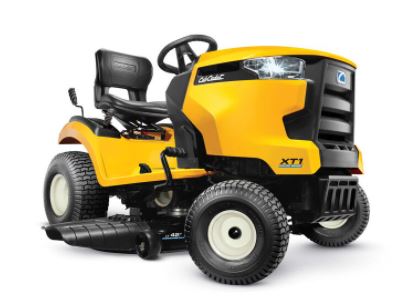 Another thing I love about lawn tractors is their ability to add on attachments to the front. Zero turn mowers often have attachments and trailer features on the back, but for those of us in snowy climates there is nothing quite like putting a snow pusher on the front and moving some snow. The same goes for piles of mulch or anything else you feel like pushing. 
The Cub Cadet XT1 LT 42 and 46
Looking at the Cub Cadet XT1 LT 42 and 46, you would think they are absolutely identical. From the outside, they are mostly the exact same other than the deck width. Let's take a look underneath the hood and compare their overall functions.
Comfort and usability
Frankly, Cub Cadet is known for their comfortable mowers. They prioritize this feature over a lot of other things in their mowers, which I greatly appreciate. Both the LT42 and LT46 have an adjustable seat, a 15 inch high seat back, and straightforward operating functionality. 
While the XT1 series has a 16 inch turn radius, the masters at Cub Cadet have fashioned the steering system to feel like a zero turn mower. They are very easy to operate and provide a comfortable ride.
As a tall person, I was saddened by the lack of steering wheel height reach. I have to slightly hunch over to grab the steering wheel or otherwise have my arms extended way out in front of me.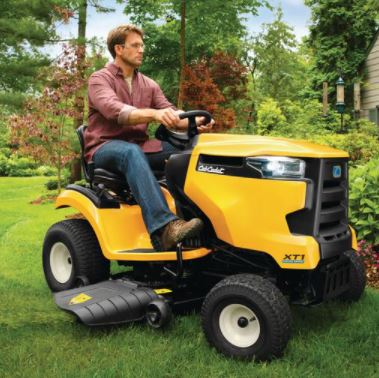 Transmission 
The Cub Cadet XT1 LT series offers "Tuff Torq" foot controlled hydrostatic transmission that gets rid of the need for manual shifting. You simply apply your foot to the pedal and get moving. I love hydrostatic transmissions because they offer longer lives and less maintenance. To make things better, Cub Cadet offers a 3 year warranty on this product, regardless of hours used.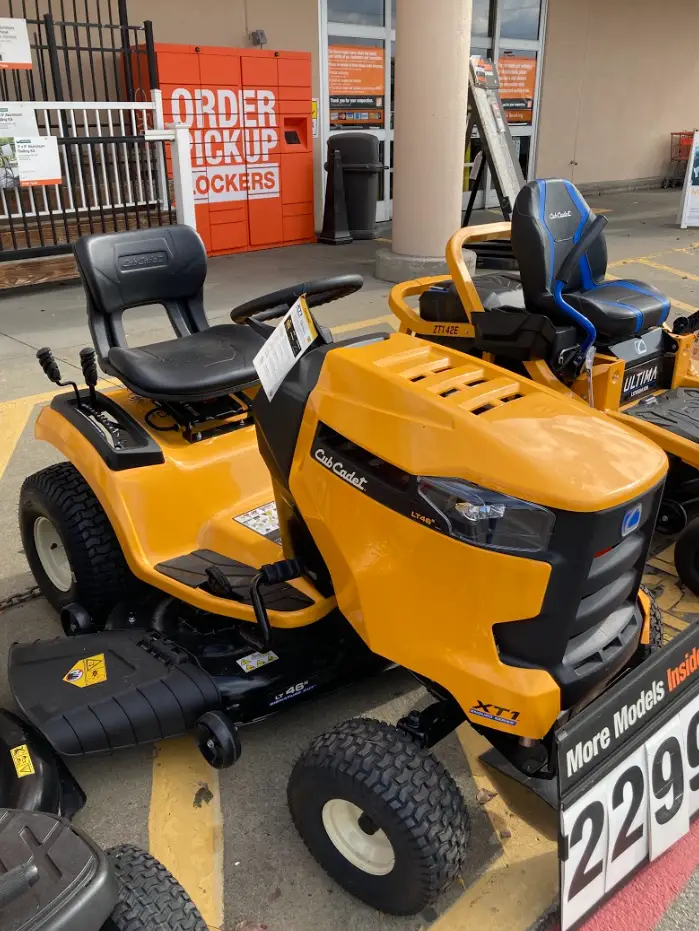 Accessories for the XT1 series
The accessories available on the LT42 and LT46 are flat out sweet. The options turn this 4 to 5 month per year machine into a year-around utility vehicle. There is an attachment snow plow blade, a leaf collector, tire chains, double bagger, mulching kit, brush guard, rear cargo carrier, rear sprayer, and front bumper kit. You can also purchase armrests, sun/snow shade, or a full on snow cab. With all of these features, you can save a ton of money and time with the Cub Cadet XT1 instead of five or six different machines and tools.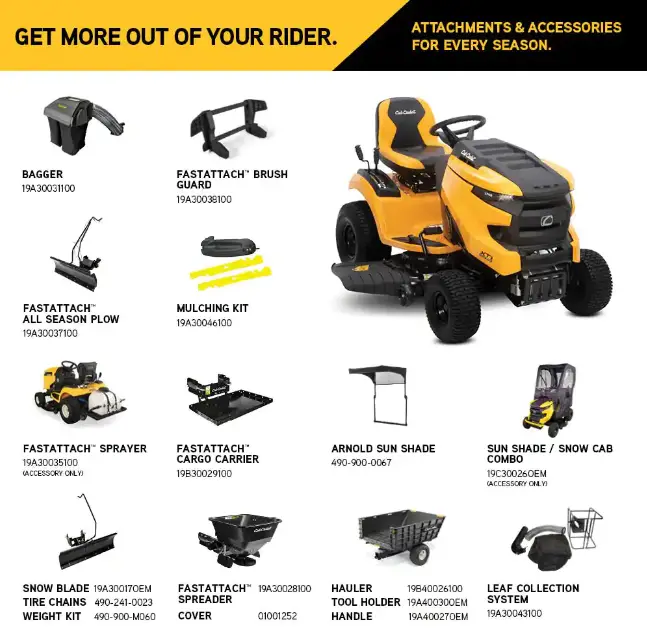 Power of the XT1 LT series
Upfront I can tell you that both of these mowers will have adequate power for those with up to 2 or 3 acres. That being said, you have a choice to make between the LT42 and LT46.
The LT42 has a single cylinder, 541 cc, 18 horsepower, 5400 Kohler engine. The Kohler engines are great and moderately reliable. For the 42 inch deck, this engine is more than enough power to get a job done. The LT42 has the ability to move up to almost 6 mph forward and 3 mph in reverse. 
The LT46 has a twin cylinder, 725 cc, 22 horsepower, 7000 series Kohler engine. What I love about the horsepower on this engine is that it is the same amount of horsepower as a lot of heavier, bigger zero-turn mowers. 
Other than the horsepower and deck width differences, the two have almost identical features in all other aspects. 
What about the Cub Cadet XT1 LT42E?
The XT1 LT42E, the electric version of the XT1 LT42E, is similar in almost every way except for the engine (duh). This battery powered machine can go for about one and a half hours before needing a recharge, which takes about 4 hours.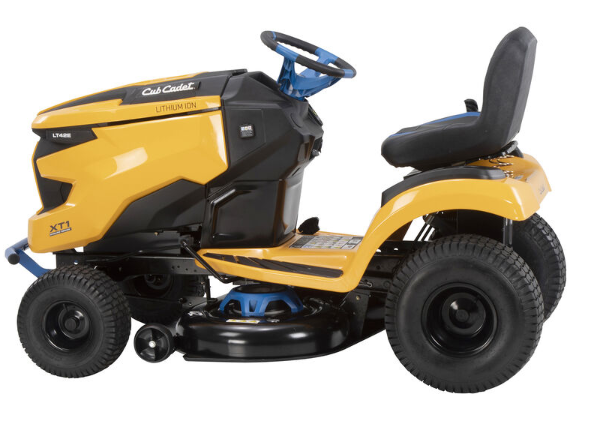 A main difference you will notice between this machine and the other XT1 series is the price. While I do like some electric lawn equipment, this thing has a much bigger price tag – which can be totally worth it to some people.
Criticisms of the XT1 LT42 and LT46
Some of the common criticisms of both the LT42 and LT46 Cub Cadet XT1 series tend to be aesthetic. A few folks have pointed out the "cream-colored" rims on the tires. Another criticism I have seen is that sometimes the blade will bump the soil when going over hills or rough terrain. This is totally normal and is just like when you take your car into a steep driveway – you will get some drag sometimes.
Others boast about the smooth and quiet ride. Cub Cadet prides themselves on the mower's experience which is why they consistently make comfortable riding mowers that leave you wanting to mow your neighbor's yard. 
Overall review of the Cub Cadet XT1 LT42 and LT46 riding mower
| | | |
| --- | --- | --- |
| Feature | Cub Cadet XT1 LT42 and LT46 | Comparable lawn tractors |
| Difficulty to use | Slightly less difficult due to steering ease | Average difficulty |
| Durability | Average durability | Average durability |
| Maintenance | Relatively easy to maintain | Relatively easy to maintain |
| Value | High value due to comfort and add-on capabilities | Medium value |
| For lots <10,000 sq. ft | Not recommended | Not recommended |
| For lots <1 acre | Recommended  | Recommended  |
| For lots >1 acre | Recommended up to 2-3 acres | Recommended up to 2-3 acres |
Overall, the Cub Cadet mowers will mow just about as well as any other lawn tractor on the market. What distinguishes the XT1 LT42 and LT46 from its competitors is its comfortable and quiet ride. Another beautiful feature of this series is the ability to have attachments that turn this from a summer machine to a year-round wonder. 
Cost and value of the Cub Cadet XT1 series
The XT1 LT42 and 46 can be found at Home Depot – where you'll have to check the price because it changes all the time. Both are great options, but if you have a bigger yard I would go with the LT46. This will save you time as it has larger blades and a larger deck width.