Mulch at Lowe's can be an overwhelming sight. Heck, they've got more options than Wall Street on their racks. Seriously, my wife and I went a few weekends ago and I was shocked at the amount of choices they had. Let's cut through some of the chaos and help you pick the mulch that is right for you. 
Every year, Lowe's has a few mulch sales that are 5 bags for $10. We've been closely following the dates to map out exactly when this happens in 2023.
Mulch 101: What to know before you go to Lowe(s)
In its most basic form, mulch is just anything you spread over the top of soil. It can be organic or synthetic matter, both can serve the same and different purposes. Some of the main reasons for applying is to spruce up the landscape, retain soil moisture, maintain and improve soil health and reduce weeds. There's not much better than a freshly mulched landscape in my opinion. 
As mentioned earlier it can be organic or synthetic, though most people tend to go the organic route. Organic material usually comes in the form of shredded hardwood of some sort along with some manure, compost blend, and grass clippings. Inorganic can be rubber, plastic or some other weird thing the scientists have come up with this year. 
For the purposes of this article, I'm not going to go over every possible mulch composition but will stick to the heavy hitters found at most of your local Lowe's. 
Before you start mulching, make sure you have a good understanding of exactly how to mulch your garden beds.
Rubber mulch: Wait, what?
We don't know, but people who hate mulching every year love it. Is it good for the environment? Probably not. Is it good for your Sundays? Probably.
NuScape Rubber Mulch Nuggets
As the name suggests, NuScape Brown Rubber Mulch Nuggets are shredded or chopped 100% recycled rubber. This is great for commercial landscaping, playgrounds or schools that don't want to have to deal with the mess and hassle of remulching every year. 
According to NuScape, this product is fade resistant for up to 12 years (with a warranty!). Reviews on Lowe's website vary on the validity of that but somewhere in the 8 to 12 range is a safe bet. Another "pro" of this mulch is that it won't attract bugs that can be damaging to existing landscapes. 
A major con to rubber mulch is that it won't provide the soil enriching properties that organic mulch provides. If you don't care about that then this is a great product and comes highly recommended on Amazon and Lowes. 
At $6.98 per 0.8 cubic feet bag ($8.73/cu ft) this is way more expensive than regular mulch in the short term but provides savings in about 2 years due to not having to re-mulch.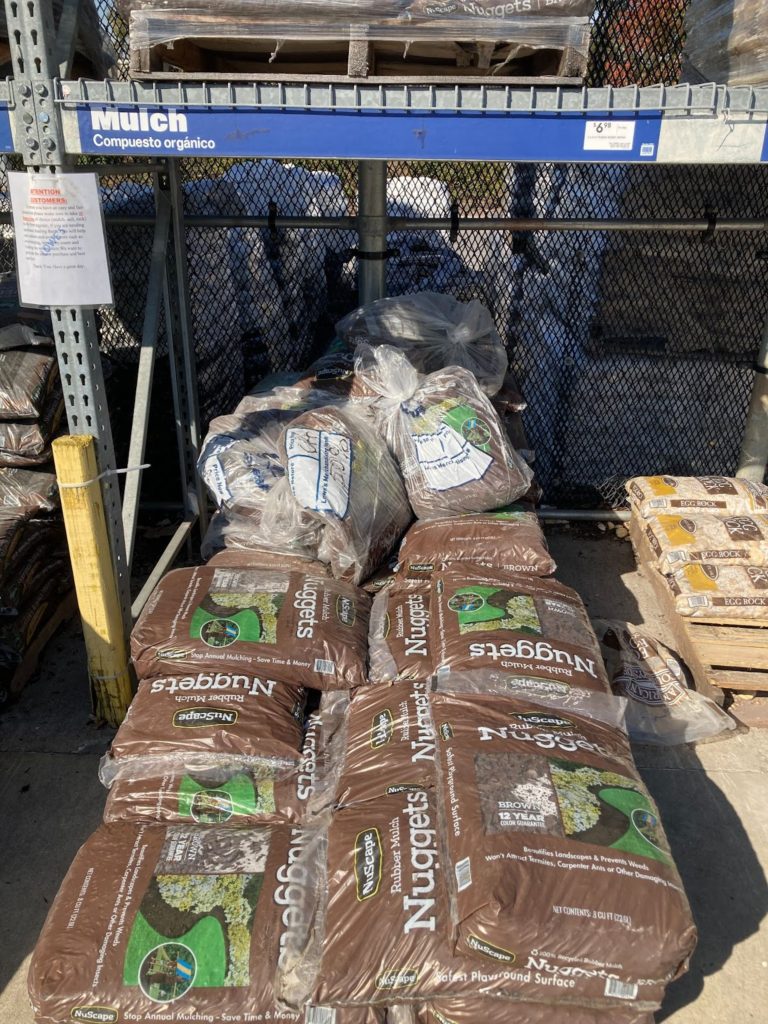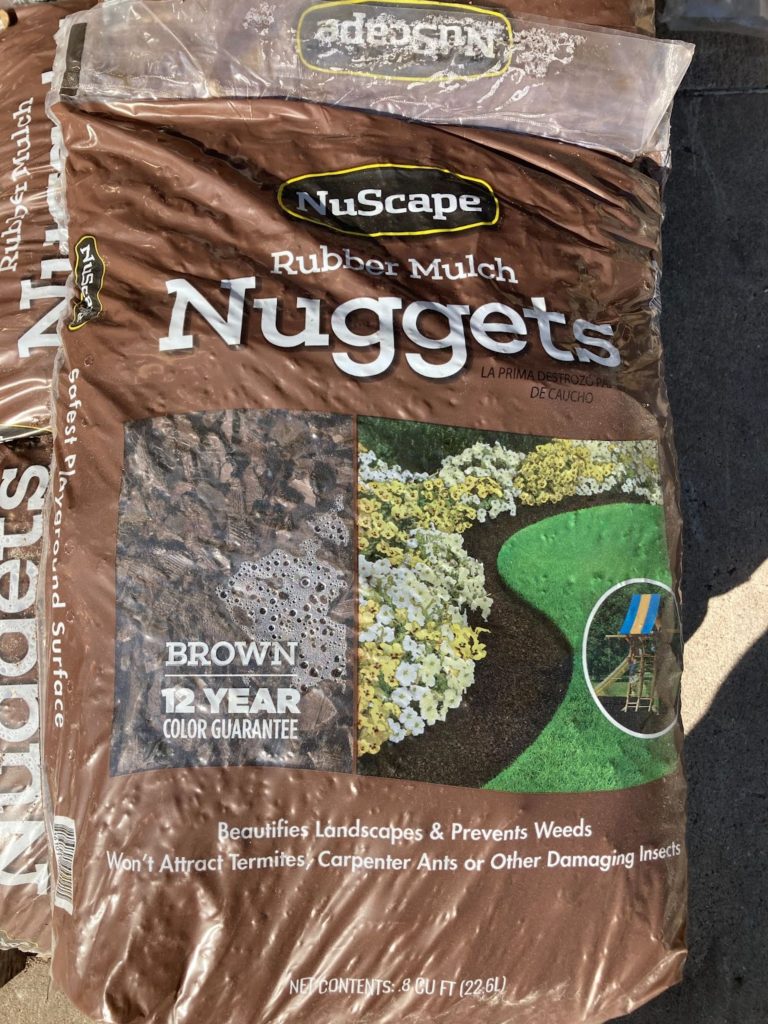 Preen Mulch at Lowes
Preen mulch offers a variety of colors and is one of the higher-end mulches available. Check out their mulch with weed preventer below.
Preen Mulch with Extended Control Weed Preventer
Preen is one of my favorite products to apply to my garden/landscape. It saves me hours (perhaps days) of weeding time come spring and summer. That stuff works. It won't kill existing weeds but it does prevent seeds from germinating so it takes a few years for it really to start kicking in. 
When I saw Preen made a mulch with herbicide included, I was so pumped. Had I known this product existed when I mulched this past year I would've definitely used it. (Maybe not red though.) It comes in russet red, chestnut brown and midnight black. All the colors come with a 12 month guarantee. 
I prefer chestnut brown around my house, but often see folks with Midnight Black as their color of choice in their garden. Russet red is typically used more with commercial properties like schools and restaurants.
This product will run you about $4.98 per 2 cubic feet ($2.49/cu ft) so it's pricey but the convenience of it being in bags and with Preen included makes this very enticing.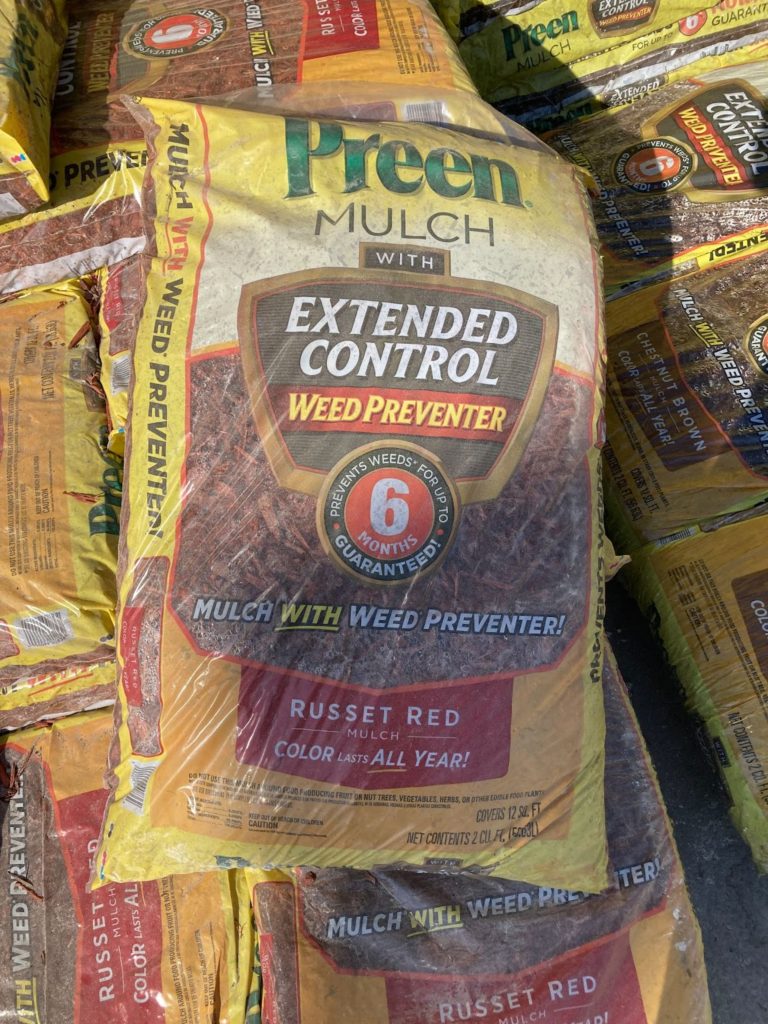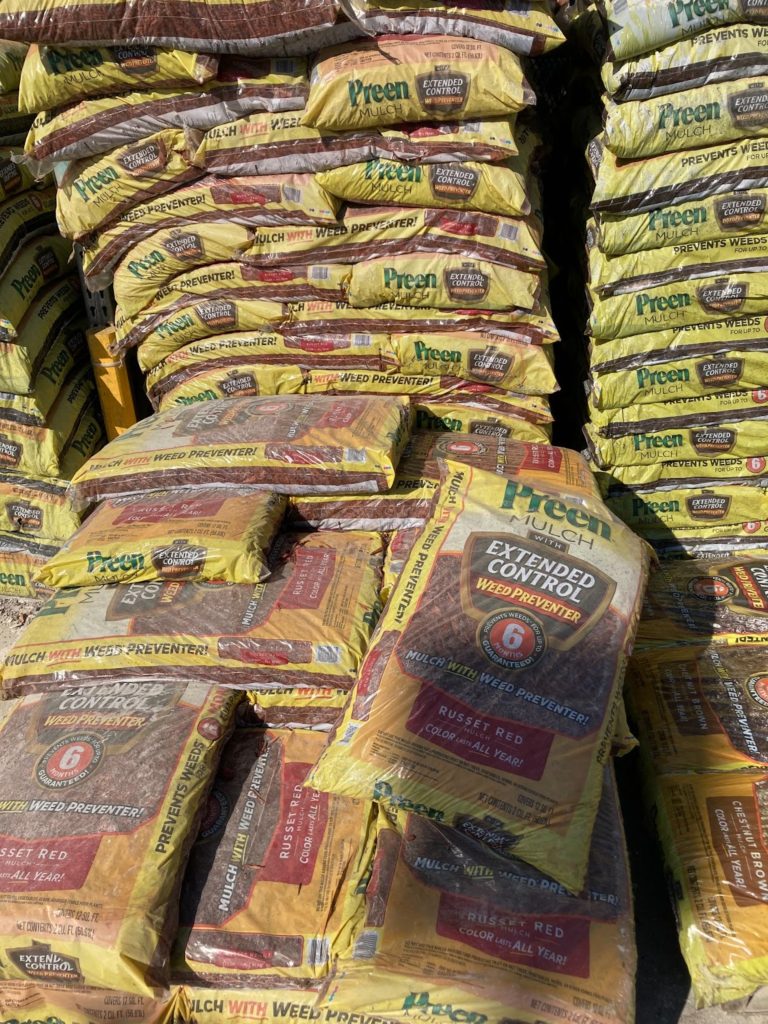 JET BLACK mulch
The JET BLACK mulch really wants you to know what color it is. Let's review what there is to like (or dislike…) about this mulch at Lowe's
JET BLACK Black Hardwood Mulch
A bang for your buck offering from Jet Black, this black hardwood mulch is what it is. Not super high quality stuff but it'll get the job done (at least in the short term). If you're looking for a quick spruce up of the landscape for a party or something, then this mulch is for you. 
However, most reviews I've seen of this product say it will be extremely washed out after about a week or so. This is dyed mulch that doesn't appear to last very long. A washed out mulch bed is almost as bad as no mulch bed at all in my opinion. This mulch offers no sort of warranty or guarantee and there's a reason why. They'd run themselves out of business. 
I purchased this for the front of my house a few years ago, and it did start to grey pretty quickly. I would be prepared to re-mulch often if this is the mulch you go with. 
At $3.78 per 1.5 cubic foot ($2.52/cu ft), this mulch isn't really that affordable. I'm honestly really struggling to find why you'd give this stuff a try.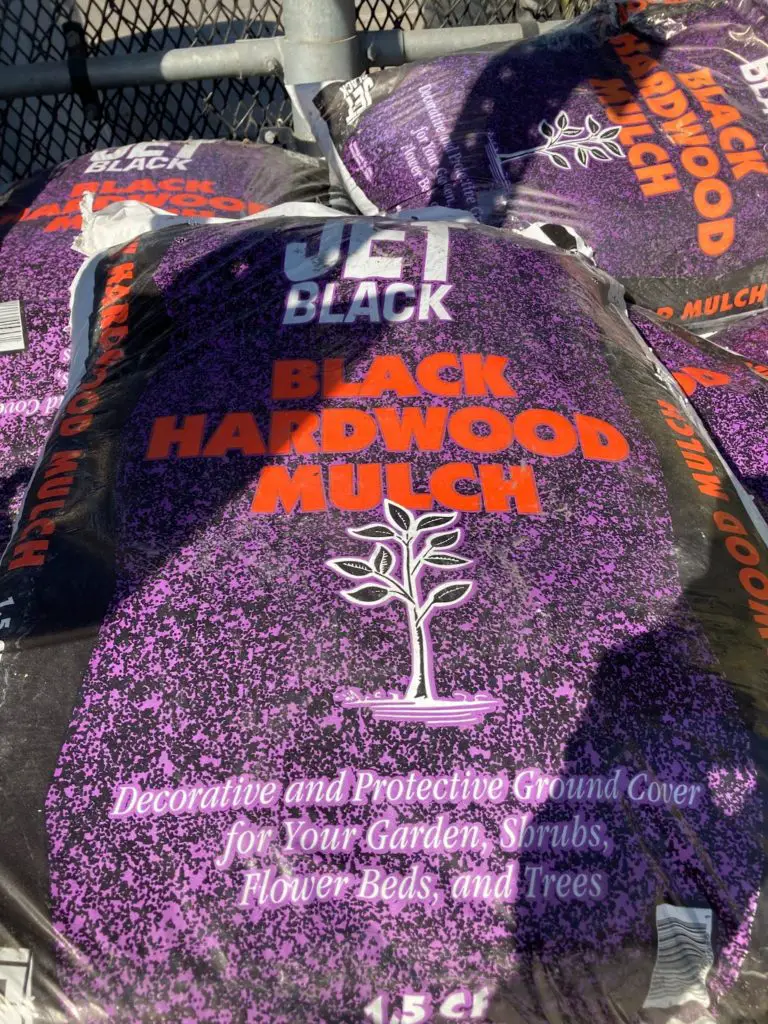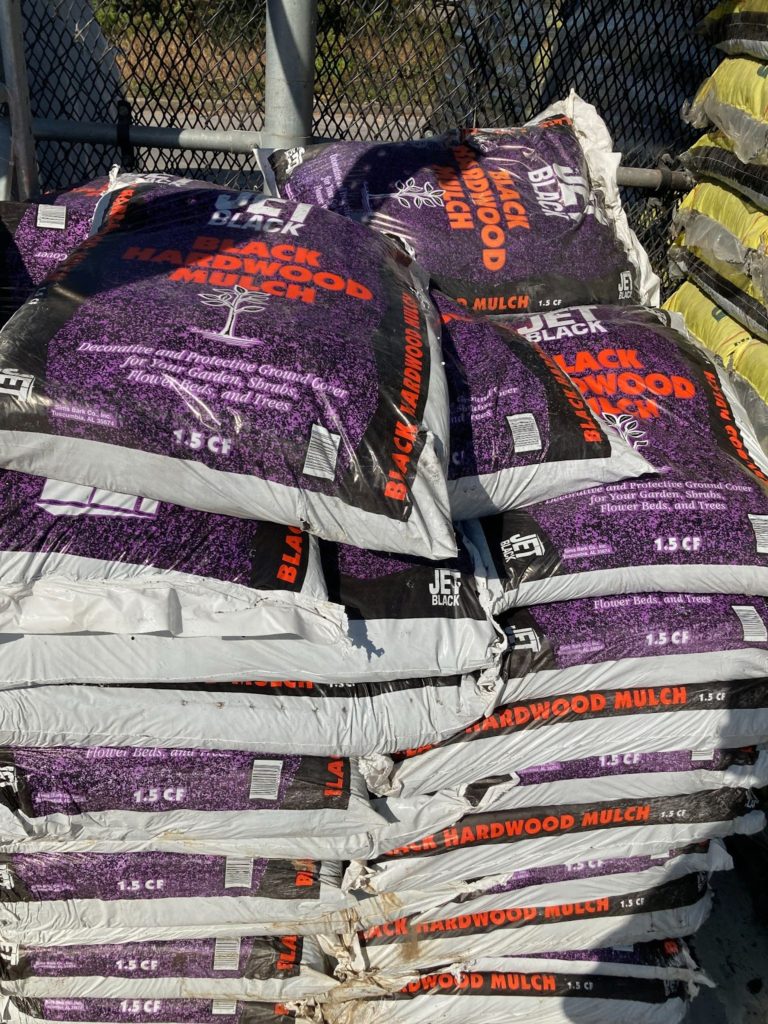 Premium 2-cu ft Black & Red Hardwood mulch at Lowe's
If you want a laugh go read the reviews of this stuff on another site. Several people said there is literally nothing premium about this stuff other than the price. Just based on the reviews and pictures I've seen online of this, it looks like booty (in a bad way). No thank you. Some poor guy bought 140 bags of this and said it completely ruined his landscaping. 
Astoundingly, it actually comes with a 1 year color warranty. I'm not sure how they gauge whether or not the color lasted a year or not but that's up to them I suppose. I honestly wouldn't want the red to last in my landscaping that long anyways.
At $3.68 per 2 cubic feet per bag ($1.84/cu ft), this stuff actually isn't super expensive. So if you do not care what your yard looks like, or want to do something affordably, you certainly can try a few bags of this. But I'd personally try it in the backyard first and see what you think. 
If it passes the test, go pick up some more. What you do NOT want to do is order over 100 bags and then try to return it. That would not be fun.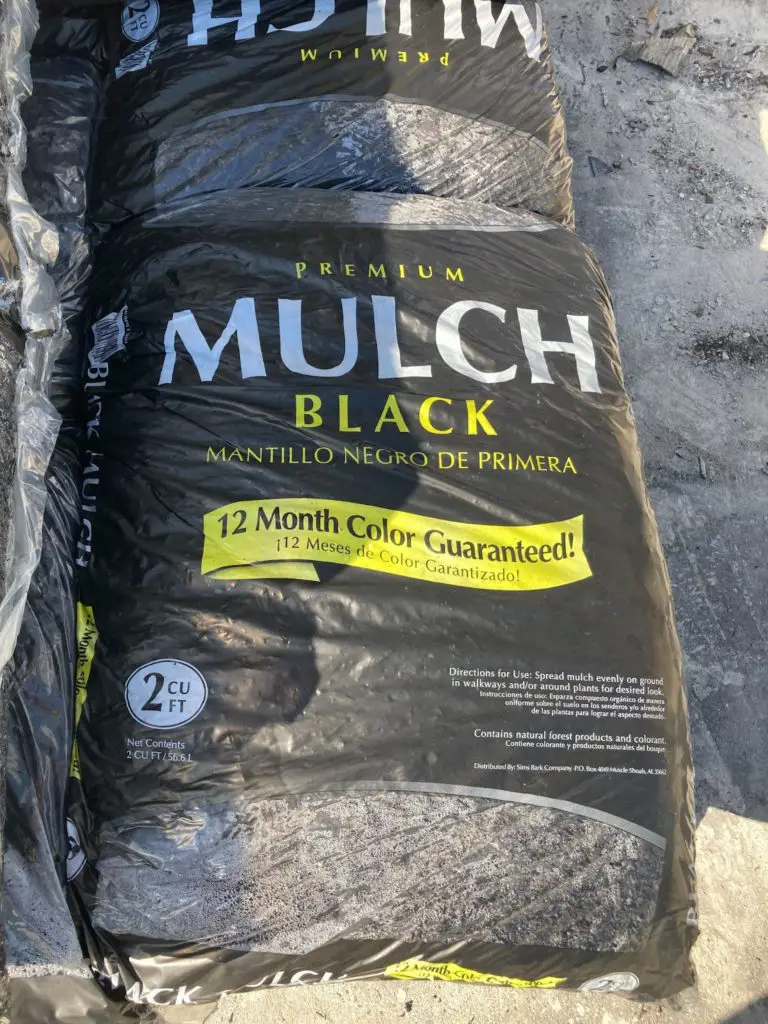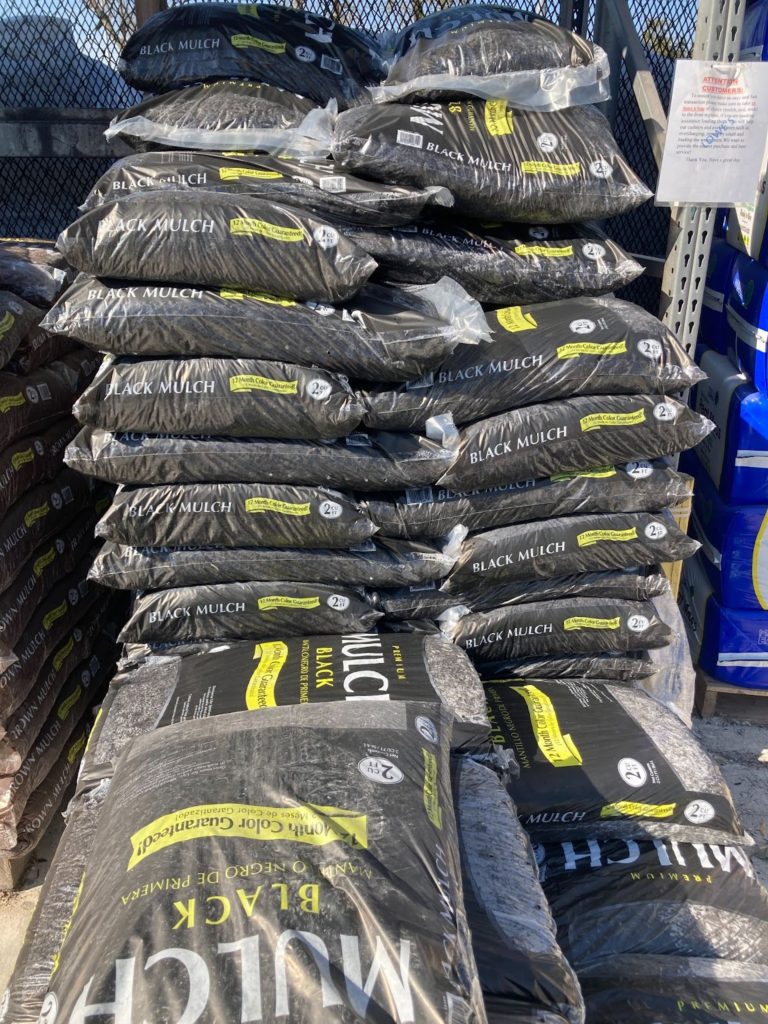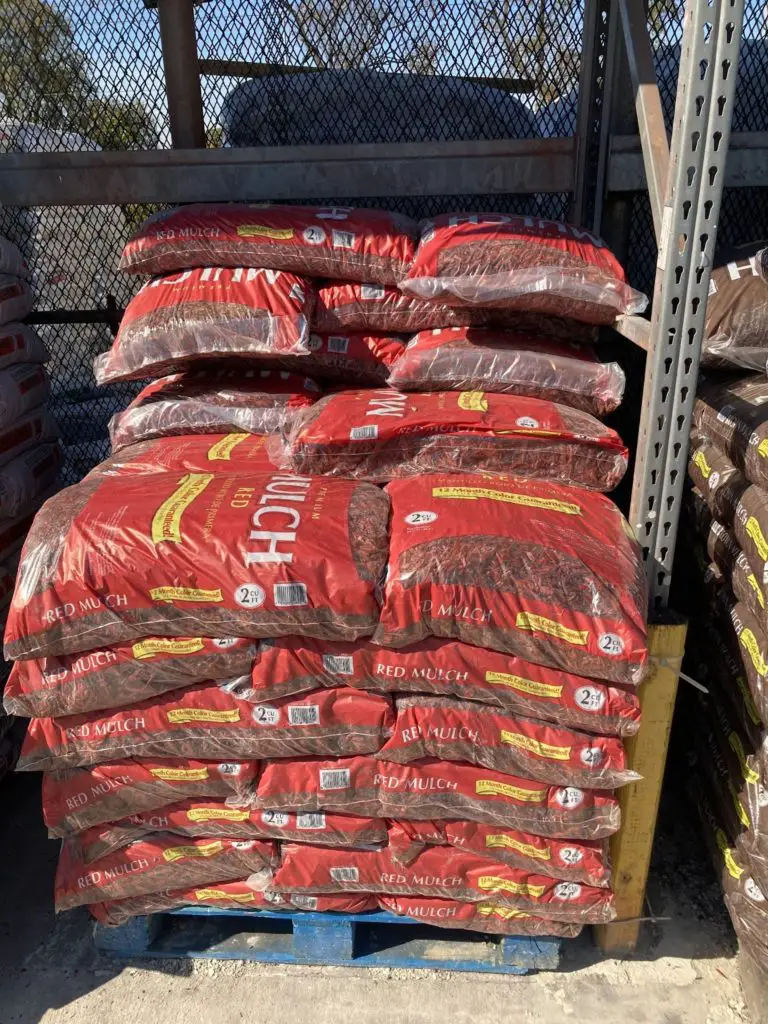 The Evergreen Mulch collection at Lowe's
The Evergreen Mulch at Lowe's comes in a ton of different forms and is a high-value natural mulch. Check out their different products below, then use our calculator to figure out how much to buy.
Evergreen 3-cu ft Natural Brown Pine Bark Nuggets
An option slightly different than the ones previously discussed, pine bark nuggets. No, I'm not talking about Chick-Fil-A nuggets. Pine bark nuggets come packed with nutrients just like shredded hardwood does and because of its larger surface area, lasts for years and years. This stuff is absolutely fantastic for walk paths and playgrounds that get a lot of wear and tear. If you don't use rubber mulch for that stuff then I'd highly recommend you go this route. 
This mulch doesn't come with a guarantee though. However, from the reviews I've seen it doesn't appear that you'll really need one. Aside from a few reviews complaining about bugs in the bag, everything else has looked great. 
The Natural Brown Pine Bark Nuggets from Lowe's will run you $4.58 per 3 cubic feet ($1.52/cu ft), so much more affordable than the shredded hardwoods we've reviewed earlier.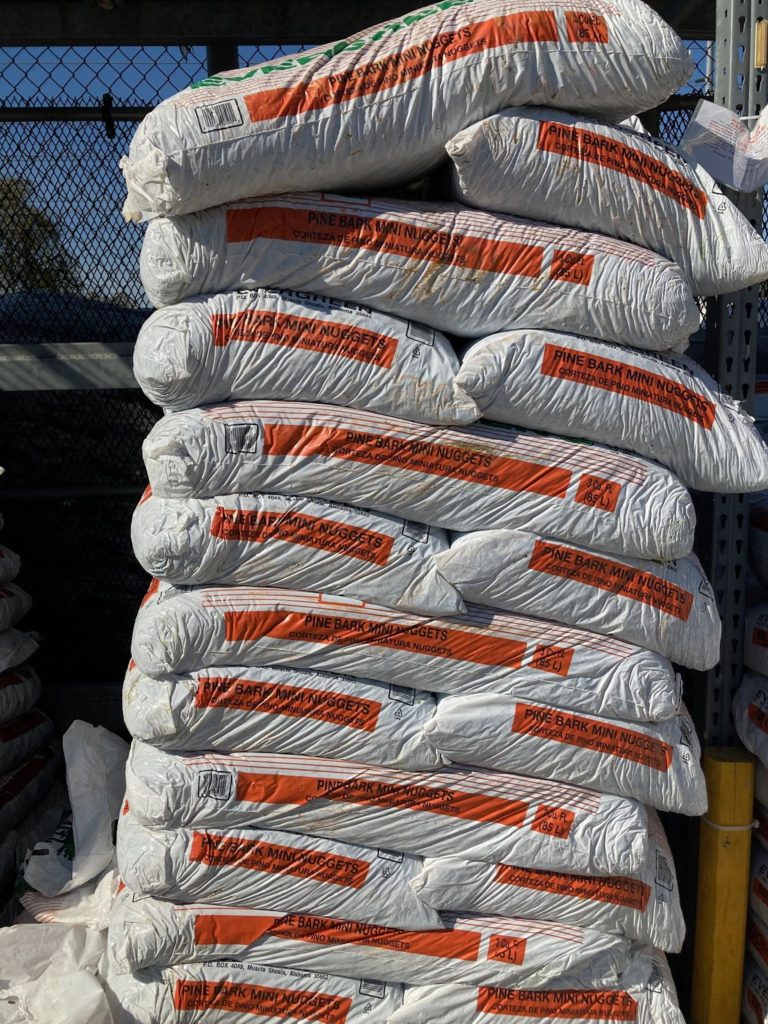 Evergreen 3-cu ft Natural Dark Brown Pine Bark Mulch at Lowes
A more traditional mulch offering from Evergreen the natural dark brown pine bark MULCH. Important to note, this is different from the Evergreen Natural Brown Pine Bark Nuggets reviewed above, this will be more fine, like a traditional mulch. However, not quite as fine as shredded hardwood mulch so this will have longer usage similar to the nugget variety discussed earlier. The reviews look favorable to this as well. 
Evergreen also doesn't offer a warranty on this pine bark mulch either. However, the reviews look favorable to this as well so I wouldn't worry about that. Honestly, this stuff looks really good. Based on my test at Lowe's and the reviews online, I like this stuff. It functions similarly to other mulches and is MEGA affordable.
This bag is priced the same as the nugget variety so it's a matter of personal preference here. At $4.58 per 3 cubic feet per bag ($1.52/cu ft) this isn't going to break the bank. But it might break your neighbors hopes and dreams of having the best lawn in the neighborhood (Suck it, Jerry!).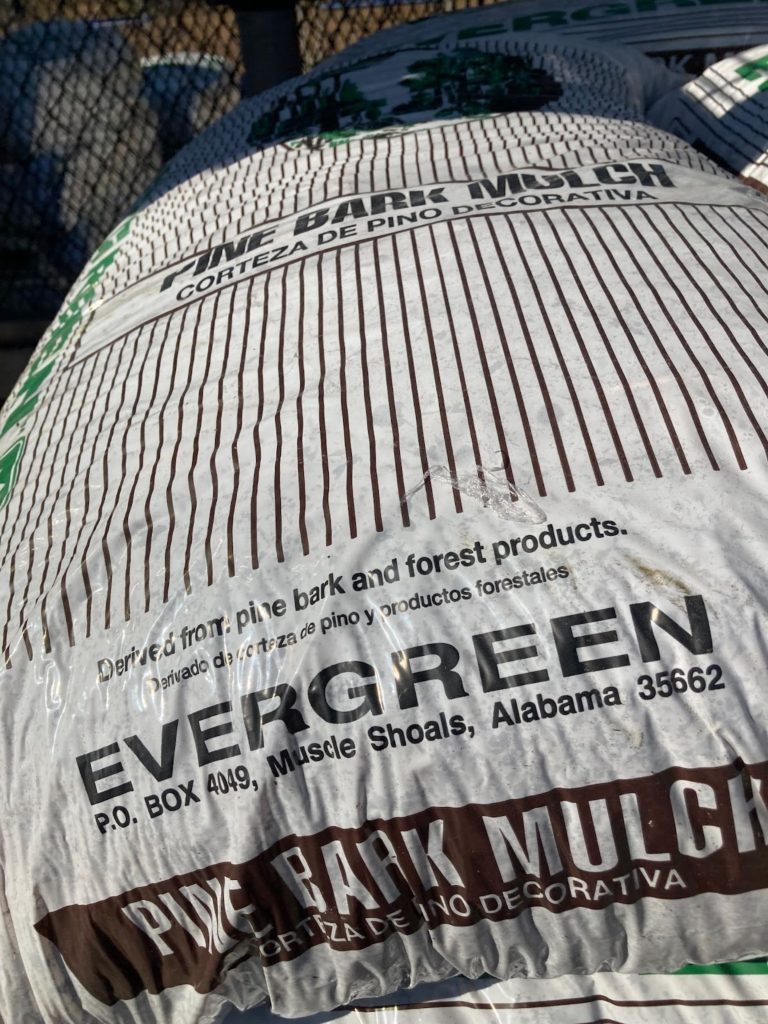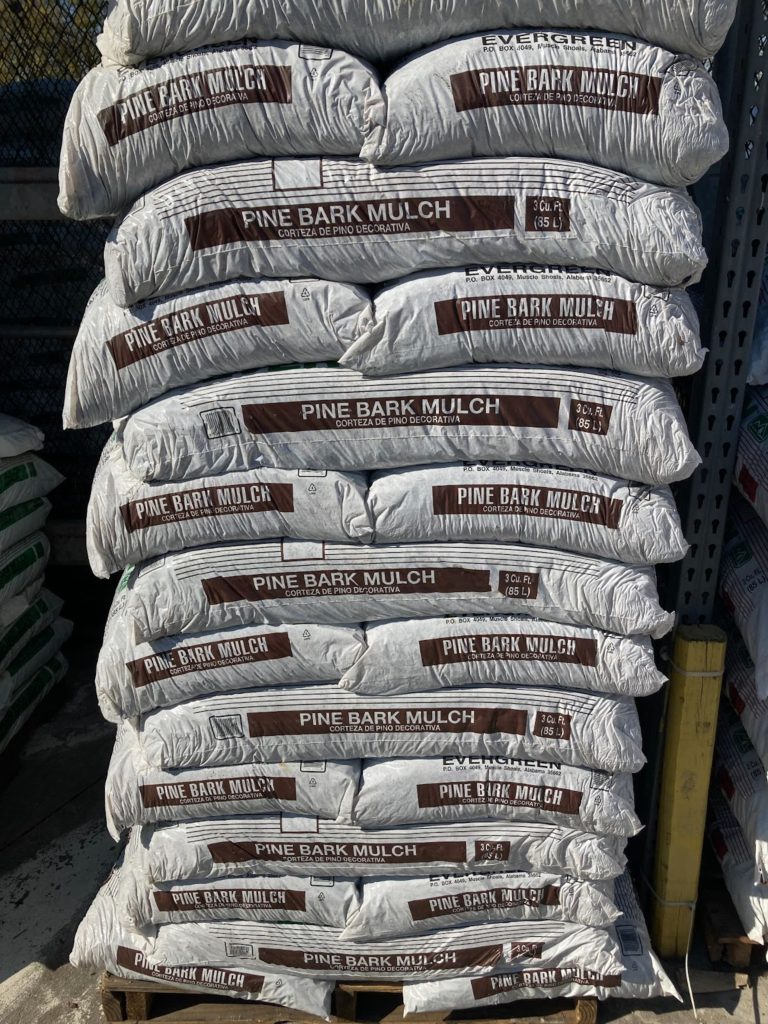 Evergreen 3-cu ft Natural Brown Hardwood Bark Mulch
The Hardwood Bark Mulch product from Evergreen has me confused. Some bags appear to be great while others look awful. It must be the way Evergreen processes their mulch. Some reviews look like this is straight sawdust while others look like super high quality stuff. So buyer beware. If you can, spot check a few of these bags before you bring them home. 
The bags are opaque so you'll have to rip open a few to see what they look like but worse things happen in transit for these things so I wouldn't worry about it. If you can get a few good bags of this I'd recommend this because when it's good it's GOOD. 
Again, no warranty/guarantee here but if you can handpick your bags then you should be in good shape. 
This variety is a bit more affordable than the other options from Evergreen. This bag is $4.28 per 3 cubic feet ($1.42/cu ft).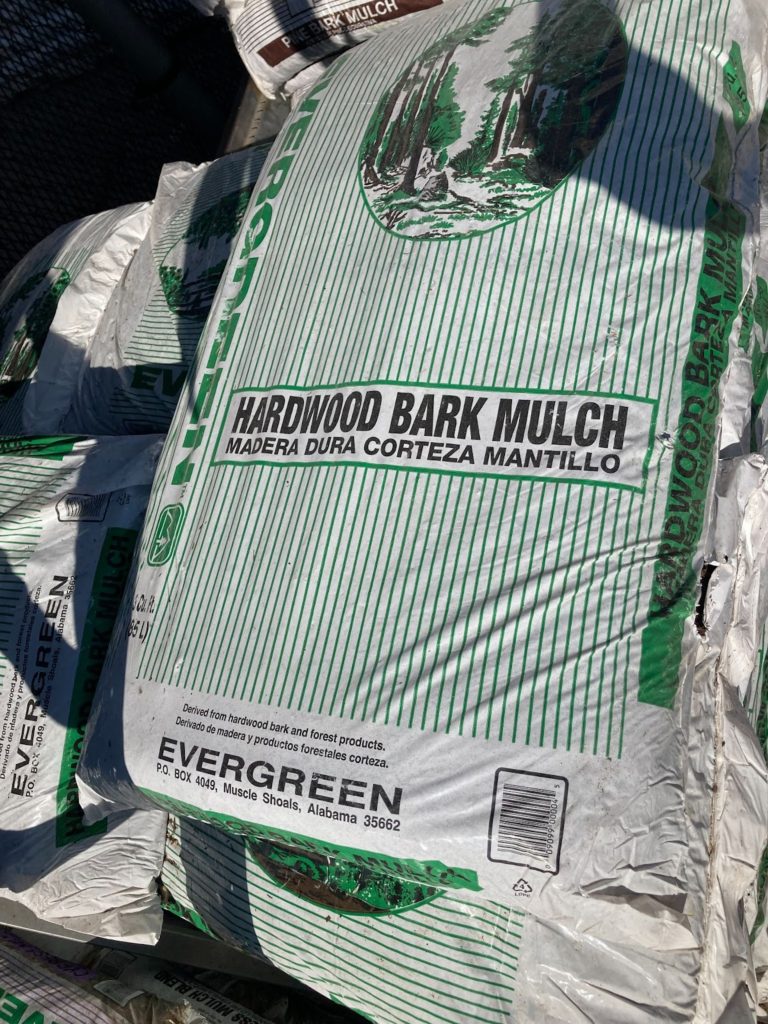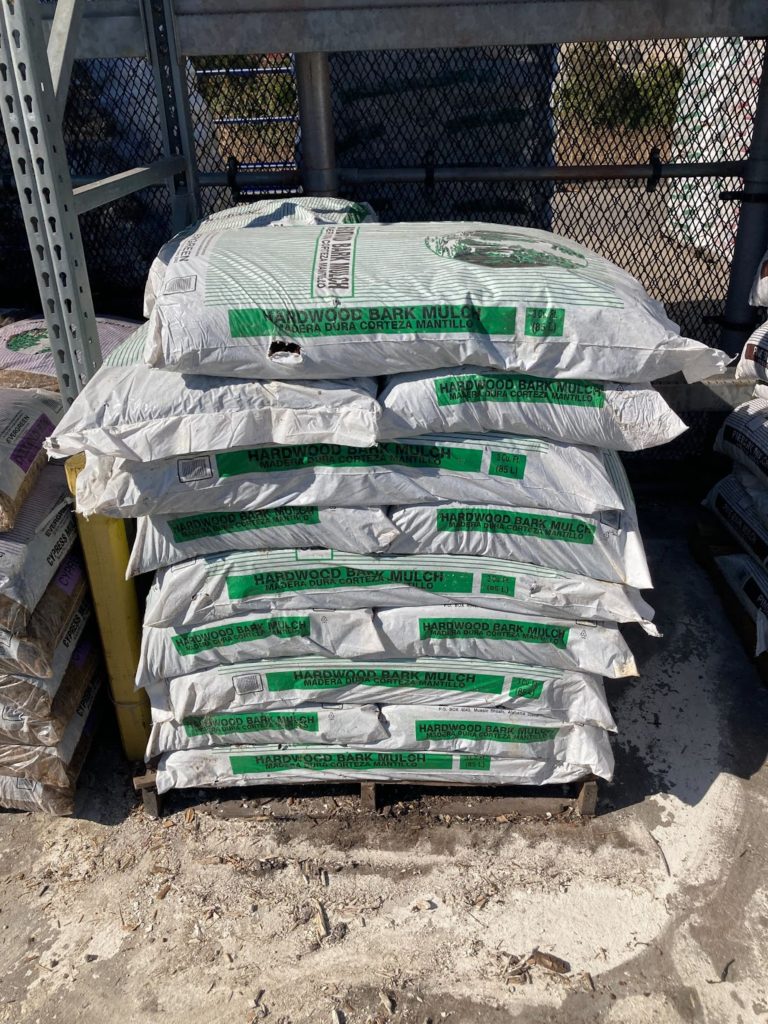 Evergreen 3-cu ft Brown Cypress Bark Mulch
Similar to other mulches, cypress mulch offers weed preventing, moisture retention properties and nutrients to the soil and plants in your landscaping. Cypress is unique in that it doesn't spread apart like other mulches though. It kind of sticks together and doesn't run out in big gully washers (I love that word) – basically heavy rains – like other mulches do. Also, the cypress tree population has been decimated over recent years so if you're environmentally conscious, I'd look elsewhere. 
Yet again, no warranty from Evergreen. Similar to the other options, check the bags periodically before you take them home. If not, you may be stuck with an undesirable product. 
Priced the same as the Evergreen pine bark options, $4.58 per 3 cubic feet per bag ($1.52/cu ft) this is another affordable option. I'd give this a shot if you experience heavy downpours or are worried about washouts. This mulch might give you a better hold than other options.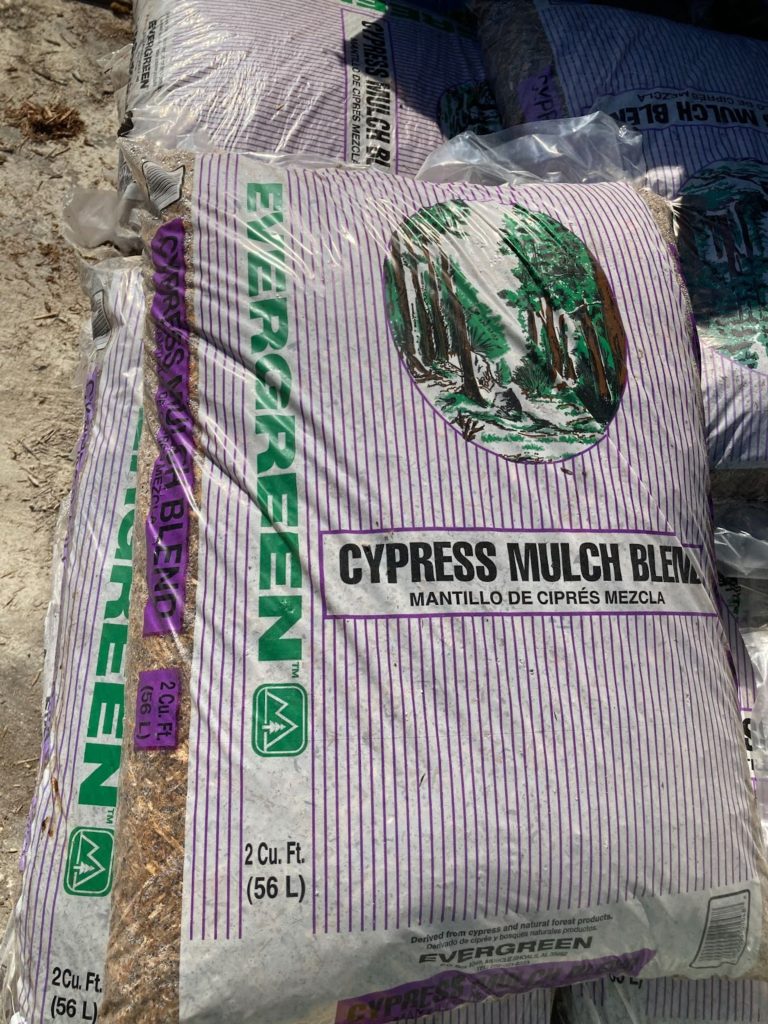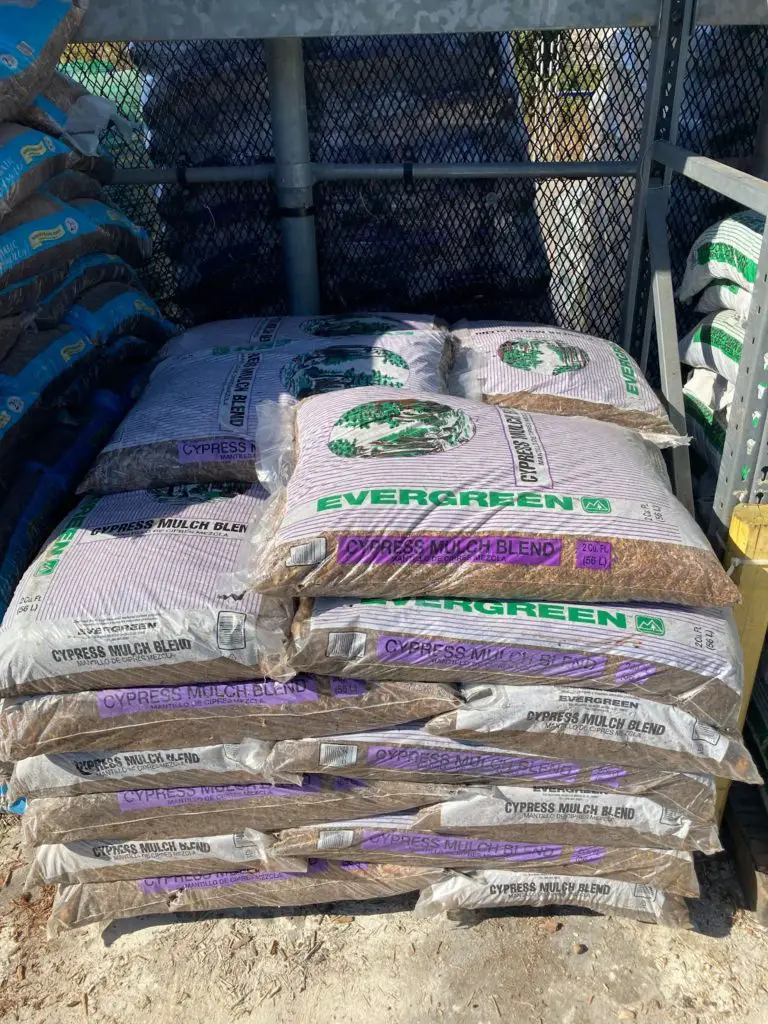 Oldcastle Premium 2-cu ft All Natural Cedar Mulch at Lowes
Ah the smell of cedar. Brings me back to bonfires by the lake at my buddies house. One of the greatest smells of all time in my opinion. So this mulch really caught my eye. I'd love to have my landscaping smell and look wonderful. However… The reviews for this product go in many different directions. Some people love this, some people claim this has completely ruined their landscaping. So another buyer beware! 
No warranty or guarantee here and apparently Oldcastle's product quality varies greatly between batches so make sure you take a peek inside before you take these home. 
The aromatic cedar option will run you $4.58 per 2 cubic feet ($2.29/cu ft). This is a little more expensive than the Evergreen options but not quite as much as the Preen. I'd go with the Preen for a slightly more effective product in my option.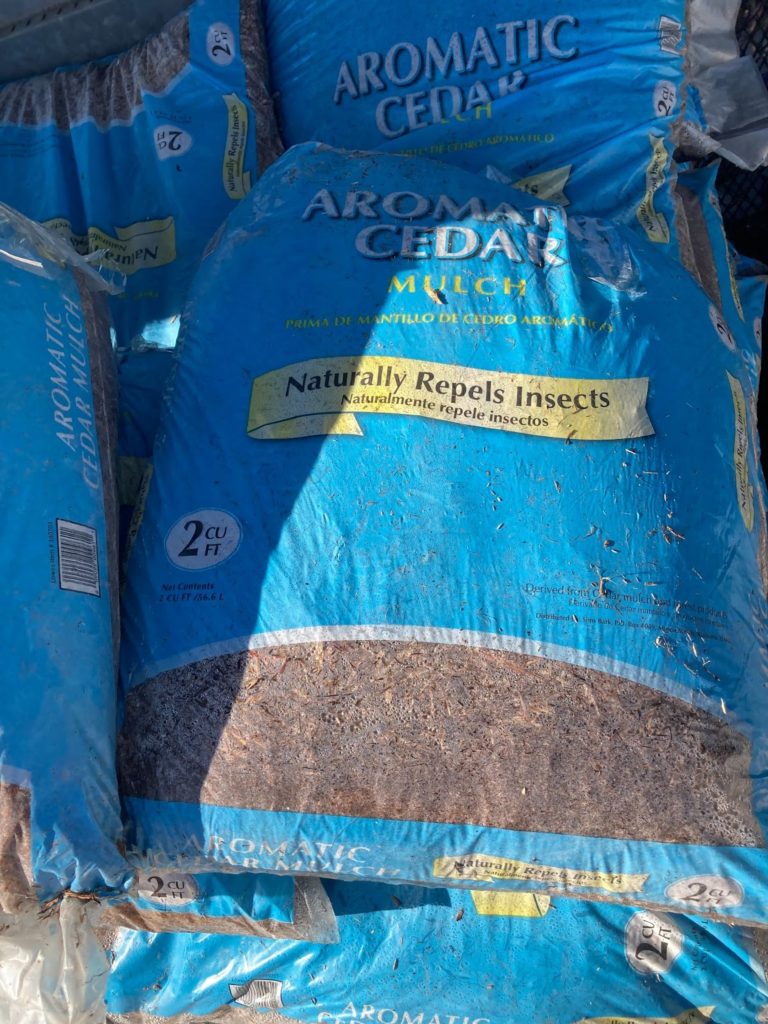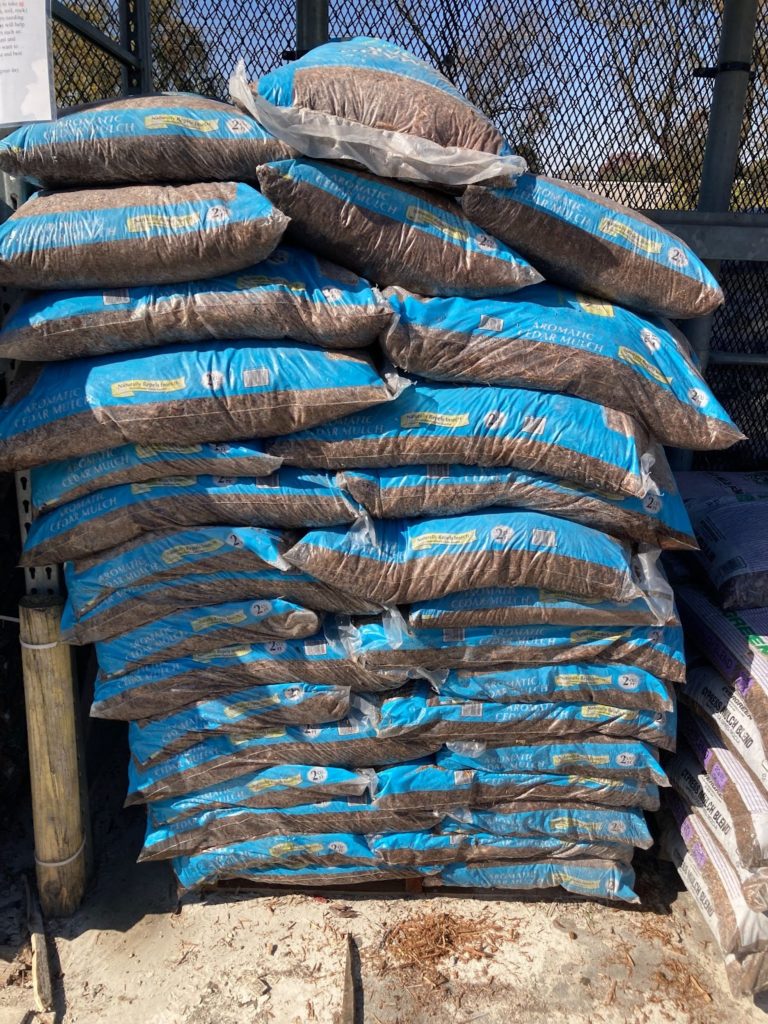 Scotts Nature Scapes Color Enhanced 2-cu ft Deep Forest Brown & Classic Black Mulch
If you know anything about lawn care then the name Scotts should ring a bell for you. This is the top of the top of mulch at Lowes. Looks like they've ventured into the mulch space as well. Scotts touts this mulch as using regionally sourced trees so you'll be supporting local by using this product! Every tree used in this mulch comes from a maximum of 150 miles away. So this product should be giving your plants and soil something that they're used to. At least I think that's what the logic is.
The customer reviews appear to be similar to other mulches in that consistency is something that is a bit of a challenge here. Make sure you inspect your bags before you bring them home. If you get a good bag or run then you're in good shape for a high quality product. 
Scotts does offer a 1 year color warranty so if you're not happy with the color after 9 months, you can pick it up and return it or maybe get your money back. I'm sure after 9 months, if you're like most people, you'll either apply a new bag or it'll be winter and you don't care anyways. 
Scotts Nature Scapes mulch comes in at $3.98 per 2 cubic feet ($1.99/cu ft). This is a relatively affordable option for a brand name product like Scotts.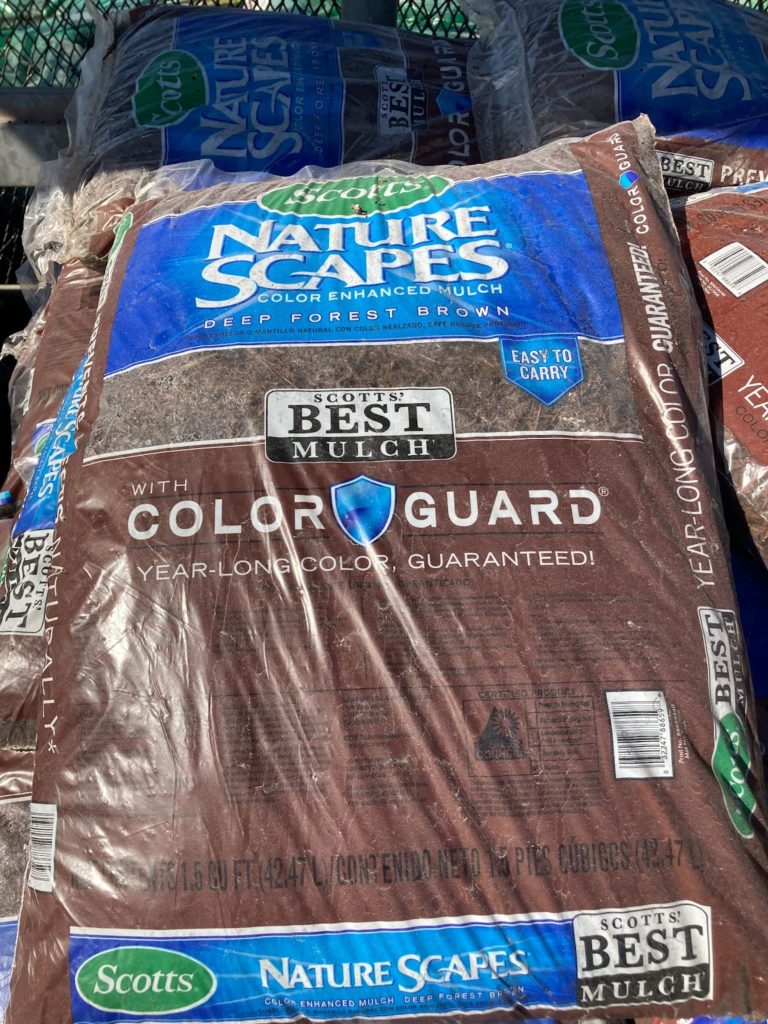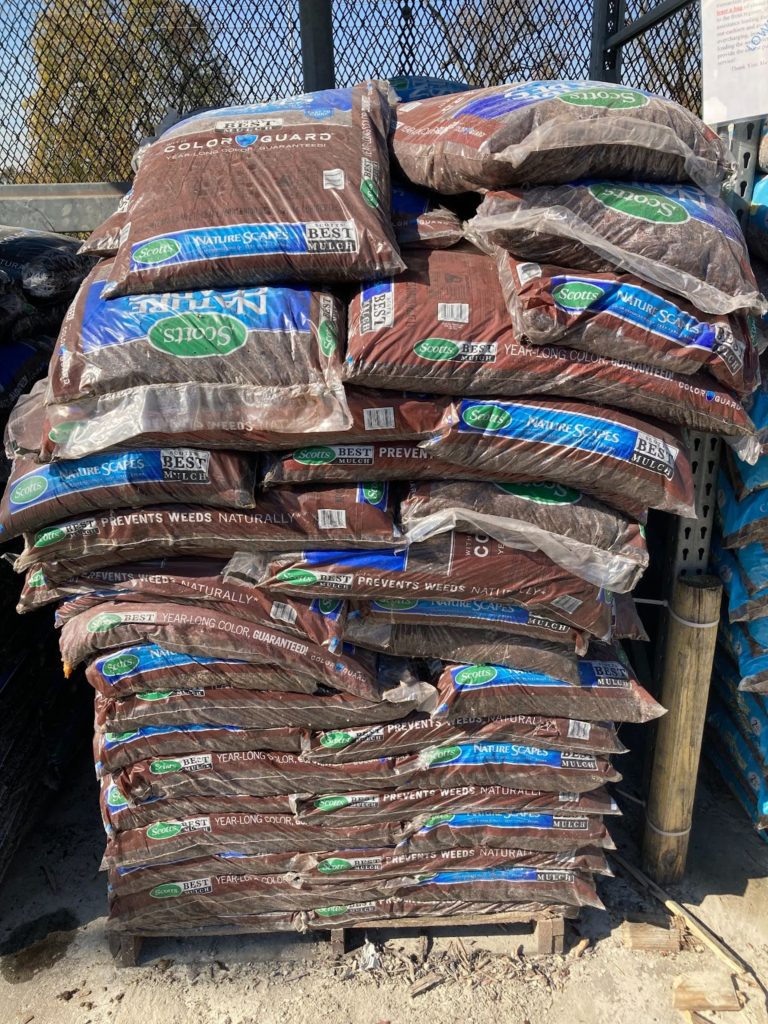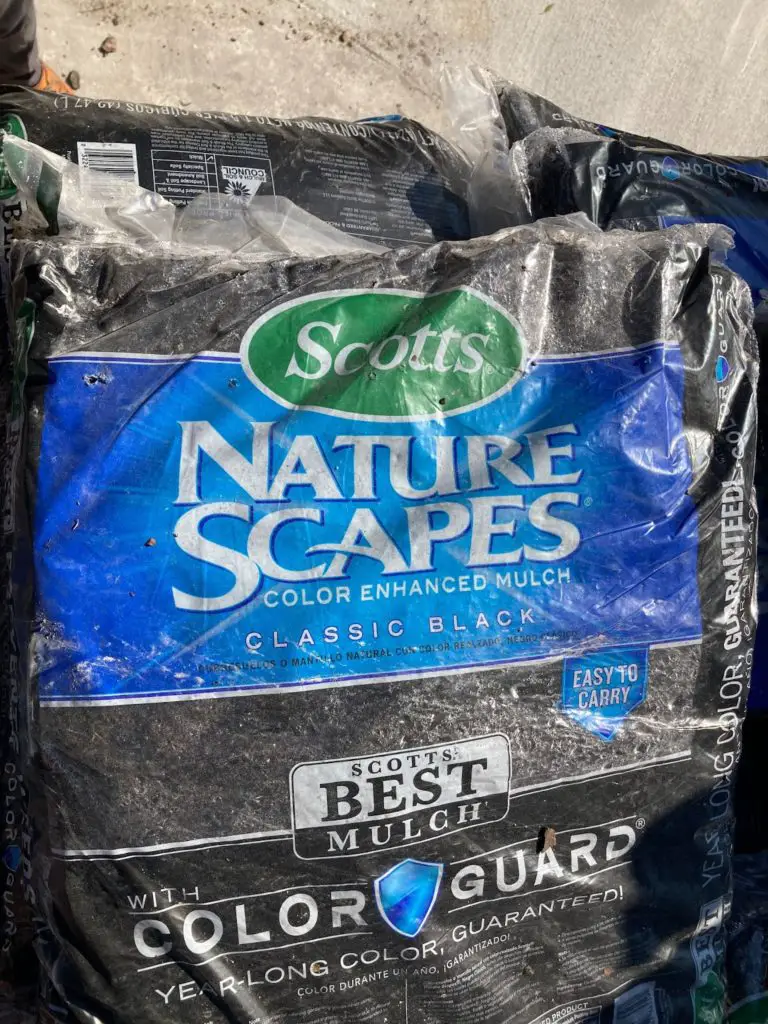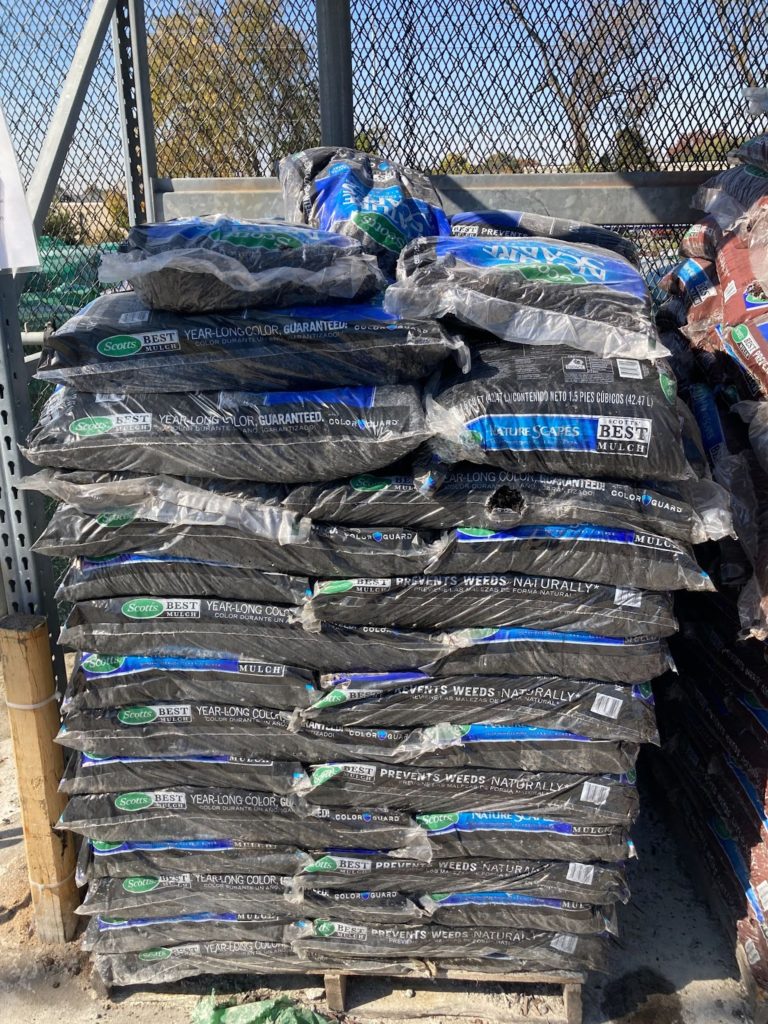 Mulch at Lowes Cost per bag summary
| | | | | |
| --- | --- | --- | --- | --- |
| Mulch at Lowe's | Price Per Cubic Foot | Cubic feet per bag | Cost per bag | Color Warranty? |
| NuScape Rubber Mulch Nuggets | $8.73 | 0.8 | $6.98 | Yes |
| Preen Mulch with Extended Control Weed Preventer | $2.49 | 2 | $4.98 | Yes |
| JET BLACK 1.5-cu ft Black Hardwood Mulch | $2.52 | 1.5 | $3.78 | No |
| Premium 2-cu ft Black & Red Hardwood | $1.84 | 2 | $3.68 | Yes |
| Evergreen 3-cu ft Natural Brown Pine Bark Nuggets | $1.52 | 3 | $4.56 | No |
| Evergreen 3-cu ft Natural Dark Brown Pine Bark Mulch | $1.52 | 3 | $4.56 | No |
| Evergreen 3-cu ft Natural Brown Hardwood Bark Mulch | $1.42 | 3 | $4.26 | No |
| Evergreen 3-cu ft Brown Cypress Bark Mulch | $1.52 | 3 | $4.56 | No |
| Oldcastle Premium 2-cu ft All Natural Cedar Mulch | $2.29 | 2 | $4.58 | No |
| Scotts Nature Scapes Color Enhanced 2-cu ft Deep Forest Brown & Classic Black Mulch | $1.99 | 2 | $3.98 | No |
How much mulch do I need for my yard?
Easy! Use the tool below to figure out how much mulch you will need.
Lowes Mulch Sale 2023
The Lowes mulch sale is when bags of mulch go on sale, usually 5 bags of mulch for $10. This is your time to buy a ton of mulch online, pull your car up, and have someone load all the mulch you need this year for a well discounted price.
Wanna check out Home Depot's mulch sale? Follow this link for the Home Depot Mulch Sale guide.
When is the Lowes 5 for $10 mulch sale in 2023?
The Lowe's Mulch sale should start right around Easter in 2023, which is April 9th. Last year, the Lowe's mulch sale started April 7th, which was still in the first week of April, but before Easter.
Lowe's also has a 5 for $10 sale every year again during Memorial Day weekend (May 29th, 2023), then July 4th and Labor Day.
We will keep an eye out for any other Mulch sales around the holidays, but things really start to slow down in the gardening space in the Fall.