The Dewalt 20V leaf blower is a light, handheld, electric blower from Dewalt's 20V series of equipment. Whether moving leaves across your deck or cleaning out the garage, the Dewalt 20V leaf blower can get the job done.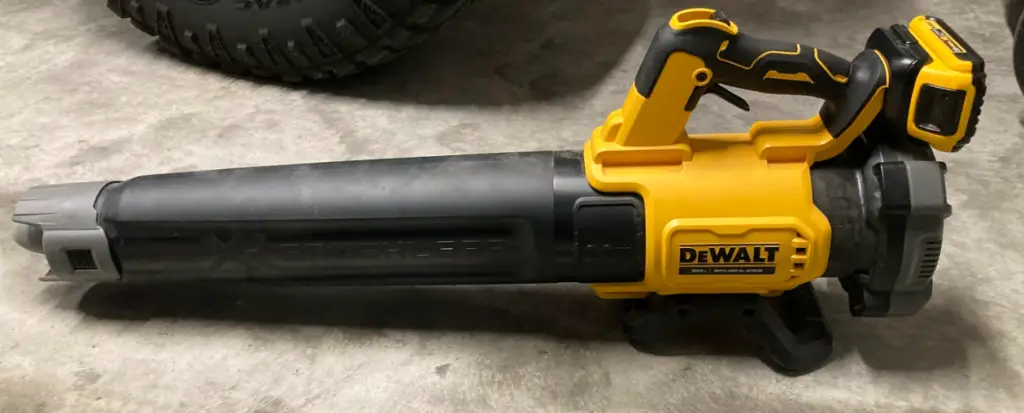 Every fall, interest in battery-powered leaf blowers seems to absolutely peak. For me, however, electric leaf blowers are a year-round tool to get rid of grass clippings, clean my garage, and clear off my patio and deck. With Dewalt being a household name, let's check out the different features of the blower.
Jump ahead in our review:
Why we review battery powered blowers
The reason we started this website in the first place was because we had so much trouble trying to find reasonable, understandable, honest reviews for lawn equipment. And it's not cheap! After hours and hours of research, trying products and returning them, and messing up our yards – we started this site.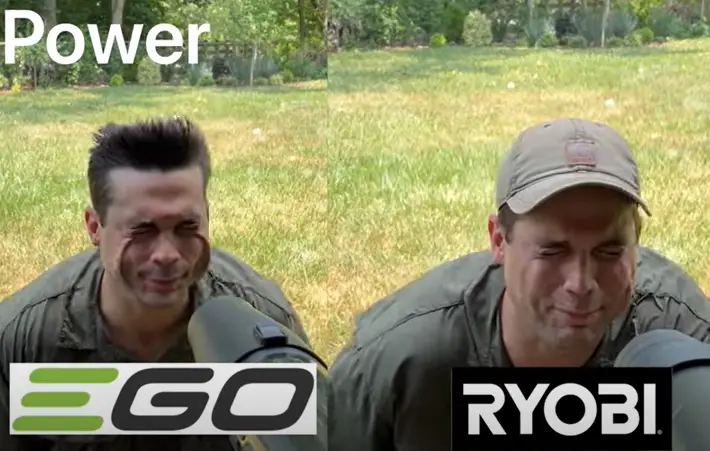 As people who had to learn the hard way, we want you to know exactly what you are signing up for before you purchase a piece of equipment. That's why we are committed to providing honest, easy-to-understand reviews that mean something.
Dewalt 20V products
Dewalt has a series of 20V MAX compatible battery products. Simply buy the battery once, and you can use it across over 200 products. For example, the same battery that powers this leaf blower is one that powers the hedge trimmer (click here to see the review we did). 
The benefits of having interchanging battery-powered tools are two-fold. The first benefit is the storage space in your garage. I have a few outlets that are constantly taken up by different battery-powered tools. One for my Ryobi, one for my Black and Decker tools, and another for Dewalt. With only having one battery for all of your tools, you can save space and wire clutter in your garage. 
The other benefit of having interchanging battery-powered tools is a lower cost. Typically when you buy an electric tool, you pay for the tool AND the battery. With a product in Dewalt's 20V MAX line of tools, you can purchase each tool as "tool-only". This leaves out the battery and takes a good chunk off of the overall cost of each tool.
If you like Dewalt, check out the best Dewalt weed eaters.
Electric vs. gas-powered leaf blowers
Obviously you have two options when selecting a leaf blower: electric or gas.They are worlds apart in just about every aspect. Electric leaf blowers tend to be cheaper, less powerful, but easier to maintain. As I have mentioned in previous posts, I used to have a Ryobi leaf blower attachment that came on their 3-in-1 tool kit. I have now gone through two of the leaf blower heads in which they start making a high pitch scraping noise when I am using it. 
There are exceptions in the electric leaf blower world. One of those is the Ryobi 40V Brushless whisper series blower. It is quiet, extremely powerful, and built to last. It is, however, one of the most expensive electric blowers you can buy.
Gas blowers are superior from a power and durability standpoint. They are super strong, last many seasons, and quickly get the job done. They do require maintenance, gas, and crank-starts, which are a little more difficult for most people. I always recommend an electric blower for smaller yards, whereas larger yards are better served with gas blowers.
Dewalt 20V MAX electric leaf blower: Features
The Dewalt 20V MAX leaf blower has a lot to like, but a lot to be desired. One of the most necessary items you need in your garage for keeping a neat and manicured lawn, the blower is an investment. Let's check out some of the features in this blower and who would best benefit from each one.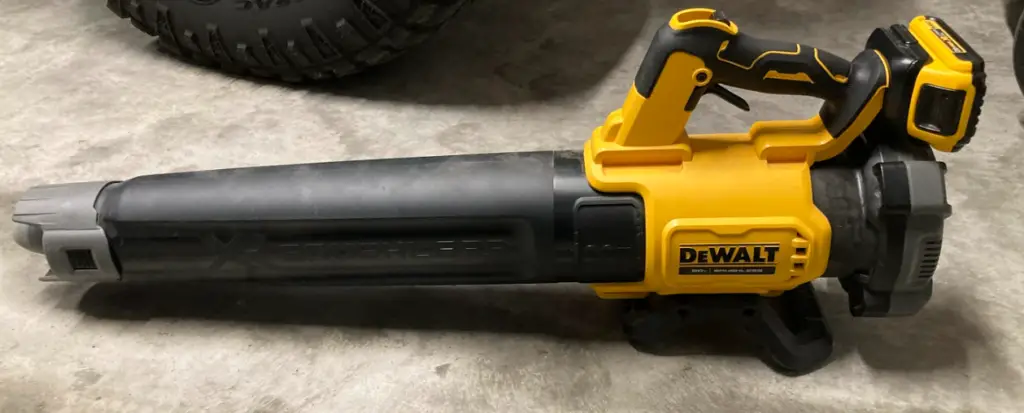 Dewalt 20V leaf blower power
Power is one of the most important things in a blower. While most of the time, we don't need massive amounts of power to blow the leaves off of our deck, there are other times that it is an absolute must. There is nothing more frustrating than a wet leaf stuck to the deck, or some wet grass clippings clumped onto your driveway. 
In those situations, power is of utmost importance. The Dewalt 20V leaf blower frankly does not have much power. Or perhaps better put, does not have much focused power. Let me explain.
The Dewalt 20V leaf blower has 450 CFM of air output. This is actually on par with some gas blowers and on the higher end for a blower of its size. Sadly, it only outputs 125 mph of air. For comparison, many gas (and even some electric) blowers blow upwards of 200 mph of air. 
The reason the Dewalt 20V power does not provide high-speed power is the width of the opening. The blower itself has a very wide opening, so despite all of the air coming out, it is not focused into a narrow, more powerful stream. To truly get the right amount of power, you need to use a concentrator attachment.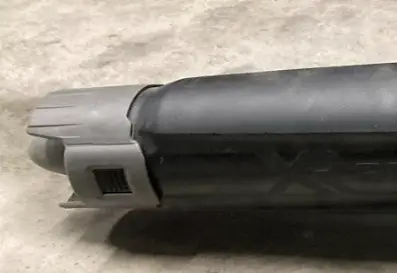 Usability of the Dewalt 20V Blower
With the shortcomings in power, usability is definitely impacted as well. The lower airspeed output means that you will want to use this blower in certain situations. The blower will work well with dry leaves, dry grass clippings, or other lightweight debris like sawdust. 
What the Dewalt 20V leaf blower lacks in power, it makes up for in comfort and ease of use. This blower comes in at just over 7 lbs, making it one of the lightest blowers on the market. The variable trigger and speed lock allow for easy power adjustments and a more comfortable overall experience.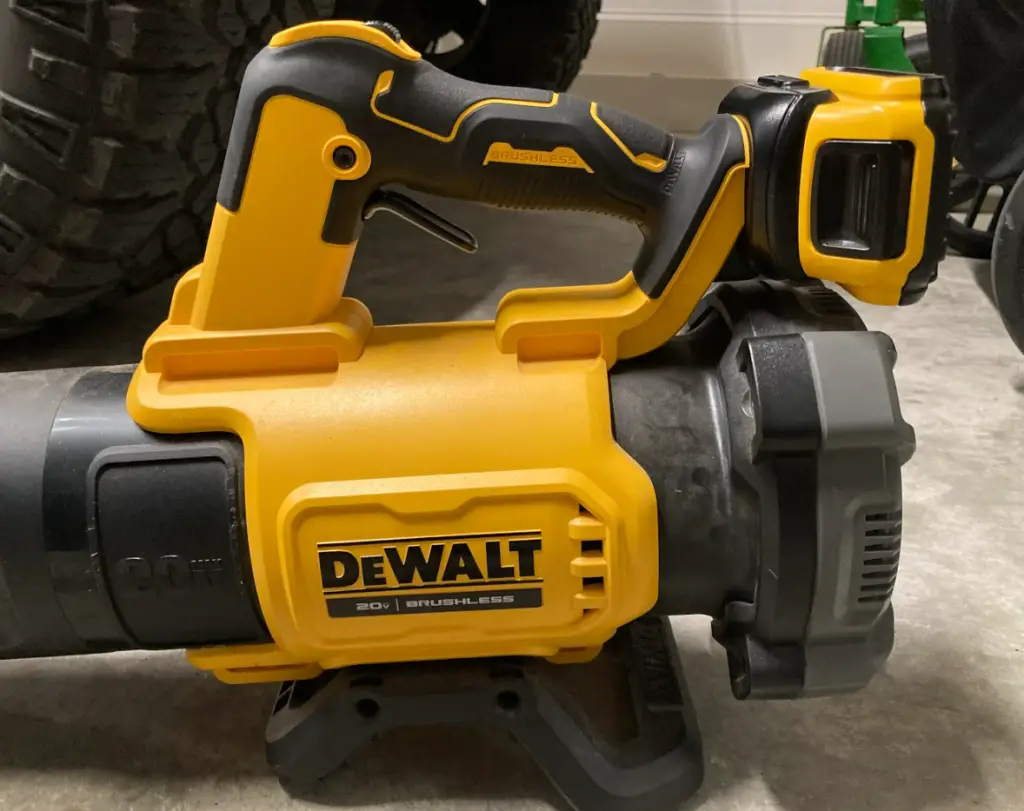 Another important feature of the 20V MAX leaf blower from Dewalt is the low amount of noise during operations. This is great for not frustrating your neighbors! There is nothing worse than being woken up by a super loud gas blower that sounds like it will never finish the job. The Dewalt 20V max leaf blower makes the same amount of noise as the background of a business office.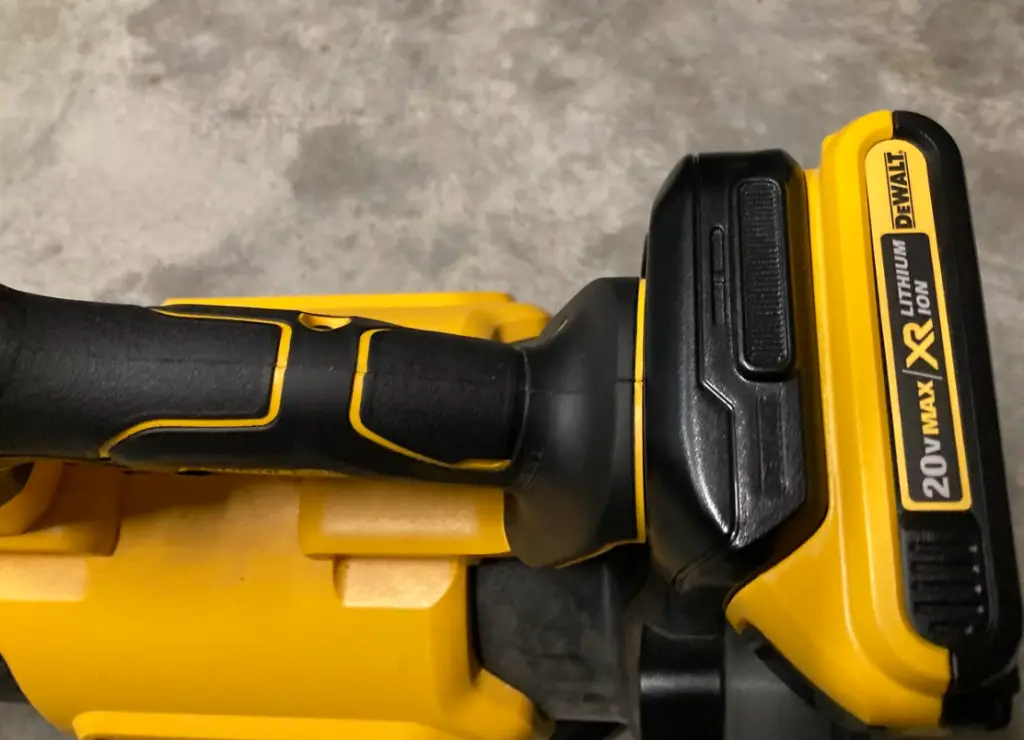 The last piece I will say about this blower is that it is a part of the 20V series from Dewalt. This makes usability slightly easier by simply shifting the battery from one tool to the next and only taking up one plug for all related tools in that line. This is a big plus for Dewalt loyalists!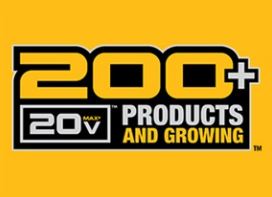 Maintenance and durability of Dewalt Leaf Blowers
This blower will require absolutely no maintenance. One thing to love about the Dewalt 20V Max leaf blower is the brushless motor. Remember earlier on in this post I talked about burning through two electric blowers? Well the blowers I had before were not brushless, so after periods of long use the engine would burn out. Brushless blowers are impervious to the friction that occurs in traditional blower engines, making them last significantly longer. 
Dewalt 20V leaf blower price (regular and tool only)
The Dewalt 20V leaf blower will run you just over $200. The Dewalt 20V blower tool-only comes in at about $150, which is a great deal. You can purchase the tool-only version from Amazon for a great price or grab it from your local Home Depot (check price here).

Sadly, I don't think this is a high-value blower. For slightly more money, you could get a much more powerful blower (like this one from Ryobi) or a gas powered backpack blower (like the Husqvarna 150BT).
To see how the price stacks up, check out our lawn equipment cost guide for 2023.
The official review: Dewalt 125 mph 450 CFM 20V leaf blower
| | | |
| --- | --- | --- |
| Feature | Dewalt 20V leaf blower | Comparable blowers |
| Difficulty to use | Easier to start | Easier to start |
| Durability | Avg. durability | Avg. durability |
| Maintenance | No maintenance | No maintenance |
| Value | Moderate value | Low to medium value |
| For lots <10,000 sq. ft | Highly recommended | Highly recommended |
| For lots <1 acre | Recommended in certain situations | Less recommended |
| For lots >1 acre | Not recommended | Less recommended |
Interested in purchasing the blower and the battery? Check it out on Amazon.