Lawn mowers are a must have for anyone with more than a few patches of grass in their yard. While many opt for fancy, expensive mowers that can predict the future and fly, not everyone has the budget to support that lifestyle. 
Mowers are relatively simple machines – they require blades that can spin and cut the grass. Heck – they don't even need gas or batteries, some of them can just be powered by elbow grease. Before you break the bank trying to keep up with your neighbors (their grass is always greener), check out our list of mowers for under $200.
**Spoiler: we recommend the Sun Joe MJ401RE corded electric mower that can be found for mega sale here.**
Why we review lawn tools
The reason we started this website in the first place was because we had so much trouble trying to find reasonable, understandable, honest reviews for lawn equipment. And it's not cheap! After hours and hours of research, trying products and returning them, and messing up our yards – we started this site.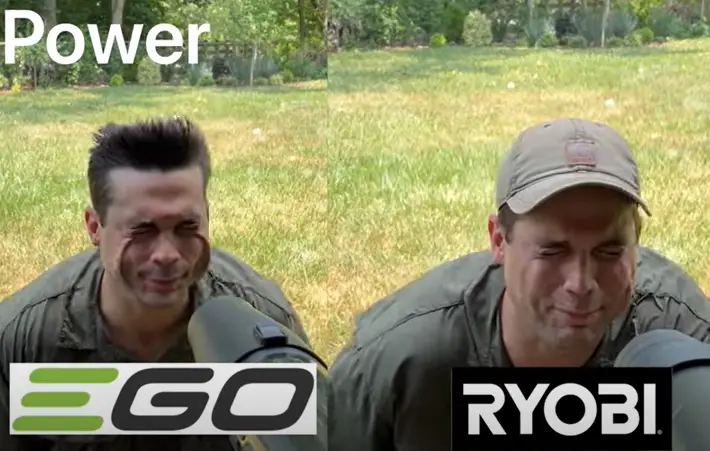 As people who had to learn the hard way, we want you to know exactly what you are signing up for before you purchase a piece of equipment. That's why we are committed to providing honest, easy-to-understand reviews that mean something.
Expectation setting
Before we start envisioning a crisp, cool afternoon while crafting a beautiful lawn, let's check in with reality. When you buy an inexpensive mower, you are paying for the pieces, not the power. You are the power! So cross off self-propelled, riding mowers, or zero-turn mowers from your list. These mowers are going to be the dial-up of the lawn care world.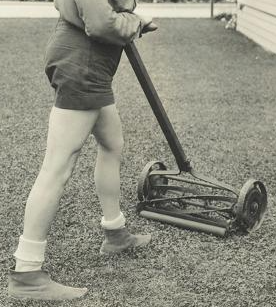 You are going to get a cheap piece of lawn equipment – and that is fine! You aren't paying for a lot! But before you open up the wallet for just anyone, let's find the one that is right for your needs.
Interested in what other tools cost? Check out our cost guide.
Best lawn mowers for under $200
Remember those old push mowers with the spinning blades? Can you imagine using those? If you can't, then you should try harder because this is your price range. You may spend a tad more and get one that plugs in.
American Lawn Mower Company 1204-14
If you ever got bored at your grandparents' house and went surfing through their shed, you may have dusted off a manual reel mower. Yes, these used to be the dominant residential mowers back in the 40s and 50s, but times have changed – for some people.
The American Lawn Mower Company makes the classic reel mower still – and it is actually pretty popular. It has over 9k reviews on Amazon and comes in well below our $100 price point. 
When you think of inexpensive lawn mowers, you are thinking of a reel mower, of which we will review a few of today.
Check out the positives and negative of the American Lawn Mower Company 1204:
Positives:
Quiet
Inexpensive
Adjustable height
Foam handles
Negatives:
Slightly smaller frame
Things can get stuck in the reel (true of any reel mower)
It is super popular on Amazon for a reason (I suspect nostalgia) and on sale for those interested.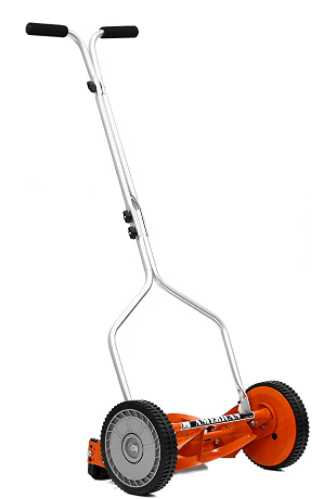 Sun Joe MJ500M
One of my personal favorites in this space is the Sun Joe MJ500M 16-inch manual reel mower.
Here are a few positives and negatives of the Sun Joe MJ500M
Positives:
Reputable brand
Removable grass catching bag
Adjustable cutting height
Price (can find super cheap used ones)
Decent width
Environmentally friendly
Negatives:
Plastic wheels
Wobbly handles
The good thing is that this is 100% emissions free :). And it has no battery or anything that can clutter up your garage. 
If you're looking to save a quick buck and aren't afraid to use a little bit of muscle, check it out for a super low price on Amazon – Sun Joe MJ500M.
Greenworks RM1400 Reel Lawn Mower
The next best (in my opinion) manual mower is the Greenworks 14-inch Reel Lawn Mower RM1400. This is almost identical to the Sun Joe MJ500M listed above, but is slightly more narrow. A more narrow blade width simply means you will have to do more passes in your yard. 
Some things I like about the Greenworks RM1400:
Positives:
Great company
Removable grass catching bag
Adjustable cutting height
Environmentally friendly
Negatives:
Plastic wheels
Not super sturdy handles
Narrower
Slightly more expensive than Sun Joe
Greenworks is a great brand and very well-trusted in this space. If you want to boogie outdoors and use this mower, you can find it on Amazon for a great price.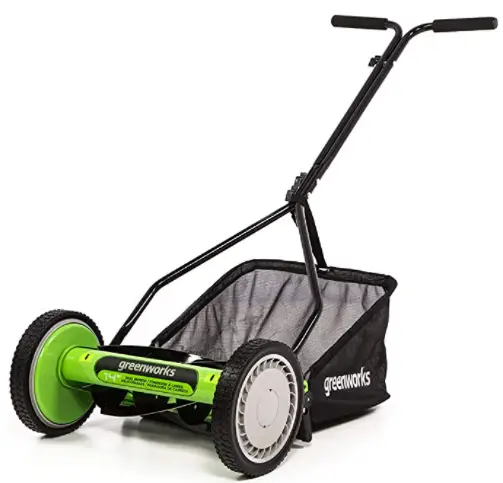 Sun Joe MJ401E-RM
One thing I love about Amazon is that it has a renewed/refurbished store. If you are one of those who returns about 50% of your purchases to Amazon and wonder, "what happens to it?", then here is your answer. It gets cleaned up and sold for a discount. 
That's what is happening here with the MJ401E-RM. It is usually a little over our price point of $100, but can be purchased on the cheap if it is refurbished.
Although it has the appearance of a large tortoise, this is a nice electric mower that will be able to tackle a decent-sized job. Sun Joe is a great brand and this is a wonderful all-around mower. 
Things to love about the Sun Joe MJ401E-RM
Positives:
Easier to push than a manual mower
Comes with a nice little bag
Lightweight, easy storage
No gas fumes
Easy to start
Negatives:
Corded, so requires an extension cord
Plastic decking which is less durable
This is honestly a great, great deal and can be found on Amazon for super cheap right now.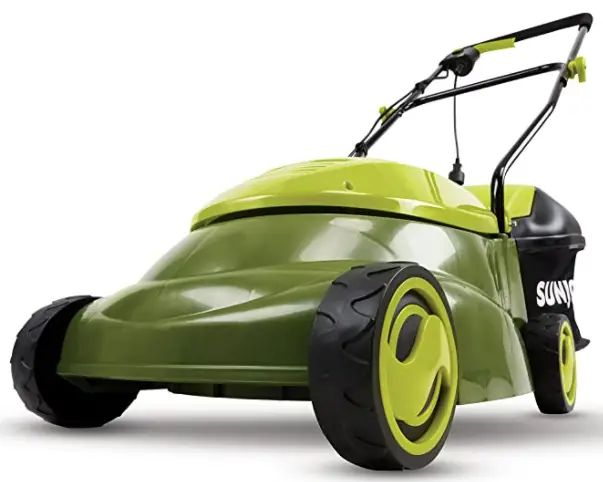 Summary
Well, there you have it folks. These are going to be the best bang for your buck and some of your only options if you are looking to save a buck. You can do a great job with any of these mowers, but if I had to pick one – I would probably go with the Sun Joe electric mower. The price point is just too good considering it isn't a manual reel mower.