Battery chainsaws are some of those tools I didn't expect to be as powerful as they are. When I think about chainsaws, my mind immediately goes to the tree removal services that are dangling way up in the air with a super powerful gas chainsaw tethered at the hip.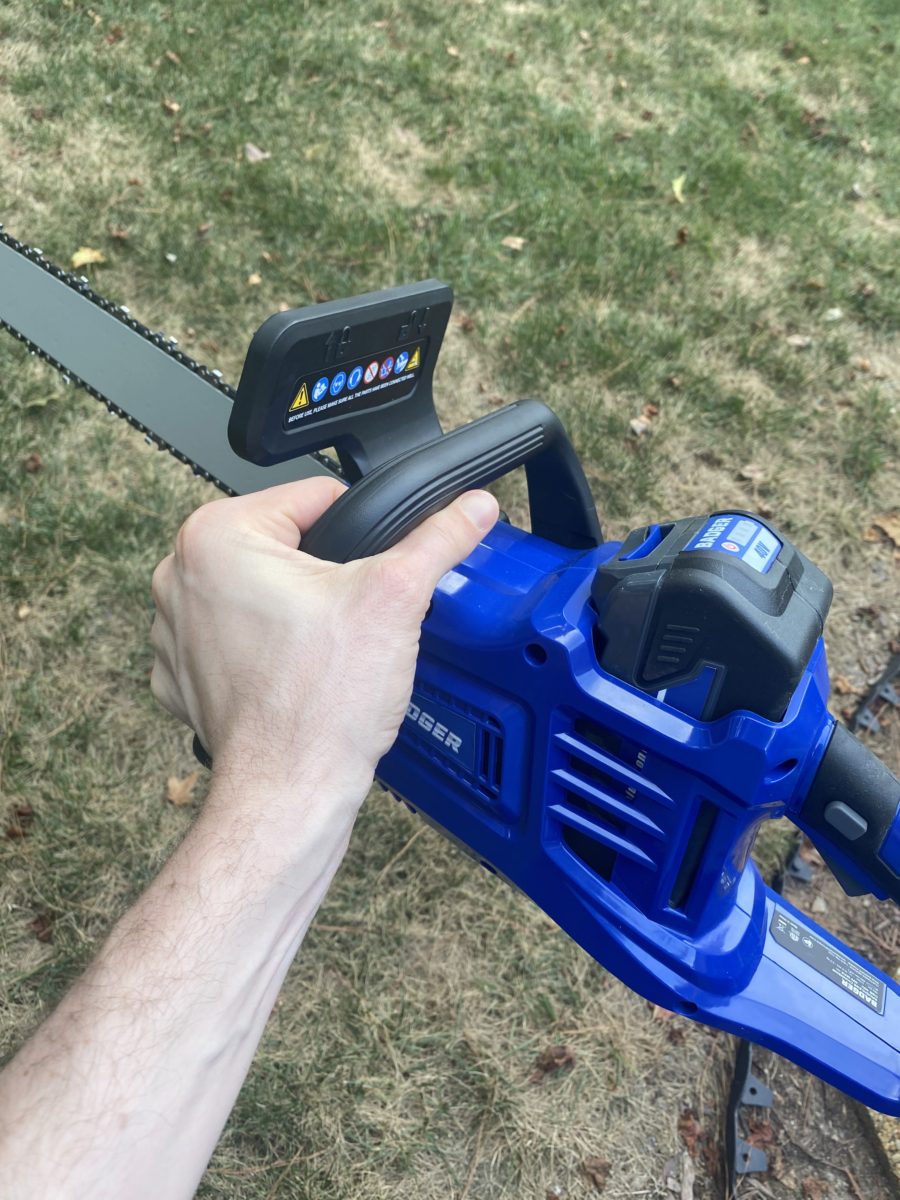 But not all chainsaws are like that. For example, where I live in North Carolina, we get hurricanes that fell trees left and right. Just about every neighbor of mine has a chainsaw for the inevitable storm that takes down one of our Bradford Pears or Oaks. 
Let's get started with our list of the best battery chainsaw for home use:
The biggest surprise that I want to add to this list: the Wild Badger Cordless Chainsaw
Best Battery Chainsaws For Homeowners: Ranked
Let's jump right into our ranking of the best battery chainsaws for home use with our number one pick.
Greenworks Pro 80V 16 inch cordless chainsaw
The Greenworks PRO 80V 16 inch cordless battery chainsaw is the best battery powered chainsaw for home use. It has the ultimate combination of power, durability, battery life, and price.
We chose the Greenworks Pro 80V chainsaw after using it head-to-head against our Stihl MS251C chainsaw – where it won handily against a gas powered counterpart.
Here are a few things we loved about this chainsaw:
Brushless motor – which is an absolute must in any of these 
80V battery can be used in a bunch of other tools – like their 80V lawn mower
120 cuts per charge (with 2.0 Ah battery) – also helps you know when you're getting low
Equivalent power to a 42cc gas engine (where most gas chainsaws are)
Electronic chain brake reduces risk of kickback by shutting off if kickback occurs
It has a great length at 16 inches that is going to get through just about any tree that gets knocked down around your home without being so big that you can't handle the small stuff.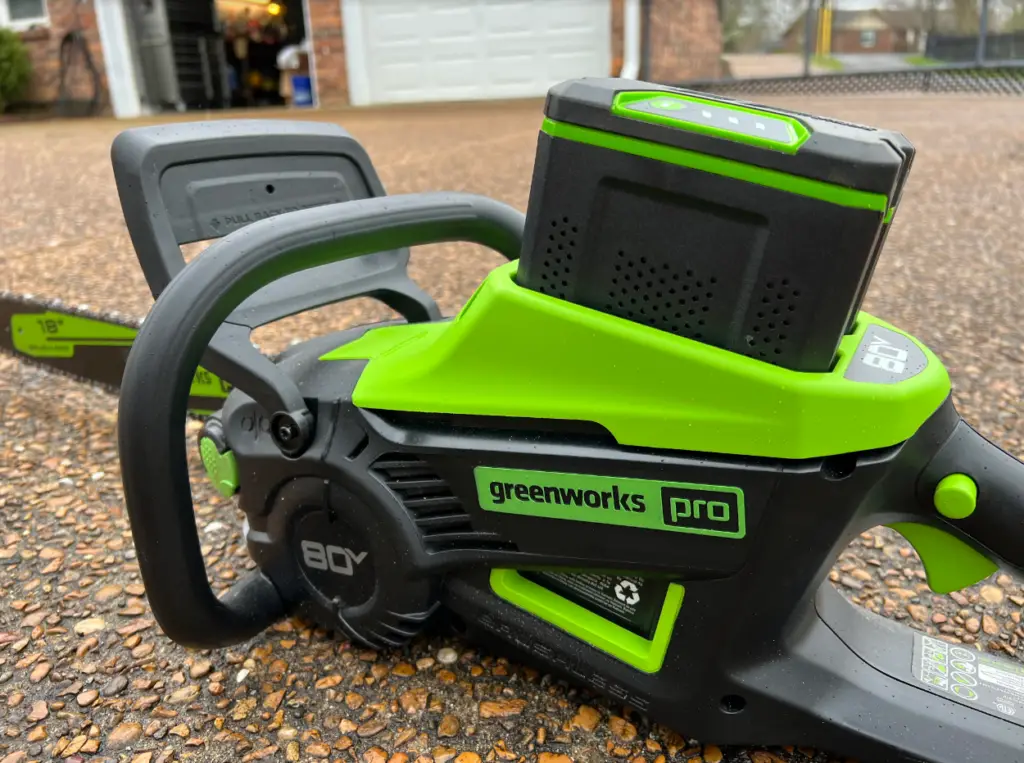 We also love that you can save BIG money on this tool if you already own a Greenworks battery. While some of the others on this list, you're looking at spending well over $300 – this one is on sale on Amazon right now for about $200. If you get the tool-only version, you're looking at significantly less.
You can't get that with some of the bigger names – both a great tool and the extensive usability with other lawn tools that run the whole spectrum.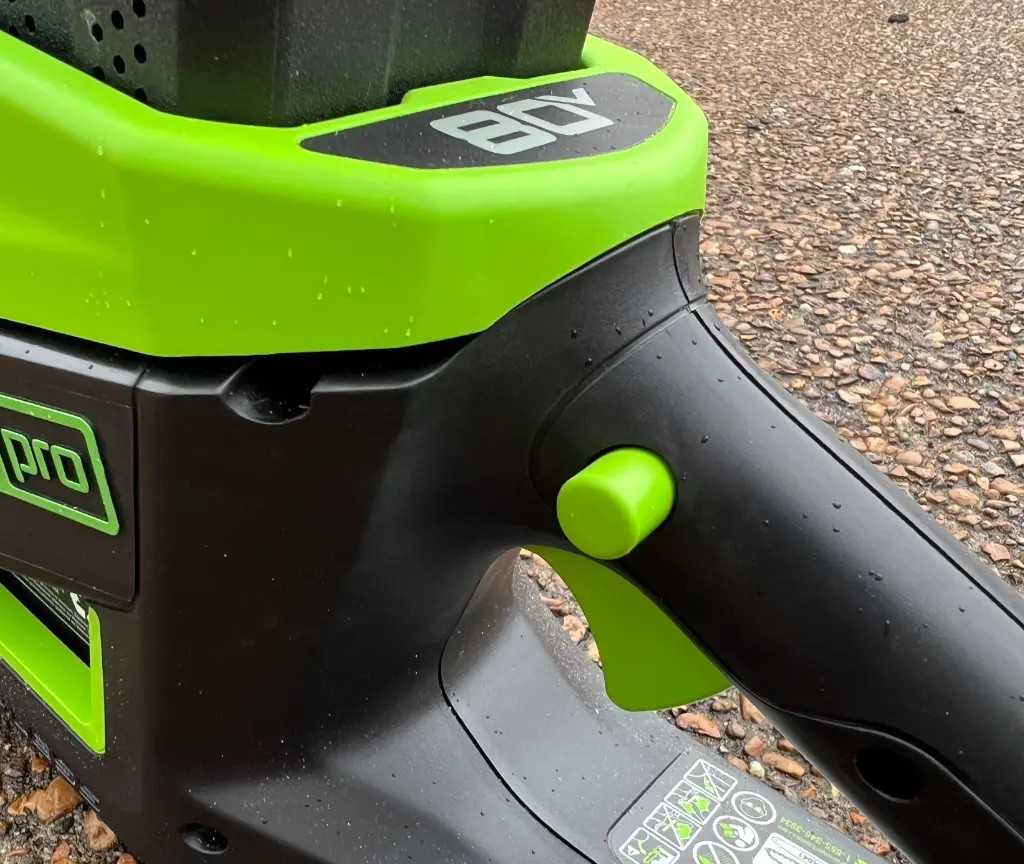 Around the home and in the yard, this is pound-for-pound the best battery chainsaw money can buy. 
EGO Power+ 56V 18" electric chainsaw
What can we say? We are suckers for EGO products because they rule. They hands down have the best feel when using them and just about every tool they make is on par with gas-powered tools (like their EGO 765 CFM blower).
So obviously, they knocked it out of the park with their 18 inch battery chainsaw. It is by far the best analog to a gas powered chainsaw on this list – mostly because it has a crazy powerful motor, a big ole battery, and super long bar. 
At 18 inches of bar length, this is probably a little too much power for the average homeowner – but if you already have EGO products you might as well get it. At a 45 cc gas equivalent displacement measurement, this thing is true gas-like power (which I think is EGO's motto). 
A few other bells and whistles include bright LED light, which is actually helpful for chopping down a fallen tree early in the morning, a brushless motor, a tool-free chain tensioning system, and a 5.0 Ah battery.
The 5.0 Ah battery here is definitely going to add a little bit of weight to this already large tool. It does offer up to 300 cuts (tested on a 4×4), which is more than you'll ever need most likely. 
The good news is – if you already have the battery, this tool is about $100 cheaper than if not. You can grab it on Amazon for a reasonable price here.
Ryobi ONE + 18V Brushless 12 inch Cordless Battery Chainsaw
On the lighter side of things, Ryobi's ONE+ 18V Brushless 12 inch cordless battery chainsaw is a great tool for smaller jobs. If you are just taking down the occasional branch here and there or cutting up a little bit of firewood – this thing is perfect.
The best part is that the Ryobi ONE+ series has a TON of 18V tools you can use both in your lawn, but also your garage and even inside your house. The reason I chose this cordless chainsaw to be on our list isn't because it's the most powerful, but because it is the easiest.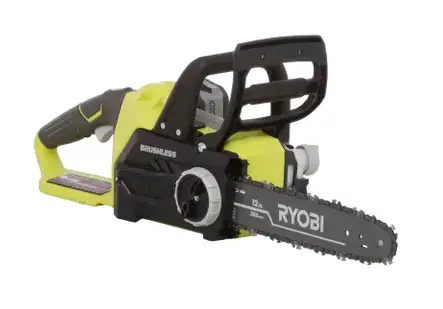 This is one of the best battery chainsaws for women (according to my wife) because it is lightweight and really easy to use around the yard. 
Not only is it great for around the yard – but it comes with a dang brushless motor, a 4.0 Ah battery and can still cut up to a 20 inch diameter.
This is an incredible product for the size and may be pound for pound be one of the best chainsaws on this list considering the voltage.
This Ryobi chainsaw can be found at Home Depot for a great price.
Dewalt 60V Max 16in. battery chainsaw
Dewalt is a bit of a lurker in the lawn tool space because they simply aren't well known.The folks you trust with your power tools in the garage or workshop are the same ones making these lawn tools. And they've been making brushless motor, heavy-duty products for years. So why not trust their Dewalt mower or Dewalt weed eaters?
We did a full review of the Dewalt 60V Flexvolt chainsaw here that you should check out if you want to learn more about this product. But here are the highlights:
Dewalt 60V battery can be used with a ton of other Dewalt 60V tools
Big 16 inch cutting length
Brushless motor
All the safety features you'd want
Easy to start and put together
Automatic oiler
It looks and feels just like the EGO and Greenworks one, but doesn't come with the same breadth of tools as the others – so sadly it is down further on this list.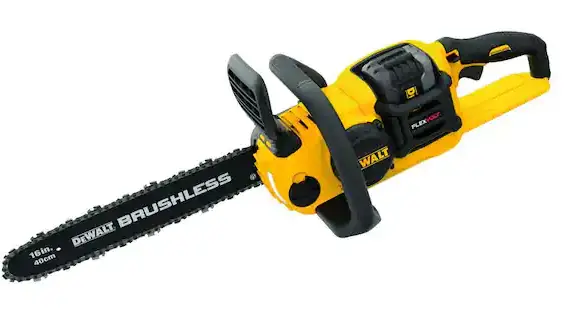 But this battery chainsaw is perfect for anyone who is a Dewalt loyalist or already owns the 60V battery. It is also available at Home Depot for a reasonable price.
Stihl MSA 120 C-BQ electric chainsaw
The Stihl MSA 120 C-BQ we also did a long form review about. And honestly we nailed it. But it is growing on us. We've deepened our research on it and had some bad first impressions that got us started off on the wrong foot.
For starters, Stihl makes incredible tools and is known for their chainsaws. But the transition to battery is a really tough move for a brand like Stihl because they have everything to lose. The motors are completely different, so how are you supposed to copy the quality that you've had for years in gas-powered over to battery?
And they just can't do it. So sadly, they aren't meeting the expectations of their gas counterparts. That isn't to say that this is a bad chainsaw – heck we put it on the list for a reason.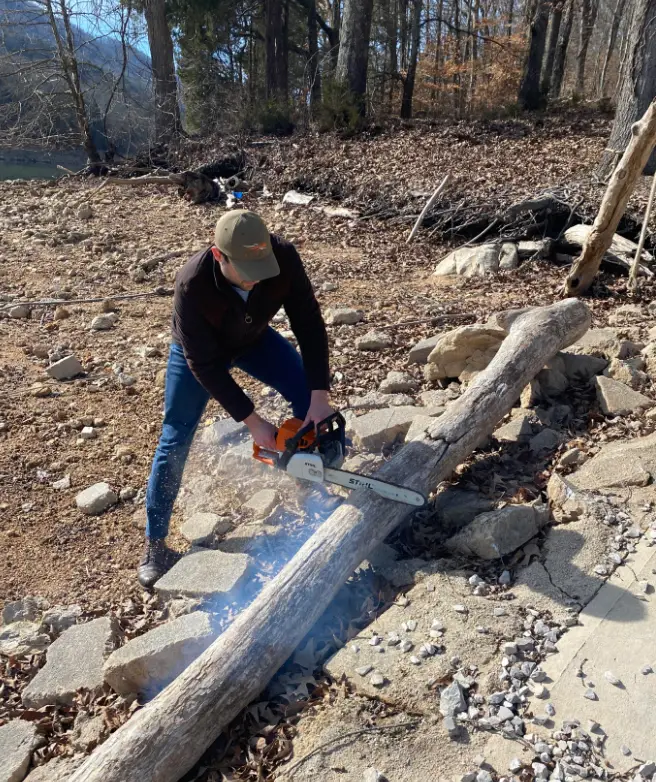 The Stihl MSA 120 is a fine chainsaw that has all the bells and whistles you could want – and even a brushless motor. Stihl did a good job keeping most of the body intact with this chainsaw.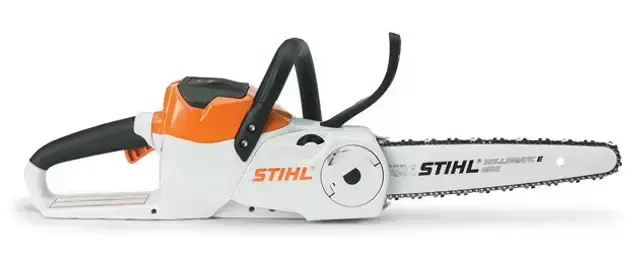 But Stihl just doesn't have a big presence in the battery world yet so you can't do a whole lot with these batteries in terms of using them on other tools. So if you are going to buy a one-off battery powered chainsaw, you don't get the value from this one that you do on some of the others. For that reason, it falls down to the bottom of our list. 
For background, some of the other brands like Greenworks STARTED as a battery company. They understand the battery process and electric motors like the back of their hands. Then they started building tools around it. Stihl is starting from the other side and quite frankly hasn't caught up yet. I do think at some point they will get more even in terms of quality, but not sure if they can ever be perceived as leaders in the battery space. 
Frequently asked questions about battery chainsaws
We are going to keep adding to this list as we get questions from readers and viewers of our Youtube channel – so feel free to ask away!
How long will a battery chainsaw run?
Battery chainsaw run time is totally dependent on the voltage and the amp hour of the battery (mostly the amp-hour). The higher the Amp hours, the longer it will run. 
This obviously depends on the type of cutting you're doing, but many measure the run time in terms of number of cuts – which I've seen range from 100 cuts to 300 cuts. Make sure to check that out before you buy one.
Are battery chainsaws any good?
Yes – they work very well for residential purposes but still have a long way to go for professionals.
The main reason I don't recommend battery-powered for professionals is that your battery can die and leave you in a bad spot. Up in a tree, almost finishing a precarious cutting job and boom – you've got to reset and have a dangerous tree swaying around above you.
Do battery chainsaws need oil?
Yes, battery chainsaws need oil for the chain. Most come with an automatic chain oiler that will keep it nice and oiled for you.
One thing to note is that battery chainsaws with automatic oilers need to be stored flat so that the oil doesn't drip out all over your garage (I learned this one the hard way).
Is an electric chainsaw powerful enough?
Electric chainsaws are powerful enough for homeowners looking to cut firewood, chop up a tree that fell down, or saw through thick branches. 
As mentioned earlier, I don't recommend electric chainsaws for professionals. Not because of the power, but because of the battery run time. 
Why we started The Lawn Review
The reason we started this website in the first place was because we had so much trouble trying to find reasonable, understandable, honest reviews for lawn equipment. And it's not cheap! After hours and hours of research, trying products and returning them, and messing up our yards – we started this site.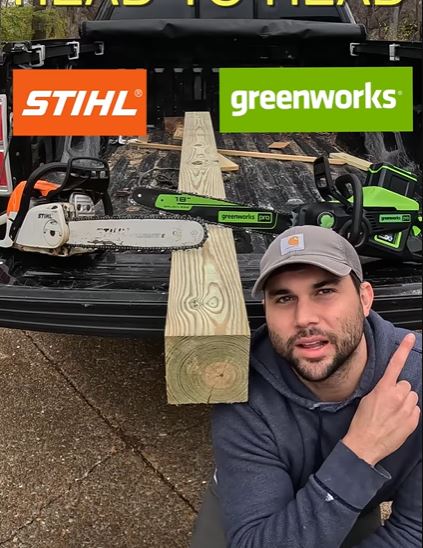 As people who had to learn the hard way, we want you to know exactly what you are signing up for before you purchase a piece of equipment. That's why we are committed to providing honest, easy-to-understand reviews that mean something. 
What to look for in a battery chainsaw
Battery chainsaws for home use are nuanced machines that in many ways differ from their gas counterparts. Let's break down what we look for in one of these bad boys.
Bar length
The length of the bar is the length of the cutting area. Generally, the larger bar means more cutting ability. If you've ever used a hand saw for example, you know that you don't just go really fast back and forth with a small section of the saw. The proper way to use a saw is to move it the entire length of the saw in a controlled manner.
You can think about that similarly with bar length. More cutting area = more cuts that are going to happen which means the faster the job gets done.
Battery run-time
I can't think of a battery powered tool that is more important to have a solid run time. If you are in the middle of chopping down a tree, it could be extremely dangerous to run out of battery. Make sure to opt for a battery with not only higher voltage, but more importantly higher Amp-hours. Amp-hours are important in determining the amount of battery run-time.
Usability and safety
Again, these are probably some of the most dangerous tools that you will use. Make sure it has safety features like kickback prevention, a safety mechanism, and is easy to use. Chainsaws that are difficult to handle, put you in awkward positions, or don't feel natural will be the reason an adverse event occurs.
Make sure to pick it up and put your hands on it first – I'd rather use a dull chainsaw that was comfortable than a sharp one that felt uncomfortable.