The Greenworks Pro 40V 21" Brushless Self-Propelled Lawn Mower was one of the first major players in the electric mower space when they launched their first mower in 2016. Five years later, the market demand has steadily increased with increased public perception and battery capabilities.
Greenworks has really become a major player in the e-tool marketplace with over 75 tools. Today we will examine one of Greenworks top selling models, the Pro 40V 21" Brushless Self-Propelled Lawn Mower. 
Let's take a look: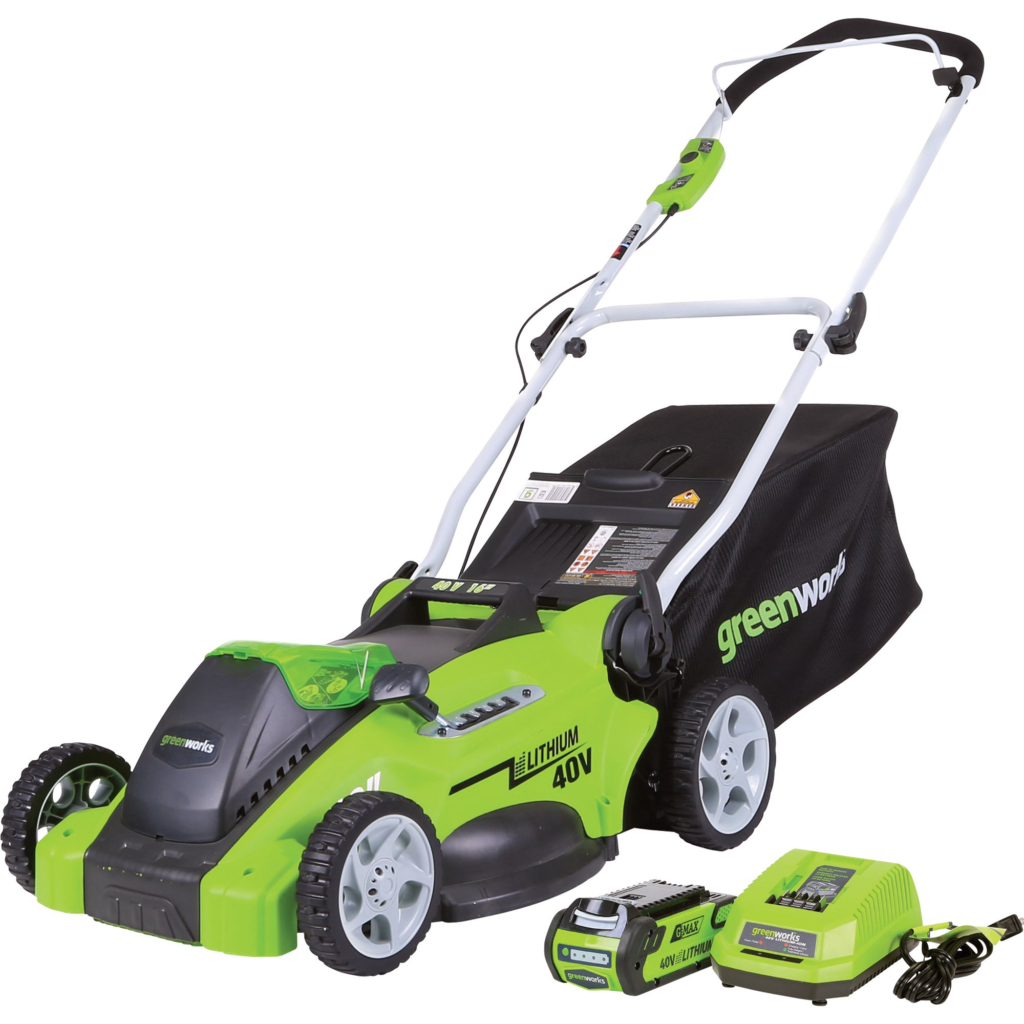 First impressions of the Greenworks Pro 40V 21" Brushless Self-Propelled Lawn Mower
Though I am admittedly not a fan of electric mowers, the Greenworks mower has caught my attention for a variety of different reasons; the light, compact design, the SmartCut™ technology which enables you to adjust blade speed, and the variable speed setting to control how fast the mower goes. The cool green color makes it pop too! Also, it's a nice touch that this comes with a spare blade. 
Usability
This mower is very intuitive. It includes a start button (which is very strange for a guy who is used to ripping a string to get his mower humming), Now I just click a button and it quietly hums along. It also includes a turbo button to, you guessed it, turn up the power on your cuts. It also includes an on-board battery indicator up by the throttle control so you can easily see how much power you have left. 
The mower also has EZ Fold Handles which cause it to break down and store with ease. It also features a 7-position single lever height adjustment handle on the back right side which I must say is a pretty sweet addition. I can't stand having to change all four of my different wheel heights and invariably I forget to change on and have uneven cuts for a few passes. According to online reviews, it does actually cut pretty well through wet grass. 
Durability
The 21" steel deck should provide good durability in the event you run over a rock, stick or tennis ball. However, the whole thing itself looks very plasticy. I don't see it being extremely weather resistant. Plastic seems to tire out if left out in the sun too long. I'd like something a little sturdier looking than this. 
Greenworks also provides a 4 year tool & battery warranty which is pretty long in my opinion. It must mean they stand by their product! I believe most mowers have a 3 year warranty so adding that additional year means they must really believe in their product. 
Battery Life
Greenworks 40V mower boasts a 60 minute battery and I'm like… So?… Unless you have ¼ to ½ an acre yard this is simply not enough time to cut your yard – Especially if yo4 use the NOS, I mean turbo button. Until a battery can last 2 hours at full blast it's simply not enough for me. But if you have a ¼ acre yard then this should be plenty for you! Another note, battery changes on this appear to be extremely intuitive and simple to do. 
Greenworks Lawn Mower: My experience
The mower itself is pretty light and easy to handle even though the deck is made of steel. Most people from the age of 12 – 65 should be able to handle this mean green mowing machine just fine. It also folds up in a self proclaimed "2 seconds." So take that for what you will. I don't know how that really impacts the way the mower works but I guess it makes it that much quicker to a nice Bud Latte during a hot summer afternoon. 
SmartCut
Greenworks also uses a SmartCut technology that lets you control how fast your blade spins, thereby impacting how long your battery lasts as well. The battery pack on this mower says you can run it for 60 minutes but that will more than likely be on the lowest setting possible and the minute you start to introduce hills and tougher mowing conditions your battery will be zapped. Also this mower is rated for a ¾ of an acre yard but my yard is ¾ an acre and I've never mowed it in less than an hour so I'd imagine I'll have to buy another battery to finish the whole yard.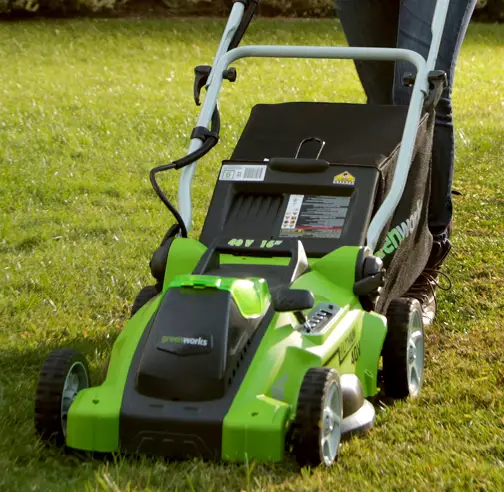 Clipping control
In addition to controlling how fast the blade spins you can also control what happens to your clippings, you can select 1 of 4 different mowing settings: Mulch, Bagging, Side Discharge and Leaf Pick-Up. Personally, I have no idea why anyone would use the side discharge option. It seems like it'd be such a mess to me. I see myself using the mulch and leaf pick-up options the most. The bagging option would probably only be used on my first mow of the season if I'm late to getting the cut in. I currently use my bag to chop up leaves and pack them in a little tighter. 
The self-propelled function
This mower also offers the user the ability to control how fast the self-propelled function works. Similar to the SmartCut technology discussed above I imagine if you want to go faster you'll use the battery much quicker than 60 minutes. I guess that's the price you pay for not wanting to use gas powered mowers.
Another feature that I found to be beneficial were the headlights – that'd really come in handy during late fall afternoon mows when the sun starts to set early. I also thought the leaf pickup function via the turbo button would be really handy, basically a vacuum for your yard. From what I can gather it turns the blade off and just sucks up the leaves.
Greenworks Pro 40V 21" Brushless Self-Propelled Lawn Mower: Our recommendation
| | |
| --- | --- |
| Feature | Greenworks 40V mower |
| Difficulty to use | Super easy to use |
| Durability | Not all that durable |
| Maintenance | Easiest to maintain |
| Value | Decent value |
| For lots <10,000 sq. ft | Highly recommended |
| For lots <1 acre | Not recommended |
| For lots >1 acre | Not recommended |
Though I love mowing lawns and trying new things, this one is tough for me. It all comes down to the battery life. Personally, so long as the battery doesn't allow me to cut with the same power and length as my gas power mower cuts, I'll never buy an electric mower. The battery technology has come a long way but it's still lightyears away from being able to stand toe to toe with Honda or Toro gas powered mowers. I simply don't want to have to worry about losing power 3/4ths through my mow. HOWEVER, if I had to buy an electric mower this is one that I would seriously consider. 
Compared to other electric mowers like the Sun Joe, Ryobi, or the Dewalt, this one has a tad more experience.
For a great price on Amazon, you can get started shredding the grass in your yard, and saving the environment in the process.
Interested in other electric mowers? Check out our list of Top 13 Best Electric Mowers for Small Yards in 2022.