Stihl's FSA 57 String Trimmer is one of their most popular battery-powered string trimmers.
But I bet you are a bit hesitant. You love Stihl products but aren't sold on battery-powered products.
And for good reason. Frankly, they have historically struggled to produce nearly as much power as you need. And your weird wimpy neighbor loves them.
Times are a-changing, though. Battery powered products are taking over. I mean look at the new F-150 Lightning – pretty sweet.
And Stihl is all over it.
Let's see if Stihl still has it on this steal of a deal.
Let's get started:
Why we review lawn tools
The reason we started this website in the first place was because we had so much trouble trying to find reasonable, understandable, honest reviews for lawn equipment. And it's not cheap! After hours and hours of research, trying products and returning them, and messing up our yards – we started this site.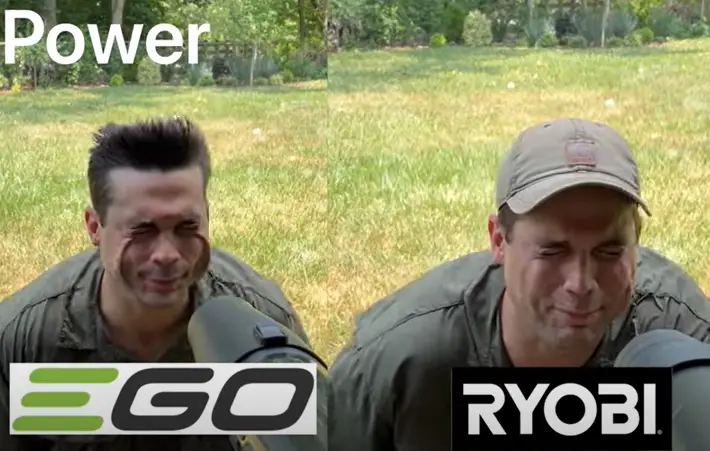 As people who had to learn the hard way, we want you to know exactly what you are signing up for before you purchase a piece of equipment. That's why we are committed to providing honest, easy-to-understand reviews that mean something. 
Stihl's reputation
Stihl is still at it! Pumping out high quality product after high quality product. They're thought of as one of the GOATS of the yard product game. The boys in orange are known to have a superior product to their competitors.
The world's largest chainsaw manufacturer, the company moved some operations to Virginia in the 1970s and opened up their first factory dedicated to a single chainsaw. They have continued to master their craft and expand their product offers in the lawn care space.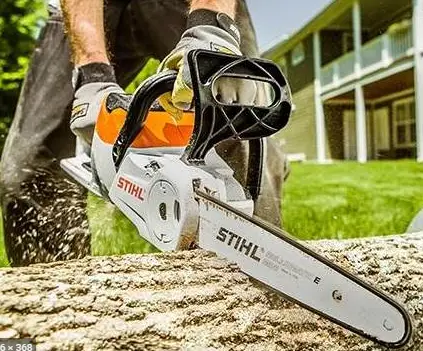 Stihl has a great reputation that many commercial landscapers rely on each day. Many residential owners will be more than pleased with their products.
How to instantly improve your weed eater
Upgrade your weed eating game with the ultimate GrassKicker Weed Eater String! While weed eaters and lawn edgers are great tools, it's not complete without the right string. Our specially crafted line is designed to enhance your weed eater's performance and give you flawless edges around your yard and garden.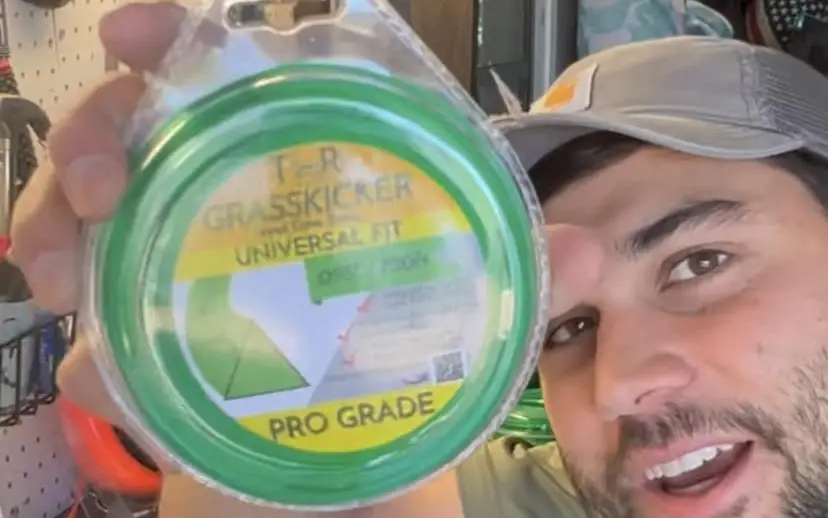 Don't settle for subpar string that breaks easily and leaves ragged edges. Our team has scoured the market and combined the best colors, shapes, thicknesses, and materials to create a superior line that cuts more cleanly and lasts longer.
With GrassKicker, you can take pride in your perfectly manicured lawn and make a lasting impression on your friends and family. And who knows, your envious neighbors might just start dropping by more often! Don't wait, elevate your weed eating game with GrassKicker Weed Eater String today! Click the link now to buy.
Gas vs Electric String Trimmer
When purchasing a piece of lawn equipment in 2023 it's important to understand your power source options. It basically boils down to gas or electric. Electric trimmers are typically easier to start and usually maintenance is a breeze. They also have less of a noise and environmental impact. Electric trimmers are usually a good bet for small to medium-sized jobs.
Trimmers powered by gas usually end up having more power and are more suitable for larger, more commercial type applications. This is mainly due to the issues the professionals have with keeping them charged. But not all of us are professionals, we just want a badass string trimmer from Stihl.
Stihl FSA 57 String Trimmer: Features and Benefits
Alright folks, let's get into it. Today we are going to check out the power, ease of use, durability, and cost of this string trimmer. Throughout the post I'll do quick comparisons to the gas counterpart, the Stihl FS 56 C gas trimmer. If you're interested, we've compiled a huge list of the best Stihl string trimmers here.
Stihl does have a new Stihl FSA 45 String trimmer, which is kind of like this one's little brother.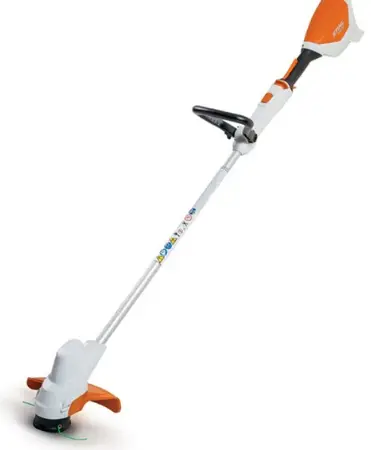 Power on the Stihl FSA 57 string trimmer
The Stihl FSA 57 trimmer can have its power measured in a few ways. The first of which is rotations per minute. Honestly, this is a really tough one to relate to as it takes a huge difference in the number of rotations per minute to notice a difference when trimming.
The power signal I am looking for is cutting swath, or width of the cutting path. This helps you understand just how powerful your electric Stihl weed eater is going to cut.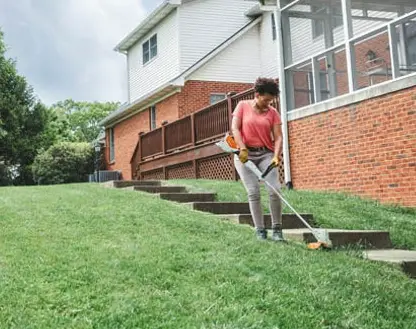 The Stihl FSA 57 weed eater comes in at an 11 inch cutting swath. Honestly, a little disappointing. Don't get me wrong, 11 inches is definitely enough for the average homeowner, but from Stihl I expected a bit more. For other electric comparisons, some of the Makita trimmers and EGO string trimmers run 13 to 15 inches. 
If you have a small to medium-sized yard, 11 inches is going to be perfect. But if you are the type of guy that likes to have more power accessible, then you may want to keep looking. 
Ease of use
What the Stihl FSA 57 weed eater lacks in power, it makes up for in ease of use. I mean the whole dang trimmer weighs 7.5 lbs – with a battery! Not only is this thing super lightweight, but it has a ton of features that make it very simple to use.
Some of the features on the Stihl FSA string trimmer are inherent to all battery powered trimmers. Namely – the battery power. Think about it, no more oil and gas mixtures or difficult cold starts with this. You just pop the battery, squeeze the trigger, and go. 
Another cool feature that makes this easy to use is the adjustable shaft. It can change in length with a pretty easy telescoping function. I've always found it easy to make trimmers as long as possible to extend your reach, especially if you're tall like me.
It also comes with an auto-feeding head, which is pretty standard on most new trimmers these days. The last cool piece is the brush guard on the head, which comes standard on some of the Greenworks trimmers, Worx weed eaters, and Kobalt trimmers as well.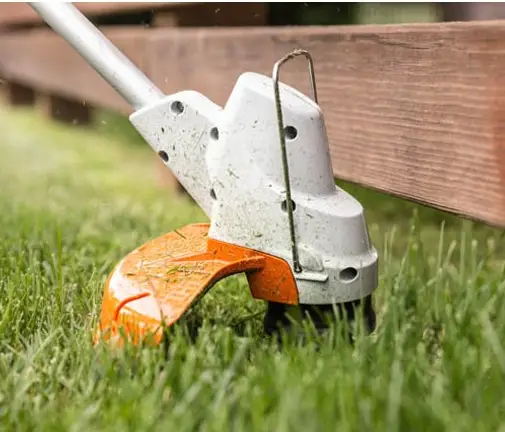 Durability
Durability is a common question I get with battery powered trimmers. Mainly because gas powered trimmers are just built differently. The commercial string trimmers in particular are made to toss into the back of a trailer and speed from one lawn to the next.
Residential battery-powered trimmers just aren't. They have way more plastic components and can't handle the same brush as most gas powered trimmers. Not true of all of them, but definitely true of the Stihl FSA 57 string trimmer.
One thing that really upsets me about the Stihl FSA 57 is that it doesn't say anything about having a brushless motor. I'm absolutely shocked and frankly expected more from Stihl.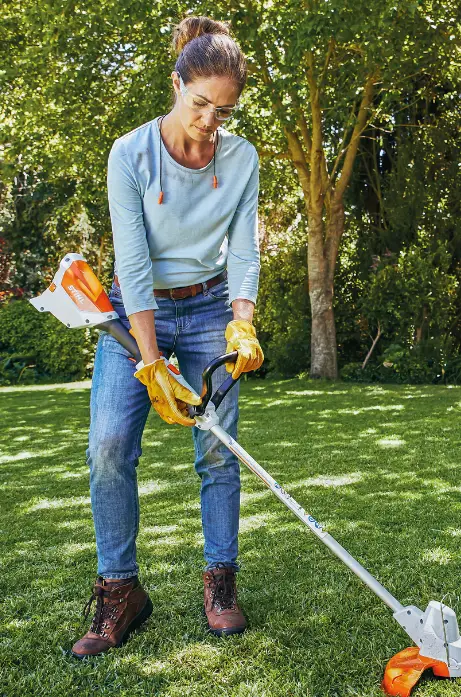 Brushed motors are still fine, but the standard in high-end string trimmers is a brushless motor these days. I think that tells you about all you need to know about this trimmer – Stihl clearly does not think it is a high-end trimmer.
Sad.
Stihl FSA 57 Cost
Hate to say sad again so quickly, but sadly you have to contact your local Ace Hardware to get the price for this bad boy. Mine had it for $199, but I actually returned it :(.
The official review: Stihl FSA 57 String Trimmer
Well folks, I don't do this often but I have to officially say that I am not a fan of this string trimmer. While it is super convenient, easy to use, and perfect for those with a small yard, it is definitely an apple that falls far from the tree. 
This product is simply not very durable and not up to the standards I would expect from Stihl. If you're going to grab some battery-powered products, I'd find another brand like Ryobi or Greenworks that can give you more products along a single battery line.
If you're going to go with Stihl, I'd get gas for now.