The Stihl FSA 45 string trimmer has a feature I've never seen on any string trimmer, and I've used and reviewed DOZENS of string trimmers.
Stihl string trimmers are some of the most widely used trimmers in the world by both landscapers and homeowners alike.
Stihl has a new line of battery string trimmers. We have already reviewed the Stihl FSA 57 string trimmer and next up on our list is the Stihl FSA 45 cordless trimmer.
While you likely won't find a landscaper using this (unless he's being punished), there are still plenty of folks who would love this string trimmer.
Today, we are going to break down some of the features that make it unique – the good, bad, and ugly. 
Let's get started:
Why we review lawn tools
The reason we started this website in the first place was because we had so much trouble trying to find reasonable, understandable, honest reviews for lawn equipment. And it's not cheap! After hours and hours of research, trying products and returning them, and messing up our yards – we started this site.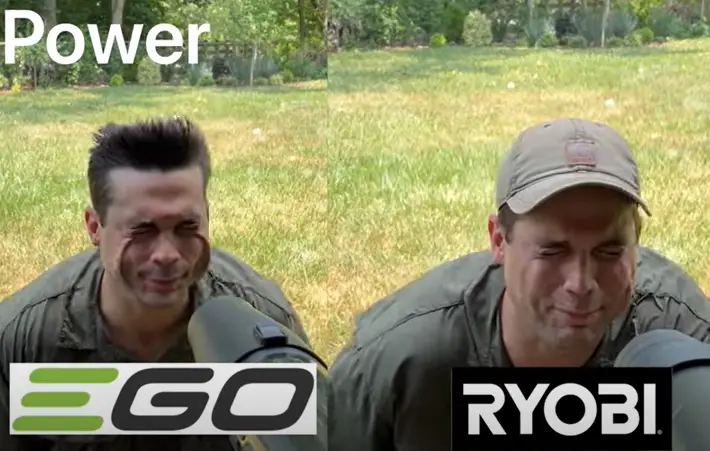 As people who had to learn the hard way, we want you to know exactly what you are signing up for before you purchase a piece of equipment. That's why we are committed to providing honest, easy-to-understand reviews that mean something. 
How to instantly improve your weed eater
Upgrade your weed eating game with the ultimate GrassKicker Weed Eater String! While weed eaters and lawn edgers are great tools, it's not complete without the right string. Our specially crafted line is designed to enhance your weed eater's performance and give you flawless edges around your yard and garden.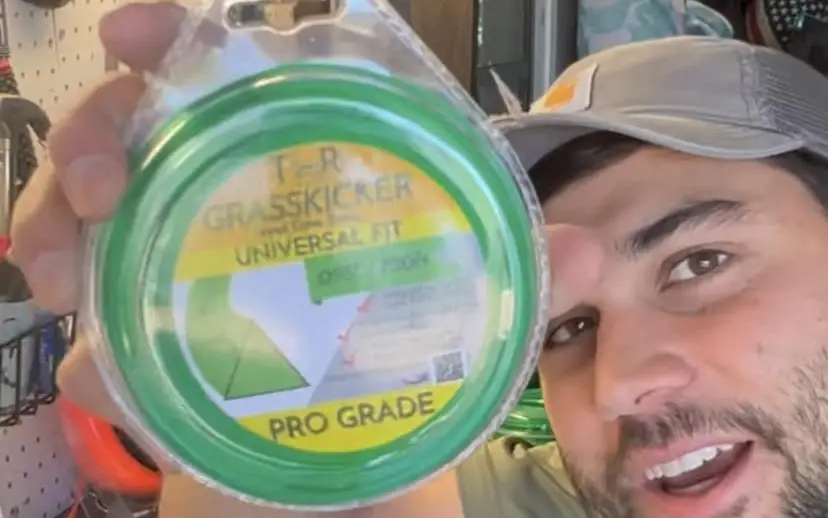 Don't settle for subpar string that breaks easily and leaves ragged edges. Our team has scoured the market and combined the best colors, shapes, thicknesses, and materials to create a superior line that cuts more cleanly and lasts longer.
With GrassKicker, you can take pride in your perfectly manicured lawn and make a lasting impression on your friends and family. And who knows, your envious neighbors might just start dropping by more often! Don't wait, elevate your weed eating game with GrassKicker Weed Eater String today! Click the link now to buy.
Stihl's reputation
Stihl is still at it! Pumping out high quality product after high quality product. They're thought of as one of the GOATS of the yard product game. The boys in orange are known to have a superior product to their competitors. The Stihl FS 56 RC Trimmer is a top notch trimmer that falls right in line with some of their other awesome products.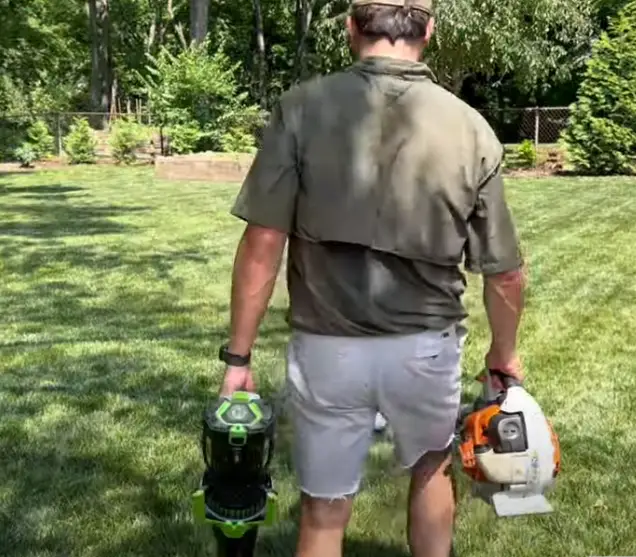 The world's largest chainsaw manufacturer, the company moved some operations to Virginia in the 1970s and opened up their first factory dedicated to a single chainsaw. They have continued to master their craft and expand their product offers in the lawn care space.
Stihl has a great reputation that many commercial landscapers rely on each day. Many residential owners will be more than pleased with their products.
Gas vs Electric String Trimmer
When purchasing a piece of lawn equipment in 2022 it's important to understand your power source options. It basically boils down to gas or electric. Electric trimmers are typically easier to start and usually maintenance is a breeze. They also have less of a noise and environmental impact. Electric trimmers are usually a good bet for small to medium-sized jobs.
Trimmers powered by gas usually end up having more power and are more suitable for larger, more commercial type applications. This is mainly due to the issues the professionals have with keeping them charged. But not all of us are professionals, we just want a badass string trimmer from Stihl.
We took the time to compile the best Stihl weed eaters here.
Stihl FSA 45 String Trimmer: Features and benefits
The Stihl FSA 45 String Trimmer is a unique cordless trimmer that has become super popular. Let's break down some of the features of this new weed eater.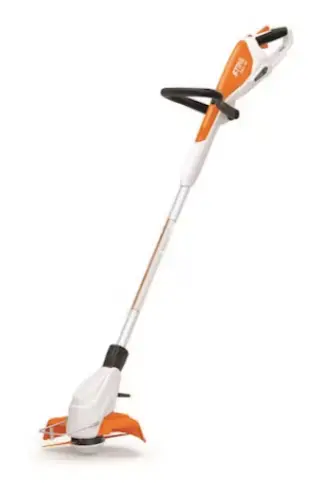 Power
The new battery line from Stihl is where you begin to see a deviation from Stihl's rich history. Stihl has always been one of the toughest, most professionally-driven, powerful lawn tool manufacturers on the face of the Earth. 
Their new battery products are not really all that powerful, but if you're a homeowner with a small yard and looking for reliable products, then it is hard to beat Stihl.
The FSA 45 is not the most powerful. In fact, it only has a 9 inch cutting swath, which is definitely one of the smallest I've reviewed. For reference, most commercial string trimmers have a 15 inch cutting width. 9 is really small and is only really good for little here-and-there trimming around the yard. This will not be a reliable trimmer for thicker brush, edging, or very tall grass. 
Sad!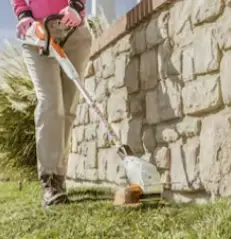 It claims that it can cut up to 3 football fields worth of length on a single battery, but the battery only runs for 12 minutes. Not sure you could cover all of that in 12 minutes, so who knows (should we put this to the test?!).
Battery life
The Stihl FSA 45 is a part of Stihl's new AI series – not sure what AI stands for, but it means that the battery is integrated into the tool. Yep, most battery tools have one that pops off. This one is more like an electric car; you plug it in to the wall to keep it charged and then pop it off to get going. 
This has some benefits but also some major drawbacks. Firstly, it's nice to have a sleeker product that is just one solid piece. No worrying about buying extra batteries or having  to keep a charger taking up plug space all the time.
A major drawback is that for each one of these integrated tools, it's basically like having a separate battery system. There is no synergy, no ability to pop off a battery and put it on another tool to keep going, no incentive to buy more Stihl products to save money on batteries.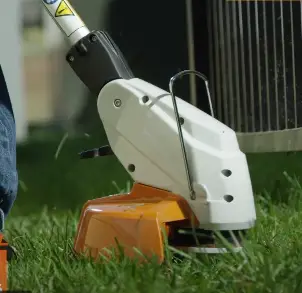 It actually kind of sucks. But if you have a tiny yard and don't need a bunch of fancy tools, then a small electric mower and this string trimmer are all you really need. 
Usability
The Stihl FSA 45 string trimmer absolutely shines in the usability department. It really is designed for the common homeowner who doesn't spend a ton of time in their yard. It is extremely comfortable and easy to use. At just over 5 lbs, it is super lightweight.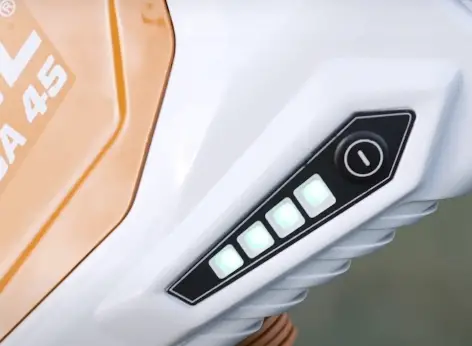 A few features we really liked about this one:
It comes with a loop that allows you to hang it on the wall. Garage storage is always an issue with lawn tools, so this one tries to make it nice and easy.
You have built in battery life notifications right on the tool without the need to separate the battery
It's got a nice, easy to use handle. Honestly it feels like using a Swiffer or some other easy to use house cleaning tool.
It has an activation key, which is good and bad because it would suck to lose it.
This thing is all about convenience and ease of use – so this is really the most well-developed part of the trimmer.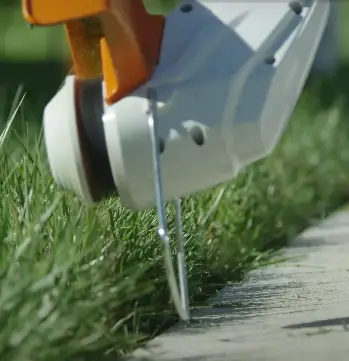 Cost and value
The Stihl FSA 45 sells for about $140. This is a DECENT price for this tool. You can get some Black and Decker string trimmers for comparable performance for much lower, however. Since this doesn't come with a separate battery, why not just grab a more cost effective tool?
Stihl FSA 45 Battery Powered Weed Eater String
We developed our own weed eater string that is built to make weed eaters like the Stihl FSA 45 more powerful. Check it out!
Overall Review: Stihl FSA 45 cordless trimmer
The Stihl FSA 45 String Trimmer is a great, lightweight, easy to use string trimmer with a great brand name behind it. However, if you are looking for more power or something of equal caliber but at a lower price, then I recommend continuing to search elsewhere.
For a more powerful trimmer, I would check out EGO's string trimmers. For a comparable trimmer that is much cheaper, check out Black and Decker.