PowerSmart Lawn Mowers are no joking matter. If you have ever used one, you would know.
PowerSmart makes legit stuff. If you own any of their tools, you know that it is genuinely well-manufactured and built to last.
Their lawn mowers are no exception.
These things are plastered all over Amazon because they sell well. They have some push mowers in the game that absolutely rock. 
So let's check out the best ones today.
Why we review lawn tools
The reason we started this website in the first place was because we had so much trouble trying to find reasonable, understandable, honest reviews for lawn equipment. And it's not cheap! After hours and hours of research, trying products and returning them, and messing up our yards – we started this site.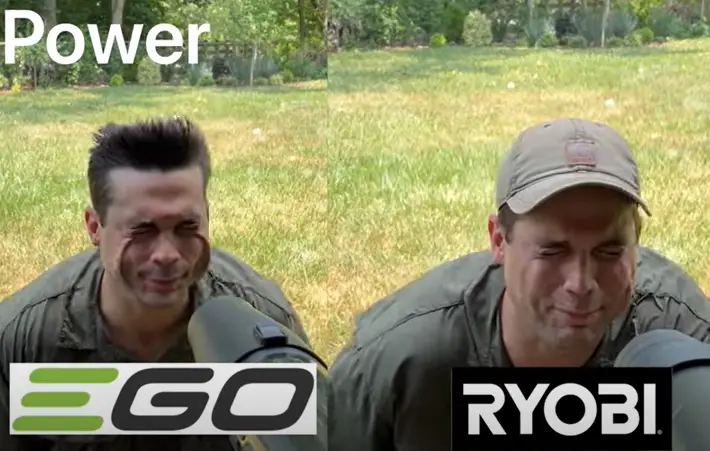 As people who had to learn the hard way, we want you to know exactly what you are signing up for before you purchase a piece of equipment. That's why we are committed to providing honest, easy-to-understand reviews that mean something. 
About PowerSmart
PowerSmart is a brand of heavier lawn and commercial machinery. The reason you may not have heard of them before is that their scope is relatively small. PowerSmart really focuses all of their attention and effort on snow blowers, snow throwers, pressure washers, and woodchippers. Notice a similarity? These tools all focus on taking in an item and then powerfully launching them into another galaxy. 
Now imagine that on a mower (your mind cannot fathom).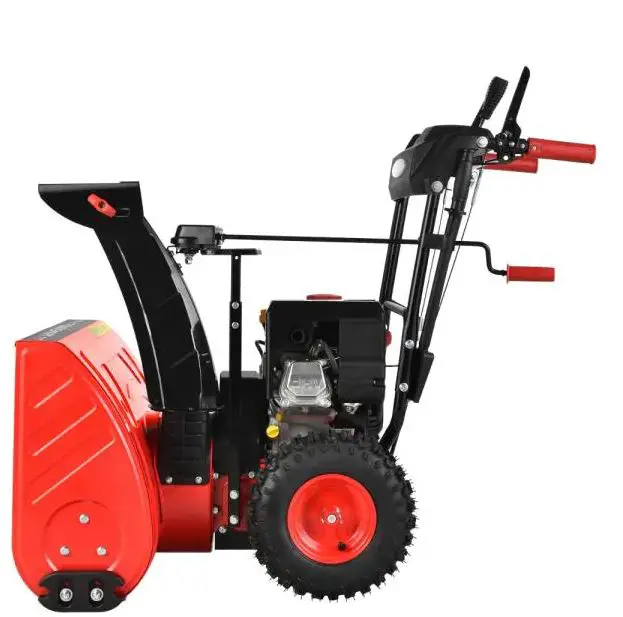 PowerSmart has field-leading expertise in this area and makes some solid products. While you may not have a shed full of PowerSmart equipment, you will surely come across some of their products over time. 
What to look for in a push mower
When looking to purchase a lawn mower, you need to make sure you understand what things matter. You will get hit with a lot of technical specifications and marketing tactics. Totally forget them and focus on the things that impact you. Below are my recommendations:
Brand quality

Quality is going to be super important here. Everyone is in the lawn mower game these days and there are a ton of junky mowers out there. Avoid anything from a weird brand on Amazon that takes 9 years to ship. It is probably being 3D printed in a Laotian bathroom. Go for brands that have consistent quality and focus on the details, not just flashy colors.

Metal where it matters. 

Many mowers, especially electric mowers, are plastic-y. Probably to reduce the weight of the mower so that the battery can get you further, but it feels cheap. Make sure to get metal where it matters – namely the deck. The deck is the part that covers the blades. Don't get plastic here – a rock can rip through it.

Gas vs. electric.

 The battle of the universe is happening in the lawn mower space. Tiger Woods vs Jack Nichols. The new, flashy electric mowers are getting a lot of attention – and for good reason. This comes down to personal preference. Do you want a '69 Mustang or a '22 Tesla? 
Check out our full guide of what to look for in a mower.
The Best PowerSmart mowers
While I normally would list these out and rank them, I am actually going to rank them by category. Here are the categories I am going to use.
Best electric PowerSmart mower
Best PowerSmart mower for small yards
Best PowerSmart mower for larger yards
So let's get started!
Best Electric PowerSmart mower: PowerSmart 80V 21 inch cordless mower
PowerSmart is brand new to the electric mower game. But that can be a good thing. They have been sitting back watching other people try unsuccessfully and developed a pretty slick product.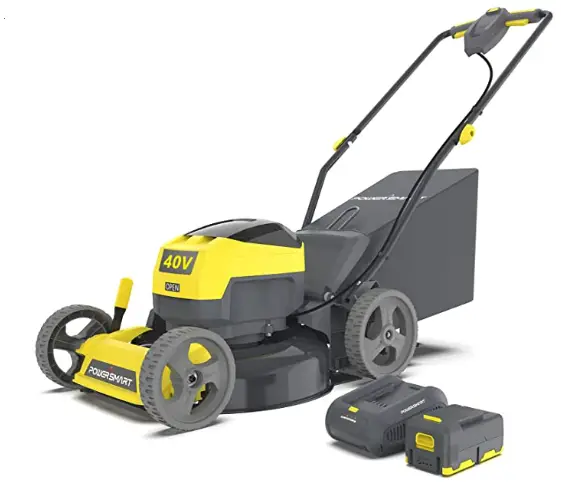 The PowerSmart Electric Lawn Mower, 80V 6A battery, 21 inch cordless mower is pretty slick. Not only is it one of the more aesthetically pleasing electric mowers, but it also comes with some dang good features. 
Here's what I like about it:
80V battery for some serious run-time
21 inch deck is small enough for a small yard but big enough for a medium yard
Steel deck instead of cheap, fragile plastic
Breaks down like a dang lawn chair
Has a bag (if you're into that)
It cannot be overstated the importance of having a metal deck on electric mowers. They are super important for durability and being able to use this thing year after year. 
It also comes with a two-year warranty, which is great since it is one of their first electric products.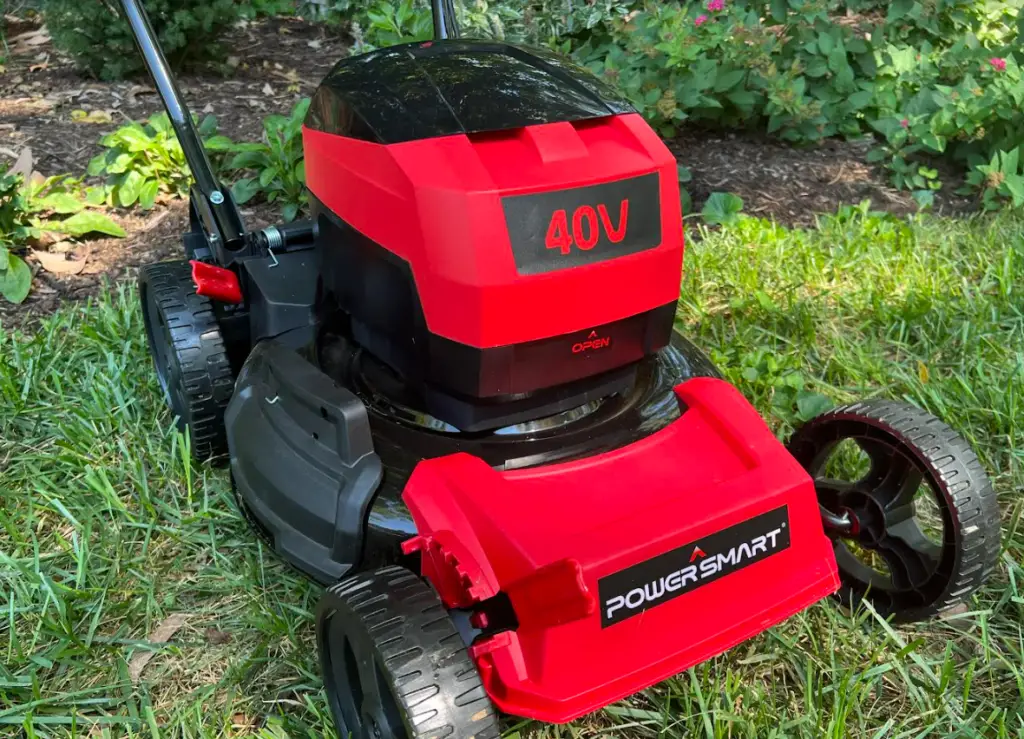 Another thing to love about this mower is the brushless motor.  Brushless motors rely on magnets instead of friction to transfer electricity and power your motor. They are significantly quieter, more efficient, and longer lasting. 
You can grab this one on Amazon for a great price compared to other electric mowers.
Best PowerSmart mower for small yards: PowerSmart Gas Lawn Mower 21 inch 3-in-1  with 144CC 4-stroke engine
This PowerSmart mower is perfect for smaller yards. 21 inches is a great size to handle small to medium sized yards. The simplicity of this mower gives me confidence that it will last me a long time.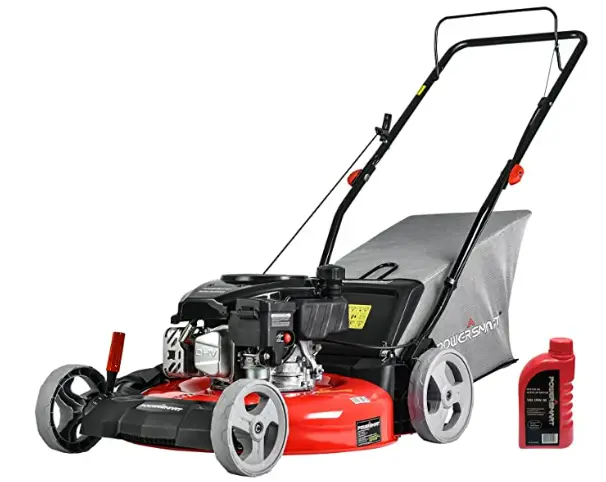 It doesn't have all the bells and whistles, making this PowerSmart mower one of the best starter mowers for new homeowners. This mower has power, durability, and straight-forward operation that is great for smaller yards.
Here is what I like about this PowerSmart mower:
Easy-start pull string (that actually works for me)
21 inch steel cutting deck for durability
5 positions for cutting height (I use the highest)
Comes mostly assembled so it's great for morons like me
This mower is very similar to the Troy-Bilt TB160, which was my first mower. Basically, it has all you need to get started for a relatively small-yard, without the complex features that weigh it down, burn up more gas, and cost you money.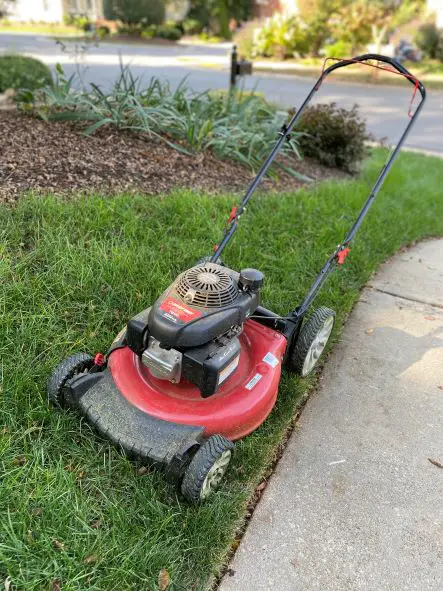 It comes in at an awesome low price, can be delivered to your door super quick, and will be mostly ready to go out of the box. You can have it shipped directly for the lowest price on Amazon.
Best PowerSmart mower for larger yards: PowerSmart Self Propelled Lawn Mower 22 inch 3-in-1 lawn mower gas powered with 200cc
Wow. Couldn't they have named it something easier, like "Doug"? What a mouthful.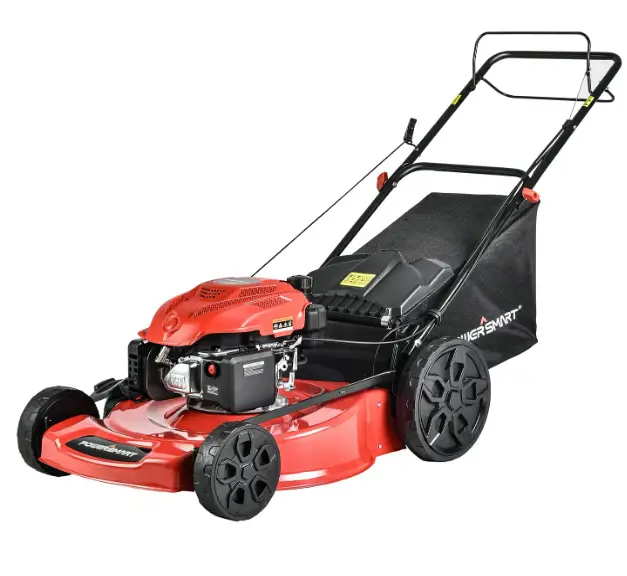 Anyways this mower DOES have the bells and whistles. While it is only one inch wider than the one I recommended for smaller yards, it has a self-propelled function that will take a huge load off of your hands.
So with a slightly larger deck and self-propelled feature (which drives the wheels forward for you), you can move through an acre without too much stress on the forearms and back. 
This thing also has a 200cc 4-stroke engine, meaning it ain't playing around. 
Here's what I like:
Self-propelled
22 inch steel deck (widest PowerSmart)
Mostly assembled on arrival
Still pretty simple and straightforward
Yep – while it does have the self-propelled function, it doesn't go overboard with lights, fog machines, or beverage coolers. It just gets the job done. 
Which I appreciate.
You can grab it for not too much more money than the smaller gas-powered mower, making it a dang steal. I suggest considering Amazon as a good place to purchase this mower, as it doesn't require much assembly and can be shipped straight to your lawn.
Our recommendation
Because I am a lover of simple, easy-to-use, reliable mowers, I have to recommend the 21 inch mower here.
It comes in at a great size, won't break on you, and is an amazing price. It also comes basically fully assembled and can be shipped straight to your door from Amazon.
I haven't seen this one available anywhere besides Amazon – but there may be some local places to grab it as well.